| Family Room |
EVOCATIVE: WHEN FURNITURE IS MORE THAN FUNCTION
| August 12, 2020
Chatting with Simi Polonsky Hoffman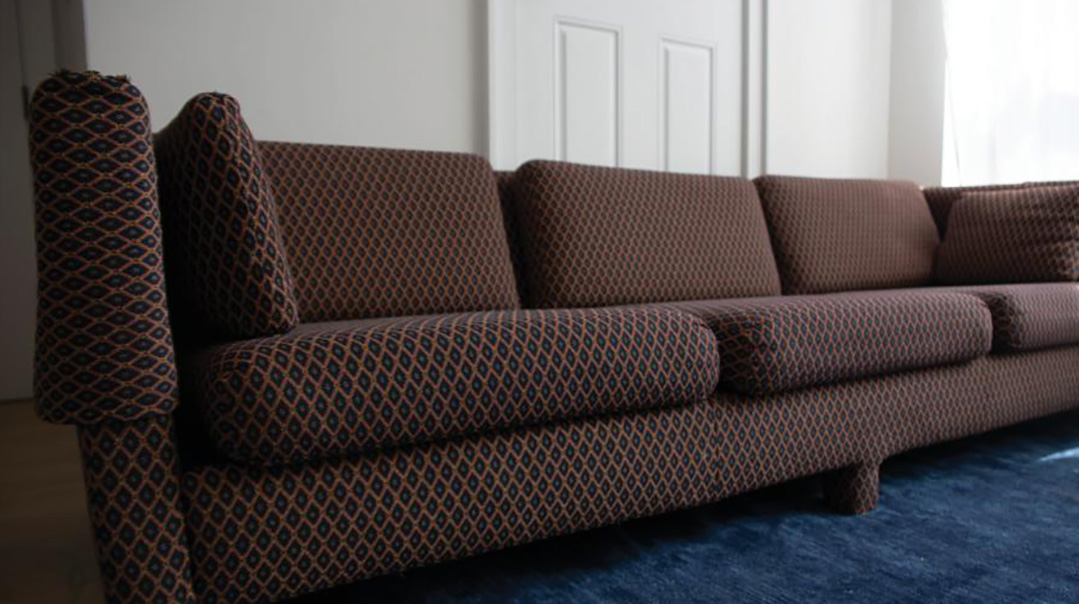 Rivki: We beautify, simplify, amplify our homes, and we do it with love. Our role as Jewish women is not to plow through, autopilot and robotic, but to find meaning in the elements that our days are built upon. It's intriguing when something as functional as a couch, armoire, or desk transcends its materiality and becomes infused with sentimentality. When you train yourself to see life's moments as more than just moments, you can find nostalgia and emotion within the fabric of a couch.
When chatting with Simi, an accomplished designer and entrepreneur, small talk is a backdrop because richness of dialogue is standard when talking with a thinker.
Simi: My late husband, Shua, had a great-grandfather who lost his wife and remarried a wonderful woman, Eva. Eva was a Holocaust survivor, and Shua would spend time with her once a week, learning from her life experiences and wisdom. After she passed away, Shua chose to take this couch as an heirloom. Not only is the couch a treasure, but we loved her so much that our second daughter is named Tsofia Chava Eva — Eva for Shua's great-grandmother.
Sentimentality when it comes to functional things doesn't have to do with how long, say, a piece of furniture has been in existence. It's about being reminded of who previously owned it, or who I bought it with, or what it was bought for. If it was gifted to me by someone, I'm reminded of how it might have been sentimental to them, or if we had a special relationship to the person who gave it to us. Since it will always remind us of that person who previously owned it, it will always have value.
Eva's life in America in itself is something any of us can learn from. She survived the Holocaust, came to America, and built a beautiful life for herself, which is a lesson in human resilience and regeneration. The sheer fact that she had the fortitude to speak about her experience and share it with Shua and other family members, and build a new history after what she went through, is a lesson on the limitless power of not giving up.
To me, it's a message of deep human survival after the worst happens to you. My grandparents' experiences of rebuilding their lives after the Holocaust and how they rose from the unthinkable felt like a responsibility to me: If they did it, I don't have a choice — I have to rise to the challenge too.
Many people have grandparents who went through incredibly difficult experiences, but it takes a certain individual to care enough to make it a priority and visit them every week and just listen to their story. Shua was that individual who cared enough, and he understood the value of Eva's experience and the value of it needing to be shared. He took the time to build a beautiful, respectful relationship with her. He was an amazing listener, and from asking questions and encouraging more questions, he was able to help so many other people.
By naming my daughter after Eva, I'm ensuring she'll continuously learn about Eva's personal life — what she lived through and what she chose to do after that. It was very important to Shua to carry on this lineage. Eva's memory will always live with the retelling of her actions, and with her mementos.
I personally went through my own life experience where I was required to tap into a higher reality, so that my existence could be more liveable, and then one day enjoyable, and then one day — happy. The meaning for me was understanding that there's more to life than what is visible and tangible to us. There's the G-dliness that we can't see, but need to seek out. It taught me that if you don't feel content in your life, search deeper into what your life looks like beyond the house you have and the things you buy, and see what gets your soul burning and curious. This is where your meaning and happiness and purpose will come from.
Rivki: The growth mindset required to see elevated potential in functional furniture, to learn from life experiences — yours and those before you — and to gain from those life experiences, isn't a gift that falls into your lap. The people we become when we're challenged are the people we wish we had been had we not been tested. But imagine if surrounding oneself in the pursuit of more meaning, more purpose, can create the growth before the challenge. What if something as basic as a couch provides the reminder of who we might be if only we paused. Sit back and tell me — what, who, where is your couch?
Simi Polonsky Hoffman is the co-founder and co-chief executive of The Frock NYC, an e-commerce, fashion startup, together with her sister and co-founder Chaya Chanin. Simi, a recently remarried widow, and proud mother of three, uses her business platform to share her personal story in the hope that it inspires others to find their voice, share it, and lead them on a path to create happier, healthier lives.
(Originally featured in Family Room, Issue 007)
Oops! We could not locate your form.
>