| Feature Articles |
Every Dog Has His Day | January 8, 2020
A civilian K9 unit with Yiddish-speaking pooches protects Israelis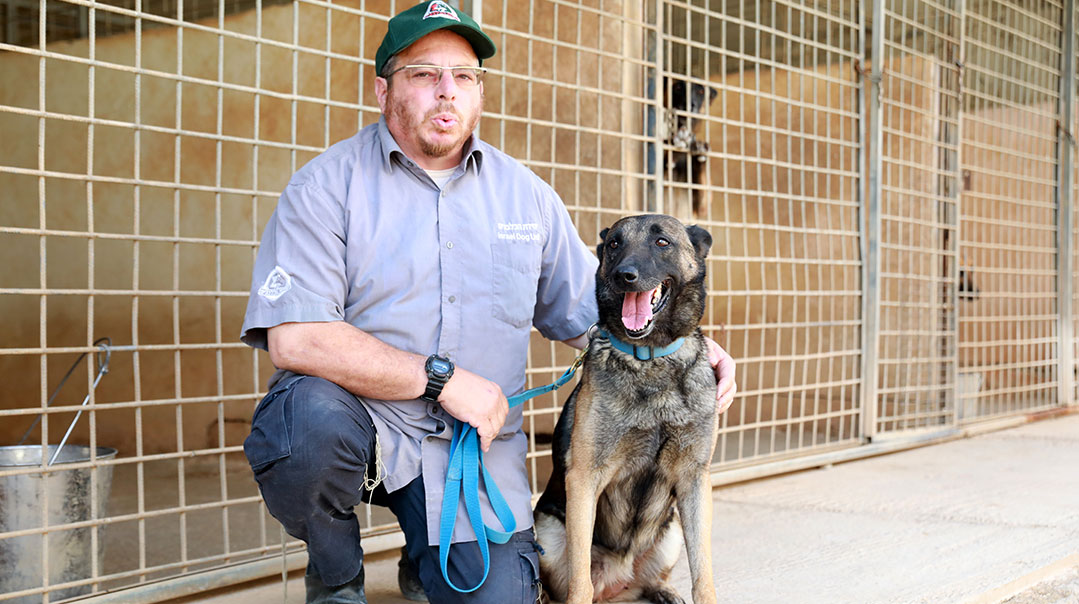 Photos: Eli Cobin, IDU archives

Before Islamic State founder Abu Bakr al-Baghdadi detonated his suicide vest as he was fleeing US forces earlier this year, he wound up trapped in a dead-end tunnel in his Syrian compound. Baghdadi was being chased through the tunnel by a US officer celebrated afterward as a crucial part of the top-secret mission. And the officer? It was a dog.
The world got to know the heroic canine who tracked down Baghdadi after President Trump shared a declassified portrait of the dog, having since recovered from injuries sustained after being electrocuted in the chase. And it highlighted just how important trained dogs can be — a first line of defense for many top-secret security missions. These dogs might parachute out of planes, descend by rope out of helicopters with their handlers, and are sometimes fitted with night-vision goggles and a video camera in the search for their target.
Trump's hero, a Belgian Malinois (the dog's name remains classified as he's still in service), looks strikingly like Eisha, a search-and-rescue dog of the same breed, who lives in a kennel in the Israeli Shomron town of Kfar Tapuach and obeys commands given in Hebrew, English… and Yiddish. And Eisha has her own track record of saving lives. She's a veteran member of the Israel Dog Unit, a civilian security and search-and-rescue organization that works independently yet often alongside the IDF and the police, and enlists a cadre of highly-trained volunteers that include foreign students and even yeshivah bochurim.
Eishaleh, as she's affectionately called — part of an elite squad of security dogs trained to participate in search and rescue of missing persons, help secure the periphery of outlying communities, and protect Jewish civilians from would-be assailants — hasn't yet been involved in the high-profile assassination of an international arch-terrorist, but she's a true hero for families whose loved-ones she's saved. One of those people was an Argentinian immigrant living in Ashkelon who was down on his luck and became severely depressed after being fired from his factory job. He took a bottle of Arak and some pills and disappeared. The family hadn't been able to contact him for two days.
"The police called us, because they know our volunteers will stay on the shetach until we find a body, dead or alive." says Dog Unit founder and director Mike (Yekutiel) Ben Yaakov, with his big black yarmulke and tzitzis dangling from underneath his "Dog Unit" uniform shirt. "We know that there's a lot of room between contemplating suicide and actually going through with it, and we also know that the first three days are critical for finding a person alive. Our staff of volunteers searched through the night in a forested area outside the city, but right before we were about to pack up and move locations, I spotted a cluster of abandoned houses and decided to check it out, with Eishaleh at my side. Well, we get to this structure, and she's going crazy, so I sent her in through a broken window — and she found him, unconscious but still alive. Today he's so grateful that we saved him, he even came to the kennels to meet Eisha in person.

"And you know, Eishaleh is an old dog, close to ten years old. In the last year people had been telling me to retire her, to give her to a family and take her off the missions, but in the end, we kept her, and since then, she saved two lives."
But why the Yiddish? "Well, a lot of these dogs are brought from Europe, and they already understand commands in German. And having a dog that would be able to interact with a Yiddish-speaking child could be useful," Mike explains. "We were once on a search in the Jerusalem Forest for an autistic chassidish boy, and when we found him in a traumatic state, having our dog respond to Yiddish commands comforted him. And of course, the average Arab doesn't know Yiddish, and we don't want him to be able to issue or understand commands."

How Could We Help?
Most cases of missing persons don't involve the drama, intrigue or attention of terrorism or kidnapping. It's mostly about people who are depressed, suicidal, have mental or emotional instability, or elderly people with Alzheimer's — the unglamorous, down-and-outs of society.
It's a bit of a distance from Mike's early action days. People who grew up with Jewish activism in the 1980s and '90s might remember Mike Guzofsky as the right-hand man and chief talmid of Rabbi Meir Kahane. He spent years under the Israeli government microscope and even did some jail time for alleged incitement, for which he was eventually found not guilty. ("I never believed in violating the law," he says.) Today, the Dog Unit often works in tandem with the very forces that were for years his nemesis.
Mike, 55, was born in Rockaway, Queens, growing up in a time when the neighborhood was changing and the streets were rife with anti-Semitism. At the time, his pet terrier might have been an omen of things to come. "When a woman on the street started making anti-Jewish slurs to my little sister, the dog bit her," Mike remembers. He attended Orthodox elementary and high schools, and his Yiddishkeit became stronger after a relative introduced him to Rabbi Kahane, whose Jewish Defense League's original aim was to protect beleaguered Jews in America, especially the elderly and poor who were being targeted by other ethnic groups in their neighborhoods — a situation Mike could personally relate to.
He made aliyah in 1982, served in the IDF, was a founder of Rabbi Kahane's yeshivah, Haraayon HaYehudi, but returned to the US with his wife and children a few years after Kahane's assassination in 1990, where he ran a Jewish identity center and was involved in other nationalist activities from the other side of the ocean.
In 2000, all that changed for Mike. It was the beginning of the Second Intifada, and Israelis found themselves under siege as terrorists were running rampant, blowing up buses, infiltrating communities, and shooting wantonly at passing vehicles. (During that time, many people decided not to travel in the same car as their spouse, for fear of both being killed and leaving their children without parents.)
"Every day the headlines were terrible," says Mike. "Entire families were being massacred — in Itamar, in Elon Moreh, in Kiryat Arba. Was there anything we could do to help detect terrorists and prevent their infiltration? Then I happened to see an interview in an Israeli newspaper about how dogs can be an effective tool to stop terrorism. They interviewed someone named Nir Herman, who had once headed dog training units for the military . He'd gone on to start a civilian company training service dogs to do security work. So I contacted him — could these dogs be used for perimeter guard duty around yishuvim? He said, of course, they're used all over the world."
Security dogs are in widespread use around the globe, and K9 ("canine") units are used by security personnel for a wide variety of duties, including drug, bomb, weapon detection and cadaver searchers.  Mike Ben Yaakov had a plan: Would a civilian dog unit be able to step in and help out the country's official security apparatus by providing real-time protection for its citizens?
It was just a kernel of an idea, and Mike had no experience with dogs, or security. He also hadn't been in Israel in seven years. But he had a vision — maybe he could create a program that would encourage aliyah for young people, provide them with housing, work together with a college, and train them in security patrols?
"We raised a few bucks to buy a few dogs and hire Nir and his team, but everyone told me it would never work. 'You're gonna take guys who know nothing about dogs, train them for two weeks, and send them out on patrols to save lives? They'll just get themselves killed!' But something incredible happened," Mike relates. "Of the 12 people in the first course, six of them were Israelis and six were real miskenim from the US — but those six who looked like total losers turned out to be the most serious. They came with an ideology and a desire to help, and they became the backbone of the program."
Guard dogs are an important deterrent because it's almost impossible to surprise them. Even if a terrorist finds a break in the fence and has already infiltrated the town, the trained dog will sense an invasion and pick up the subtle change in the atmosphere. A dog can tell if there is someone lurking around in panic mode, and no matter how confident the terrorist is, he's never really calm — he's under pressure and anxious and the dog picks up that there's someone around with an evil plan.
"Evil intentions, fear, excitement — a dog picks that up," says Mike. "When you make a cholent, you smell the cholent. But the dog picks up on each individual component: He smells the beans, the potatoes, the onions, the ketchup all separately. If he could talk, he'd tell you exactly how many beans and how much ketchup you put in.
"And there's another thing, Nir explained to us: Arabs are scared and superstitious of dogs. If an Arab knows a dog is patrolling the yishuv, he'll stay away."
The canine security program was put to use in Kfar Tapuach, a town in the center of the Shomron which had been home to Meir Kahane's son Benny Kahane, who in December 2000 was murdered together with his wife Talia in a gunfire ambush as the family was driving home with their children after Shabbos. The very first day of the program, there was shooting into the yishuv — a terrorist tried to blast through the front gate. The army arrived, but the echoes and the rocky terrain made it impossible to detect the actual source of the gunfire. Then Nir arrived with the dogs, who located the terrorists' hiding place and caught them.
"The following morning," Mike remembers, "I was stopped by a reserve officer on guard duty. He came up and hugged me. 'You saved my life!' he said.  'Look, I'm a Peace Now guy, I don't believe in these yishuvim, I don't want to do miluim, and especially not here. But you I like — and I love your dogs. One of your dogs is worth ten of my soldiers.'"
For the next six years, the Dog Unit did active patrols in various communities and provided security dogs to those in more dangerous areas, teaching others how to train their dogs and how to communicate with them. Today, while the Dog Unit's main kennel is in the compound headquarters in Tapuach, there are another three kennels around the country, including a training center in Gush Etzion. The Unit owns 30 of its own dogs (most of them purchased from Europe at a cost of about $10,000 each, and more if they are specially-trained), provides ongoing training for another 70, and has over the years placed about 350 dogs around the country, following requests from individuals and communities who want to be safer.
"Our dogs are really very friendly to their Jewish masters, but they're very dangerous dogs if you're an Arab terrorist trying to penetrate a Jewish town," Mike says.
One person who is grateful for the dog Mike facilitated for his family is Max Manning, who moved with his wife and two small children to Leshem, a religious community in eastern Shomron. "We wanted more security, to guard our home and our territory," says Max. "Mike gave us Beach, a Belgian Shepherd, who trains every week with a trainer in order to build up her defense instincts. She knows how to search and secure the house, how to locate an intruder, and how to neutralize the threat. What's amazing is that she has the ability to be aggressive and is willing to give 100% to protect our family, but she's also loveable and the children love to play with her. She also knows how to tell a guest from an enemy intruder, so our Shabbos guests still feel welcome."

Starting a Search
Today, the Dog Unit's primary focus is search and rescue, having morphed into Israel's top SAR unit with its 200 volunteers on call 24/7.
They're still involved in security on the periphery and in preventing agricultural terror, but, Mike explains, "the army doesn't really want us doing security on a large scale, and we also also don't want to encroach on their territory. We're a civilian organization. We certainly can't replace the army and don't want to."
In the unit's compound — made up of the kennels, a training ground, bathrooms and showers, lots of open space, and a prefab structure that serves as operations headquarters, dormitory, and Shabbos guest center — there are about 10 to 15 volunteers at any time. Some are students who are studying in university, some are lone soldiers on furlough, some are yeshivah dropouts who have found an affinity for a rare skill, and others are yeshivah bochurim who divide their time between the beis medrash, training dogs, and searches. On Shabbos the headquarters turns into a dining room with about 30 guests every week, including mainstream yeshivah students looking for a bit of a different Eretz Yisrael experience. And Mike is the chief cook.
The facilities might not be five-star, but then again, there are no pedantic, executive types here — just some sweaty volunteers with muddy boots going out with their dogs, who aren't afraid of camping out in forests and deserts when a search is necessary. For the boys living there during the week, the daily schedule looks like this: At 5:30 a.m. they take out the dogs, at 5:45 they go to Shacharis at a nearby small yishuv that needs help with a minyan, followed by a shiur. Then they come back for breakfast, deal with the kennels, and do some training, either in the compound or at an outlying forest or rubble site.
When a call comes in for an emergency search, Mike contacts his volunteers. "We have about 200 volunteers around the country who have dogs that train with us, so there are always people available."
What's the starting point for a search? "People in our network start posting information around the area where the person went missing, and we put up flyers asking for help," Mike explains. "Then we try to check out the cameras. Sometimes people won't let us look at the cameras until the police come, while others might show the cameras only to us because they don't like the police. They might say, 'We have a missing grandpa, but we don't want the police — they were just here busting us for selling marijuana.' Or, in a place like Meah Shearim, they might say, 'Mike, you can come in, but we're not letting in the cops.'
"And," he says, "we don't charge. But when the family asks about payment, I'll tell them, 'Well, you can fill our tank with gas and buy pizza for the volunteers if you want.' But there's no obligation. They're usually pretty surprised that it's free."
The police have their protocol, their clocks, and their procedures. "It's their job," says Mike, "but for us, it's a mission. They aren't equipped to camp out for three days under the elements, but that's what our volunteers do. Oketz, for example, the IDF's K9 division, primarily deals with sniffing out terrorists and finding explosives. They do have a department for missing people, but their time is limited. Two years ago, for example, a bus flipped over on the slope coming toward Maale Levona and bodies flew out the window. They weren't sure if everyone was accounted for, so the fire department called us in and they also called in Oketz. When the Oketz officer saw me he said, 'Oh, Mike, good you're here. If anyone's missing, you'll for sure find them.' "
Mike says his group was once on a joint exercise with another SAR organization, and in order to train the dogs to detect humans trapped under rubble, they put out dolls and schnitzel. But, Mike says wryly, "they'd have a better chance of their dogs finding a refrigerator than a body. Chicken isn't a human scent. We train our dogs exclusively with human scent: placenta, mixed with hair and nails, and keep it in a special freezer. And we have different levels of decay — a day, a week, a month."
When we visited the compound in Tapuach, we walked head-on into the throes of a search and rescue in real-time. And this time it wasn't an old man with dementia who'd wandered away. An employer from a kibbutz, in charge of the daily pickup of her workers, called the Dog Unit because one of her workers went missing. The worker was a Russian Jewish woman married to an Arab, and that day she didn't show up, her phone wasn't working, and that afternoon she was scheduled to have a final divorce hearing in court. Her husband didn't want the divorce and had been arrested several times before for domestic violence. The employer suspected foul play on the part of the husband and called the Dog Unit after the police told her they would only open the case after 24 hours.
Meanwhile, Mike's team jumped into action. The first thing they did was to circulate the missing woman's picture around the pickup spot. Did anyone see her there before the employer arrived? Did her estranged husband, or perhaps a relative, nab her and throw her into another vehicle?
But later, when I questioned Mike about what happened in the end, he had nothing to report. All he says is that there's been a gag order on the case.

We Drop Everything
One of the biggest surprises is the Dog Unit's lead trainer, a 24-year-old yeshivah bochur named Moshe Chaim who divides his week between the unit and his open-style beis medrash in a Jerusalem suburb.
Watching a demonstration as one of the dogs pounces on Moshe Chaim and clamps his jaws into his protective arm pad was a bit frightening, yet certainly impressive. Moshe Chaim joined the Dog Unit six years ago, after spending a Shabbos at the facility ("Many bochurim find their way here for a kind of Shabbos adventure," he says). When there was a call for the next search and rescue, another bochur coaxed him into coming along. Today Moshe Chaim is an all-around expert: He's a trained medic, dog trainer, and has gone out on many dozens of searches. For several years, his yeshivah friends had no idea about these outside activities, which were coordinated with the guidance of his rosh yeshivah, until an article appeared in the Hebrew press with his picture right up front.
"Still, I don't share the details of my activities," he says, "although my rosh yeshivah gives me halachic guidance for everything. It's hard, and not everyone understands — we sometimes have to go on missions that overlap Shabbos, when it's a case of pikuach nefesh, because the first three days are critical when it comes to finding the person alive. Last year I was called out during Megillas Esther on Purim night. And there was an emergency on Rosh Hashanah, right after davening — I left the yeshivah in a car that came to fetch me. But believe me, the minute it won't be hard is the minute I know I'm in trouble and shouldn't be doing this anymore."
Everyone knows about Hatzolah, but who knows that there are a bunch of volunteers, many of them frum, who regularly drop everything on the chance they'll find a missing person who is often mentally impaired or emotionally ill, and still alive?
"People think there's a certain adventure in it — often volunteers come out for a few hours when they hear about someone missing — but believe me, there's not much glory in this," Moshe Chaim says. "It's hours in the hot beating sun, sleeping outside for three days with the flies and mosquitos. And, I'll admit, I've been on close to 200 searches but I've never actually been the one to find anyone. I've been part of the team, but I've never actually found a body or person, and honestly, that makes it harder.  Once you actually find someone, it propels you, it energizes you. But I guess Hashem doesn't want me to have the prize just yet."
Sometimes though, the prize is in the unexpected discovery. "There was a bochur who disappeared on a Thursday night," Moshe Chaim relates. "He told his mother he was going out to daven Maariv, but he never came home. His friends said he might have been drinking and taken some pills, and we felt he was probably in danger, maybe lying in a field somewhere. So a few minutes before Shabbos, when he still didn't turn up, we went out — we had some clues to where he might have been. Well, we didn't find him, but we did find something else — the body of an Ethiopian woman who had disappeared a year before. She had dementia and wandered away, probably died of dehydration. Now at least she has a kever, and her family is grateful. Oh, and where was the bochur? He'd passed out in a back room of the yeshivah, and they found him in the middle of Shabbos."

No More Labels
When the police are notified about a missing person and the Dog Unit is called into action, the irony of that cooperation isn't lost on Mike, who spent years at odds with the police. He had even once been included on a terrorist list by Britain and was banned entry to that country by the Home Office, along with several dozen Muslim terrorists and inciters. ("It was a moral outrage," he says. "The British government was just trying to show that they're even-handed and they needed a Jewish scapegoat. I've never been involved in activities that were illegal.") Today, Mike has moved beyond the labels, and he's happy the police have as well.
"Look, there are cops who will brutally drag a demonstrator by his peyos, and there are cops who will follow a terrorist into a tunnel and blow himself up together with him in order to save other Jews. For me, it was always about saving Jewish lives, and it still is. And it really doesn't matter if that means protecting Jews from terrorists or saving old men with Alzheimer's who've lost their way."
(Originally featured in Mishpacha, Issue 793)
Oops! We could not locate your form.
>