| Washington Wrap |
End of Long Peace, Start of Long Haul?
| March 8, 2022
The Russian invasion of Ukraine has ignited fears that the long peace may be ending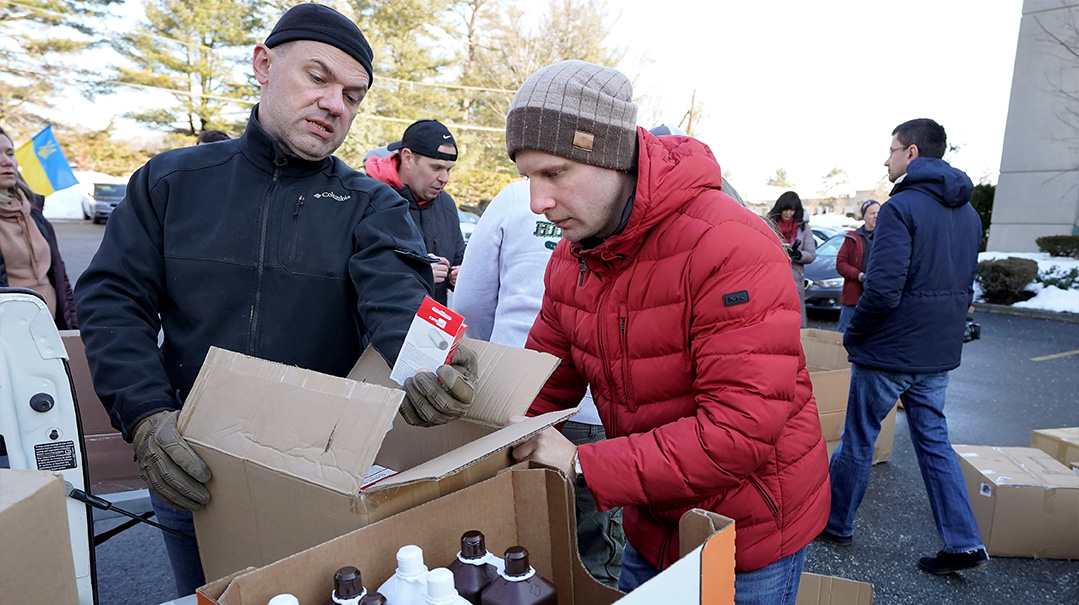 When I was studying for my bachelor's degree in international relations at Hebrew University way back in 2009, several courses dealt with the so-called "long peace," the period after World War II up to the present, characterized by calm in Europe after the tumult of 1914 to 1945.
But the Russian invasion of Ukraine has ignited fears that the long peace may be ending. Last week saw a dramatic policy reversal in Germany, with the new chancellor, Olaf Scholz, announcing an immediate €100 billion package for investment in the country's defense. Scholz also announced that Germany intends to begin meeting the NATO goal of spending 2 percent of its annual GDP on defense.
The chancellor's announcement took many by surprise. Aside from oil prices, only defense stocks such as Lockheed Martin were on the rise, in expectation of a wave of investment from Germany. But that wasn't the only jolt. Germany's decision to terminate the planned Nord Stream 2 pipeline from Russia shocked many.
The prevailing wisdom held that Europe didn't have the stomach to stand up to Putin. If they did, he would cut off their energy supplies midwinter. But Europe has reacted in unexpected fashion. Since the outbreak of war, the previous combination of impotence and naivete has given way to a new firmness. Europe (and not just the UK) is united against Putin, and is even willing to take concrete steps that pose serious economic risk to the union.
"The EU's decisions to strengthen sanctions against the Kremlin and to purchase and deliver weapons to Ukraine are remarkable displays of European resolve," said Stephen J. Flanagan, a senior Rand Corporation political scientist who has held several senior government positions, most recently as special assistant to the president and senior director for defense policy and strategy at the National Security Council from 2013 to 2015.
"The transatlantic community has demonstrated remarkable unity and resolve in the face of Russia's aggression," Flanagan said, adding that the Biden administration's skillful diplomatic engagement with NATO and European Union leaders has been an essential catalyst. "In addition, Putin's vitriolic speeches this week outlining his rationale for Russia's invasion and partition of Ukraine, and the brutal nature of Russian military actions, have also galvanized European governments to take more forceful measures to impose costs on Russia, assist Ukraine, and safeguard Western interests."
Rafael Loss, a defense and security expert at the European Council on Foreign Relations, says this resolve comes at a critical juncture. "Putin's war is first and foremost an attack on the independence of the Ukrainian people, but Europeans recognize that his aims go beyond Ukraine."
Putin has made clear he views the entire post–Cold War European security arrangement as unjust, and is now attempting to change it through military force, threats, and coercion, Loss explains. "Particularly, Germany has seen what amounts to a 180-degree turn in policy toward Russia over the past two weeks: Nord Stream 2 is canceled, sweeping economic sanctions are being implemented, anti-tank weapons and anti-aircraft missiles are being transferred to Ukraine — Germany's long-standing 'special relationship' with Russia is effectively dead."
Germany now aims to rebuild its military as quickly as possible, and its 2022 budget will see a 33 percent increase in defense spending, Loss says. "Most of the money will go into filling critical capability gaps that emerged after 30 years of budget cuts and mismanagement — ammunition, personal equipment for soldiers, weapon-system modernization. Additionally, big-ticket items like the F-35 stealth aircraft and the development of a sixth-generation fighter jet in cooperation with France and Spain are also on the list."
Loss says another major issue that security experts will lose sleep over in the next couple of weeks is how can NATO resupply Ukrainians without a no-fly zone if the Russians sweep up to the Polish border. "Resupply with ammunition, fuel, and other equipment will be critical to sustain the Ukrainian resistance. For good reasons, NATO has rejected the idea of establishing a no-fly zone over Ukraine. It would not be enough to simply declare it — NATO would also have to enforce it, and that would mean achieving air supremacy by engaging in combat with Russian aircraft operating in Ukrainian airspace, but also targeting command-and-control and air-defense systems in Russian territory. This would bring enormous escalation risk."
Loss cautions that, although Russia hasn't yet hit back at the West for imposing economic sanctions, he anticipates there will be some form of reprisal. "To date, Putin and the Kremlin have been preoccupied with a poorly executed military campaign against Ukraine," he says. "It's really not gone well for Russia. But the sanctions are doing great damage to the Russian economy — everything 'made in Russia' has become toxic for trade and investment. At some point we should expect retaliation, and because Russia is disadvantaged in the economic realm, Putin's response will be asymmetric. Massive cyber-attacks could be his weapon of choice to force the West to ease its sanctions."
China is no doubt carefully watching the American response to the Ukraine crisis — especially for the repercussions on its own claim to Taiwan. Loss says the US needs to balance its geopolitical strategy — but a newly resolute Europe makes that easier. "The Biden administration has not taken its eyes off of China — to the contrary, just recently a delegation of former high-level officials visited Taiwan, a signal to Beijing that Washington is paying attention to the region.
"I think more and more decision makers are realizing that the West cannot just focus on either China or Russia," he explains. "We need strategies for both, and one that addresses the challenges arising from the growing alignment between Russia and China. But the West will benefit from some division of labor with Europeans carrying a greater share of the burden for Europe's defense. The developments of the past week, particularly Germany's revolution in foreign policy, leave me with some hope that that is actually possible."
But while Nick Witney of the European Council on Foreign Relations is cheered that Europe has "finally relocated its backbone," he warns against viewing this as a sea change. "Has Europe finally understood that it cannot indefinitely free-ride on US defense efforts, and that complicity with tyrants, so profitable in the short-term, is ultimately ruinous?" he asks rhetorically. "Europe's response to Ukraine's agony has so far been admirable — from the open door for refugees, to the overdue repudiation of 'Russian gold', to Germany's dramatic change of foreign and defense policy.
"But the big question remains — will Europeans, politicians and people, stay the course as the costs mount?"
(Originally featured in Mishpacha, Issue 902)
Oops! We could not locate your form.
>