| Encore |
Encore: Chapter 53 | November 18, 2020
The bochurim gave him confidence. They had made it fun again. Maybe the experts would hear that in his voice again — not just the power and range, but also the joy
S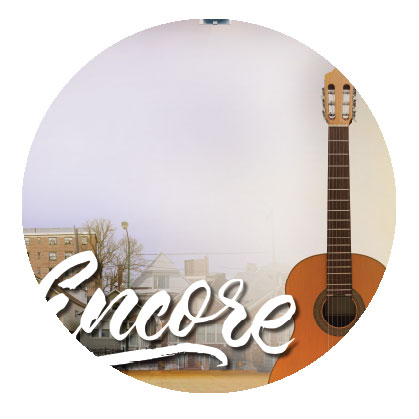 huey Portman refreshed the page for the 16th time that morning, frustration turning to anger. The song was meant to be released today, and JMMatzav was the starting point, even before it would hit the streaming platforms and iTunes.
Shuey hadn't told the bochurim, because they were so proud of the low budget production, but he'd had to pay Herman, who owned the site, to post it, even though everyone knew that it was slow season, after Chanukah and too far from Purim.
"Actually," Herman had said, "the fact that it's slow season has made this time very hot, if you know what I mean. In marketing it's called the 'dry season bump.' "
Look at you, Mr. Marketing Guru. I remember when you were a little kid hanging around at concerts trying to break in and they didn't even let you have supper backstage at the Mechayil El Chayil concert, because you weren't performing, and you got all kvetchy, complaining that you had done some of the rehearsals with them.
Shuey had swallowed and given over his credit card number, paying $650 for the release on the site, a glowing review, posting on the YouTube and Vimeo channels, and a link going out to email subscribers and all six WhatsApp chats.
Whatever it takes, right? It was for the bochurim, he told himself. They deserved to feel success, to know that the song had made it, and this exposure would give it a head start.
He knew that A-list singers would never pay to have anyone push a song, and once upon a time, he would have been on that list.
For a moment, he let his mind wander…. He imagined the song catching on, and slowly, steadily, background noise turning to real buzz. Portman? The guy from Ein Kamocha? Look at that, he's back…. Did you hear it? It's takke something….
Raffi and Benjy Lang and Jacoby and the Israeli guy, they would all hear it and have similar thoughts, that Shuey Portman's problem was never his voice, but his psyche. He didn't see himself as a star, he didn't have the swag, the mindset of a star, blah blah blah.
So why would it be different now?
Because his mindset had changed, that's why. The bochurim gave him confidence. They had made it fun again. Maybe the experts would hear that in his voice again — not just the power and range, but also the joy.
He scratched his head and wondered if he still had the same phone number as then, should they want to reach him. He could see it. Gershy Kaliksberg organizing one of his mega kumzitzes, short a singer: "Hey, what about Portman, isn't he back? He's really good, and he has a new song, too, that's going strong."
He thought about Shapiro from Rock Eish, the one who created hits on the dance floor at The Meridian night after night, now handing out the notes for "Forever & Ever" to his band — actually, these days it was all on iPads, no one used the sheets anymore — and playing it to a faster beat as a second-dance starter.
Then, once it happened, maybe Shuey would let the bochurim know, casually, that he had taken a leap and paid, out of his own pocket, to push the song. Let them know that he had always believed that success didn't come without ambition. Henny would be impressed, but she might also be annoyed that he'd spent that much money without discussing it with her and couldn't it have been used toward replacing the broken dining room chairs?
No, the bochurim was a better idea. It was a good story. Maybe a magazine would want to do a feature on the comeback, with the central message being that it's not too late and you need to follow your heart. He imagined a photo shoot at the old studio, him looking appropriately wise and reflective, but still hopeful about the future.
And if the calls came, would he take them? Would he go back on stage? Would Rabbi Wasser be okay with that? The bochurim?
He let the happy thoughts slip away and pressed refresh again.
Still the same top story about last week's rerelease of an old HASC concert.
Wait, what if the song took off and the story would be about the chinuch success? What if the storyline would be about how Rabbi Sholom Wasser was forward-thinking enough to allow his bochurim a form of recreation that was enjoyable and pure, and it would be Rabbi Wasser on stage at the chinuch conferences and conventions, sharing the secret of creating an atmosphere in yeshivah that was conducive to shteiging?
Shuey Portman wouldn't even need the credit, it was fine.
After three days of trying to figure out who the Torah Support Growth Fund was, Shuey was at a loss. He belonged to a group chat of over 300 executive directors, and he'd never before spoken up — he had never expected his first comment to be such a bizarre question, but he was out of options.
Hi chevreh, this is Yehoshua Portman from the Yeshivah Gedolah of Modena, is anyone here aware of a fund called Torah Support Growth that sends money to yeshivos?
It was quiet for too long, then someone wrote:
Never heard of it, you want to solicit them?
Shuey wasn't sure how to answer, but he was too new to ignore it.
No, some money came in, trying to figure it all out.
There, polite, but vague enough.
Hey, wait, you got money anonymously? Can you hook me up?
There were some smiley emojis and Shuey let it go.
In desperation, he reconsidered the only suspect on his list.
Avi Korman had founded the yeshivah and put it on its feet. He'd funded it for four months. He had a son in the yeshivah who was doing beautifully.
It made sense, Shuey reasoned, for Korman to want to be anonymous, because this way, he could continue to give without being looked at as the "rich uncle." It could be that his business had picked up, but he didn't want the obligation.
Heshy Labinsky. He would know.
Shuey dialed his old friend. "Hesh, sorry to bother you, quick question. Avi Korman, how's he doing business-wise?"
Heshy loved these questions, loved being looked at as the frum CIA, loved showing how wide his commercial net was.
"Yah, Korman, partner in the Perth Amboy deal, right? Also has money with Lemberger, in the city, I think. Yeah, then he probably had a good month, for sure, they sold air rights last week and made a bundle."
"Hesh, you're awesome, no one like you, buddy."
"Good to hear your voice, Shuey, stay well, bye." Heshy liked to be the one to end conversations, and he hung up quickly.
Shuey thought about sharing his suspicion with the rosh yeshivah, then decided that there was no reason. His instincts and Heshy's supporting proof were evidence enough.
He picked up his cellphone and texted Avi Korman.
Hope all is well, Dovi looks great, learning up a storm. Wanted you to know, and also to give over my thanks to the Torah Support Growth Fund. Good folks.
He hit send and sat back in the swivel chair, waiting for an answer. Then he leaned forward and refreshed the website again.
to be continued…
(Originally featured in Mishpacha, Issue 836)
Oops! We could not locate your form.
>