| Encore |
Encore: Chapter 14 | February 5, 2020
Lang with the attitude problem would have made Shuey sing the way he really wanted to sing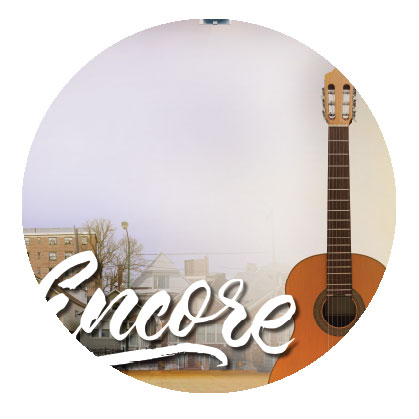 Shuey hung up from Avi Korman and warily said good night to his family, casting a longing look at the house — it wasn't his, it was a rental, it had no personality, whatever. Tonight, it felt like he'd been born in that house and lived there every day of his life. As he stood in the driveway and looked back, he was overcome with tenderness: the horse-shaped brass doorknocker he always thought tacky was suddenly a friend, the porch light with the yellow glow he thought attracted bugs now seemed inviting, and the slate blue door he'd once said looked like an angry sky beckoned him to come back in and forget about the yeshivah.
But he didn't, of course, he had a job. A calling, he thought, but he didn't linger on it, just kept moving, pulling out on to New Hampshire, stopping in Wawa for an impossibly large coffee and, on a whim, a few bags of chips and pretzels for the bochurim.
He drove without thinking, listening to music — to himself — and sang a low harmony to "Mimkomo" that he wished he would have thought of back then. This was one of his regrets, that he'd allowed others to tell him how to sing and hadn't let loose.
Two years after "Ein Kamocha," when Shuey's career started to falter, he knew it was time to switch producers. Benjy Lang was the guy, they all said, even if he wasn't easy to work with. He was moody and distracted, but his understanding of music was unparalleled.
Desperate, Shuey went to meet Benjy Lang, who received visitors in a shul ezras nashim in Kensington.
"I heard your stuff," Lang spoke in a monotone, barely looking up. "You have a very good voice. You know how to sing. You understand the song."

"So what happened?" Shuey didn't feel a need to pretend.
Lang stretched and appeared to rub sleep from his eyes.
"Have you ever heard Shmelka's stuff?" he asked.
Shuey knew it was very uncool to admit listening to other artists. Most singers pretended to be completely unaware that there were others besides themselves, Mordechai ben David, and Avrohom Fried, but there was no reason to play games with Lang.
"Yeah, sure."
"You realize he's the hottest name out there right now, and his voice isn't half as good as yours, right?" Benjy Lang brushed cookie crumbs off the front of his sweatshirt. "Why do you think that is?"
Shuey had the same question, and no good answer.
"It's because when Shemlka sings, he sounds like a kid jumping up and down on his bed using a hair-brush as a fake mic, you know? He sounds like there's nothing he'd rather do and nowhere that he would rather be. He's having fun! You sound like you're ten minutes before the end of your shift and you can't wait to get off."
At the end, Benjy Lang didn't become Shuey's producer. Shuey couldn't deal with what he'd called, at the time, "bad people skills," but now knew was brutal honesty, and instead he'd gone with Mendy Melling and put out a single that flopped and, rather than resurrect his career, had hastened its ending. Lang with the attitude problem would have made Shuey sing the way he really wanted to sing.
(Excerpted from Mishpacha, Issue 797)
Oops! We could not locate your form.
>