| 2020 Election Special |
Elections 2020: Rose Report Liveblog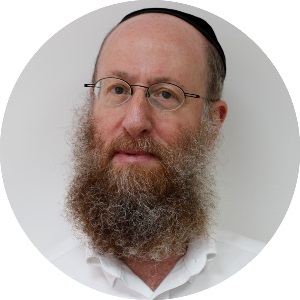 | October 28, 2020
Binyamin Rose Reports on the 2020 election
CAN WE TRUST THE EXIT POLLS? | Tuesday 11.3.20, 4:30 PM
This election night especially, it's best just to wait for the final results — even if it takes a while.
I
t's a given that many people don't trust polls taken before the election. Even pollsters tag their surveys with the disclaimer that they built a margin of error into the figures. The closer the race, the more likely the poll is to be off target.
But how about the exit polls, taken after people have voted? Shouldn't they be more reliable? After all a person may be able to change their minds between the time the pollster calls and before their vote, but once they vote, shouldn't the information they gave pollsters be spot-on?
These are good questions for those planning to pull an all-nighter watching election returns as networks scramble to declare winners based mainly on the exit polls.
First, it's important to know that flipping channels won't help much.
CBS, NBC, ABC and CNN are all part of the same media pool. They will draw their figures from Edison Research, a Somerville, NJ based media research company that has been conducting exit polls at voting locations nationwide since October 13 and will also be on the scene today across the country. While each network might interpret the figures differently, they will all be working with the same set of data.
Edison took on this task in 2004, after the fiasco in the 2000 presidential election, when networks made two outrageously wrong calls based on data provided by the now defunct Voter News Service consortium. First, they projected Al Gore won Florida, only to retract that and hand Florida to George W. Bush, prompting Gore to concede prematurely. As it turned out, it took five weeks and a Supreme Court ruling to decide Florida, and the presidency, for Bush.
Edison contends its exit poll is the only survey that will be released on election night that represents the views and opinions of actual voters interviewed as they cast their ballots all across the country.
Forbes Magazine contends Fox News may have the edge this year in calling the presidential race. You can read more about that here.
Suffice it to say that following the 2016 election, Fox News and AP parted ways with the media pool and joined forces to produce the Fox News Voter Analysis. Forbes says this exit poll uses one methodology for all voters, including early voters, those who vote by mail, and Election Day voters. If you have 27 minutes, give all or even part of this interview with Fox election desk head Arnon Mishkin a listen and he'll tell you how it works.
Last but not least, Laura Bronner and Nathaniel Rakich of Nate Silver's FiveThirtyEight blog caution readers that there is no reason to believe any exit polls will be any more accurate than the traditional pre-election polls. They specifically warn those anxious to know the winner against putting too much weight on the first exit polls, due out after 5 pm EST, two hours before the earliest voting precincts close for the night.
"We will be using exit polls in the weeks to come to understand how age, gender, race and education shaped voting behavior once we know the outcome," write Bronner and Rakich.
"But if your main question is who will win the election, well, we'd never have recommended exit polls for that anyway. This election night especially, it's best just to wait for the final results — even if it takes a while."
To err is human. To have patience is a virtue.
STIFLING MY GUT FEELING | Tuesday 11.3.20, 10:30 AM ET
I'm not afraid to take a stand or be wrong, but I must also be prudent to ensure my own personal choice as a voter does not color my professional judgment
A
fter the recent lockdown ended, my wife and I joined another couple for dinner at their home in Jerusalem. Both are avid readers of Mishpacha.
My wife's friend expressed frustration with some of my recent articles.
"You always come this close to letting on what you really think, but you always pull back at the end," she said.
I took that as a compliment and I think she meant it that way too.
Anyone who read my op-ed in JTA on "Why Orthodox Jews Support Trump" know I voted for Trump in 2016. I confess here, in writing, that I voted for Trump again this year.
That being the case, some readers are finding it discouraging that I haven't expressed enough optimism about Trump's re-election chances. Do I really think Biden will win?
I'm not afraid to take a stand or be wrong, but I must also be prudent to ensure my own personal choice as a voter does not color my professional judgment. I do have a gut instinct, but the picture is very murky. Either man can still win.
But once I stick my neck out, I become a partisan. I risk losing my objectivity. My writing becomes predictable because I get locked into championing  my own position, even if it becomes clear that I'm wrong. At that point, I risk losing my most valuable asset as a journalist – my credibility.
So I play it cool. I crunch the poll numbers with ice water flowing through my veins and develop my own opinions, rather than parroting others, or telling readers what I think they want to hear.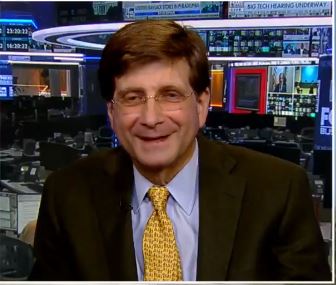 I got some positive reinforcement for that approach from an article I read in Forbes this morning on Arnon Mishkin, who has been head of the Fox News decision desk on election night for over 20 years. Mishkin will be on the hot seat again tonight as he pores over the real-time results as well as the private exit polls Fox has been conducting.
Mishkin's claim to fame was his projection in the wee hours the morning after Election Day  2012 plunking Ohio into President Obama's column, enabling Fox News to declare Obama the winner over Mitt Romney. Mishkin got grief from Fox News analyst Karl Rove who thought both Mishkin – and Fox – jumped the gun, but his call proved to be 100% accurate.
But Mishkin didn't make the call until he was absolutely sure of his data.
When Forbes asked Mishkin for his prediction on this year's race, he demurred.
"I have a feeling in my gut and I'm constantly saying I need to ignore that feeling because you have to prepare for every eventuality," Mishkin said.
I get that.
At the risk of upsetting my wife's friend, and some other readers, I will keep my gut feeling close to the vest. I too have prepared for every eventuality. Because our print deadline is so tight, I have already written three articles for Mishpacha on spec; one if Trump wins, a second if Biden wins, and a third if the results schlepp on for days, or weeks.
Ultimately, my gut instinct tells me that no matter who wins the presidency, my readers will come out winners when I let my guts churn internally without them spilling over.
TRUMP'S LAST MINUTE JUMP | Tuesday, 11.3.20, 5:00 AM ET
I can now hear the question everyone is asking, including myself. If Trump does win Florida and Pennsylvania, bringing his total to 268, he's still two votes short of 270. Is there any other state he might win to lift him above that magic number?
P
resident Trump fans wake up to some positive developments this morning as overnight, the Real Clear Politics electoral map with no tossup states flipped both Georgia and North Carolina into the president's column.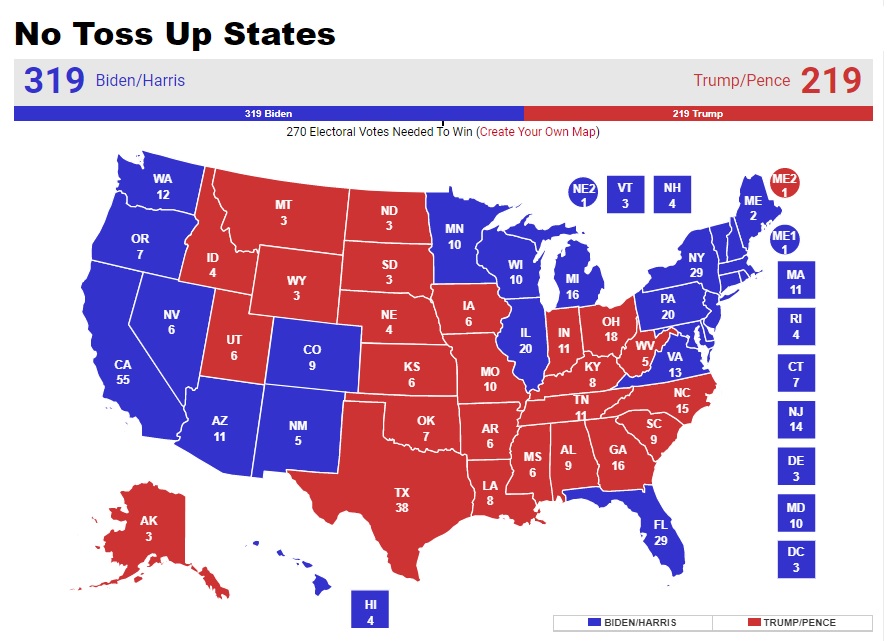 That boosts the Trump-Pence ticket to 219 electoral votes, or 51 short of what they need to stay in office.
Trump's average job approval rating has finally hit RCP's critical mark of 46%, although that number is skewed higher by one poll – Rasmussen (52%) – the only one to rank the president above 50%. The other polls that rate Trump at 46%+ is Fox News (46%) and The Hill / Harris X (49%).
In doing the math based on the polls, Biden's path to victory is still a bit clearer.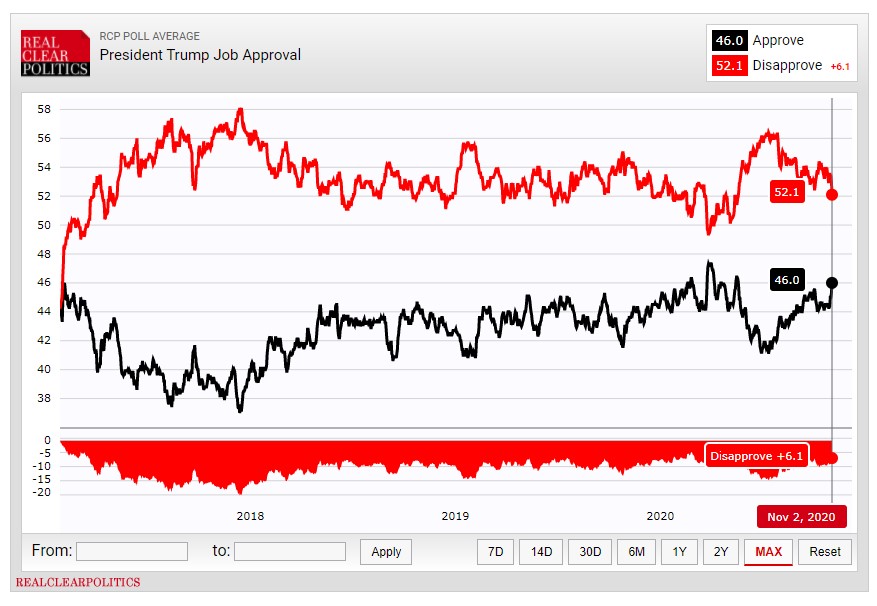 At 319 projected electoral votes, Biden can lose both Florida (29) and Pennsylvania (20) and still end up with the 270 he needs to win.
However, Trump won both of these states in 2016. Since 1996, Florida has voted for the Democratic candidate three times and the Republican candidate three times, so it richly deserves its label as a tossup state.
Pennsylvania, on the other hand, voted Democrat in six consecutive presidential elections until Trump broke that long blue streak in 2016, winning Pennsylvania by 0.7%. Trump has cut Biden's lead in Pennsylvania in half over the last week from over 5% to just 2.6% -- well  within the 3-5% margin of error.
I can now hear the question everyone is asking, including myself. If Trump does win Florida and Pennsylvania, bringing his total to 268, he's still two votes short of 270. Is there any other state he might win to lift him above that magic number?
The most likely candidate is Arizona (11). Biden's average lead there is 0.9%. Arizona voted for Trump in 2016 and has voted Republican in 16 of the last 17 presidential races. The only time a Democrat won was Bill Clinton in 1996.
So, all in all, it looks as if tonight and tomorrow is going to be another nail-biter for Trump, Biden and the rest of the world which is watching this election as no election ever before.

TRUMP PUSHES UPHILL | Monday 11.2.20
It goes without saying the polls could be off enough so that the race will still be very, very tight
P
resident Trump's last minute campaign blitz to overcome the gap with challenger Joe Biden still appears to be falling short of what he needs to feel confident he will pull off a victory in tomorrow's election.
Biden maintains leads in 9 of the 12 states that Real Clear Politics considers to be battlegrounds. In addition, Biden is polling better in 11 of those 12 states compared to where Hillary Clinton stood a day before the 2016 election. The sole exception is Minnesota, but Biden holds a 4.3% lead over Trump in that state, which has voted for the Democrat in 11 consecutive presidential elections.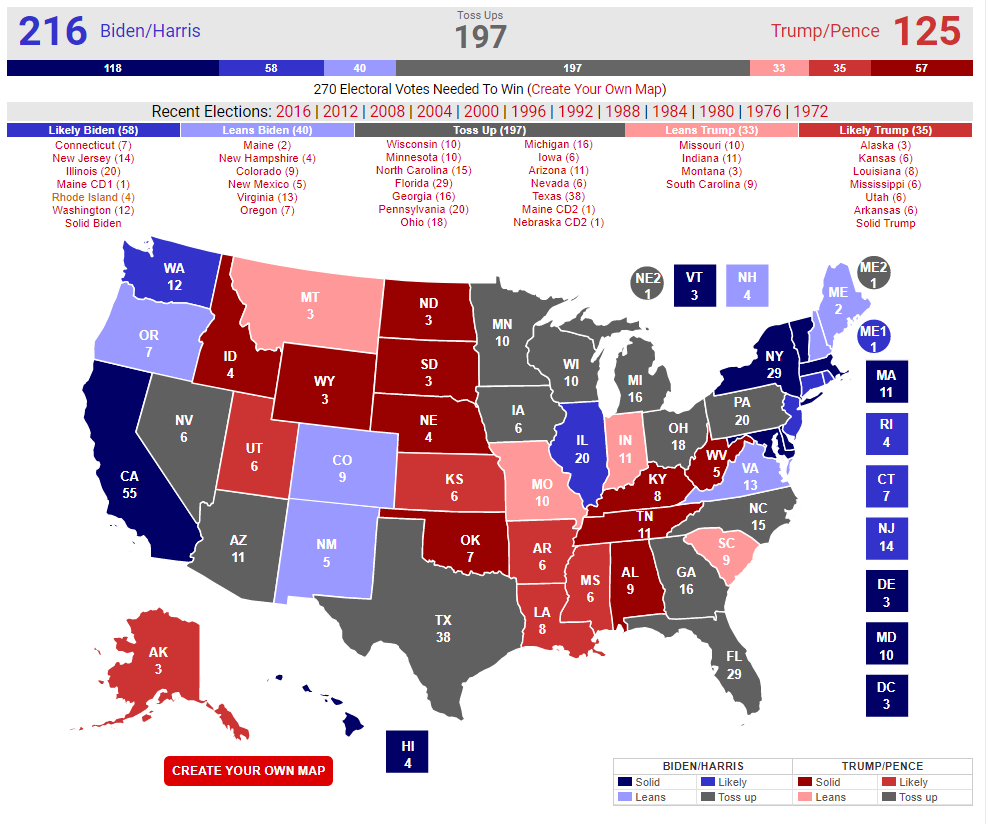 The fact that Trump is only up by 1.2% in Texas – a state he won by 9% in 2016 and fellow Republicans Mitt Romney and John McCain won by 15.8% and 11.8% respectively, in 2012 and 2008 represents more bad news for Trump's election bid.
On the plus side, Trump's job approval ratings have inched up in the past few days. RCP's senior elections analyst Sean Trende has posited that Trump needs to be at least at 46% to come from behind as he did in 2016.
One day before E-Day, Trump's job approval is averaging 45.3%, but three of the four most recent polls show Trump at 46% or better.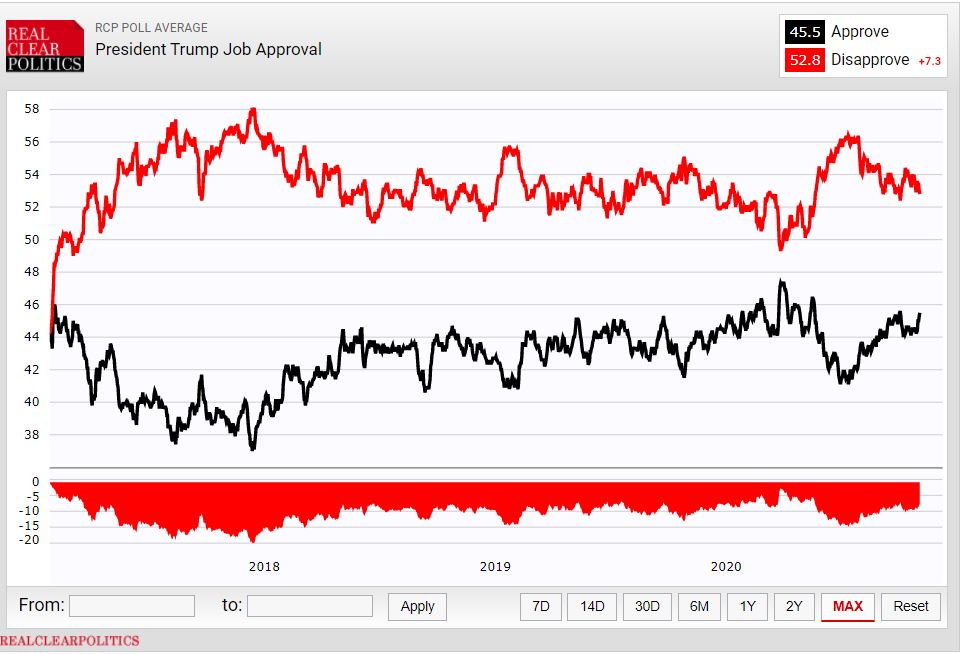 By the way, the RCP Senate map – the one without tossups states – is showing the Senate election might end in a 50-50 deadlock. In case of a tie vote on legislation, Senate rules call for the vice-president to cast the tiebreaker, which means that whichever party wins the presidency would still theoretically hold a one-vote edge in the upper chamber.
It goes without saying the polls could be off enough so that the race will still be very, very tight. Both candidates are on the road, fighting for the estimated 3% of the vote that's still undecided – in an election season where 94-million Americans have already cast their ballots.
Biden was expected to campaign in Cleveland and in Pennsylvania today, Monday, while President Trump planned five rallies in four key states, including Michigan, which the RCP poll still rates as a tossup. Biden holds a 5.1 lead in the average poll in Michigan, but Trump has grabbed a two-point lead in the Trafalgar Poll.
Trafalgar remains a bright spot for die-hard Trump supporters. Trafalgar's founder, Robert Cahaly, accurately predicted Trump's 2016 total of 306 electoral votes even though he didn't get every state right.
I watched a clip of Cahaly being interviewed on CNN the other night, and he is still confident of his numbers, both in Michigan and nationally.
It's worth a look if you're a Trump voter and you need a boost going into the final 24 hours of the campaign. At the very least, Cahaly's bowtie is really cool looking, and he rendered his CNN interviewer speechless.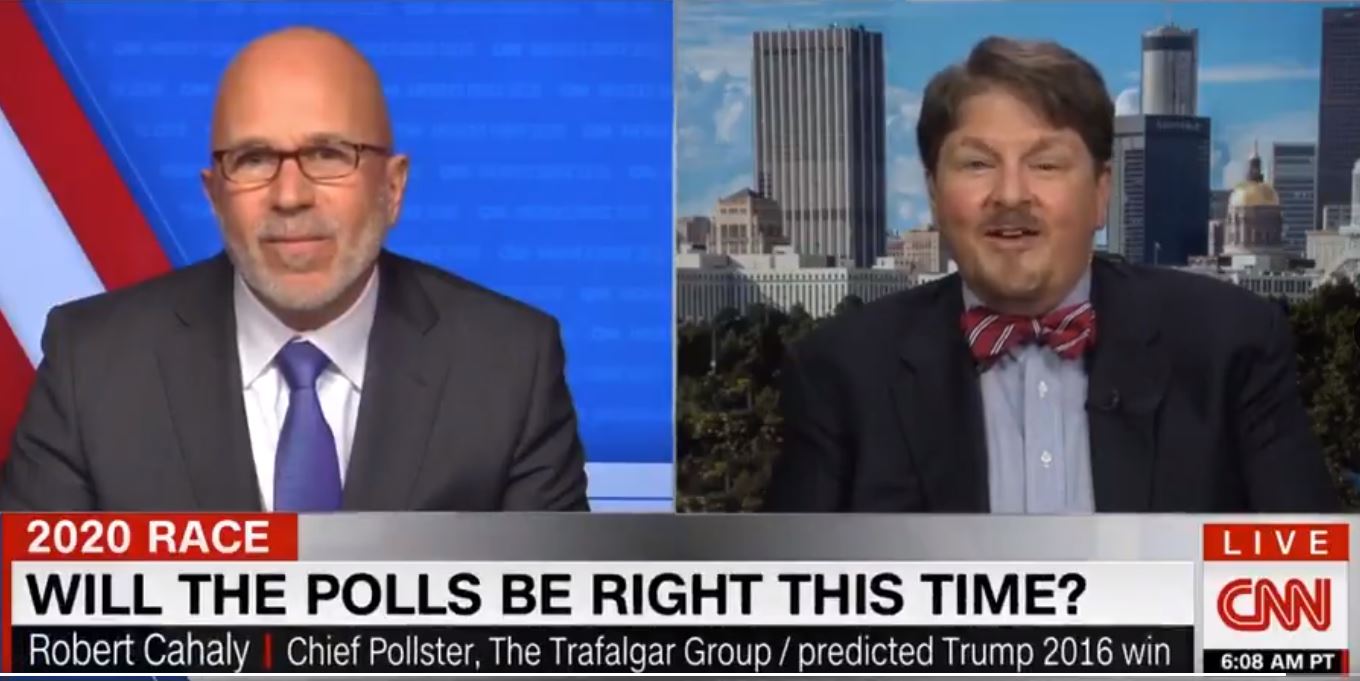 A TRUMP WIN WOULD BE UNPRECEDENTED |  Sunday 11.1.20
Only twice before have three consecutive two-term presidents led America. If Trump wins on Tuesday, he will break that record.
I
f Donald Trump wins re-election on Tuesday, it would be the first time in US history that Americans have ever re-elected four consecutive presidents to two terms in office.
Trump has been preceded by three two-term presidents – Barack Obama, George W. Bush and Bill Clinton.
Only once before have three consecutive two-term presidents led America, from 1801 to 1825, when Thomas Jefferson, James Madison and James Monroe all won re-election to a second term. John Quincy Adams broke that string when his bid for a second term was stifled by his defeat to Andrew Jackson.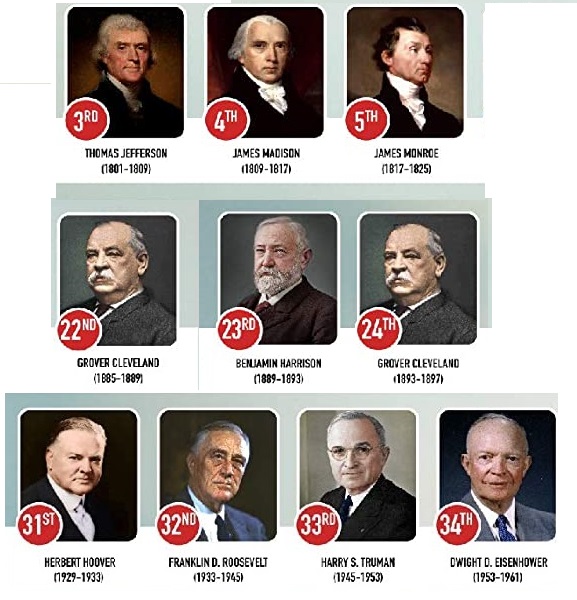 While it's true that Franklin Delano Roosevelt himself was elected to four consecutive terms, he was just one person. FDR was preceded by a one-term president – Herbert Hoover – and was succeeded by two men who served two terms, Harry Truman and Dwight Eisenhower, but Truman wasn't elected twice – he merely stepped into FDR's shoes when FDR died in office. And after Eisenhower, John F. Kennedy was assassinated midway through his only term in office, breaking the string.
Grover Cleveland also served two terms in office, but he lost his re-election bid the first time. He had to run again four years later to win a second term.
Overall, just 13 of America's 45 presidents were re-elected to serve a second term in office, which is about 30% of the time.
In a research paper published in the Journal of Political Science in June 2018*, researchers Luis Miguel DaVinha and Niklas Ernst argued that the failed re-election campaigns of incumbent presidents were generally highlighted by a combination of a hard-fought primary campaign, a struggling US economy, an unusually strong challenger in the general election, and a president weary of campaigning.
The only parameter from that list that applies to Trump is a struggling US economy. Otherwise, Trump faced no primary challenge, Joe Biden is more of compromise candidate that a strong challenger, and Trump, even while recovering from a bout of COVID-19, has shown more vigor on the 2020 campaign trail than his opponent.
However, the researchers write that when incumbent presidents were defeated, they often faced atypical presidential contenders who became surprisingly strong candidates due to unique circumstances. While COVID-19 certainly qualifies as a unique circumstance, and Trump has received his fair share of criticism for the way he handled it, this year's election looks more like a thumbs up or thumbs down on Trump himself.
He will win again and make American history if more people who like him show up to the polls in the right states and he will lose if more people who dislike him vote in states that have enough electoral votes to hand Joe Biden a victory.
A Biden win would bring one more first to America. It would be the first time that America has a woman vice-president — Kamala Harris.
TRUMP IS CLOSING IN ON BIDEN | Wednesday, 10.28.20, 5 am EST / 11 am Jerusalem
T
he sun hasn't peeked over the horizon yet on the east coast as I write this, but with the dawn's early light, the picture is looking a bit brighter for President Trump.
The Real Clear Politics average poll tweaked its electoral map —the one without tossup states — and now favors Trump to defeat Biden in Florida and Georgia. The change lowers Biden's electoral college total to 311, down from 357 just three days ago.
While that's still more than Biden would need to oust Trump from office, it shows a continuation of Trump's late momentum from 12 days ago when the RCP average also flipped Ohio from Biden to Trump.
Trump carried all three of these swing states in his 2016 victory over Hillary Clinton.
In addition, Biden is slipping in Pennsylvania, which is a must-win for both candidates. Biden's lead in the state of his birth has hovered above 5% for most of the year, but as of this morning it's down to 3.8%.
Even that shrinking lead includes some polls taken two weeks ago. In two of the three new polls released from Pennsylvania this week, Trump is either tied with Biden (according to Trafalgar, which is considered a Republican poll) while the president leads Biden by 2% in the Insider Advantage survey.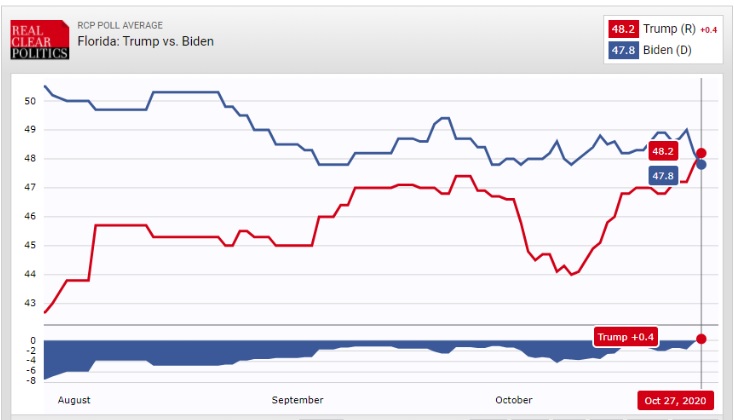 We need to keep watch on other polls in key battleground states as they come out this week.
While I'm at it, I would like to add one important takeaway from the first new poll to be released this morning, by Emerson College, which polls the national popular vote.
Emerson has Biden ahead by 5%, consistent with its findings throughout the campaign. However, I noticed in the all-important approval ratings, while Trump's job approval is 45% only 51% disapprove. Four percent are neutral. If these figures are accurate, it shows Trump is not as unpopular as many pundits say he is.
However one cautionary note for Trump in the Emerson Poll is that Biden has near-universal support among Democrats (99%), while only 93% of Republicans are voting for Trump.  Independents are breaking for Trump, 47% to 41%, so Trump needs a big turnout to turn the tide in his favor.
Oops! We could not locate your form.
>