| Recipes |
Double Duty Red Wine Barbecue Sauce | September 9, 2021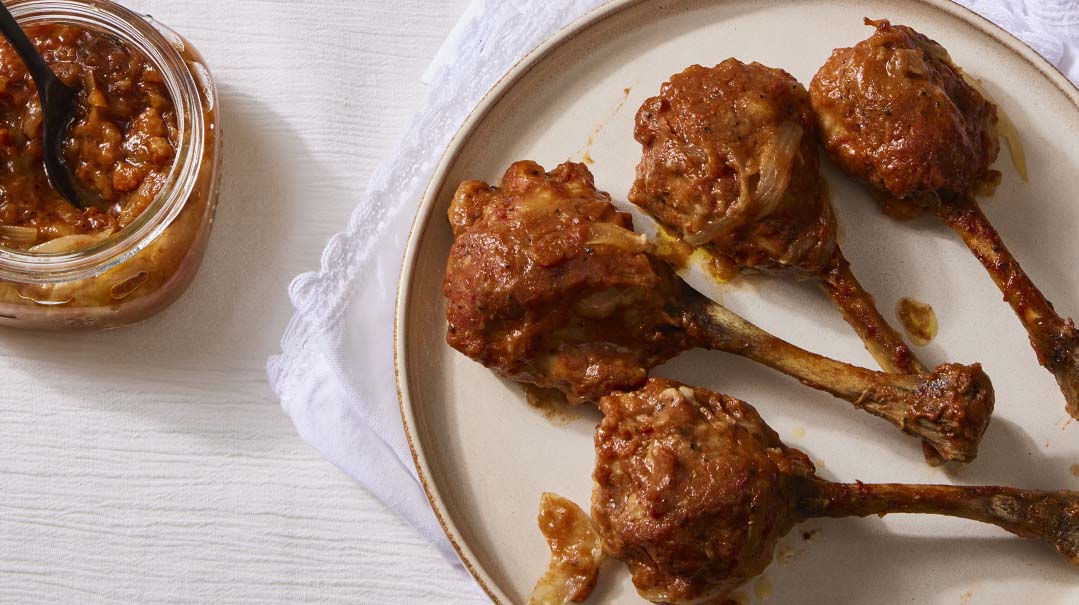 Props and styling by Goldie Stern
Photography by Felicia Perretti
I love when you can make one sauce that can be used on ribs, roasts, and chicken. It makes prep so much simpler!
SERVES APPROXIMATELY 4–6
2 lb (1 kg) short ribs or
2 lb (1 kg) lollipop chicken legs
2 Tbsp oil
2 onions, thinly sliced
6 cloves garlic, minced
4 Tbsp flour, divided
1 bottle Pure Food by Estée Red Wine Barbecue Sauce, or make the sauce below
Red Wine Barbecue Sauce
6 Tbsp tomato paste
4 Tbsp red wine
2 Tbsp mustard
4 Tbsp honey
4 Tbsp barbecue sauce
1½ Tbsp soy sauce
1 Tbsp cracked black pepper (see note)
Pour oil into the bottom of a pan. Add onions and garlic and toss with 2 Tbsp flour.
For ribs: Coat ribs with 2 Tbsp flour. Pour Red Wine Barbecue Sauce over the ribs. Cover the pan well and cook on 325°F (160°C) for 1½–2 hours (depending on the size of the ribs). Uncover and spoon the sauce over the meat. Add 2–3 Tbsp water if it's dry.
For lollipop chicken legs: Pour sauce over chicken. Bake at 350°F (175°C), uncovered, for 1½ hours. Spoon sauce over the chicken when done.
Note: Don't use an equal amount of ground black pepper here! Cracked black pepper takes more physical space on your measuring spoon than ground pepper would. If you're using ground black pepper, use less, or season to taste.
Note: Thanks to all of your enthusiasm, my line of sauces continues to grow! I'm excited to introduce our latest sauce, the combination of our popular red wine sauce and barbecue sauce, with no added refined sugars! It's sweetened only with fruits. Our goal is to help busy women put gourmet food on the table really easily… so we've bottled the recipe for you. Pour, bake, and serve.
(Originally featured in Family Table, Issue 759)
Oops! We could not locate your form.
>