| Jr. Feature |
Don't Forget to Write | July 26, 2022
The world's most interesting post offices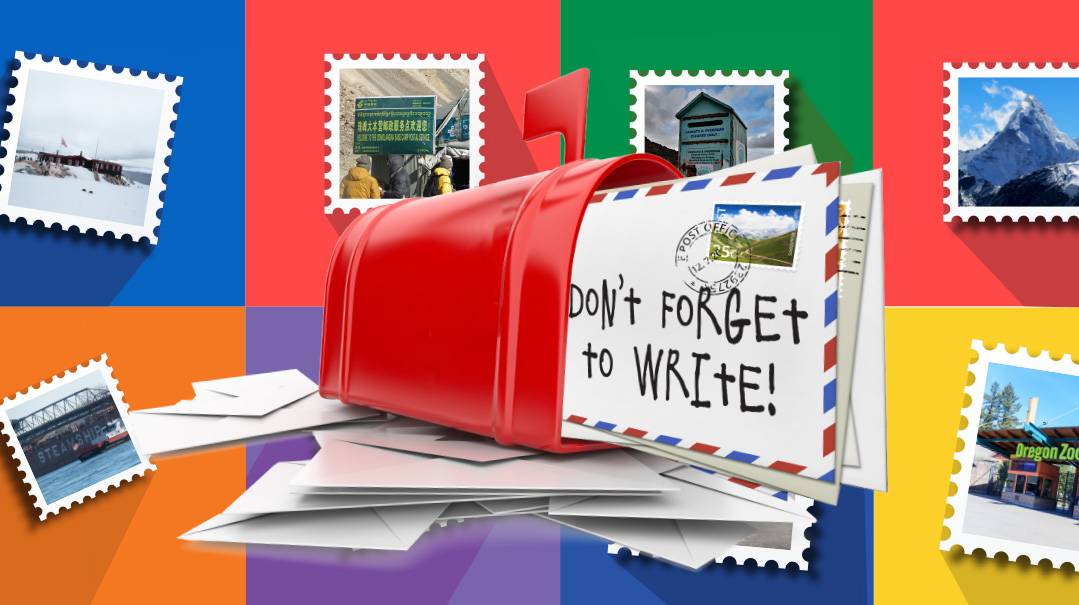 It used to be that when kids headed off to camp, their parents would remind them, "Don't forget to write!" Most campers would write some letters. And they could some expect mail from their parents in return.
Sending and receiving paper mail certainly isn't what it used to be. People don't have the patience to sit and write by hand, find a stamp, mail a letter, wait for it to get to its destination, and then wait for a response. But there's still nothing like getting a real letter in the mail.
Imagine what it must be like, then, to send and receive letters from these cool locations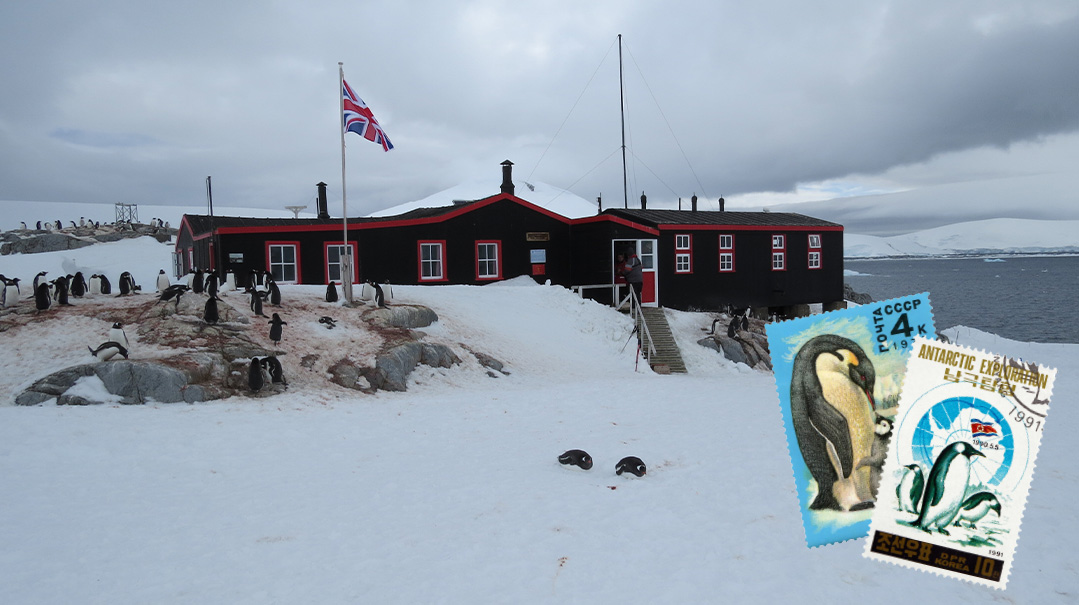 The Penguin Post Office in Port Lockroy, Antarctica
Picture a mostly bare, rocky island with two black painted wooden buildings and a metal hut. The island itself is only the size of a football field, so you can pretty much see from end to end, if there isn't too much fog. You may spot a few dozen penguins hanging around the buildings. The harsh wind sweeps through, stealing your breath. You've just arrived at Goudier Island in Port Lockroy, Antarctica, located about 7,000 miles south of Argentina. It may not look like much. But you want to write home to tell your family about it. And guess what? You actually can.
A British flag — the Union Jack — flaps and snaps at the end of a tall flagpole in front of the buildings. It's a post office, often called "the loneliest post office on Earth." I have no idea how they measure how lonely a post office is. But it is the world's "most southerly functioning post office," meaning it's the post office located farthest south on the globe — and it's still in operation. And though it may be "lonely" in its location, it's actually quite popular for a post office. In pre-Covid times, around 18,000 people a year came to visit (and send some mail, because it's cool to write from such a place).
But what may surprise you even more than the number of tourists visiting, (and sending mail from there) is that the Port Lockroy post office job is one of the most desirable postal positions in the world, with as many as 2,500 applicants a year. Never mind that there's no cell phone service or running water on the tiny island. There isn't even email, a flushing toilet, or a shower! And the job only pays around $1,600-$2,300/month for 12-hour days. Nevertheless, it's considered a great job.
Working at the Post Office
There are only four or five jobs at the post office, and the people who hold the positions are switched out every five months, working only during the Antarctic "summer," from November to May. (The 3,000 or so gentoo penguins on the island remain year-round.) The reason for the post office's popularity remains something of a mystery (though it is kinda the only tourist attraction on the island, aside from the penguins). Nevertheless, the postal workers who've served there have almost universally called it one of the best times of their lives — and that's going back to the 1940s and '50s, when it first opened!
Many of the original postmasters came to work there after serving in Britain's Royal Air Force, drawn by a sense of adventure and excited by the Antarctic frontier and its harsh landscape. Others came to escape the boring routine of a typical nine to five  job. At this strange post office at the end of the world, they could wear whatever they wanted (instead of a typical army uniform or postal uniform) and kind of just be themselves. And their postal duties were quite broad. Sometimes they had to act as magistrates (like a police officer), coroners (who took care of dead bodies), customs collectors (charging taxes for imports and exports), and shipwreck inspectors.
The mail they distributed represented a lifeline to the men exploring, researching, and serving in the region. The letters brought word from home, and, in those days, since it could take up to a year to receive more mail, each letter was read, reread, discussed, and saved.
Job Perks
Another part of the job was dealing with all the amateur stamp and letter collectors from around the world. People wrote from Bombay, Czechoslovakia, West Germany, and Brazil, among many other places. All of them were seeking one thing: a one square inch stamp with the profile of King George VI and a map of British Antarctic Territory printed in green ink. These were collectors' items, and they were in the sole possession of those serving in the Antarctic region. Many of the people writing and requesting these keepsakes also shared a little about themselves, saying how they wanted a letter from anyone in Antarctica, or explaining why they were collecting stamps.
Eventually the requests became too overwhelming, and the postmasters starting sending out a form letter saying they could no longer provide the requested stamps and materials. But the writers at least received a response — with the unique stamp and postmark from the remote post office. The post office eventually closed in 1962.
Is it still around?
In 1996, an organization called the UK Antarctic Heritage Trust reopened the post office. And the job has been a popular one ever since. Around 70,000 pieces of mail from over 100 countries are mailed from here each year, mostly sent by some 18,000 or so tourists whose cruise ships make stops on the island. A stamp costs around $1. These days, letters posted from here usually take two to six weeks to arrive at their destination. And, of course, there's no overnight or 24-hour service available.
Eiffel Tower, Paris, France
In the era of fake photography and photoshop, there's a way to prove you were truly at the Eiffel Tower, one of the world's most visited monuments. Just send a letter from there! Surprise! There's a small post office on the ground floor of La Tour Eiffel, near the tower's south pillar. So, on your next trip to Paris, be sure to save up all your postcards and send them from that special location.
Years ago, the post office was actually located at the top of the tower, at an altitude of 900 feet. It offered postal and banking services and was considered the most beautiful (and tiniest) Parisian post office. Postmarks from the original post office read: "Sommet de la Tour Eiffel" (Summit of the Eiffel Tower). When the post office moved down to the bottom, the postmark was changed to "1er Etage de la Tour Eiffel" (First Floor of the Eiffel Tower). Today, there's just a generic postmark.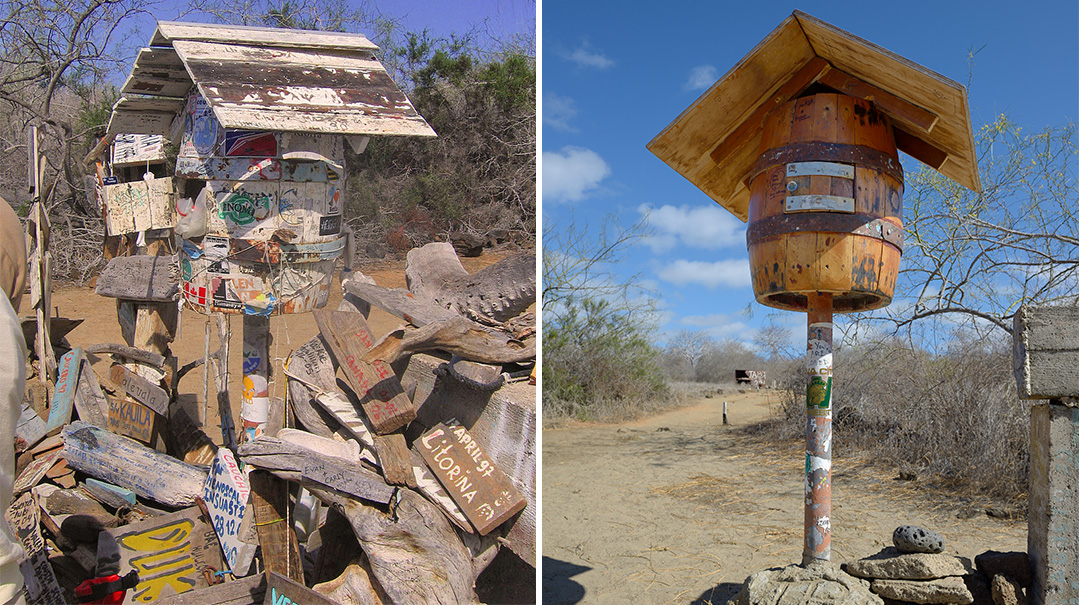 Post Office Bay, Floreana Island, Galapagos, Ecuador
The Galapagos Islands, off the coast of Ecuador in South America, are pretty remote. So when British Captain James Colnett put out a wooden barrel on Floreana Island in 1793, he was kind of acting on blind faith that passing ships would check inside and take and leave mail for other travelers and explorers. It seems to have worked; Colnett's barrel mail system is still in operation today.
Visitors to the island can leave some letters in the barrel and take mail along with them if they find some for people who live near them. It's a kind of passive post system, relying on the goodwill of passersby (i.e. an honor system — not so different from "frum mail," when we take letters for each other to and from Israel and other places). There's no postage fee; the system just works on trust, that whoever picked up your mail will take it where it needs to go. Thousands of letters pass through the barrel annually. Most are taken for delivery by tourists and cruise ship passengers.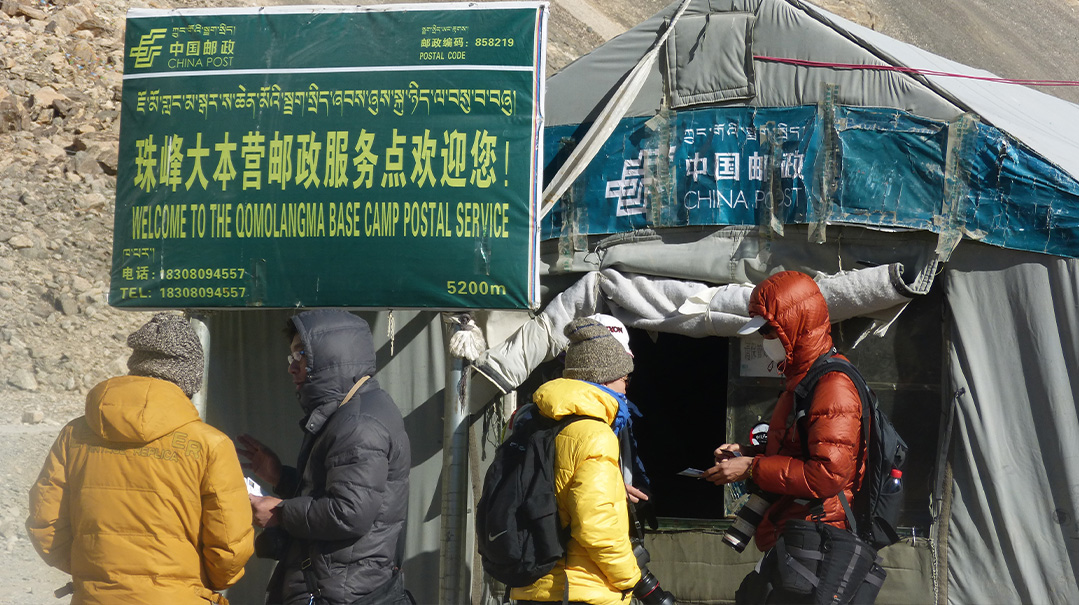 The Mt. Everest Base Camp, Tibet
Supposedly the world's highest post office, the branch of China Post at the Everest Base Camp in Tibet is situated at an elevation of 17,388 feet. From this post office, visitors can send postcards to all their family and friends. That is, if they're at the Base Camp from April 15th until October 15th, when the post office is open.
The postal station is staffed by three workers and is open from 10:00 a.m. to 6:00 p.m. every day. There are postcards and stationery for sale, as well as seats and tables for people to sit and write their letters. Of course, they also must be very serious hikers to reach the postal station, trudging up that high with oxygen canisters and battling altitude sickness. Mail is only brought down from the Base Camp to mainland China once a week. Letters take around three to four weeks to reach their final destination, with the special postmark of the Everest Base Camp on the envelope.
It costs a bit more to send a postcard from there than it does from other, lower elevation locations in the area. But it's worth it, don't you think?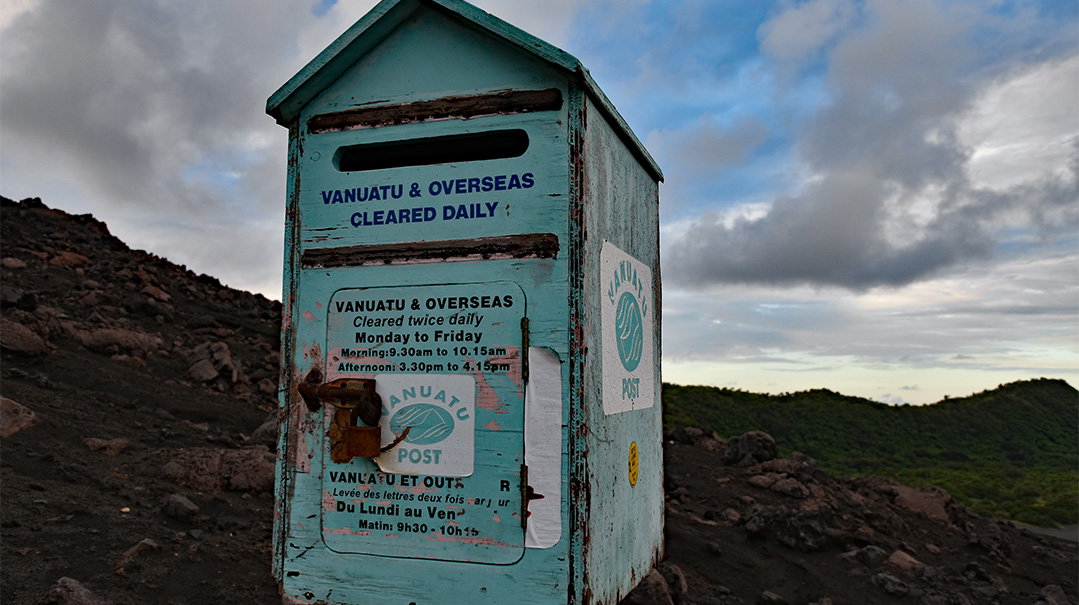 Underwater Post Office, Republic of Vanuatu
You know all those times you're in the middle of scuba diving and you get the urge to send a letter to your mom? Well, if you're in Vanuatu, a Pacific island archipelago, you can, thanks to Vanuatu Post. Billed as the world's only underwater post office, the fully functional postal station is located off Hideaway Island in Mele, Vanuatu, about 150 feet from the shore and 10 feet below the water's surface, on the ocean floor.
In operation since 2003, the underwater post office is only open during certain hours (signaled by floating flag over the post office — or as noted on a sign on the beach). It's even staffed by scuba gear wearing postal workers who undergo special open water dive training, in order to work at the location. And you'll probably never have to wait in line there. But don't worry, if no one is there, you can leave your mail in a drop box.
If you do want to send mail from this special post office, you'll need waterproof postcards and stamps (available for purchase on land). And they don't get postmarked like most letters; instead, mail sent from this office is embossed with a special cancellation mark.
It seems that Vanuatu is into extreme mail experiences, because in addition to the underwater post office, they also have a post box set up close to the blazing rim of a volcanic crater on Mt. Yasur. Vanuatu lies on what is known as the Pacific "Ring of Fire." That's an active volcanic zone in the region.
Vanuatu boasts one of the world's only postboxes on a live volcano  — and Mt. Yasur is definitely live. It erupts 10-20 times an hour, with the ground shaking and rumbling beneath it. The volcano post box isn't an office, just a mailbox. But if you want to send letters with 1000-degree Celsius molten lava bursting through the air just feet away, this is the mailbox for you. "Hi, Dad! I'm teetering on the edge of a volcano. Gotta run! Miss you!"
Mail is collected according to schedule by postal officials, and mail from the box receives a special Volcano Post cancellation. There are even dedicated volcano stamps and postcards, making mail sent from there extra collectible.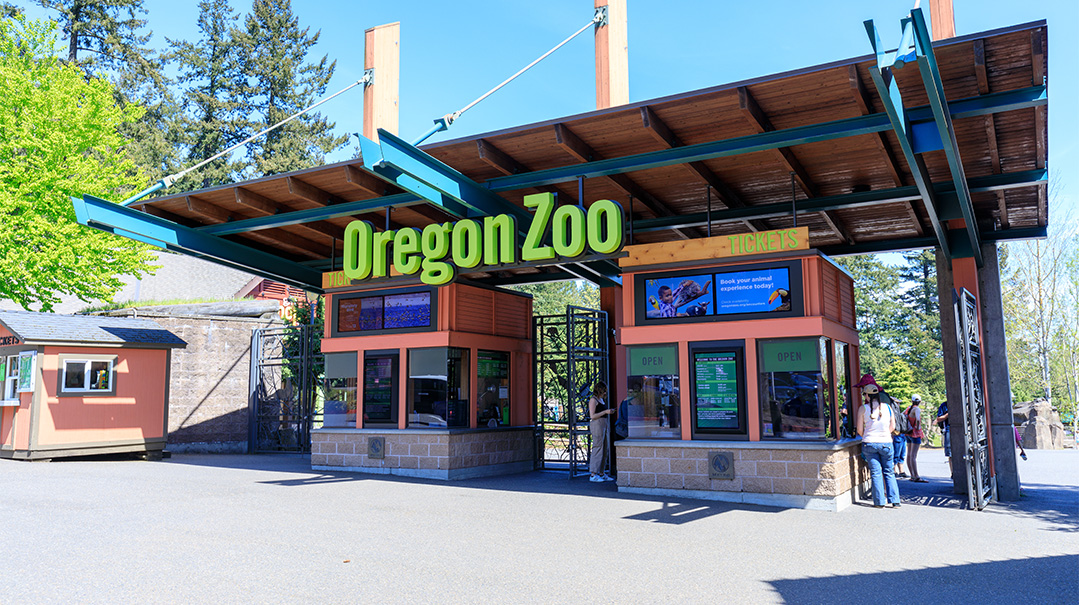 Washington Park and Oregon Zoo, Portland, Oregon
Before there was air mail, there was rail mail — i.e. a lot of mail was delivered by train. At the Washington Park and Oregon Zoo in Portland, you can still send mail by "the last operating United States railroad with its own authorized railway postal cancellation to continuously offer mail service." Whew, what a mouthful!
People sending mail from here are doing it for the novelty. (The "train" carrying this mail was originally created as a kiddie train at the zoo.) But from 1862 to 1977, the Railway Post Office (RPO) did mail sorting and cancellation on trains that crossed the country. There were 794 separate routes in America at the height of this service. But as mail sorting became a machine's task, railways were no longer used. Today, if you want to send mail on a train, the Washington Park and Zoo Railway is the only postal train car in the US that operates regularly.
China Post Space Office, Space
The China Post Space Office is the world's only post office in outer space; it's located about 215 miles above planet Earth and has been in operation since 2011. This postal station has an office on the ground office in Beijing, China, at mission control in Aerospace City. It even has its own space zip code, 901001, and a special postmark that reads "Beijing" and "Space" (in Chinese).
So how does it work? The public can send email to the Shenzhou-8 spacecraft, which is unmanned. The emails are then rerouted back to Earth to be printed out for commemorative mail. It's kinda roundabout, but, hey, if you're a postal aficionado, it's pretty cool.
During the corona era, China Post added a service to send handwritten letters to space. For 19 yuan (about $3), a person can purchase a "space letter kit" from the China Space Administration and China Post. The kit includes special space stationery, two space themed postcards, and a postage-paid envelope addressed to the Space Post Office. When the letters are received, they'll be scanned onto a microchip and sent by spacecraft to space. Selected letters are even displayed and read to the public.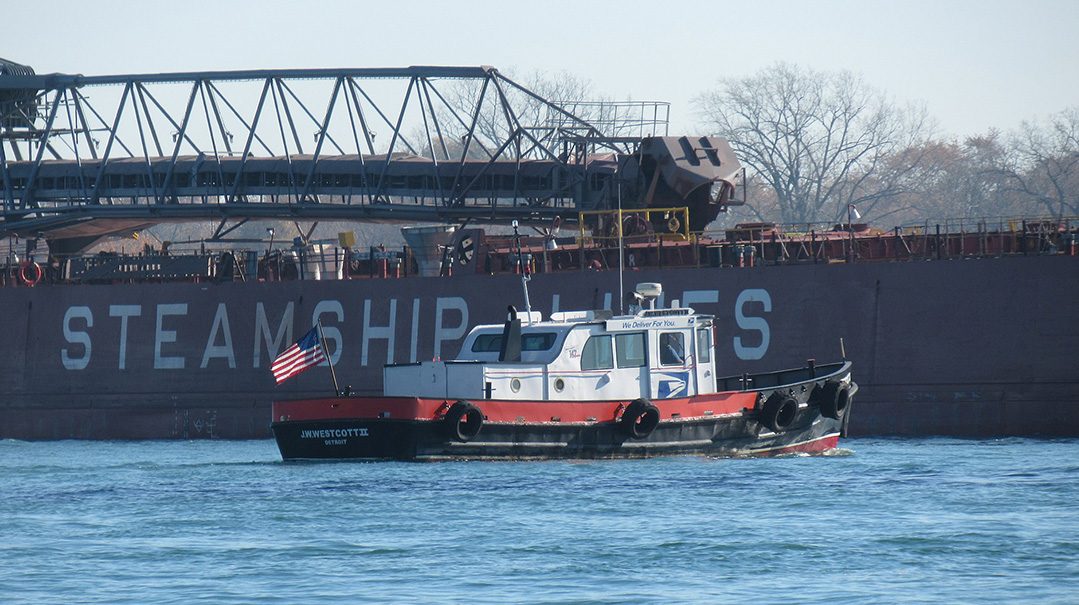 Boat Post, Michigan
Michigan is home to one of the world's only floating post offices — and the only one in the United States. The J.W. Westcott II, a 45-foot mail boat, is the world's only known boat delivering mail to ships while they are still traveling. It has been in operation for 125 years and serves freighters traveling up and down the Detroit River.
Going back to 1874, the J.W. Westcott Company was working to bring mail to merchant sailors, many of whom were onboard for months at a time. In 1895, the company began officially delivering mail, and in 1948 the boat bearing the company's name was made into a registered post office.
The post office's motto is "mail in the pail," which describes how the mail was, and still is, hoisted onto boats using a rope and a bucket. The J.W. Westcott II has its own zip code, 48222. People wanting to send mail to boats on the river should address it to:
[Boat Name]
Marine Post Office
Detroit, MI 48222
Though the J.W. Westcott II doesn't get nearly as many letters as it used to, the office delivers an awful lot of packages.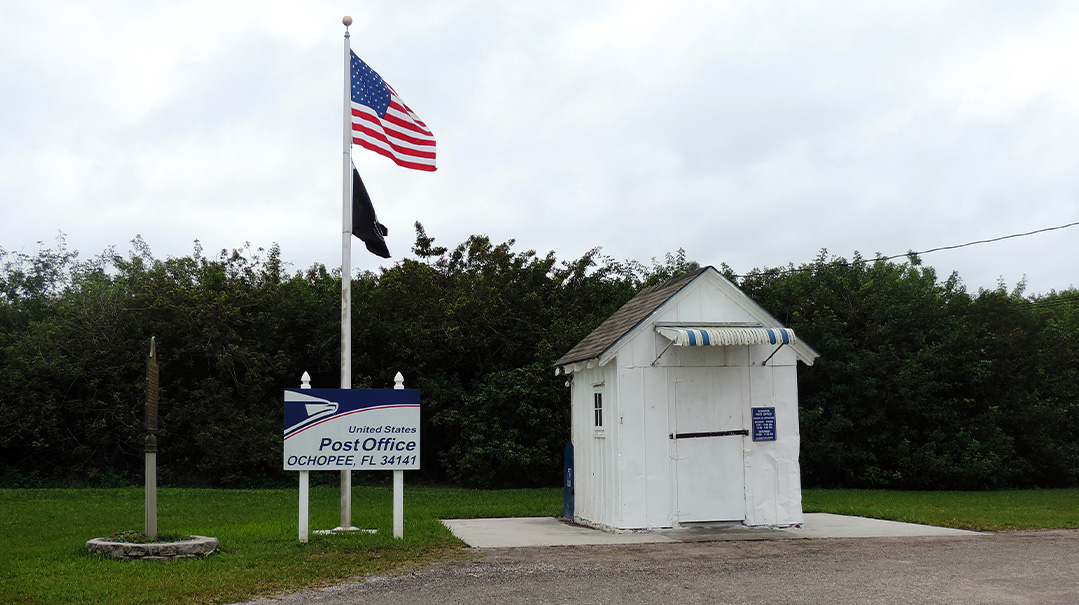 Ochopee, Florida
This post office — the smallest in the United States, may be no bigger than a broom closet and may have room for only one employee at a time, but it's the postal hub for a region of some 130 miles. The seven by eight foot shack only became home to the post office in 1953, when its previous home, a general store, burnt down. The shack used to store irrigation pipes. Only around 11 people live in the town, so the post office is adequate enough to serve them, but it's playing an important role and the US postal service has no plans to close the office anytime soon.
Maybe reading about these post offices will inspire you to send someone a letter or card in the mail. Whoever you write to, you can be sure they'll be thrilled to receive it… even if you don't send it from the bottom of the Eiffel Tower, the Base Camp on Mt. Everest, the ocean floor, the edge of a volcano, or from a boat or train. Start writing!
(Originally featured in Mishpacha Jr., Issue 921)
Oops! We could not locate your form.
>