| Man With a Pan |
Do It Quick, Do It Right
| June 29, 2021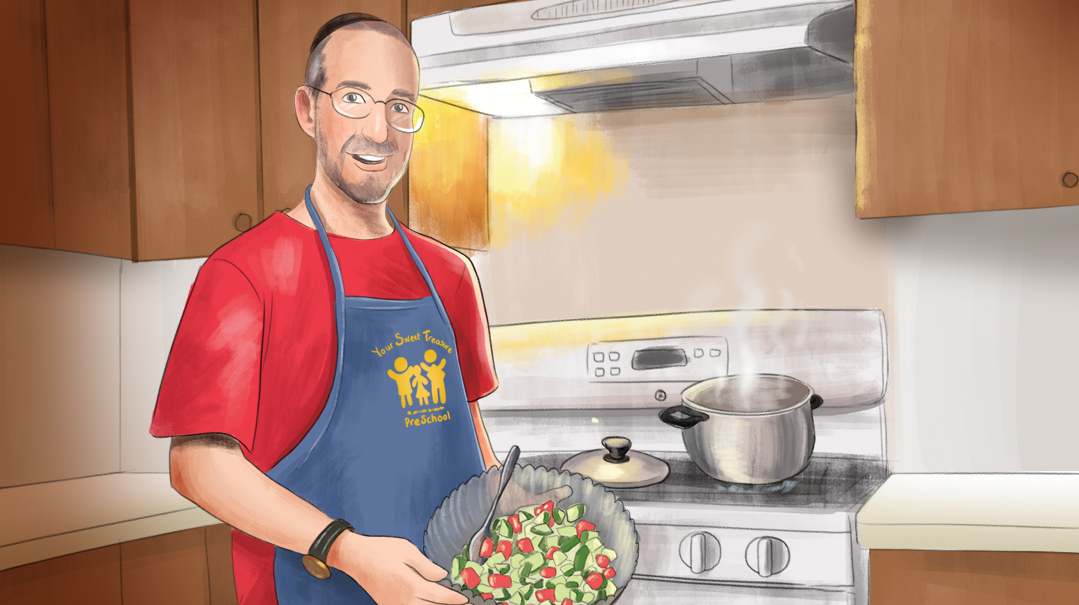 Illustration by Lea Kron
The Man
Zev Rosenberg, age 59
Father of 4, grandfather of 2
(almost empty-nester)
Master HVAC technician, personal trainer, international marathoner, and IDF veteran
Currently living in Edison, NJ
I love the Shabbos meals my wife prepares as much as she loves to prepare them. She makes delicious food, and it's always interesting. Baked goods, salads, soups, meat, side dishes — she's got it all going on. And fortunately we live in a community where people pull together to help with meals for those who are in difficult times, Rachmana litzlan, so she does that too.
But there are weeks that, for whatever reason, I have to step up to the plate (dad joke). Right now, we're in the middle of going through 20 years' worth of stuff in preparation for making aliyah, so any excuse to give my  house has been literally torn apart one way or another, we haven't had much company; it was just the two of us at the meals.
My cooking influences are eclectic — my mother and grandmother, Boy Scouts, and I even picked up some pro game working in a restaurant. I had my share of duty in the mitbach in the army. I also lived on my own from age 17 to age 30, and with few exceptions I was responsible for feeding myself and certainly couldn't afford to eat out very often. I would say I have more of a cooking system than style.
So — it must be simple, good, and satisfying.
Step by Step
I never took on baking, so challah and dessert will be from the store or whatever my wife has hidden in the freezer. The effort to make dips better than the store's isn't efficient, so those will come out of a package.
Important things first: cholent. Get it ready Thursday night so Friday morning all you have to do is turn on the Crock-Pot. Cholent is "folk food," and there's no one right way to make it. Add or subtract to suit your family's taste buds. I make it pareve in case we have an unexpected vegetarian guest.
Appetizer: Splurge on lox. A leaf of lettuce, a slice of tomato and/or cucumber and/or a ring or two of onion, and you're good to go.
Next up: Matzah ball soup. Yep, from the package. Add frozen mixed vegetables and customize spices as your family wishes (we're garlic people).
On to the one-pan main course. The pan size depends on how many are eating. I like to use deep chafing dish half pans. If we have guests, I'm likely to use a second half pan with a slightly different formula. Each pan serves four to six.
I made chicken, broccoli, and potatoes for the night meal and chicken, rice, and brussels sprouts for the day meal. I cooked both pans on Friday and refrigerated the second one for lunch.
Of course, there are always options for your family's preferences. Prefer yams to potatoes? Excellent opportunity to contrast the orange color with cauliflower. In the mood for barbecue? Skip the seasoning above and use generous amounts of barbecue sauce. Add sriracha for Asian barbecue. Or duck sauce and lemon for sweet and sour Asian. Pierogies and okra with Dijon sauce? Now you're catching on!
Prearranged pans can be refrigerated a few days in advance or frozen (thaw before cooking).
Finally, what Shabbat meal would be complete without Israeli salad? Tomato and cucumber in equal amounts cut to pieces the size of your choosing. (Don't worry — no matter what size you cut the salad, an Israeli will tell you it's too big or too small.) Add half as much onion; salt, pepper, and garlic; and oil and lemon juice.
B'tei'avon!
Dessert was cranberry spice cookies and angel food cake from a batch my wife had made a while ago and frozen for an occasion such as this
Wife's Take
Life has been extra busy lately, so it was amazing to not have to think about Shabbos food shopping or cooking. Usually, whatever Zev makes comes out really good. I did gasp when I read how much margarine he uses in the one-pan meal. I knew I should have thrown it out after Pesach! But the food was perfectly seasoned, so maybe that's part of the reason why.
Unfortunately, the chicken had apparently not thawed all the way, so it turned out a little too rare, and sadly the potatoes were raw so we didn't get to enjoy them with the meal. A little more time in the oven, and it would have been perfect.
All around, though, it was lovely to have him take over! And since it usually comes out great, he's welcome to make Shabbos any time.
The Plan
Friday night:
Challah + store-bought dips
Lox
Matzah Ball Soup
One-Pan Main Course (Chicken, Potatoes, and Broccoli)
Israeli Salad
Wife's Cranberry Spice Cookies 
Angel Food Cake
Shabbat day:
Challah + store-bought dips
Lox
Vegetarian Cholent
One-Pan Main Course (Chicken, Rice, and Brussels Sprouts)
Israeli Salad
Wife's Cranberry Spice Cookies 
Angel Food Cake
One-Pan Main Course
Grease pan with margarine. Then add:
4–6 medium potatoes, cubed

1 1–1½-lb (450–680-g) pkg frozen broccoli

6–8 pieces of chicken, defrosted

1 pat of margarine for each piece of chicken
Liberally drizzle with soy sauce and sprinkle with garlic powder and pepper.
Cover tightly. Place in a preheated (or not) oven at 350°F (175°C) for one hour. Turn off the oven and leave in the oven until it's time to serve it on Friday night.
Vegetarian Cholent
SERVES 4–6
1 cup red beans
1 cup lentils
1 cup barley
2 medium potatoes, cubed
1 medium onion, cubed
1 pareve kishka, lightly wrapped in foil
2 dollops honey
1/2 container of Osem beef soup mix or comparable
4 or so eggs in shell to hard-boil in the pot (does little for the cholent, but the eggs taste great)
Place all the ingredients into a 4-quart Crock-Pot and fill almost to the top with water. Cook 4–6 hours on high, then turn down to warm for Shabbos. Serve eggs and kishka in a separate dish and mix cholent well..
Tip: If you find yourself in a cholent contest, leave out the eggs and completely unwrap the kishka and allow to dissolve into the rest of the ingredients.
(Originally featured in Family Table, Issue 749)
Oops! We could not locate your form.
>