| Recipes |
Decadent Marble Cake with Crumb Topping | September 11, 2019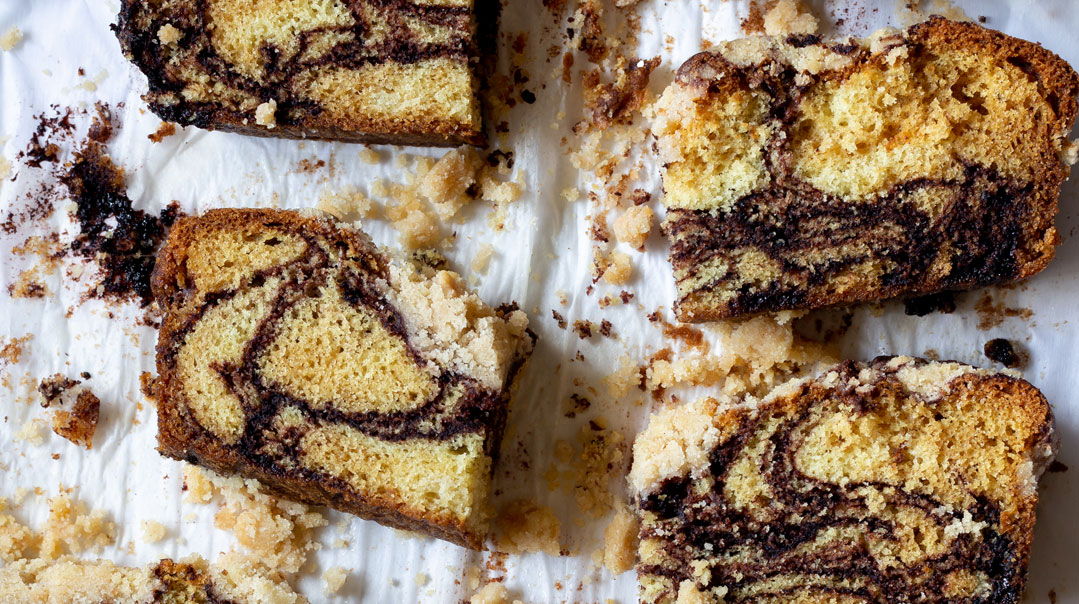 Food And Prop Styling By  Renee Muller Photography By Moshe Wulliger
Decadent Marble Cake with Crumb Topping 
When I tasted this cake, I knew I needed to get hold of the recipe! It's originally from my cousin's sister-in-law, and I made a few signature changes. I add coffee to everything cocoa and I did away with some of the sugar. I don't like to use margarine, so I tried the recipe with three different replacements. I substituted the margarine with coconut oil, and although I loved it, my family didn't go for the added coconut flavor. Using oil didn't do justice to the crumbs on the top. I finally tried Betterine, and I knew I'd found a winner. 
YIELDS 10X14-INCH BAKING PAN 
4 cups flour
2 cups sugar
2 tsp vanilla sugar
1½ sticks (¾ cup) margarine
¾ cup oil, divided
1 tsp cinnamon
4 eggs
1 cup orange juice
4 tsp baking powder
1½ tsp coffee granules dissolved in 3½Tbsp hot water
¼ cup cocoa powder
1 cup confectioners' sugar
Preheat oven to 350°F (175°C). In a large bowl, place flour, sugars, margarine, ½ cup oil, and cinnamon; mix to combine. Remove 1½ cups of crumbs for the topping and set aside. Add eggs, juice, and baking powder to the bowl, and mix to combine. In a separate bowl, place ¼ cup oil, dissolved coffee, cocoa powder, and confectioners' sugar; mix to combine. Line the bottom of a 10x14-inch (26x36- cm) baking pan with parchment paper (only the bottom). Pour white batter into the pan. Pour chocolate batter on top, and swirl into white batter. Spread crumbs over the top. Bake for 1 hour and 10 minutes.
Go with the Dough: Get creative in the kitchen! The rugelach dough is so versatile! Play around and try some of your own fillings. (I love marmalade with ginger.)
(Originally featured in FamilyTable, Issue 659)
Oops! We could not locate your form.
>