| Day in the Life |
Day in the Life of Zev Elman | March 4, 2020
Zev Elman runs the Flatbush Music Clinic in Brooklyn, New York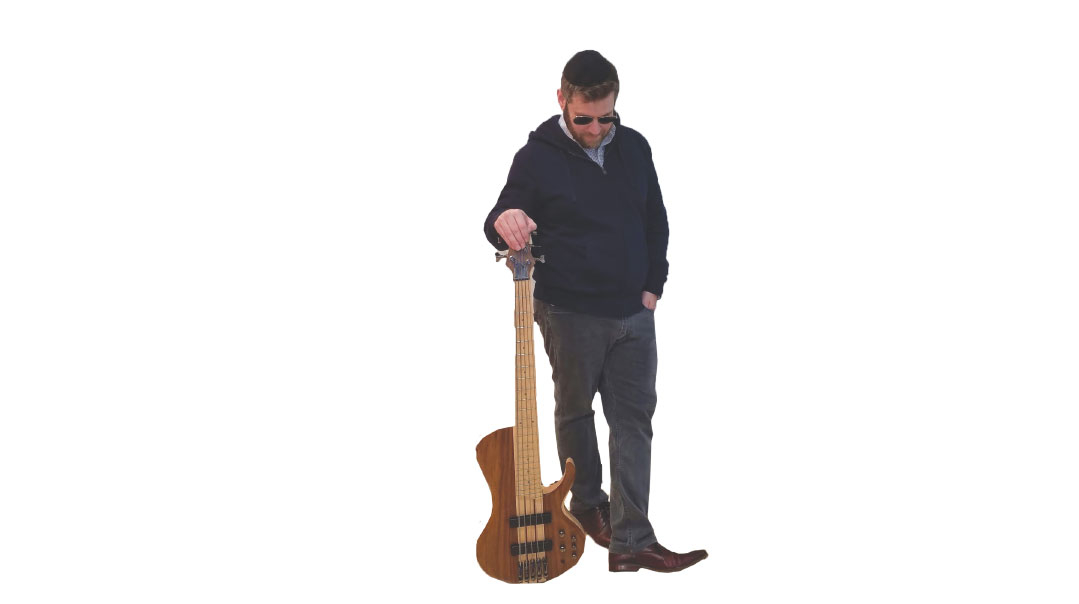 What I do
I'm a psychotherapist and a musician, and I give music lessons with mentoring. I founded the music clinic because music has so much to offer — I've benefited from it, and have seen many others do so as well.

In the beginning
Initially, my idea was to offer high-quality drum and percussion lessons to students interested in styles and at a level not taught by most drum teachers. The word "clinic" was based on the idea of a drum clinic, which is where a famous drummer, usually funded by endorsements for drum companies, does a tour at music stores and other settings across the country, offering workshops known as "drum clinics." They involve a teaching part and a performance. The word clinic also has the more familiar connection to health, so both meanings were implied in the original moniker, Flatbush Drum Clinic.

Music and mood
While all instruments offer great neurological benefits, drumming is unique as a full mind-body exercise. I think the drum is the most viscerally fun instrument to play, because you use your entire body to do the movements. Playing requires a lot of coordination and fast reflexes, which raise your dopamine and norepinephrine levels. Drumming can be a great therapy for ADHD, mood, anxiety, and other issues, and it's even used in rehab facilities and alternative healing programs. I personally experienced benefits for mood and focus. And of course, drums are just plain fun and cool.

Start 'em young
When I was around four, I began by tinkering on an out-of-tune baby grand piano that my parents inherited from the previous homeowners. I remember being inspired by Avraham Fried's music, songs like "Zichor," which were so deep and powerful. After my bar mitzvah, I played keyboard at events and then got heavy into rhythm and drums, and later on I diversified to djembe — the deep bass and klang drum — as well as cajon and bass guitar. In college I continued with music, playing with a few bands, doing weddings and college music projects at Yeshiva University, and taking some music classes. After graduating YU, I continued playing weddings and studied music with the late Normie Wayne, a well-known drummer and music teacher in Brooklyn, and I also started to get into writing and arranging professionally with independent artists.

The therapy side
I spent quite a bit of time producing artists and bands. When you spend six hours in a long recording session in the studio, you walk singers through bouts of self-loathing and hating their work, so you develop a therapist side in the interest of finishing a project. That led to me going back to school for a master's degree in the mental health field. In 2010, I opened the Flatbush Drum Clinic.

Expanding my horizons
After some time, I realized that focusing exclusively on drumming was too limiting. Students and their siblings kept mentioning they want to learn other instruments, and as a composer, I was interested in teaching instruments that involve emotion, texture, melody, and harmony, things you can't access with drumming. A few years ago, I started offering bass guitar lessons and keyboard and piano therapy, and I changed the name of my business to Flatbush Music Clinic to reflect those broader options. In 2017 I also began offering weekly programming at the Boro Park Y.

My clientele
Musically inclined students ages eight to eighteen. It's mostly boys, but I do work with a chassidish girl under bas mitzvah who's a super-talented multi-instrumentalist. Most are music students, they come for standard lessons, but about a quarter of them have issues that range from mild to moderate or considerable ADHD and mood/affect regulation problems. A couple are working on improving emotional regulation and some have learning disabilities. My goal is to enable all my students to develop a passion and connection to music, music literacy, a sense of mastery, and forms of self-expression and personal style. There is also a mentoring component, because of the one-on-one nature of the work, and there can be a therapeutic element, which jibes with my day job as a psychotherapist with a private practice for adults.

For myself
I also enjoy composing music. In 2019, I composed and produced B'Psanter's Pischi Li Pischa K'chiduda D'machta, a series of solo piano compositions. Later that year, I released the single "Rachim," a piano version of an Isaac Hoenig song. I'm putting out another instrumental project, Vak De Gar, in a couple of weeks.

Most challenging student
A good-hearted 11-year-old with very difficult moods — at times, he'd alternate between rage and total shutdown, and he frequently cried when frustrated. Initially he wouldn't participate at all during a session, but we worked on staying with the feeling, holding the space, managing self-critique, and developing persistence. Over time he saw his progress and abilities develop, and he saw that he was doing what was previously impossible. The work with lessons is the repeated effort, and the therapeutic work is in making that accessible, workable, and rewarding to someone with emotional challenges. I worked within the context of his unique needs — we shortened his sessions, for example, which helped our work flow quite a bit. It was nice to see his frustration tolerance improve, especially because you could see that what we did in the clinic benefitted other areas of his life.

Best feedback ever
I was with a drum student, blasting through a high-energy three-minute fusion/jazz/rock sequence. I'm on bass, he's on drums, totally glowing, and he says, "The best three minutes of my year. Again!"

In Brief:
My favorite instrument My Tama kit, Remo Mondo djembe, Ibanez BTB five-string bass, Roland JD-Xi synth — all of them!

…and why you need your own
Kids need to own an instrument to get the full benefits — hand drums like the djembe or cajon are great starter options. And they're low-volume instruments, so the neighbors won't complain.
Some drum trivia
The drum is both the loudest and quietest instrument; it has the widest dynamic range of any instrument.
The drum plays a key musical role by providing a pulse for the music, because its rhythm keeps a band in sync.
Drums typically have the highest quantity of notes played per song, because drumming involves mostly 8th and 16th and 32nd notes. Other instruments play mostly half notes, quarter notes, and 8th notes, depending on the music.
(Originally featured in Mishpacha, Issue 801)
Oops! We could not locate your form.
>