| Man With a Pan |
Dare to Be Different
| October 25, 2022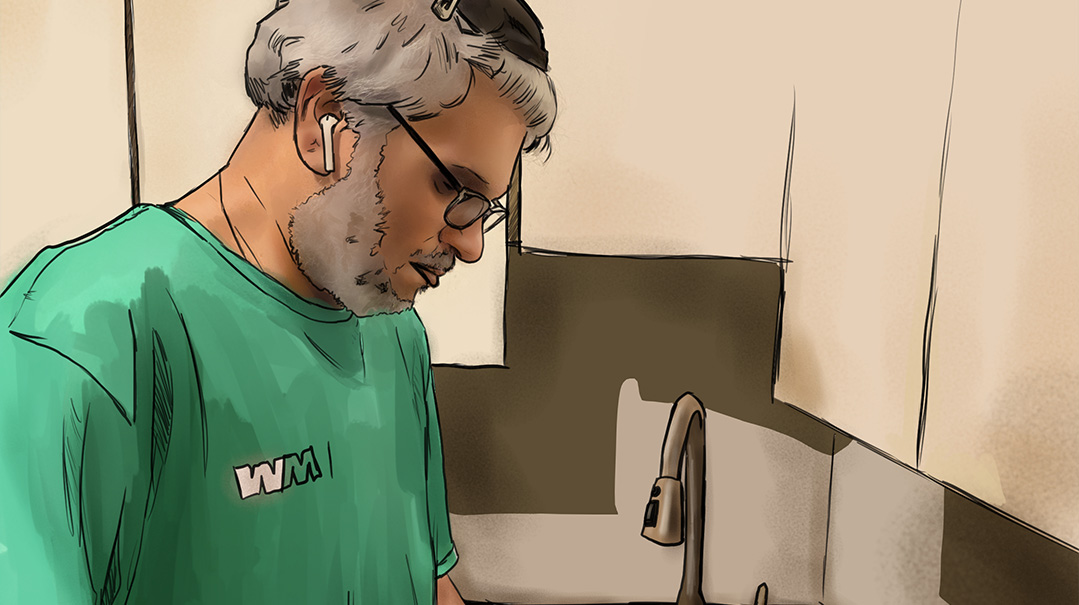 The Man
Elan Sanker, age 43
8 kids, k"h
Philadelphia, PA
Wealth Management Operation Team Manager at Bank of America
While I'm not a stranger to the kitchen, it's definitely been a long time since I've cooked a meal, let alone cooked for Shabbat. My oldest daughter, an avid Mishpacha reader, has been telling me to sign up for this challenge for a while. I always thought it was a good idea but didn't know when I would find the time. However, this summer I was fortunate enough to go on paternity leave, and I found myself with more than enough time to cook for Shabbat. (Although our baby isn't that little, I decided to postpone my paternity leave to the Yamim Tovim season.)
I reached out to Mishpacha and received a few ground rules that were more than reasonable. Then I decided to add a few rules of my own, because I'm a pretty competitive person. The first was that my menu had to consist of fusion cuisine. I'm Indian, my wife is Ashkenazi, and I currently daven at a Moroccan shul. I wanted to create a Shabbat that drew on our shared minhagim. The second rule was that there had to be a nice amount of vegan food. One of my daughters is a strict vegan, so dishes like challah and dessert couldn't have eggs.
Finally, everything had to be made from scratch, from the challah to the pie crust to the salads. It was going to be a challenge, but I was ready.
Getting Started
After spending some time on recipe research, I finalized my menu. My family likes freshly made food, so I decided to create an organized schedule to get Shabbat done as quickly as I could. I went grocery shopping on Wednesday, then spent Thursday night marinating the meat and chicken for my mains. I also began looking up challah recipes so that I could make that first thing on Erev Shabbat.
I was most concerned about making challah, because that was the one thing I'd never tried before. Even though my wife makes delicious challah, I wanted to try something different and decided to make pretzel challah because we live in Philly. Luckily, I was able to find a good recipe after a quick Google search. However, after consulting with my wife and daughters, I resigned myself to buying challah if my recipe failed.
Hitting My Stride
My day started early Friday morning. My first challenge was the challah, which to my surprise went smoothly. It was a big recipe, calling for a five-pound bag of flour, and I was worried about having to braid all of it. The process turned out to be not too time-
consuming, and some of the braids even held their shape.
After tackling the challah, I was confident about the desserts — cinnamon chocolate buns and apple strudel. However, I guess I was overconfident because the dough for the apple strudel wasn't what I expected. I'm not sure if it was the recipe or if I did something wrong, but the dough wasn't rolling as thinly as it needed to be for the braid. It got stuck on the parchment paper and the rolling pin. Mid-recipe, I decided to switch to apple pie because the dough didn't need to be rolled out as much.
The next thing that I made was the salatim. I decided to follow Moroccan recipes, and I really wanted to make it authentic by following the recipes closely. I also tried to make a variety of salads, including chopped beets, matbucha, and coleslaw, so that all of the kids would try at least one. Dicing the vegetables was very time-consuming, but I knew that the fresh taste would be worth it.
Moving Right Along
After the salads, I moved on to the fish. Salmon is something that we really only eat on Shabbat, so I wanted to make it special. All the fish-eaters in our house love Moroccan salmon, so that was a no-brainer, but I also wanted to do something different. I came across a recipe where the salmon is braided like challah and then cooked like regular Moroccan fish. It took a minute to get the braiding right, but it elevated the whole dish. For the gefilte fish, inspired by my kids' love of dumplings and their dislike of regular gefilte fish roll, I decided to make gefilte fish wontons by stuffing wonton wrappers with gefilte fish mix. It was very different, and the surprise hit of Shabbat.
Friday was speeding along, and I still had a lot to do. I was making two soups for Shabbat, a Yemenite soup with meat and a vegan kimchi soup for my daughter. Both were new recipes for me, but were easy enough to put together. Finally, I made chicken tikka masala, something that my grandmother made in Israel, and an Indian beef curry.
After putting together a few more dishes, such as vegan meatballs for my daughter, deli roll (which my wife is an expert in), and Moroccan cholent, Shabbat was complete. All that was left to do was clean up and set the table! Fortunately, the kids were able to help set the table. Cleaning up the kitchen took a lot longer, but I was done in enough time to run the dishwasher and come into Shabbat breathing a sigh of relief!
The process of cooking for Shabbat made me appreciate the meal all the more, and gave me a deeper appreciation of the commitment of individuals who prepare all of Shabbat and Yom Tov. And my family was very excited for me to be in the kitchen, as my kids have always heard I can cook but have never seen me in action. I'm happy to say that I'll be cooking Shabbat next week too!
The Wife's Take
I was so excited when my oldest daughter mentioned the idea of Man with a Pan to Elan! I knew he'd love a challenge like this, since he enjoys cooking, especially for Shabbat. He wanted to go all out and make everything on his own, from the challah to dips and vegan dishes and even desserts. Everything was delicious, but my favorite part was the braided Moroccan salmon. (And of course, I enjoyed having him serve and clean up as well!)
His excitement was contagious, and I appreciated all of the effort he put into making it a beautiful Shabbat for our family!
Marak Teimani (Yemenite Soup)
SERVES 8
2 lbs (910 g) beef stew, cubed
3 Tbsp hawaij spice
olive oil, for sautéing
2 onions, thinly sliced
4 cloves garlic, halved
4 tomatoes, with 3 deep incisions each
1 marrow bone
1 bunch cilantro
2½ quarts beef broth
4 potatoes, peeled and cut into chunks
salt and pepper, to taste
½ bunch cilantro, for garnish
Place stew meat and hawaij at the bottom of a Dutch oven or soup pot. Mix to combine.
Brown meat over medium heat, stirring often, until brown on all sides. Turn off heat, and transfer the meat to a bowl.
Coat the bottom of the pot with olive oil and add the onions and garlic. Sauté over medium heat, stirring constantly for 5 minutes.
Add the meat and the marrow bone to the pot, followed by the tomatoes, cilantro, and broth. Bring soup to a boil, then reduce heat to medium and simmer for 10 minutes.
Reduce heat to low, cover the pot, and simmer for 21⁄2 hours.
Add potatoes, and simmer for 30–45 minutes. Add salt and pepper to taste. Garnish with fresh cilantro when serving.
The Plan
Friday Night:
Challah
Moroccan Salmon
Gefilte Fish Wontons
Salatim
Yemenite Soup + Kimchi Soup
Chicken Tikka Masala
Indian Beef Curry
Tofu Stir-Fry
Vegan Meatballs (We usually skip dessert Friday night in the summer)
Shabbos Lunch
Challah
Fish and Salatim
Deli Roll
Chicken Tagine
Skhina or Dafina (Moroccan Cholent)
Chocolate Cinnamon Buns
Apple Pie
(Originally featured in Family Table, Issue 815)
Oops! We could not locate your form.
>