| Recipes |
Crispy Meat-Stuffed Shells | November 23, 2021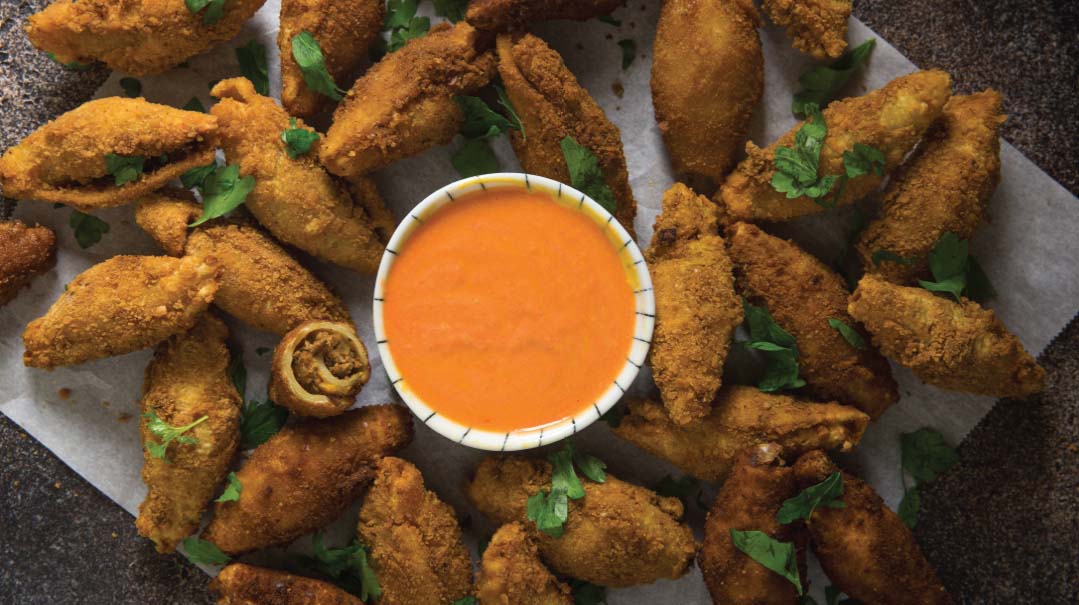 Styling, and Photography by Miriam (Pascal) Cohen
We've all had stuffed shells, but have you ever taken your stuffed shells, breaded them, and then deep-fried them? Trust me, they're even better than they look!
YIELDS 8–10 SERVINGS (AS AN APPETIZER)
1 12-oz (680-g) box jumbo shells, cooked according to pkg directions
⅔ cup flour
2 eggs, beaten
1 heaping cup bread crumbs
oil, for deep-frying
Filling
2 Tbsp oil, plus a little more for browning meat
1 medium onion, diced
1½ tsp kosher salt
1 tsp dried basil
1 tsp dried oregano
1 tsp garlic powder
2 tsp dried parsley
¾ lb (340 g) ground beef
salt and pepper, for sprinkling
1 cup marinara sauce
To prepare the filling: Heat 2 Tbsp oil in a large, deep frying pan over medium heat. Add onion and salt. Cook, stirring occasionally, for 5 minutes, until softened. Add basil, oregano, garlic, and parsley. Cook for an additional 3 minutes. Remove from pan and set aside.
Sprinkle a generous amount of salt and pepper over each side of the meat. Heat a small amount of oil in the same frying pan over high heat. Sear meat for 1–2 minutes per side, until browned. Use a spoon or meat chopper to break it up into small chunks.
Reduce heat to medium-low. Add sautéed onions and marinara sauce and stir to combine. Cook for about 5 minutes, until meat is cooked through.
Assemble shells: Fill each cooked shell with some of the meat mixture. Do not overfill, and try to fold the edges of the shell into itself, to close the shell and encase the meat.
Dip a shell into the flour, then into the beaten egg, then into the bread crumbs. If the shell doesn't close on its own, use a toothpick to seal it so the meat remains covered.
Heat a few inches of oil in a pan over medium heat. Add stuffed shells (work in batches to avoid overcrowding) and fry for 2–4 minutes, until golden brown. Remove from oil and drain on a cooling rack or paper towel.
Variation: Skip the stuffing, breading, and frying and use this delicious filling as an easy dinner by mixing it with your favorite shape of cooked pasta.
Tip: Make a creamy dipping sauce (as pictured) by mixing marinara sauce with mayonnaise.
Plan ahead: This recipe can be frozen in an airtight bag or container. Reheat uncovered to retain crispness.
(Originally featured in Family Table, Issue 769)
Oops! We could not locate your form.
>