| Recipes |
Crispy Battered Tilapia Nachos with Avocado Crème
| October 25, 2022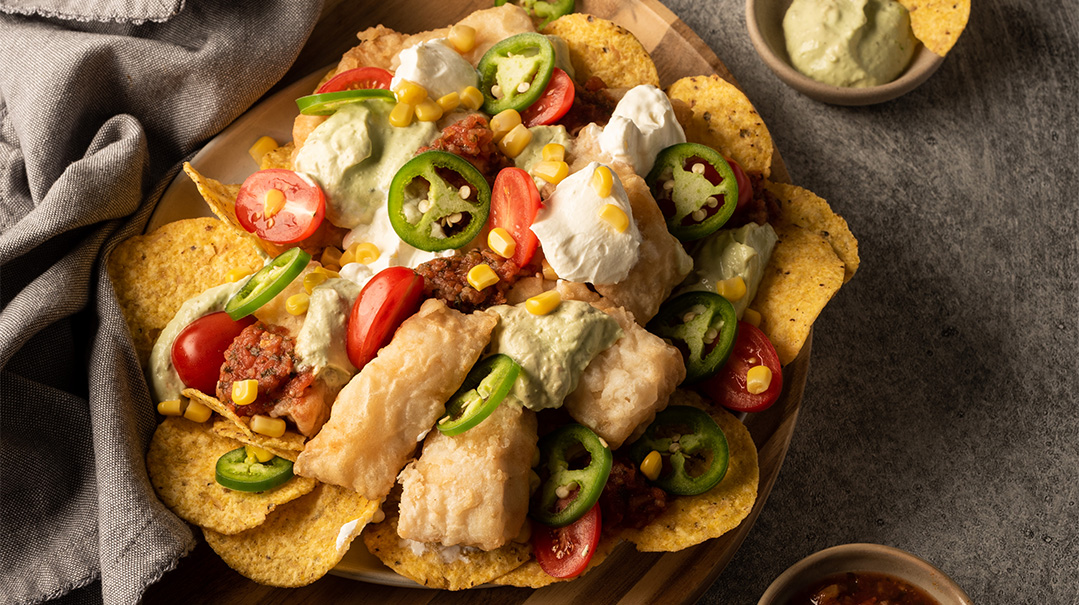 This crispy battered fish just melted in our mouths. Served nacho style, it was an explosion of flavors that had all of us eating waaaaay too much. A special shout-out to my daughter-in-law Adina for her help with the awesome avocado crème!
SERVES 6–8
2 lbs (910 g) tilapia (I used fresh)
1¼ cups flour, divided
½ cup cornstarch, divided
1 tsp baking powder
1½ tsp salt, plus more for sprinkling
¾ tsp chili powder, plus more for sprinkling
juice of 1 large lime
16 oz (450 ml) seltzer
oil, for frying
Avocado Crème
2 ripe avocados
1 cube frozen cilantro
1 tsp salt
¼ tsp black pepper
2 Tbsp lime juice (juice of about 2 limes)
½ cup Mehadrin Sour Cream
¼ cup mayonnaise
Toppings
tortilla chips
grape tomatoes, halved
canned or freshly cooked corn niblets
jalapeño peppers, cut into rings
sour cream
store-bought salsa (heat of your choice)
Place 1 cup flour, 1⁄4 cup cornstarch, baking powder, salt, and chili powder into a large bowl. Add the seltzer and lime juice and mix well. (It will be about the consistency of thin pancake batter.)
In another bowl, mix together remaining 1⁄4 cup flour and 1⁄4 cup cornstarch.
Heat 3–4 inches (71⁄2–10 cm) of oil in a deep pan. (Don't skimp on the oil or the fish may stick to the bottom of the pan.)
While the oil is heating, cut the fish into 1–2-inch (21⁄2–5-cm) nuggets and pat dry. Dredge the fish in the flour/cornstarch mixture. Shake off any excess. (This allows the batter to stick to the fish.) Dip dredged fish into batter, allowing any excess to drip off before carefully placing the fish into the hot oil.
Cook the fish in batches until golden brown, being careful not to crowd the pan. Drain on paper towels or on a cooling rack set up over paper towels. While still hot, sprinkle very lightly with some additional salt and chili powder.
While fish is frying, prepare avocado crème by combining all ingredients in a large bowl. Blend with an immersion blender until smooth and creamy.
To serve, place tortilla chips on a large platter. Sprinkle the chips with tomatoes, corn, and jalapeño rings. Arrange hot fish nuggets over the top. Spoon some sour cream and salsa in dollops all over the dish. Drizzle with avocado crème and serve immediately.
(Originally featured in Family Table, Issue 815)
Oops! We could not locate your form.
>