| Recipes |
Crisp Turkey Asian Salad | May 23, 2023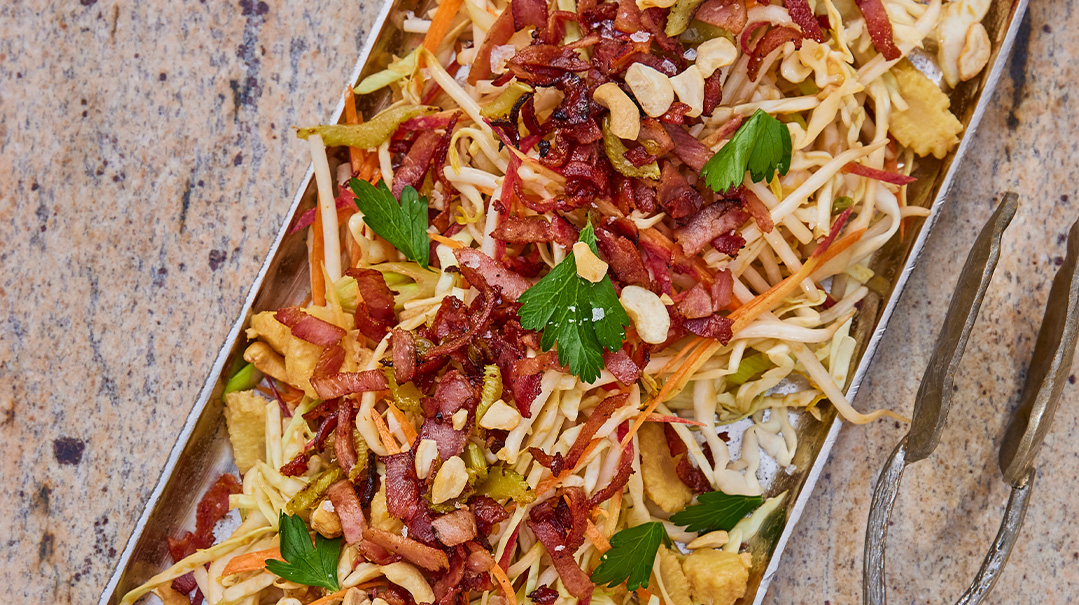 Food and prop styling by Shiri Feldman
Food prep and styling by Chef Suzie Gornish
Photography by Felicia Perretti
Here's what happens behind the scenes: It was a half hour before Shabbos and I still couldn't decide if I wanted a vinaigrette (typical) for this salad or a mayo-based dressing (more unusual). Suddenly I had an epiphany — why not incorporate spicy mayo into the dressing along with other ingredients synonymous with Asian cuisine?
Feverishly, I put it all together, simultaneously jotting down the amounts. Baruch Hashem, it was a big hit, and was finished to the last drop. The dressing was so incredible that I used it for a regular lettuce salad at our Purim seudah. When my friend tasted it, she said I must bottle it and sell it! Stay tuned…
SERVES 10
Topping
1½–2 Tbsp sesame oil
2 stalks celery, thinly sliced
6 slices turkey roll or turkey pastrami, sliced into strips
½–1 Tbsp sweet chili sauce
Salad
1 14-oz (400-g) bag shredded white cabbage
4 oz (110 g) thick sprouts
handful canned baby corn, cut into chunks
2 scallions, sliced
1 carrot, grated
handful roasted cashews (optional) or chopped fresh chives, for garnish
Dressing
full ⅓ cup mayonnaise (I used low fat)
2 Tbsp spicy mayonnaise (if you don't have, make your own using mayo and hot sauce)
2 Tbsp honey
2 Tbsp teriyaki sauce
1 full tsp Dijon mustard
1 cube frozen garlic
1 tsp toasted sesame oil (do not omit!!)
1 scant tsp soy sauce
2 pinches kosher salt
grated ginger, to taste (optional)
1½ tsp rice vinegar, or to taste (optional)
To make the topping: Heat 1 Tbsp sesame oil in a medium-sized frying pan. Add celery and sauté over medium heat, stirring occasionally. Push celery to the sides of the pan and add turkey roll strips. Sauté for 6 minutes, stirring occasionally, adding the remaining 1⁄2–1 Tbsp sesame oil and 1⁄2–1 Tbsp chili sauce midway. Turn the heat up at the end to crisp the turkey. Set aside. This can be done a day in advance.
Mix all salad ingredients together in a large bowl.
Mix all dressing ingredients together in a bowl. Dress salad before serving. Top with crispy turkey and celery slices. Alternately, mix the turkey and celery into the salad, and top with roasted cashews.
(Originally featured in Family Table, Issue 844)
Oops! We could not locate your form.
>