| This Way That Way |
Cranberry Sauce
| September 6, 2022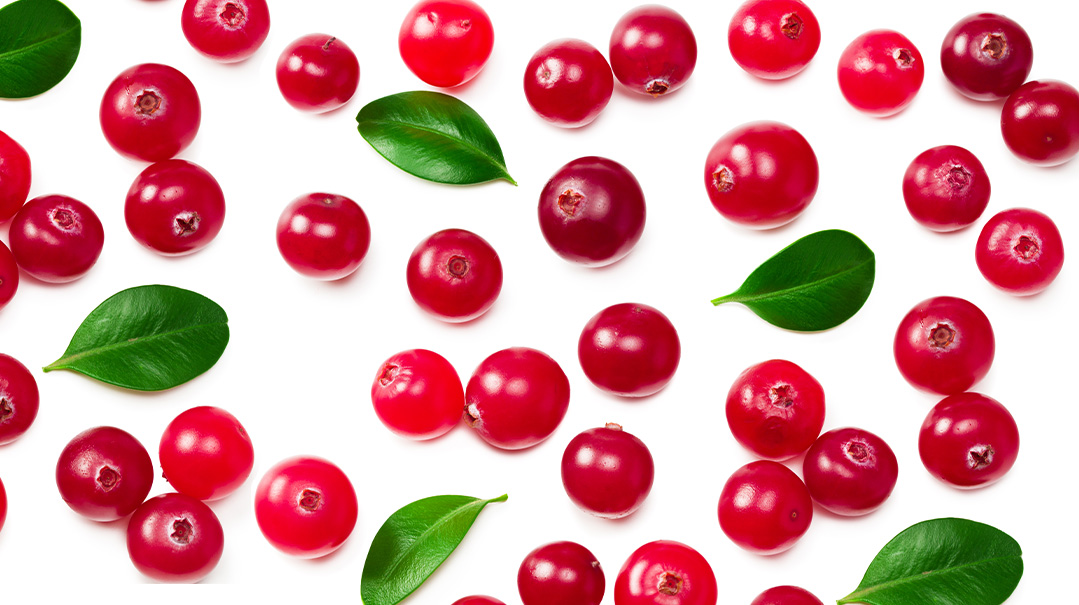 Highly seasonal and extraordinarily tart in its natural form, we love a good cranberry. But if you want to enjoy them in any other season besides fall or you like your berries sweet, canned crans are perfect for you. Either way, they're an ingredient that works well in sweet and savory applications alike!
Crazy for Cranberries
Free Radical Fighter
Cranberries are high in polyphenols, which are compounds that protect body tissue from oxidation, cancer, inflammation, and signs of aging.
American Native
They're one of the few fruits native to North America.
Saucy Science
Cranberries are a natural source of pectin, the compound responsible for turning cooked fruit into jelly. They actually have a lower percentage of pectin than some other fruits, but it gels very easily because of its low ratio of water and high acidity. Sauce not gelling? Cook it longer. Twenty minutes of a good simmer should render jiggly perfection (once cooled).
Peach-Berry Nut Crisp
Recipe by Chaia Frishman
There are some recipes that are so good they don't need improving, and there are some that are so good that any twists seamlessly blend with the original. And for those critics of dessert as a side dish, there's enough protein in the nuts to push this over to the side dish side.
SERVES 8-10
⅔ cup brown sugar
1 cup old-fashioned oats
¾ cup flour
¼ cup ground hazelnuts
¼ cup ground walnuts
2 tsp cinnamon, divided
½ cup (1 stick) Earth Balance
1 16-oz (454-g) can whole berry cranberry sauce
1 cup quartered strawberries (see note)
½ cup fresh blueberries (see note)
3–4 peaches, pitted and chunked
Preheat oven to 350°F (175°C).
Mix dry ingredients to make a crumble, reserving 1⁄2 teaspoon cinnamon.
Mix all fruit and divide between two 9-inch (23-cm) round baking pans or one 9x13-inch (23x33-cm) pan (or ramekins; you can adjust time in the oven depending on the size of the pan).
Sprinkle reserved cinnamon on fruit and top with crumble.
Bake 30–50 minutes, depending on how crispy you like your crisp and what size the pan is. Freezes beautifully — or you can freeze the topping and make a last-minute crisp any time.
Note: Frozen berries can be substituted, but toss with a tablespoon of flour so the fruit mixture isn't too wet.
Coconut Cranberry Tilapia
Recipe by Faigy Grossman
Just a few ingredients brings your basic fish fillets up to a whole new level; your tilapia will be juicy, full of flavor, and prepared within minutes. This is a great, last minute go-to fish dinner!
SERVES 4
4 tilapia fillets, rinsed and patted dry
heaping ½ cup whole berry cranberry sauce
2 cubes frozen sautéed onions, or 1 large onion, diced and sautéed
1½ Tbsp orange juice
salt and pepper, for seasoning
finely shredded coconut, for sprinkling
Preheat oven to 400°F (200°C).
In a small mixing bowl, combine cranberry sauce, sautéed onion, and orange juice.
Place tilapia onto a parchment-lined baking sheet. Sprinkle a bit of salt over fillets and season generously with pepper.
Divide sauce among fillets and spread to cover each one. Sprinkle with coconut and bake for 20 minutes. Remove from oven and serve hot or warm.
Fruzaty
Recipe by Brynie Greisman
This yummy dessert is a combination of sweet and tangy, crunchy and creamy. Its light pink color and refreshing fruit flavor make it perfect for a Shabbos dessert, Melaveh Malkah, or family get-together. It's sooo easy to put together and looks really appealing when served. Everyone will love it!
SERVES 16
1 20-oz (570-g) can pineapple pieces
2 medium firm bananas, halved lengthwise and sliced
1 16-oz (454-g) can whole berry cranberry sauce
5 oz (140 g) whipped topping (half a small container)
⅓ cup finely chopped walnuts, roasted
Drain the pineapple juice into a medium bowl. Place the bananas in the juice for a few moments. In a food processor or with a hand blender, blend the pineapple pieces.
With a mixer, beat the whipped topping until fluffy. Lower speed and gently stir in cranberry sauce, banana slices, pineapple pieces, and nuts.
Pour into a 9x13-inch (23x33-cm) pan. Freeze until solid. Remove from the freezer 15 minutes before cutting.
(Originally featured in Family Table, Issue 809)
Oops! We could not locate your form.
>