| Washington Wrap |
Corona Crisis, Part 2
| November 18, 2020
Biden will have a hard time fulfilling his campaign promise to take control of the virus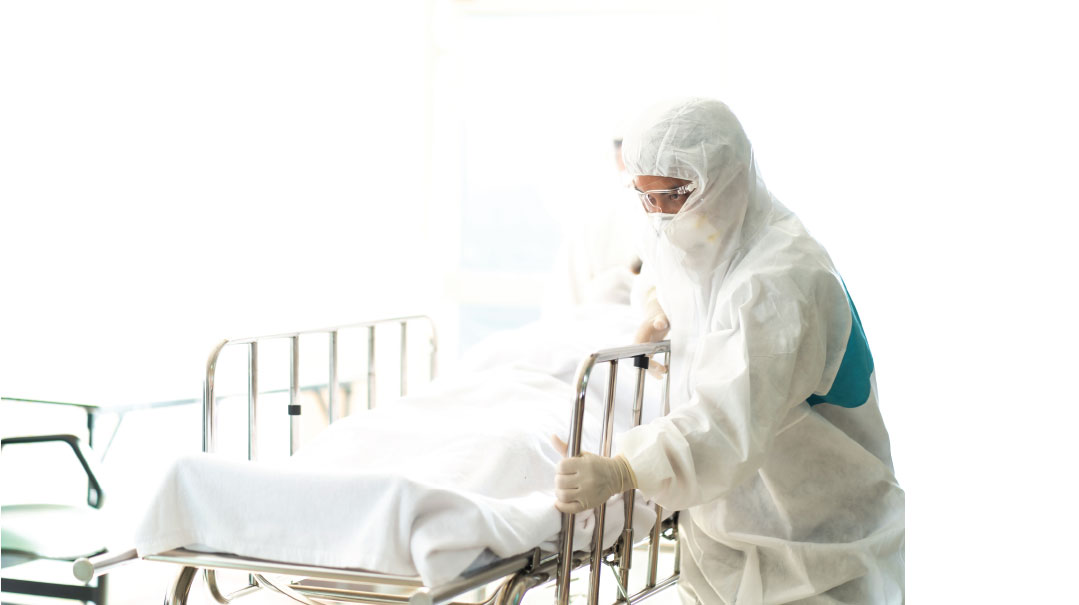 Biden's biggest campaign promise was to get the coronavirus crisis under control. But a day after his inauguration, he's liable to find himself between the hammer and the anvil, given the very limited tools available to the federal government. COVID-19 is out of control in America. The numbers are starting to look seriously concerning. There are almost 200,000 new cases per day, with an average 1,100 deaths daily over the past week. In 26 states, the test positivity rate is over 10%. This is a scary statistic. In South Dakota the rate of positive tests is 58.8. in Kansas it's 58.7, and in Iowa 52.6. To stop the virus at this point without drastic measures such as banning large gatherings or lockdowns will be difficult.
Biden has said repeatedly that one of his first acts as president will be to enforce a national mask mandate. But in reality, it's the states that decide this. The administration can recommend that governors pursue specific measures, but when Biden moves into the Oval Office in the depths of winter, the virus may already have reached a point where mask wearing alone is not sufficient, and much more drastic measures are required. Not to mention that many states and governors view mask-wearing from the perspective of personal liberty, and refuse to make it compulsory. Even if Biden speaks personally with every governor, there's no saying they'll listen to him.
The president-elect has set up a 13-member coronavirus advisory board of top infectious disease experts. Their role is to translate Biden's plans for curbing the virus into specific policy proposals.
But what can the president-elect do? Lockdown, as of now, is out of the question. One of his coronavirus advisors, Michael Osterholm, was forced to retract his statement to the effect that four- to six-week lockdowns would be required.

"Nobody's going to support it," Osterholm said. "It's not going to be supported out of the administration."
Dr. Celine Gounder said in an interview to CBS News that people crowding together in their houses in the cold weather, added to the upcoming holiday season, could be a lethal combination. She also compared mask-wearing to using toilet paper and said it isn't clear why is has become a political issue. But she confessed that it would be difficult to enforce on the individual level.
Pfizer announced this past week that the vaccine it developed was over 90% effective. While this is encouraging and important news, Biden could run into obstacles on this front as well. Firstly, polls show that a large percentage of the population will refuse to be vaccinated, at least in the first stage.
But in addition to this, Biden will face the logistical challenge: by the end of winter only 10 to 15 million vaccines will be available for distribution. Whom do you vaccinate first? And more importantly, how? Pfizer's vaccine is supposed to be stored at extremely cold temperatures — below -94° Fahrenheit. Transporting and distributing it will be an extremely difficult task, and there's no discounting that Biden will have to call in the army.
A no less important challenge facing Biden is the economy. His coronavirus advisory board has plenty of scientists, but no economists. Given the fact that the virus and the economy are mirror images of one another, stopping the spread is no more important than ensuring that businesses remain open, and that any business that has to close is offered immediate financial compensation.
Without swift and decisive action immediately after his inauguration, Biden will have a hard time fulfilling his campaign promise to take control of the virus. And if that's the situation, Biden's prediction of a "dark winter" could end up being fulfilled.
(Originally featured in Mishpacha, Issue 836)
Oops! We could not locate your form.
>