Considering the Future: Shani Taub | March 9, 2017
This was something I had been living my entire life so it just made sense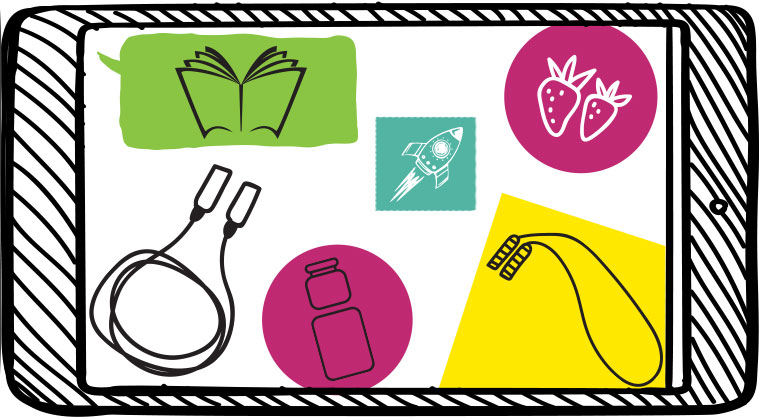 "I was that girl who always struggled with weight" admits nutritionist Shani Taub today. "I was constantly trying to watch myself and my weight was always fluctuating."
We sat down with Shani to learn about how she became a nutritionist and what the profession is like.
What were your high school years like?
In seventh grade I was the heaviest girl in my grade! I wore a women's size dress to my bas mitzvah! As always, my mother was very reassuring to me and told me how gorgeous I looked.
In general, she would gently coax me in a very nice way to watch my calories and make healthy food choices. She was very encouraging, but inwardly I know she cringed. She really wanted me to lose weight. I come from a family of seven girls who are skinny and gorgeous. As kids we were always matching, and I was the one who stuck out; I know my mother had a hard time dressing me.
Right after my bas mitzvah I went to a nutritionist and became very skinny… too skinny. My mother took me to the most expensive clothing store and bought me the most gorgeous dress to wear to friends' bas mitzvah parties.
But then I gained all my weight back from fat-free food. How? Because I love to eat and I ate too much of the fat-free foods! Girls, please take note…
Before high school I went to another nutritionist. This time I became thin, not skinny, and I managed to maintain my weight throughout high school and beyond.
How did you manage to keep off the weight this time?
I learned my lesson the first time, and I didn't want to gain the weight back. I worked hard — really hard! — to maintain it. Also, it helped that my mother was mindful of proper nutrition choices at home and taught us to do the same. I learned many skills and proper eating habits as a teen that I have carried on throughout my life.
What kind of skills?
Specific tips that I keep in mind always. Like, eating only while sitting down. I also make one-portion plates to prevent overeating. I always consider: Am I eating well-balanced meals? I do have occasional treats, but they're part of my food plan. I already learned the consequences of overeating and it just isn't worth it!
What were some challenges you faced as a teen and how did you overcome them?
Shopping for clothing was always very depressing. My sisters found gorgeous things, while nothing seemed to fit me properly. I had to shop in ladies' stores from a very young age; it wasn't fun!
I had to face the challenge and fight it, until it bothered me enough to go to a nutritionist and make lifestyle changes.
Also, as a side benefit, once I lost weight, I realized how much easier it was for me to excel in sports, which I loved.
What were some of your favorite outlets in high school?
I studied a lot, I was a goody-goody girl who excelled in school. But I also loved basketball and I exercised a lot too; I knew it was important for my health. I signed up for aerobics classes in the local gym and went with my friends to make the outing more enjoyable.
I also tried to walk to school whenever possible. I lived in Flatbush and my school was in Boro Park so it was a substantial workout. Even before I understood the chemical reaction behind it, exercising always made me feel more energetic. Now I know that exercising releases endorphins, chemicals in your brain that actually help put you in a great mood! Exercise does not make a person skinny; it helps you maintain your weight better. It also helps speed up your metabolism, which assists in weight loss.
When did you decide to become a nutritionist? Was it always a dream of yours?
I actually didn't know what I wanted to do. I started off in college with the basic courses to see where they would take me and then continued on to the sciences. At that point, I got married and moved to Lakewood, and started exploring a few options in the medical field. Someone told me about a nutrition program I could join that would allow me to finish my degree.
This was something I had been living my entire life so it just made sense. I went back to school and I took those courses. While I was finishing the program, I decided that if I wanted to be a nutritionist, I had to practice what I preached, so I lost some additional pounds to reach my ideal weight.
Shani, you are one of the most popular nutritionists around today. How did you get to here?
What can I say? It's from the Ribbono shel Olom. Right after I graduated, I wasn't yet ready to open a business but someone called me and asked me to work with her. I thought to myself, Wow, Hashem is already sending me a client. I really need to get ready to work! So I sat down that night to prepare my worksheets and ordered a professional-quality scale and that was it! I worked with my first client, my first success story. From there, baruch Hashem, the clients just kept coming.
The Shani Taub food line developed after clients begged me to develop a food line. They were really the ones who made the arrangements between me and the stores. The clients love it, and I love it! I am actually in the process of expanding my food line. But what I'm most excited about is a new cookbook I'm coauthoring with Victoria Dwek. It's set to be released after Pesach and shares the secrets of healthful cooking. This cookbook is years in the making. All my best secrets are going public!
Tell us a little about your field. For whom would you recommend it?
You have to be a people person. A lot of nutrition work involves encouragement and guidance. I work with all types of food-related issues; not everything is weight loss. I work with weight gain as well and I work with many types of people in different stages of life.
You also have to be very patient and very positive.
And obviously, you have to be a healthy person because you have to be a good example for your clients. I always wondered why I had to have a weight challenge, and I still do! But having this challenge has definitely helped my success. I can actually feel the challenges my clients face. I am always looking for ways to help myself; then I can share the ideas with my clients.
Tell us about the craziest experience you've had in a workday.
I had one client who came in and told me that she cheated and gained weight and therefore she wasn't paying me!
There are all sorts of people out there… I've learned a lot about people throughout my years in this business. Every business has losses; this one was going to be mine. It wasn't worth arguing over. I actually walked out of the room laughing!
What are your tips for aspiring teen nutritionists?
Do a lot of research into the field to see if this is something you really want to do. The schooling is very long, and the salary for a standard nine-to-five job isn't really that much. But if it's something that you love, go for it. There are a lot of other options for jobs in nutrition and you can always build your own practice like I did. Wishing you all tremendous hatzlachah!
Fun Fact:
Shani's favorite dieting tip!
Always be makpid on your brachos rishonos and acharonos. So that when you're done eating, you're really done!
(Originally featured in Teen Pages, Issue 36)
Oops! We could not locate your form.
>