| Profiles |
Columbus Discovers Jewish America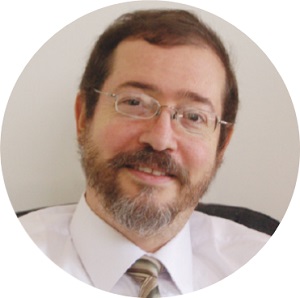 | August 7, 2019
Rabbi David Stavsky helped Columbus discover its Jewish spirit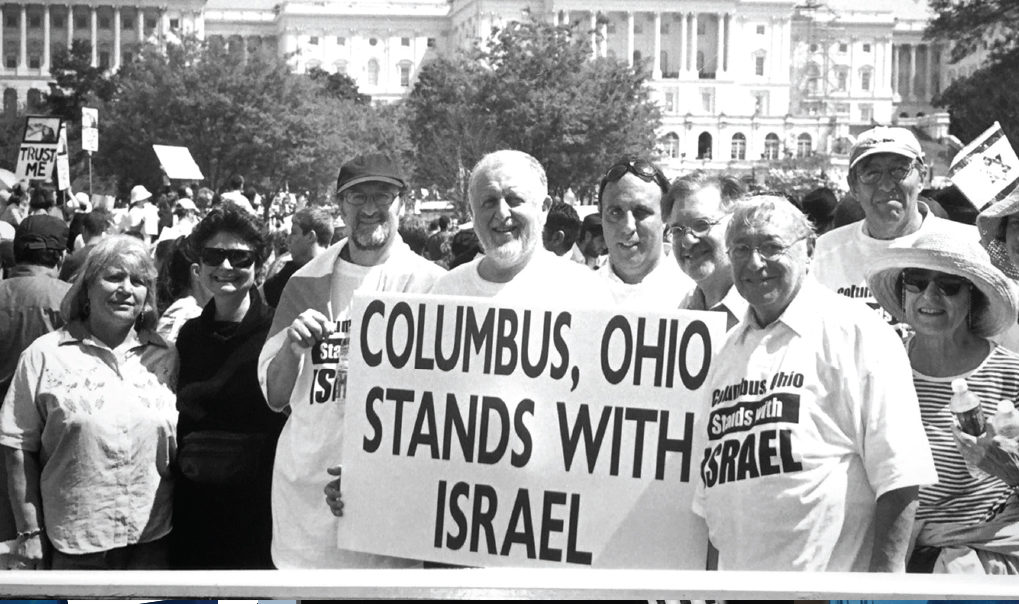 Photos: Family Archives
As his long and storied rabbinic career in Columbus, Ohio, entered its twilight, Rabbi David Stavsky found himself fighting the illness to which he would eventually succumb. But for two years prior to his passing in 2004 at age 73, his children knew that wherever he was, home or hospital, there was one constant: The walls surrounding his bed were to be adorned with pictures of gedolim, a Who's Who of the great Jews he'd been close to, from his New York City childhood on through his rich and productive — but sometimes lonely — life's work of putting the Buckeye State's capital prominently on the Jewish map.
Rabbi Stavsky and his young family arrived in Columbus in 1957, but it would be a long time before a vibrant Orthodox community began to take shape. His son Averim, an attorney in Woodmere, New York, recalls his father speaking of the isolation of the early years in Columbus, a lone rav fighting spiritual indifference and illiteracy in a Jewish wasteland.
Rabbi Stavsky, having lived in the hub of vibrant Jewish life back in New York, couldn't make peace with getting home at 11 a.m. on Simchas Torah morning after brief hakafos with a few elderly congregants, or being one of the few people in all of Columbus delivering mishloach manos on Purim day.
"In the early days, there was no one in Columbus like him, no one he could relate to there," says Averim. "The locals didn't get it, they didn't understand what he was trying to do, and raising the level of Yiddishkeit was always an uphill battle."
His two years as a US Army chaplain after receiving semichah in 1955 was good training ground for the upcoming chapter in his life, though. He was stationed at Colorado's Fort Carson, where he was able to plant seeds of Jewish growth in less-than-fertile soil. The neophyte spiritual leader of his own little "kehillah" did it all — davening, leining, blowing shofar, delivering sermons and shiurim, as well as ministering to the young recruits in his charge. These Jewish boys found themselves far from home for the first time, often in new and daunting situations, and he'd receive letters from parents asking him to watch over their sons and, in some cases, help extricate them from predicaments like serving time in the stockade for petty theft or involvement with someone of another faith.
Another hat the rabbi wore was that of Jewish chaplain at the nearby Fitzsimmons Army Hospital, which serendipitously brought him his first taste of national prominence. In the summer of 1955, President Dwight Eisenhower was visiting his in-laws in Denver when he was felled by a heart attack and taken to Fitzsimmons.
Upon hearing the news, Rabbi Stavsky quickly gathered the Jewish soldiers on base to recite Tehillim for the president, becoming the first clergyman of any faith to offer such prayers. The press picked up the story and a photo of "Lt. Rabbi Stavsky leading his troops in a prayer vigil for the stricken President" made its way onto the front page of the New York Times and, subsequently, every Jewish paper in the country.
Rabbi Stavsky's early years were spent in a quite different Jewish environment from the places his life's journey would eventually bring him. His father, Reb Chaim Tzvi Stavsky, emigrated to these shores from Poland in 1919, plying his watchmaker's trade on the Lower East Side in an era when great talmidei chachamim were a common sight on its streets. Not a few of them found their way to Stavsky's watch repair and gift shop on Norfolk Street to buy something and exchange words of Torah with its learned proprietor.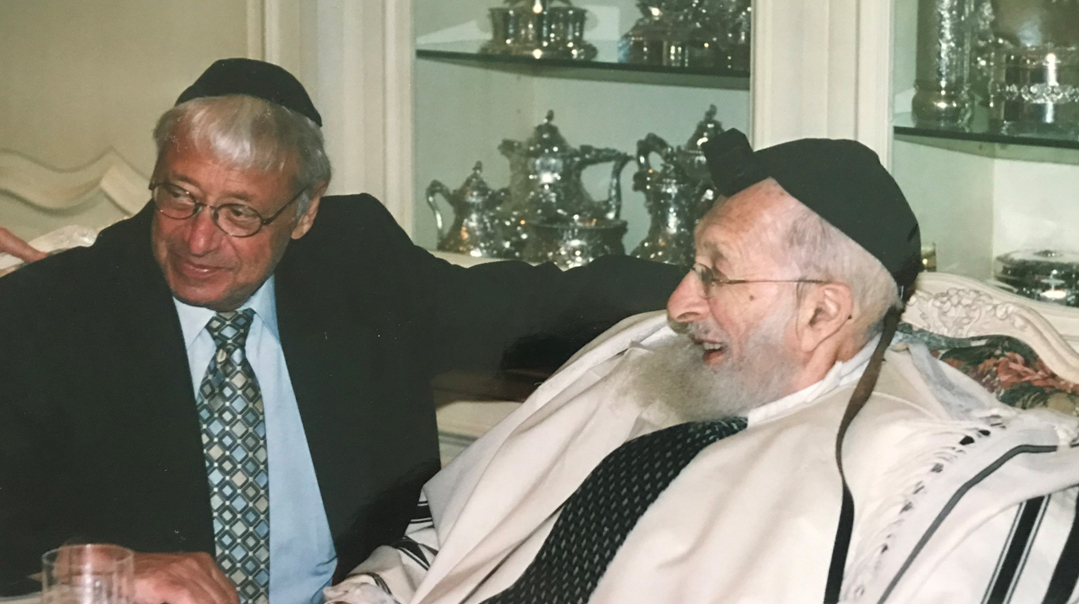 It was in that milieu that David Stavsky was born and raised. His bar mitzvah took place in 1943 in Rav Chaim Pinchas Scheinberg's shtibel, and the Stavsky family also davened in the Beis Medrash HaGadol, the imposing shul on Norfolk Street led by Rav Ephraim Oshry. David was no stranger in Rav Moshe Feinstein's Grand Street home, where the door was open to all for a sh'eilah, an eitzah, or just a brachah and some encouraging words.
After attending Yeshiva Rabbi Jacob Joseph elementary school and Yeshiva University's high school, David moved on to college at YU. With his heart set on the rabbinate, he also pursued semichah at its affiliate institution, Yeshivas Rabbeinu Yitzchak Elchanan, forming what were to be lifelong bonds with Rav Dovid Lifschitz, Rav Yerucham Gorelick, and Rav Yosef Ber Soloveitchik. Although the three were quite different from each other in temperament and approach, David Stavsky's gift for connecting easily with people of diverse personalities and worldviews enabled him to consider each one a mentor.
His semichah test in 1955 was given by Rav Soloveitchik, Rav Moshe Shatzkes (the Lomzher Rav), and YU's President Rabbi Dr. Samuel Belkin, who was particularly influential in guiding his promising talmid toward the rabbinate. But, he counseled, doing a stint as a military chaplain first would be good experience, an opportunity to lead a mini-kehillah without having to contend with challenging balabatim.
And so, the newly minted Rabbi Stavsky signed up for duty at Fort Carson. He'd spend his days off in the Jewish community of nearby Denver, Colorado, and when he left the service two years later, it was not only with his lieutenant's stripes, but a new bride too — the former Ruth Burger. Her parents, Malka and Naftali Hertzke, a European Jew of Satmar chassidic stock and a trusted mashgiach, had an open home where any Jew passing through Denver would be treated to a hot kosher meal. In Ruth, David found the soft-spoken helpmate he needed in a rabbinic calling that was by turns daunting and fulfilling, but always eventful.
When his tour of duty ended, it was time to seek a pulpit, and an opening in Columbus, Ohio's capital, beckoned. The Beth Jacob shul — or Beis Yaynkev, as the European-born Jews who formed the bulk of the membership called it — had been founded in 1899 and led by a succession of accomplished talmidei chachamim. By the 1950s, though, it was a dwindling congregation made up primarily of retirees in their sixties and seventies.
The 27-year-old rookie rabbi had a gift for public speaking, but he presented his tryout sermon in English, which many in the congregation didn't understand. He returned to deliver an encore, this time in Yiddish, and received a job offer immediately.
When the Stavskys arrived in Columbus in the summer of 1957 with one-year-old son Joel in tow, they assumed it would be but a stop along the way toward a position in a more established frum community closer to New York. They could not then have known that nearly a half-century later, Rabbi Stavsky would still be at the helm, playing a dominant role over those decades in laying the foundations for what is today a religiously transformed community.
The dynamic new rabbi in town began sowing the seeds of that Jewish makeover almost immediately. He knew that attracting a younger group of mispallelim meant the Shabbos morning derashah had to be in the vernacular, and he got the shul board to approve an English-language sermon once a month. In short order, however, the rotation reversed, with an English sermon in three weeks of every four, until Yiddish was phased out entirely. Still, to accommodate the shul's remaining elderly members, Rabbi Stavsky continued well into the 1970s to deliver the derashos on Shabbos Hagadol and Shabbos Shuvah in an impeccable, emotion-laden Yiddish.
The next priority for him was establishing a day school, but the local Jewish community was dead set against the very concept of yeshivah education. In an era when not so many years earlier, the German Bund had marched down the city's Broad Street, Jews were keen on muting their distinctiveness rather than accentuating it, the better to blend into the surrounding gentile society. Besides, with the local public school districts providing a top-notch education at no cost, spending money to open a parochial school made no financial sense to them.
But, says Averim, "for my father, there was no question: He told his shul president, Lou Levine, that without a day school, his family had no future in Columbus — and neither did Columbus have a future as a viable Jewish community." And so, Rabbi Stavsky helped catalyze a small cadre of communal leaders who, in the face of stiff opposition, worked to make the dream a reality, and on September 4, 1958, just one year after his arrival, Columbus Torah Academy (CTA) was launched with a beginning class of 12 children, all on free scholarships.
Rabbi Stavsky partnered with Jerome Schottenstein in seeking sympathetic people of means to fund the fledgling school; Mr. Schottenstein got the appointments to see potential donors, to whom Rabbi Stavsky made the case for the importance of yeshivah education. On one occasion, they went to see a wealthy local Reform Jewish businessman who, after listening to Rabbi Stavsky's pitch for a $5,000 donation, responded, "Sure, I'll give you five grand — not to open the school."
Dr. Ivan Gilbert, an early activist for the CTA cause, related that he would get harangued at the local Jewish country club for creating an "anti-American" parochial school and was once hissed at on a plane by a leading Reform layman. Ironically, however, when 15 years later, the school desperately needed to expand, that same man proudly donated the land on which the CTA campus stands today.
With a day school in place, the next goal was to attract potential students by inspiring local Jewish kids to make the switch from public school to yeshivah. Rabbi Stavsky, working with NCSY's national leadership, helped found the group's Central East Region in the mid-1960s, and Beth Jacob Youth quickly became one of its most active chapters, often hosting the regional convention. NCSY's former national director, Rabbi Baruch Taub, recalls that Rabbi Stavsky's personality was "classic Lower East Side — down-to-earth and easygoing. The only time I recall him getting intense was when he'd call me several times a year, demanding to know why Columbus wasn't getting more NCSY events."
Averim Stavsky remembers how, in addition to the regular NCSY events, his father also held a yearly "Shabbos With the Rabbi," coining the now-ubiquitous name "shabbaton," and kids from across the region flocked to it. "The weekend's highlight was his 'Ask the Rabbi' session, which is now a staple of programming everywhere, but back then was new and out of the box. And as kids started getting involved in NCSY, they pushed their parents to move closer to the shul, and over time, many of those families became shomer Shabbos."
Averim quotes from a letter he found in his father's files in which an OU executive writes, "I've attended countless national and regional NCSY conventions. Sometimes, the local rabbi shows up, says hello after kabbalas Shabbos, and goes home. Sometimes he stays for the meal. But there isn't another one like you, Rabbi Stavsky, who's involved in the planning, the programming, the sessions, critiquing and making sure that from 4 p.m. Friday until 11 a.m. Sunday, everything happens flawlessly."
These events combined two of Rabbi Stavsky's lifelong passions: introducing Yiddishkeit to the unaffiliated and working with kids. But he was a genuine person, and he insisted that impressionable teens only be given the real thing, too. Although he always led the Havdalah service — a high point of NCSY conventions — he opposed turning it into a melodramatic production. "You're playing with the kids' emotions," he wrote to one NCSY higher-up, "and having a cryfest as if it's Tishah B'Av is not how they'll learn about a joyous life of Torah. I don't go for that shtick."
The rabbi's fertile mind was forever percolating with ways to draw Jews closer to Torah, and Columbus's award-winning NCSY chapter had its beginnings in one of those kiruv brainstorms called "Cola and Shmooze" — really just a Stavsky-ism for a Simchas Beis Hashoeivah. In what became a much-anticipated yearly event, he and Rebbetzin Ruth would invite the neighborhood teens over to the Stavskys on Halleck Place to sip soda pop and shoot the breeze about everything under the sun… even Judaism.
Another innovation was Religious Emphasis Week, known in Columbus simply as REW. This was Stavsky-speak for what we know as the Aseres Yemei Teshuvah, when he'd capitalize on the more serious spiritual mood during the High Holiday period by bringing well-known Torah personalities to Columbus to give lectures on various aspects of Judaism. There was also "Torah Day," where on one day during summer vacation, everyone went to a park for sports and a craft activity centered around some mitzvah like Havdalah or tefillin, capped by a barbecue and kumzitz. Rabbi Stavsky also pioneered a series of "how-to" pamphlets on Jewish practice, such as how to recite Kaddish and how to light Shabbos candles.
Slowly, the trickle of kids heading for CTA turned into a stream. But with success came a new challenge: With a CTA high school still years off in the future, where would the students go upon graduation? That's when David Stavsky entered what Ner Israel Rosh Yeshivah Rav Yaakov Yitzchok Ruderman ztz"l once called "Rabbi Stavsky's export business." Working in tandem with CTA's principal, Dr. Irving Fried, he convinced scores of CTA eighth-graders to leave Columbus and go off to yeshivah in Chicago, Baltimore, Cleveland, and Miami.
Attorney David Seidemann, now of Lawrence, New York, was one of those kids, and he recalls the scene when the out-of-town "exports" were imported back for the holidays and summers to share their Torah with the folks back home.
"Rabbi Stavsky invited us all to join him in his living room, where each boy delivered a thought on the holiday or on a piece of Talmud he had learned," Seidemann remembers. "One boy told over a Sha'agas Aryeh, another shared a piece from the Sfas Emes. Someone quoted from Rav Zevin and someone else from the teachings of Rav Gifter. When the last young man finished speaking, Rabbi Stavsky stood up and without any notes, tied together all their remarks, somehow fitting them into the message he wanted to deliver that evening. It was Torah brilliance without fanfare, without any adults there to impress. It was simply learning for the sake of learning, and the smile and the sense of accomplishment that could be seen on Rabbi Stavsky's face was priceless."
Rabbi Jonathan Rosenberg, a Columbus native who returned to serve as a rav in his hometown before assuming his current pulpit in Los Angeles, remembers how much he and his friends, home from yeshivah, looked forward to those Yom Tov get-togethers. "The sense of closeness and common purpose that we shared resulted from Rabbi Stavsky's magical ability to bring out the grandeur and genuine simchah of Yiddishkeit," he says. "I can still hear his thundering voice, urging us to sing, 'Leibedig, leibedig!' " The presence of the yeshivah boys and seminary girls at the "Cola and Shmooze" was great for the hometown kids who weren't yet in yeshivah, showing that they still knew how to have a good time.
Yet, despite some successes early on, it would be a long time before a solid Orthodox community would evolve. "Most of his chaveirim were in New York," says Averim, "and for a very long time, it was my father's relationship with gedolim that enabled him to deal with the isolation and gave him the confidence to forge ahead."
Rabbi Stavsky made sure to stay in contact with the great people he had known back East, asking sh'eilos and maintaining a correspondence with Rav Moshe Feinstein, Rav Dovid Lifschitz, Rav Ephraim Oshry, and various chassidic rebbes. And then there were what he called "the I-71 rabbanim," referring to two great rabbinic figures in the large Ohio cities to the north and south of Columbus — with Interstate 71 running through all three — whose support and friendship kept him going through the challenging '50s, '60s and '70s.
To the south, there was Cincinnati's chief rabbi, Rav Eliezer Silver, a Torah giant who was one of mid-20th century American Orthodoxy's greatest leaders. Averim dates his father's connection to Rav Silver back to a controversy that arose over the local Jewish Center's plans to open its pool on Shabbos. Following Rav Silver's guidance, Rabbi Stavsky led a Shabbos afternoon sit-in demonstration against the move, eventually reaching an agreement under which the pool would be open but no money would be taken for admission and at the food concessions.
"When my brother Jordan was born in February 1962," Averim says, "my father honored Rav Leizer Silver with being the sandek at the Friday morning bris. He stayed on for the seudah, and then my father took him to the airport for a 35-minute flight home, leaving ample time until Shabbos would come in at four thirty. Only after Shabbos did we learn that the flight's departure had been delayed, and not wanting to inconvenience my father and his young family, he had spent Shabbos at the Port Columbus airport terminal."
Rabbi Stavsky's rabbinic support to the north came from Rav Mordechai Gifter, head of Cleveland's Telshe Yeshivah and himself a one-time rav in an isolated community, whose many letters to Rabbi Stavsky over the years evince great esteem for the rabbi and his accomplishments. For his part, Rabbi Stavsky took every opportunity to bring Rav Gifter, a spellbinding orator, to town, whether to take part in a siyum celebration at Beth Jacob or deliver a talk during Religious Emphasis Week.
Rabbi Stavsky — the clean-shaven, YU-educated rav with the modish glasses and disarming smile — was a bridge figure, someone whose own palpable reverence for Torah greats helped connect modern, albeit traditional, Midwestern Jews with a part of the Jewish world that was otherwise foreign to them. He related easily — joyously — to first-rank litvish rabbanim and chassidic rebbes alike.
One of those rebbes was the Kashauer Rav, whose connection with Rabbi Stavsky had an improbable beginning. "Next to the shul," Averim explains, "lived a Yiddish-speaking Holocaust survivor named Israel Blum, a quiet man who kept to himself and helped make Beth Jacob's daily morning minyan. One day, his wife called for my father: Her husband had passed away, and she wanted him to make funeral arrangements, which of course he agreed to do.
"Just one hour later, however, another call came in, from New York. On the line was the gabbai of the revered Kashauer Rav, Rav Refoel Blum — whose older brother, Israel, had come to America after the war, settling anonymously into a quiet life in far-off Columbus, Ohio. The Rav was asking to take over the arrangements, and again my father agreed. Four hours later, 12 chassidim arrived to perform the shemirah, taharah, and a levayah, all in accordance with minhag Kashau, and accompanied the niftar by plane back to New York. Thus began a friendly relationship and ongoing correspondence, between 'the Ruv and the Rav,' my father."
With much of the responsibility for Columbus's future as an Orthodox community resting on his shoulders, Rabbi Stavsky rose to the challenge. Piece by piece, he began putting in place the essential ingredients of a proud, fully formed frum community, working with whomever he could motivate to get involved.
Beth Jacob had been located in the Driving Park area of Columbus, but when it changed and emptied of Jews, he orchestrated the shul's move to the Berwick neighborhood. The new structure was architecturally magnificent, but for Rabbi Stavsky, what meant most was the newly installed mechitzah, in place of the velvet rope that had separated the genders in Beth Jacob's previous building. That achievement, says Rabbi Baruch Taub, "was his pride and joy. This was a time, in the 1960s, when a mechitzah was a hard-fought battle on the next frontier in American Orthodoxy." Years later, seeing the need for a community eiruv, Rabbi Stavsky assembled a group of ten balabatim who brought Lakewood posek Rav Shimon Eider in as a consultant and saw the project through to completion.
His efforts on behalf of a new mikveh knew no bounds. The existing one was dilapidated and on the wrong side of town, where the Jewish neighborhood used to be. All of ten families were then using the mikveh, and they'd only go in groups on assigned nights. Then, in 1971, there was a shooting down the block from the old mikveh, and Rabbi Stavsky called up the other rabbis in town and said, "We need to build a new mikveh. Now."
He sketched the layout himself and brought in the Helmitzer Rebbe, a renowned expert on mikvaos, to oversee its construction. But with his own Beth Jacob congregation strapped for money after completing its new shul building, funding remained a major hurdle.
Rabbi Stavsky approached the local federation for help and when they responded with, "What's a mikveh?" he promptly gave them a crash course in taharas hamishpachah. He decided it should be built on Beth Jacob's property, but when he faced opposition to that idea both from his own laymen and the rabbi of another shul, he succeeded in raising the necessary funds on his own — with the help of a local Reform clergyman.
A year ago, Averim notes, "the Columbus community finally built a new multimillion-dollar, centrally located mikveh. Everyone recognized the need, and Jay and Jeanie Schottenstein spearheaded the funding campaign to put it up in no time. That's the difference between 50 years ago and today: The unity of purpose, the understanding of mikveh's importance, and the prioritizing of resources are a testament to how far the community has come, due to the groundwork my father laid back then."
For Rabbi Stavsky, self-sufficiency was essential for the communal self-image. For decades, Rabbi Stavsky would arrange for the production of a special run of kosher l'Pesach milk, with yeshivah bochurim home for Pesach supervising the milking on farms around Ohio. It was not, to say the least, a money-making proposition.
When a newly arrived local rabbi told his congregation they could buy and freeze regular milk for Pesach based on a ruling of Rav Moshe Feinstein, Rabbi Stavsky became very upset and called that rabbi to express his displeasure, explaining that "Columbus needs to stand on its own two feet. It needs a day school, a high school, a kollel, a mikveh, and yes, its own milk production for Pesach. We have it, and you have to support it."
But taking responsibility didn't just involve undertaking high-profile projects; it also meant doing the things no one else would, and taking care of those who were invisible to everyone else. Averim says that "nothing was beneath my father. Columbus was on the tzedakah collectors' Midwest route, and after many weeks on the road, their personal hygiene and appearance sometimes suffered. On many occasions, my father went beyond giving a check, attending to their personal needs, ensuring they had a hot bath at the mikveh and a change of underwear and clothing before sending them on their way."
As Rabbi Stavsky headed out the door one hectic Erev Pesach, his son asked where he was going, and he explained that he was taking the children of a local family to Gilbert's shoe store. "These kids always show up in shul bedraggled, with torn shoes," Rabbi Stavsky told his son. "If I give the parents a check, they won't use it for their kids' shoes."
The route for shipping meat from the Chicago slaughterhouses to the East ran through Columbus, and since meat in transport has to be washed off every few hours, it was Rabbi Stavsky who could be seen inside a semi-truck in the Beth Jacob parking lot, with thigh-high boots on, hosing down huge slabs of meat. "These are the scenes I grew up with," says Averim.
Down-to-earth as he was by nature, Rabbi Stavsky didn't shrink from standing up for both his honor and his principles. His son-in-law, Columbus businessman Michael Weisz, says Rabbi Stavsky made clear that it was the kavod of the rabbanus he was protecting, not his own. "He'd quote Rav Soloveitchik, who said 'a rav has to stand up for the uniform.' In this way, he really taught the kehillah the concept of kavod harav."
Michael's wife, Chanita, the Stavskys' only daughter alongside four sons, adds that her father "was very clear on what he believed. Even after his passing, we'd often hear from people, 'I know what Rabbi Stavsky would have said about that.' No one intimidated him, and he treated the big giver and so-called simple person equally. There was a macher in the Jewish community here who had donated land to move the Jewish community center to another side of town, a 45-minute drive from here. It would have been devastating to the community, so my father took him on, and won."
Once, the child of major contributors to Beth Jacob got engaged to a convert. Finding the geirus wanting, Rabbi Stavsky declined to officiate at the wedding and they left the shul. "But halachah was halachah and emes was emes," Michael Weisz says, "and he wouldn't be swayed by dollars. He was a very, very honest individual. As an example, a kosher butcher in Cleveland sent a carton of meat for my father-in-law to sample, hoping to get the business of a Columbus nursing home. But when I brought it to him he said, 'Don't give me any of it, I won't touch it. For me to eat it would be like a kickback.'"
Rabbi Avi Goldstein, Beth Jacob's current rav, observes that his predecessor "had firm principles and fought for them — the necessity of a mechitzah, a new mikveh, day school education, and so much else — yet he always retained the respect of everyone in town." To this day, Rabbi Goldstein says, Rabbi Stavsky's influence is still keenly felt. "He insisted that anything related to Judaism had to be done in the most honored way possible, and today it's still that way here."
As time went on, Rabbi Stavsky was no longer functioning in isolation, but could instead count on people like Rabbi Rosenberg, and a new generation of laypeople who understood and appreciated Rabbi Stavsky's values and goals.
During the 1990s, Columbus really began to come into its own religiously, with CTA adding a high school and the city getting its own community kollel, headed by Rabbi Henoch Morris, a prominent Ner Israel talmid. Chanita Weisz recalls her father taking lots of flak for his role in bringing in the kollel. "People wanted to know why he wanted something so 'divisive,' especially when it was hard enough to raise funds for his own shul. But he knew better."
The seeds of a kollel had been planted much earlier, when in 1977, Rabbi Stavsky and Rav Gifter handpicked ten Telshe Yeshivah bochurim for a summertime SEED program led by Rabbi Yankel Velvel Katz, today a rosh kollel in Cleveland. Rabbi Katz says Rabbi Stavsky displayed great respect for the yeshivah world: "It was a gadlus on his part, for example, that the shul's farewell banquet for the SEED group had separate seating. 'If it's a yeshivah dinner and Rav Gifter will be there, then that's how we'll do it,' he said."
The year 1997 marked 40 years at Beth Jacob, an unusually long tenure in one pulpit. As a rabbi's rabbi — a masterful orator who authored four classic collections of sermons avidly read by his rabbinic colleagues; a communal builder and prodigious fundraiser; a kiruv pioneer — offers of more prestigious pulpits had come his way. But he had invested far too much in this city, and it had become too deeply part of his lifeblood, to consider forsaking it.
Entering his seventies, Rabbi Stavsky was still full of energy, working on multiple projects and looking forward to continuing at his kehillah's helm. But a dread illness struck, and he was forced to frequently leave his beloved Columbus for experimental treatments at New York's Sloan Kettering hospital. On one such trip in the summer of 2003, when he received some bad news, he turned to his son Averim and said with characteristic irrepressible optimism, "Let's stop off in Teaneck to pick up your brother Jordan and go up to Westchester for a brachah from my friend, the Kashauer Rebbe." The three headed for Bedford Hills, home to the Kashau community, and arrived to find the Rav confined to a wheelchair due to a recent stroke. Looking up weakly at Rabbi Stavsky, he exclaimed, "Der heileger ruv fuhn mein breeder — My brother's holy rav!" And he proceeded to bestow a heartfelt brachah for a refuah sheleimah.
Rabbi Stavsky also made his way to Eretz Yisrael for brachos from gedolim, including a visit to the mekubal Rav Yitzchak Kadouri, who wrote a kamaya that the rabbi kept in a cloth pouch around his neck throughout his final illness. He declined, however, to place Rav Kadouri's picture among the other pictures of gedolim near his bed because, he explained, "I've known these gedolim all my life, so I feel they can intercede on my behalf. But I only met Rav Kadouri once."
While hospitalized at one Columbus-area hospital, Rabbi Stavsky woke up one morning to find the amulet gone. He was very upset, feeling its loss did not bode well for his hoped-for recovery. He summoned the nurses and said, "It's got Holy Scripture, written by a great sage, and you've got to find it!" When told it had been inadvertently shipped off-site in a huge load of dirty laundry, Rabbi Stavsky was insistent: "I'm the rabbi of this community — you must find it." And just days later, they did.
On his last day on Earth, Rabbi Stavsky was surrounded by his beloved wife and their extended family. His grandchildren recited Sefer Tehillim, and as they finished the last pasuk of the last perek, his neshamah — the one that had touched those of so many other Jews — left for On High.
And the amulet, having finished serving its purpose, disappeared again without a trace. —
(Originally featured in Mishpacha, Issue 772)
Oops! We could not locate your form.
>