| True Account |
Cold Call
| October 26, 2021
We could spring our grandson from jail if we'd wire a stash of cash. Sounds like a scam? We thought so, too...until he got on the phone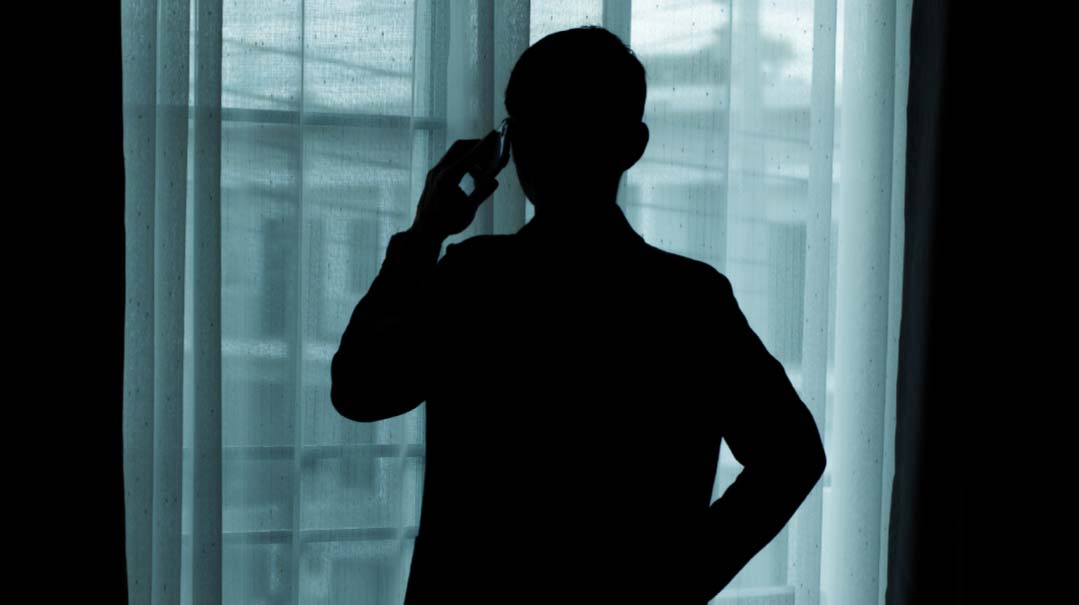 As told to Cindy Scarr by Lynda Greenberg
"Safti?" The voice of my 22-year-old grandson Ezra came through the phone. "I need your help. I'm in big, big trouble!"
And so began a traumatic experience that would leave me and my husband shaken. It's a long story, but essential for anyone with kids or grandkids overseas to hear.
Our daughter Dena lives just down the street from us. Her Ezra is the eldest of four, and our first grandchild. He made us grandparents when we were 41, and we have adored him ever since. While some grandparents rarely see their grandchildren, because of our close proximity, we are lucky enough to see our grandkids every Shabbos and a couple of times during the week, too. We are very close.
At the time of this phone call, Ezra had been traveling for three months. He'd already completed two years of college, but when Covid hit and his classes went online, he decided to take a break and visit some countries still open for tourism.
The call came on a Tuesday; Ezra was due to return home to Canada that Friday.
Ezra sounded terrible. He was in Mexico, he told me. He'd gotten sick with a bad cold and fever and didn't know what to do, so a friend had driven him, in the friend's brother's car, to get a Covid test. On the way back, his friend was speeding and they were stopped by the Mexican police, who searched the car and found 15 pounds of marijuana in the trunk. Both Ezra and his friend were arrested. They were now being held in the police station.
At this point, I told my husband Manny to pick up the extension.
Ezra told me that an RCMP officer (one of the famed Canadian "Mounties") had come from the Canadian embassy to help him. But Ezra was allowed only one phone call, and he figured we were the ones to call as we were the most likely to be able to help in this situation. Why us and not his parents? Because if we wanted him to avoid jail time, we needed to immediately come up with $12,000.
And, per the Mexican police's instructions, we were forbidden to tell anyone about it.
Yes, yes… I know what you're thinking: This is clearly a scam! How are this woman's scam antennae not quivering like crazy?! It's the same question I'd be asking if I heard this story from someone else.
The answer is that this wasn't one of those, "Lost my luggage and my passport and all my money and clothes and I'm stranded in Equatorial Guinea, please please please send money" emails riddled with sketchy spelling and grammatical mistakes.
No. Despite all appearances to the contrary, this was clearly no scam. How could it be? My grandson was on the phone, talking to us.
Manny immediately asked to speak to the Mountie, who promptly came on the line, introducing himself as Sergeant Evan Jacobs. Manny then asked for his badge number, which Sergeant Jacobs readily provided.
Sergeant Jacobs assured us that Ezra was fine, and that he would personally do everything he could to make sure Ezra didn't get harmed, but he stressed that this was Mexican jail time we were looking at — and if we didn't know much about Mexican jails, well, it was enough to know that it was crucial to send the money as quickly as possible. Sergeant Jacobs told us to tell no one about this, not even Ezra's mother, as it could jeopardize Ezra's release. And telling no one meant the bank as well, he reminded us. We should tell them we needed the money for urgent renovations or repairs, or something like that.
We were given a phone number to call once we had the money, at which time we would be told what precinct to send it to. Once the police received the money, Sergeant Jacobs assured us, they'd release Ezra and allow him to fly home on Friday as planned. On Monday there would be a Zoom court case from Canada, and the Mexican authorities would officially clear our grandson of all charges — they knew it wasn't actually his marijuana. Then we'd get our money back.
Hand shaking, my husband wrote down all the information.
"This sounds like a scam," he said, doubt entering his voice for the first time.
Sergeant Jacobs assured us it wasn't.
And poor Ezra! He sounded so depressed and scared. We were terrified about what he might be going through that he wasn't telling us about.
Manny and I hung up the phone. We looked at each other, both of us stunned and trembling.
"Are you going to the bank to see if we can get $12,000?" I asked him.
"Not yet. First I want to make sure this isn't a scam."
"How can it be a scam? That was Ezra on the phone! You've got to get to the bank immediately!"
"We'll go in a few minutes," Manny said. "But first I'm calling the Canadian embassy in Mexico."
He found the number and dialed, while I davened my head off.
I listened to my husband's side of the call, which revealed something all of you have no doubt already guessed — there is no such thing as RCMP officers who come to the aid of Canadian citizens in Mexico, and there is no Sergeant Evan Jacobs in the Royal Canadian Mounted Police.
But now, we were doubly terrified. Who was holding Ezra? As bad as the Mexican police had sounded, at least they were the police! At least they were official. At least we could contact them.
"I'm calling the embassy in Mexico again," my husband said. He dialed quickly, but was put on hold.
"I'm going to try texting Ezra," I told him. "Maybe they didn't take his phone away."
"I'm sure the police or whoever we've been talking to took away his phone," Manny said.
I don't know what I was thinking. What kind of kidnappers allow their victims to keep their phones? But I was as desperate and terrified as Ezra had sounded, and there was nothing to lose and no harm in trying.
As fast as I could, I texted, "Ezra, I don't know if you have your phone, but if you see this, don't worry, we'll get you out of there."
Astoundingly, five minutes later my phone pinged with his reply: "Get me out of where, ha ha!"
Considering that he was sitting in a Mexican jail, I found this answer astonishing.
Then came another ping: "Thanks for the $100 you sent me!"
(We had wired Ezra $100 for his birthday.)
I was dumbfounded. Nothing was making sense.
I frantically typed another message. "EZRA, CALL ME RIGHT NOW!!!"
And he did. From a beach in Guatemala, with friends we could hear laughing in the background. He didn't have a cold. He was certainly not sitting in a Mexican jail. He was, thank G-d, perfectly safe. We were indeed being scammed.
Two hours later, the house rang again while I was on my cell phone with my sister-in-law Mimi, telling her what was going on. A long-distance number, no caller ID.
"Mimi," I said, "I think this is them calling again. I'll put them on speaker so you can listen in."
It was them, the same friendly sounding "RCMP officer," checking if we'd gotten the money yet.
I lied. "Thank you so much for your help, sergeant. My husband is at the bank right now trying to arrange the money." I tried to sound as grateful and desperate as I could. Then I asked to speak to Ezra again "to make sure he's safe."
"Ezra" came on the phone. It was shocking to know it wasn't him; I still couldn't believe it wasn't his voice I was hearing. He said he was fine.
"Don't worry, they're treating me well, they've found me food and drinks." Then he apologized for getting us into this mess and asked us again to please get the money ASAP. My sister-in-law later told me she couldn't believe it wasn't her nephew on the phone; it was both his voice and his intonations.
We're lucky this whole episode hadn't happened the day before, when Ezra had been climbing a volcano and his phone had zero reception. He never would have received my text. We would have been duped, and we would definitely have wired that money.
We had decided not to tell our daughter Dena about all this until after we had spoken to Ezra and knew he was safe. Even though we had already uncovered their scheme, these rotten people really made us feel that if we told her, there would be major trouble.
Now that we knew Ezra was fine, I called her cell phone.
"Dena, Abba and I need to talk to you about something really important that just happened, but we need to tell you in person. Everyone is okay, but please come now if you can."
When she got to our house, Dena took one look at our faces and all our assurances that everything was okay went out the window; we must have looked as terrified as we felt.
"What is it?! What happened?!" she asked, her voice shaking with worry.
I started to tell her the story, opening, of course, with, "Ezra's safe, don't worry," but then I realized I was hyperventilating, and I had to let Manny continue. As he told her the whole story, Dena's eyes and mouth got wider and wider. Our faces said it all. Despite knowing Ezra was safe, we were still petrified. Dena kept saying the story sounded like a scam, and we kept saying we agreed… until we thought we were hearing Ezra's actual voice.
Baruch Hashem, Ezra arrived home in Canada that Friday morning as scheduled. We didn't dare publicize this story until he was home safe and sound.
Following this scare, we researched the technology that had made it possible. We learned that scammers and thieves can get data out of cell phones, including voice notes and messages, from which they are able to clone a voice. Ezra told us that not long before this happened he'd been at a somewhat sketchy party, and we figured that somehow his phone data had been stolen. In addition, I had signed the e-transfer for the $100 I sent him, "Love, Safti and Zayde." Whoever these crooks were, they must have found that signature and looked us up in Ezra's contact list, as they phoned us on our house phone, not our cells.
Swindling money out of people desperate to help their nearest and dearest is nothing new. But this technology is. And it's far too easy. Publicly available software can create a vocal impersonation from as little as one minute of audio.
We read about a grandfather in the US who got the same call from his "granddaughter" and ended up wiring the money.
We read about a British energy company scammed out of $240,000 through calls to the managing director — mimicking the voice, tone, and accent of the CEO — giving instructions to transfer funds. The scam was only uncovered when the scammer called while the director was on the phone with the real CEO.
In another case, the man scammed was a business lawyer with 30 years of experience. When his "32-year-old son" called him crying and pleading for his help, saying he'd been in an accident, had injured a pregnant woman, was now in police custody, and had been assigned a public defender, his father believed every word. Why wouldn't he — it was his son on the phone! Within the next ten minutes, he got a call from someone claiming to be his son's lawyer. He then spoke to the supposed court clerk. And he nearly wired his son $9,000 for bail.
The lawyer later said, "I know it was my son's voice. It was his voice, his cadence, using words that he would use."
The lawyer called his daughter-in-law (his son's wife), who called her husband's workplace. The distressed father was almost at his bank when he got another call. It was his son — for real this time — telling his father that he was okay. This worldly, experienced lawyer had almost been the victim of a very sophisticated scam.
The father tried to keep the scammers calling in order to get the police involved, but the police told him that as he hadn't actually lost any money, and since the scammers were using untraceable burner phones (cheap prepaid phones that can be discarded after use), there was nothing they could do.
One online voice cloning company offers software that creates speech that is, as they claim, "indistinguishable from the original speaker. Every nuance and emotion from the original speech pattern is captured." They boast, "Our synthetically created voices are a spot-on match."
The makers bill their technology as perfect for filmmakers, game developers, and other content creators.
Perfect for scammers, I would add — who are getting increasingly more sophisticated. They use voicemail greetings to identify a person's voice and occupation, and websites and social media to find names of their colleagues and family members. The more personal information they can glean from the Internet, the more sophisticated the scam will be.
I found an astonishing quote from an executive for a company that builds scam protections for cell phone users. He said, "If I got a call like that from one of my kids, I would also panic, and I know all about fraud cases."
I can't describe how terrifying this all was. When you hear your child's or grandchild's voice speaking with you, it's almost impossible to believe it's not them. Even when we knew it was a scam, we still felt like we were talking to Ezra. Technology of all types is constantly improving, and it is important to stay informed and be increasingly vigilant. What happened to us could happen to absolutely anyone.  —
Be Aware
Awareness of technological improvements and an understanding of scammers' tactics can help you avoid becoming the next victim. The Federal Trade Commission website has lots of good tips about how to avoid a phone scam. Here's the gist of so many I wish I'd known!
Never give your personal or financial information in response to a request that you didn't expect. Legitimate organizations won't call, email, or text to ask for your personal information, like your Social Security number, bank account, or credit card numbers. If you get an email or text message from a company you do business with and you think it's real, don't click on any links. Instead, contact them using a website you know is trustworthy, or look up their phone number. Don't call a number given to you through a suspicious email or text.
Resist the pressure to act immediately. Legitimate businesses will give you time to make a decision. Anyone who pressures you to pay or give them your personal information is a scammer.
Know how scammers tell you to pay. Scammers will often insist that money must be sent immediately, and always in a way that cannot be traced or canceled. Never pay someone who insists you pay with a gift card or by using a money transfer service, and never deposit a check and send money back to someone.
Stop and talk to someone you trust. Before you do anything else, tell someone — a friend, family member, or neighbor — what is happening. Talking about it and getting someone else's perspective may help you realize it's a scam.
(Originally featured in Mishpacha, Issue 883)
Oops! We could not locate your form.
>