| Encounters |
Clothing Makes a People   
| March 28, 2023
This time I was going to pack smartly and achieve that elusive balance: exactly enough, and nothing extra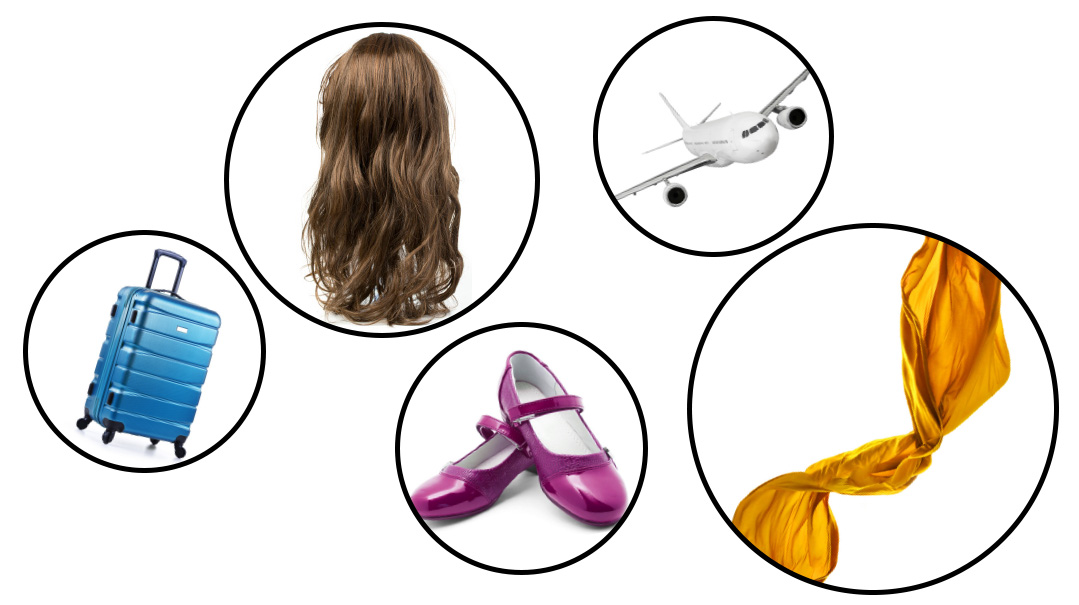 "One for Tuesday, one for Wednesday, one for Thursday…" I counted quietly to myself as I placed three pairs of the baby's socks in the suitcase. This time I was going to pack smartly and achieve that elusive balance: exactly enough, and nothing extra.
I was packing for my niece's wedding in Lakewood, which I planned to attend together with my two oldest girls and my one-year-old. We were flying Frontier Airlines, so that meant one suitcase for all of us (and it also meant that bringing the suitcase was going to cost more than the flight itself).
After the baby's things, I moved on to my own. I knew I needed to bring my favorite earrings… and the truth is, maybe my two favorite pairs, because I'd probably want options. Yes, of course: options. Packing smartly didn't preclude options; options were a necessity. Which is why I also packed both sheitels. Maybe one would get messed up and I'd need the other. Or maybe I'd prefer the one that was a bit longer if I was feeling a little dressier. No need to make those decisions now.
Into the suitcase went the earrings, the sheitels, the necklaces. Into the suitcase went the girls' borrowed dresses for the wedding, their Shabbos shoes, the one pair of heels I own (because, Lakewood, you know).
I stuffed it closed, picked it up, and sighed. Maybe under 40 pounds if the agent was in a good mood.
The flight went smoothly; the baby even slept for a good chunk of it. We were off to a good start. We landed in Philly, planning to rent a car and drive into Lakewood. Thankfully, we were traveling with my father, and as his suitcase came out of the carousel in baggage claim right away, he offered to get the car while I waited for mine.
We waited. And waited. And waited some more, until the carousel beeped and flashed red — and then stopped, with no sign of the black, overstuffed suitcase. Uh-oh.  This wasn't good.
We looked around and found a dark, locked Frontier office. It only took three pages on the loudspeaker from the airport customer service counter, and many more minutes of waiting before a harried agent ran toward the door, opened it, and took my phone number. By then there were three other members of the flight standing behind us. We were not alone.
"I'm creating your claim right now," the agent said quickly, "and you'll hear from us in 20 or 30 minutes." I asked for her direct number as well, which she scribbled down on the back of the claim page.
I told her I was going all the way to Lakewood, New Jersey, and that I'd need the suitcase delivered there.
She looked me up and down and laughed. "Yup, I thought you were one of them," she said. "You're Jewish, right?" I nodded, smiling.
"Yeah, we'll bring your suitcase there, it's no problem," she answered languidly. I felt uneasy, but the baby was fussy, and the girls were tired, and my father was waiting outside. So I left the dark office and headed to the car, where I held my phone tight, hoping for a call informing me that my suitcase would arrive later that evening.
No call came, though, and we were approaching Lakewood, a town I'd only been to twice in my life, and which held a fierce fascination for me. I tried to forget about my missing suitcase as I surveyed the passersby, who somehow all looked exactly the same to me. I quickly became overwhelmed by the signs of frum life everywhere; I knew Lakewood was like this, I'd heard all about it, but still, it was quite the culture shock.
Stores and restaurants galore lined the streets, and the people walking on those streets! Every one of those women was wearing a sheitel. Obviously, I'd made a mistake traveling in what I considered to be a pretty (and very comfortable, baby-friendly) tichel. I wished I had my sheitel.
I was out of place as it was — I certainly didn't have the same pleated skirt or the same black loafers or even the same stroller that almost everyone seemed to be pushing around. I really didn't need the extra humiliation of walking around in a tichel.
But with my suitcase missing, a tichel it was. We stopped in a pizza shop for lunch, where I made sure to mention loudly that I hoped my suitcase would show up soon, then stopped in Target to stock up on pajamas, toothbrushes, and other basics.
When we walked into our hostess's home, I informed her right away that my sheitels would be coming soon, and shared how embarrassed I was to be wearing a tichel. She smiled and pointed to her own tichel. Okay, it was eight p.m., and she was in her own house, but it was still nice of her.
I left my phone on all night, and of course I dialed the number the woman had given me many times, only to reach a voicemail. By morning, I was really nervous. The wedding was that night, and while my dress had somehow made it into the carry-on, everything else was missing. And I certainly wasn't going to the wedding in a tichel — even I have limits!
Then my phone pinged with a text from my cousin. I heard about your suitcase, she wrote. Call my friend Shana who has seven girls. She'll have something for your girls to wear, and she's expecting your call."
I was uncomfortable calling someone I'd never met to ask for clothing and shoes, but being the serious out-of-towner that I am, I really didn't know many people in Lakewood, and things were getting urgent.
Shana told me to come right over, and when we arrived, she brought us upstairs and emptied out her girls' closets, leaving us in the room to try anything and everything. The girls loved the first dresses they tried, and Shana proceeded to empty out a bin filled with shoes so they could each select their sizes. She shrugged off my thanks, and threw her sheitel at me, begging me to take it. I tried it on, and it did look decent, even if it wasn't my color. I couldn't believe her generosity. We left, relieved, the girls prepared to be better dressed than they'd planned back when we were home.
By the time we got back to our hosts' house, my sister had arrived from Atlanta. She brought a pair of flats and a crumpled-up sheitel that my husband back home had managed to send with her. Now it was a toss-up between Shana's slightly too big and light-colored wig, or my own dusty frizz ball that was out of style even for an Atlanta girl.
My hostess stepped in to settle that particular dilemma. She was a sheitelmacher! While I quickly got dressed and zipped up my baby in the Target onesie I'd picked up for her, Miriam took my sheitel into her salon and blew it out (all while wearing her own beautiful wig), then beckoned me to have a seat in her chair as she pinned and sprayed, combed and tucked. She transformed my wig with her magic hands, and finally, we were off to the wedding.
I walked into the wedding sans jewelry or heels, feeling a bit underdressed, and each family member I saw was regaled with the tale of my woes and my missing suitcase. "Don't you know the rule?" each one responded in turn. "Never put your sheitels in your suitcase! Only in your carry-on." Each one figured she was the first to share this valuable advice.
My girls and I enjoyed the wedding, though I felt a bit as though we were impersonating other people. My sheitel looked more "Lakewood" than "Russy," and the girls' dresses, while beautiful, weren't completely our style. But as I contemplated the mess we were in, I realized we were actually clothed in the most genuine reflection of who we are as a nation; we were dressed and dolled up in chesed and kindness, generosity, and compassion.
I write this as I sit comfortably back in my home in Atlanta. I've replaced my moisturizer and my pajamas, and I'll happily order some new shoes, but I still haven't replaced my sheitels. Thanks to Miriam, I have a decent substitute while I wait for that call from Frontier Airlines.
And in the meantime, this entire fiasco was really worth my while. It gave me the opportunity to lose some of my baggage (pun intended) regarding the broader frum world. I was privileged to meet some of the otherwise nameless individuals who live in Lakewood, and I was gifted a peek into what it is that really makes us all the same — not the black loafers or the Hard Tail skirts, not the sheitels or the Hondas or the Doonas, but the caring and the selflessness that are the trademarks of our People.
(Originally featured in Family First, Issue 837)
Oops! We could not locate your form.
>