| Family Diary |
Close to Home: Chapter 4        
| July 19, 2022
   

 "You can do this!" I told her. "Take all the laundry — clean, dirty, all of it — and put it in baskets in your car"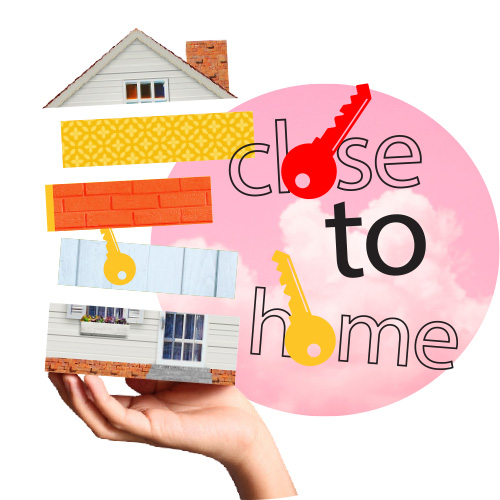 "I have another potential buyer," I said, the phone on speaker while I drove, "but they want to come in two hours! Can you make that happen?"
There's silence, and I can imagine Stephanie Wilson looking around her house in a panic. Stephanie was outgoing and funny and loved doing crafts with her two kids. But as her father always told her, she was "a great kid, but no Martha Stewart."
Her home had been on the market for months but nothing had moved forward. The contract with her first agent had ended and she reached out to me. I walked into the house and immediately spotted the problem. Stephanie took a very relaxed approach to laundry. There was dirty laundry on nearly every bed, and clean laundry in haphazard piles on the couch and dining room table. Before I brought the first potential buyer, I asked her to straighten up, but presumably she was so used to the situation that she hadn't even noticed it. The potential buyers definitely did — when they turned down the house, they commented on it. Something had to change.
"You can do this!" I told her. "Take all the laundry — clean, dirty, all of it — and put it in baskets in your car."
"Wow, that's a great idea," Stephanie said, clearly relieved. "I'll do that. Confirmed for three."
Thank goodness for vehicles. The Glucks' van had also saved them. The Glucks had outgrown the space they were in, and once they had twins, cozy became cramped. The addition of two dressers, two cribs, and two bouncers made the house incredibly cluttered. One of the bedroom doors couldn't even close.
Every time there was a showing, I had to make sure Rabbi Gluck was around. He'd put down the seats in his van, and then take one dresser, one swing, and one bouncer, and stow them in his car until the showing was over.
The first step to selling a home is to "stage" it (think "setting the stage"). Remember how during the weeks of seminary interviews you had to be on your best behavior for a few weeks to ensure that anyone the seminary called about you would give good information? Well, when you're about to sell, your house has to be on its best behavior. Sure, even messy, cluttered homes can sell, but if you want to have the best chances of selling at an attractive price, put your best foot forward.
You love your house because it's yours; you've personalized it. When you're trying to sell, you want to do the opposite: you want to create a blank slate in which people can envision as many possibilities as possible.
Before bringing buyers, I do a walkthrough of the house with the seller and offer suggestions for ways they can make their home look as appealing as possible.
Sometimes I'll bring in a professional stager (yes, that's a real job). We'll put silk flowers in different spots, get new dishtowels for the kitchen. If one of the main rooms is painted a dark or unusual shade (looking at you, Spanish Red), I may recommend they repaint the room in a popular, neutral tone. We'll sometimes put up those inspirational quotes that are so popular.
When you go into a bathroom, it makes a huge difference if you're faced with a half-empty tube of toothpaste and a mutilated bar of soap, or if there's a polished chrome soap dispenser and a small potted plant. You want the buyer to get the vibe of warm and well-cared-for home.
One woman told me she never walks out her door if there's even a single spoon in the sink. Hats off to her. But honestly, a few spoons in the sink won't turn anyone off.
That said, when I was looking to buy a home, there was one house that was really cute — and really tiny. I fell in love with the cuteness while my husband was concerned about the size. In the kitchen, I opened the oven — and found piles of dirty dishes.
"You see," my husband said. "This is what happens when a house is too small. Didn't you always talk about how much you wanted a dishwasher? There's no room for one here…"
Those dirty dishes were what knocked the house out of the running.
There's a lot of conventional wisdom about staging, but it's not always a good idea to follow it. One seller dutifully followed the advice to bake an apple while the buyers were viewing her home because the scent of apples is very appealing. The only problem was that she forgot about it, so we were faced with the acrid smell of burnt fruit.
Unlike what you're often told, scented candles tend to get buyers nervous. Rather than thinking, what an amazing-smelling home, they think, what odor are they trying to mask?
Baked goods, though, can be a big plus. One client left freshly baked chocolate chip cookies on the table with a note saying, "Enjoy!" The place smelled amazing, and clients sat down and attacked the plate. It made them linger a lot longer than they would have otherwise.
Staging is also about decluttering.
Homes accumulate stuff.  The piles of paper on your desk are your normal. But it's not someone else's normal; they'll think, mess! Still, I have to be really careful when making suggestions to clients about what needs to be cleaned — you don't want to have them feel like you're calling them a slob.
I'm not Marie Kondo. But I have worked with professional organizers, and that's given me a lot of insight into the decluttering process.
I have clients divide everything into four boxes: garage sale, give away, throw away, and pack. Honestly, most of the clutter doesn't get packed.
One client, Mrs. Callatini, was an elderly woman on oxygen. It was a struggle for her to get around; there was no way she could declutter on her own. She'd sit on her couch, I'd gather her stuff in boxes, bring it to her, and we'd sort it together.
I'm constantly hearing from people who are overwhelmed by the amount of stuff they have, and it's made me something of a minimalist. I think three times before I make a purchase. Am I actually going to use this stunning tray or will it just be the thing that falls on me every time I open the cabinet on top of the oven? And I get rid of things easily. Yes, those saucers are perfect for a tea party, but I've made one tea party in the past ten years; let me give it to someone who does make tea parties. The less you have, the less you have to hide.
Stephanie sold her home to the third person I brought to see it. She never did become Martha Stewart, but she knows what to do with the laundry before her mother-in-law comes!
to be continued…
Keyed In
It can be stressful to have to have your house looking good all the time. Keep in mind that the average amount of time needed is two to four weeks. So take whatever steps you need to make it easier to keep the house clean and clutter-free for that time.
(Originally featured in Family First, Issue 802)
Oops! We could not locate your form.
>