| EndNote |
Chorus in the Corridors
| March 18, 2020
"While we still have the privilege of being here in This World, even without a musical instrument, we need to smile and make others smile"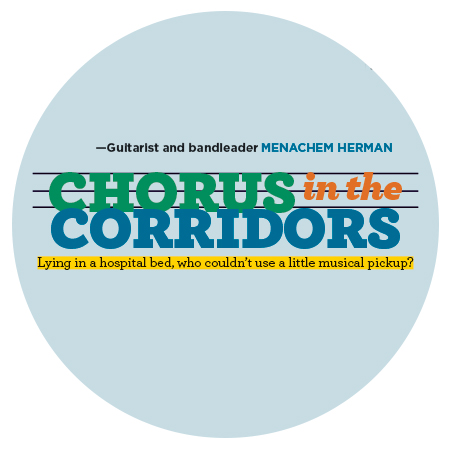 His Last Smile 
When my dear friend Reuven Marantz a"h was critically ill, I received a phone call from his son, asking me to come now. I dropped everything I was doing, took a guitar with me, and went out the door straight to the hospital. When I arrived, he was in and out of consciousness, but when he heard me singing, he opened his eyes and smiled. I then played a song that he used to play on his flute. When he heard the song he moved his lips, humming along with the melody.
Eventually, I wished Reuven all the best and left him. As soon as I got home, I got the call — Reb Reuven had left This World. I was numb from shock! I was the last one to make Reb Reuven smile. The message for me was clear: Play for people. And while we still have the privilege of being here in This World, even without a musical instrument, we need to smile and make others smile.
—Guitarist and bandleader Menachem Herman

I

Will Yet Thank Him 
Songs can go a long way. My song "Mah Tishtochachi Nafshi" has been sung around so many hospital beds. One hospital visitor told me about a nonreligious father of a sick child who requested that song as chizuk. I also heard from the mothers of two families who lost young children, both of them named "Chili." So the refrain, "Hochili l'Elokim, hochili" has been some level of comfort — that their "Chili" is with Hashem, and "Hope to Hashem, for I will yet thank Him…"
—Singer and composer Meshulam Greenberger

That Push to Recover
Two years ago, I broke an ankle when a stage we were performing on collapsed. As I recovered, a bochur contacted me to check up on me and tell me that he was also stuck in the hospital. He had suffered from a bone issue that required surgeries and a long recovery. We chatted about my plans to go ahead with performing, even on crutches. Half a year later, I bumped into this bochur. He told me that he'd lost the will to enjoy life and to move on, but that when we spoke, the encouragement I'd given him helped push him to recover and pull himself together. Baruch Hashem, he was back on his feet, and back to feeling positive about life. I'm just a simple guy like everyone else, but music definitely can help me reach out to people and touch lives.
—Singer Levy Falkowitz



Soul Song
I have a good friend, Rabbi Avi Stewart, who is now a rav in Los Angeles, and who was my chavrusa back in the Mir 19 years ago. At the time, his sister was sick and unfortunately passed away. In her memory, I wrote the song "Elokai Neshamah," which was on my second album, Simcha B'libi. It was made all the more special because Rabbi Stewart himself was singing harmony in the song. As a kid I sang in the Miami Boys Choir, and when one of my choir contemporaries, Zavel Pearlman a"h passed away, his brother Aryeh told me that after his passing, he turned on the stereo in Zavel's car and the song that came on was this "Elokai Neshamah." It was the last song he listened to. 
—Singer and composer Ari Goldwag
(Originally featured in Mishpacha, Issue 803)
Oops! We could not locate your form.
>