| Recipes |
Chocolate-Mocha Cream Squares
| January 24, 2023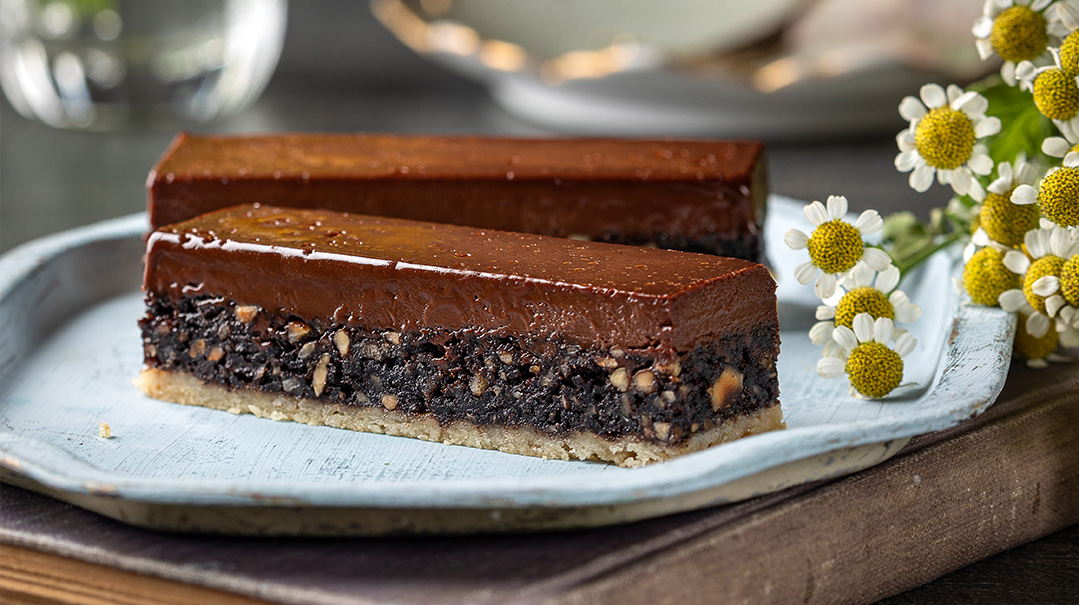 Styling and photography by Shoshie Sirkis
A triple layer of goodness, these rich, delicious chocolate-mocha squares make an elegant dessert for any occasion.
YIELDS ABOUT 20 SQUARES
Base
½ cup (1 stick) + 1 Tbsp (120 g) butter or margarine, softened
½ cup demerara sugar
1 cup (100 g) almond flour
¾ cup flour
Chocolate-Hazelnut Layer
1 cup (2 sticks/200 g) butter or margarine
1 cup sugar
2 large eggs
1½ cups (150 g) roasted and finely chopped hazelnuts
2 Tbsp flour
1/3 cup (30 g) good-quality cocoa powder, sifted
Coffee-Chocolate Cream
1½ cups (300 ml) heavy cream or pareve whipping cream
1 Tbsp coffee granules
10½ oz (300 g) dark chocolate (or 14 oz/400 g milk chocolate), broken into pieces
Preheat oven to 325°F (160°C). Line 2 9-inch (23-cm) pans or a 10x16-inch (25x40-cm) baking pan with parchment paper.
To make the base: Combine all the ingredients in a mixer or in a food processor. Roll out the dough on a flat surface to fit your baking sheet and transfer to the baking sheet.
To make the chocolate-hazelnut layer: Place all the ingredients into the bowl of a mixer or into a food processor and mix until combined. Pour the mixture over the base in the pan. Place in preheated oven and bake for 30–35 minutes.
Remove pan from oven and allow to cool for about 10 minutes.
Meanwhile, prepare the coffee-chocolate cream: Mix the heavy cream and the coffee granules in a small saucepan. Bring to a boil and remove from heat.
Place the chocolate into a tall, narrow container and pour the hot cream over it. Allow it to sit for a few seconds, then blend with an immersion blender until you have a smooth consistency.
Pour the cream over the base and allow it to cool to room temperature. Transfer the pan to the freezer and freeze for at least an hour, until ready to serve. Remove from freezer and cut into rectangles or squares in the size of your choice.
These squares last for 2 months in the freezer.
(Originally featured in Family Table, Issue 828)
Oops! We could not locate your form.
>