| Recipes |
Chocolate and Nut Meringue Pie
| March 14, 2023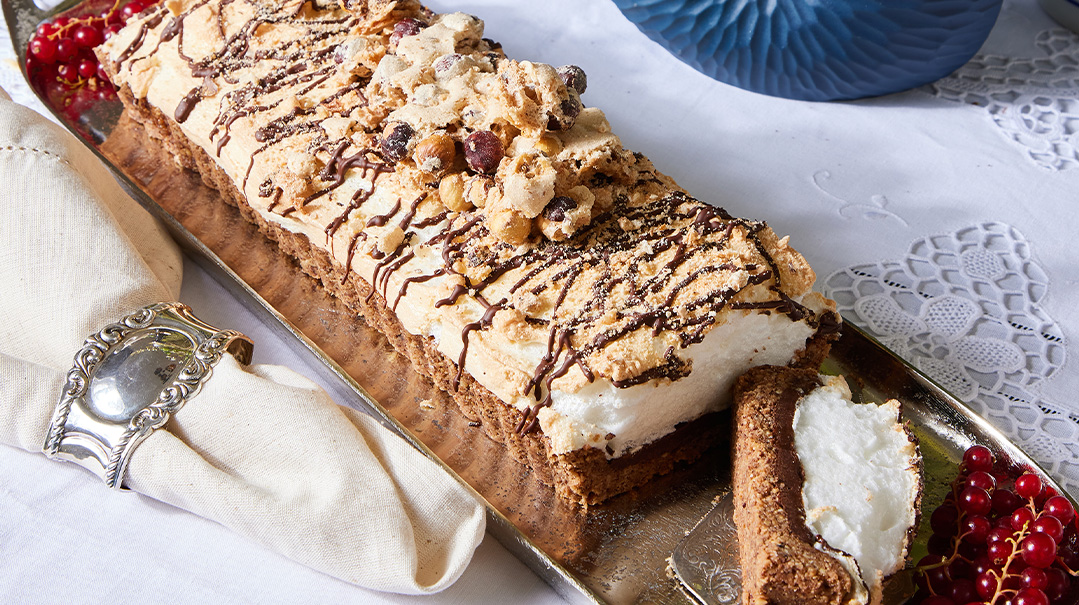 This dessert was inspired by a recipe from my mother-in-law, a"h. When she needed a quick and easy dessert, this was her go-to. I made a few tweaks to it for Pesach and added my personal touches for a beautiful dessert to enhance your Yom Tov table!
SERVES 12
Crust
3 Tbsp olive oil, divided
3 egg whites
1½ cups sugar
1½ tsp Gefen Cinnamon
¾ tsp salt
3 cups roasted, unsalted whole nuts (such as walnuts or hazelnuts)
½ 3½-oz bar Rosemarie chocolate
Chocolate Layer
1 3½-oz (100-g) bar semisweet dark chocolate
½ 3½-oz (100-g) bar Rosemarie chocolate
1 Tbsp sugar
2 egg yolks
Meringue Layer
4 egg whites
¼ cup sugar
pinch of salt
¼ tsp lemon juice
For the crust: Preheat oven to 325°F (160°C). Line a baking sheet with parchment paper and brush it with 2 Tbsp olive oil.
Whisk the egg whites until foamy. Add the sugar, cinnamon, and salt. Mix until combined, then fold in the nuts, making sure they're well coated with the egg and sugar mixture.
Spread the entire mixture onto the baking sheet and bake for 30–35 minutes. Remove from the oven and let it cool for at least 30 minutes, until it's crisped up to a brittle.
Take three-quarters of the brittle and break it apart. Place into a food processer fitted with the S blade and pulse until it forms the texture of crumbs. Add the Rosemarie chocolate and remaining 1 Tbsp olive oil and pulse again until it forms a paste. Grease a 14-inch (35-cm) rectangular tart pan with a removable bottom and press the crumb mixture into the pan.
To make the chocolate layer: Melt both chocolates in a microwave-safe bowl. Add the sugar and beat with a hand mixer for about a minute. Let it cool a bit so that it won't cook the egg yolks when you add them, then add the yolks one at a time, beating after each addition. Spread the mixture in an even layer over the crust.
To make the meringue layer: Beat egg whites until starting to stiffen. Add the sugar and beat until stiff. Add the salt and lemon juice and beat until just incorporated. Spread this onto the chocolate layer, making sure you cover the entire surface and that the meringue reaches the edges of the pie pan.
Bake in a preheated 325°F (160°C) oven for 20 minutes. Remove from oven and cool for 10 minutes on the counter, then place into the freezer uncovered to cool fully. Transfer to the fridge when cool.
To garnish, chop the remaining brittle. Drizzle the pie with some melted Rosemarie chocolate and sprinkle the brittle crumbs on top.
To serve, dip a knife into hot water before cutting to prevent the meringue from sticking to the knife.
Tip
This can stay in the fridge for up to two days, just make sure that nothing touches the top of the pie, as it's sticky.
(Originally featured in Family Table, Issue 835)
Oops! We could not locate your form.
>