| Recipes |
Chicken Caesar Taco with Corn Salsa
| December 14, 2021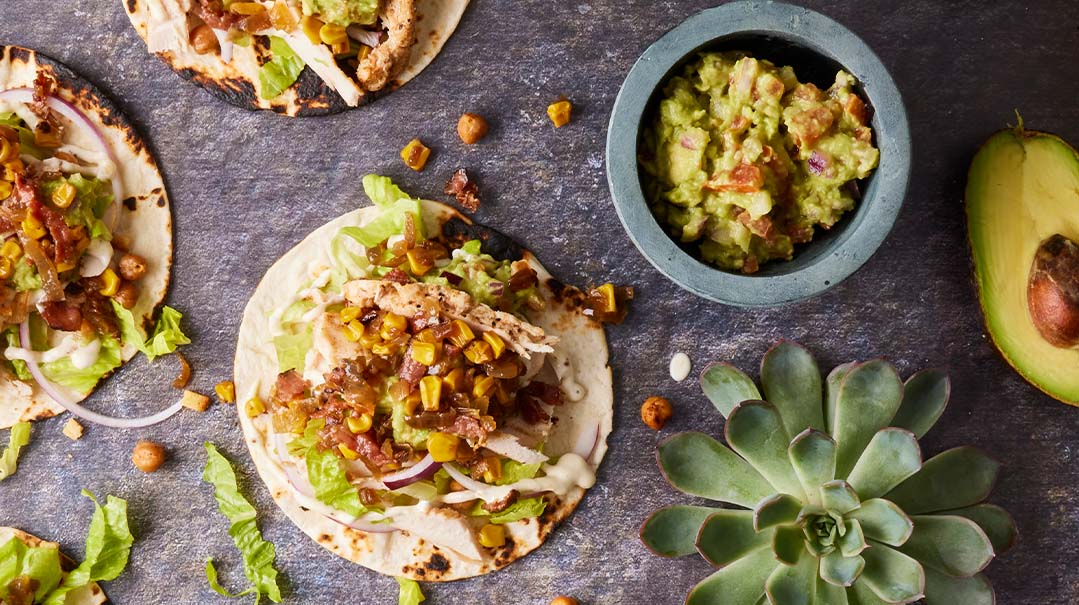 Food and Prop Styling by Goldie Stern
Photography by Felicia Perretti
Caesar salad might be the most beloved of the salads. Even people averse to vegetables will happily munch the crunchy lettuce and creamy dressing combination. This chicken recipe is pretty flexible. Picky eaters can smear their tacos with dressed lettuce and eat it with plain chicken. Healthy eaters can pile on the vegetables. But everyone should really try the corn hash. The smoky flavor and chewy texture take the classic salad we know and make it a little bit more interesting.
YIELDS 8–10 TACOS
4 boneless, skinless chicken breasts
¼ cup olive oil
salt, pepper, garlic, paprika, chili powder, and chili lime seasoning (optional), to taste
Corn Salsa Hash
2 Tbsp olive oil, divided
1 8-oz (225-g) pkg pastrami or beef fry, cubed
1 red onion, diced
1 17-oz (500-g) can corn kernels
2 cubes frozen parsley or 2 Tbsp freshly chopped parsley
1 tsp garlic powder
½ tsp salt
shake of chili powder
CAESAR Dressing
½ cup light mayonnaise
1 Tbsp lemon juice
3 Tbsp soy milk
1 tsp whole grain or Dijon mustard
1 tsp fish-free Worcestershire sauce
6 cubes frozen garlic
¼ tsp salt
¼ tsp pepper
Guacamole
1 avocado, mashed
1 plum tomato, diced
½ red onion, diced
1 tsp lemon juice
1 tsp salt
pepper, to taste
Assembly
flour tortillas
shredded lettuce
sliced red onion
store-bought croutons or roasted chickpeas
Prepare the chicken: Combine olive oil and spices in a ziplock bag. Add the chicken and marinate for at least half an hour.
Preheat grill or set oven to broil. Grill the chicken for 7–8 minutes on each side or broil for 7–8 minutes on each side.
To make the corn hash: Heat 1 Tbsp of olive oil in a frying pan over high heat and sauté the pastrami cubes for 10 minutes, stirring every so often so they get nice and brown. Remove from pan and set aside. Add the second Tbsp of oil to the pan. Add diced onion and sauté until translucent. Add corn and spices and sauté for another 10 minutes, until nice and charred. Add pastrami and mix together. Remove from heat.
Combine the dressing ingredients in a small bowl and the guacamole in another bowl.
To assemble: Heat a tortilla in a pan for 2–3 minutes on each side. Drizzle with dressing, then layer with chicken, lettuce, sliced red onion, croutons or chickpeas, and more dressing, followed by the guacamole and the corn hash.
(Originally featured in Family Table, Issue 772)
Oops! We could not locate your form.
>