| Recipes |
Chicken and Waffles with Maple Bourbon Sauce | October 2, 2019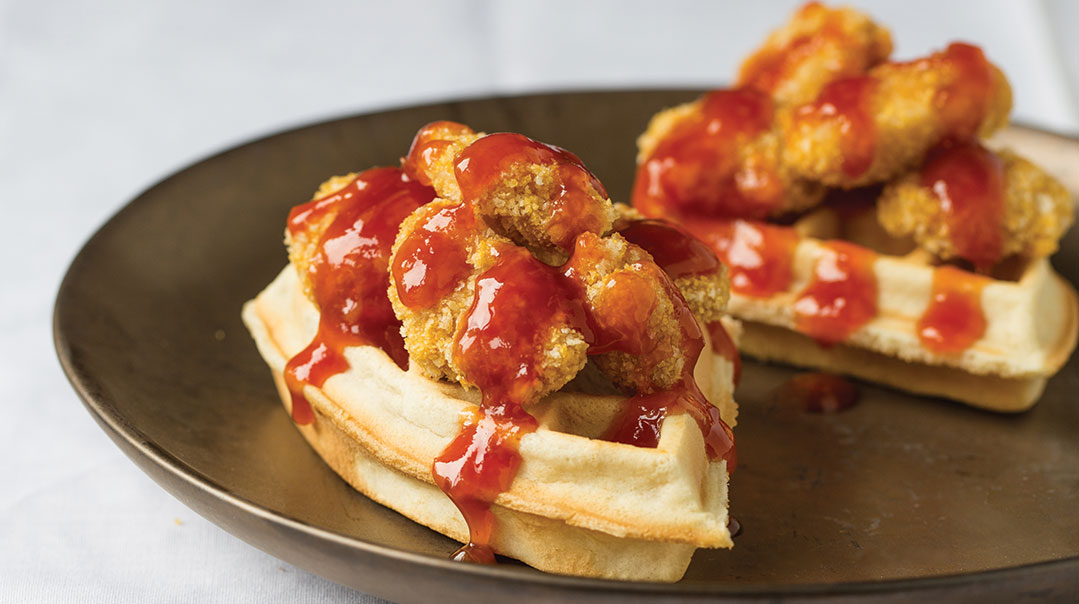 Chicken and Waffles with Maple Bourbon Sauce 
Waffles are my favorite breakfast food, so it's no surprise that I was obsessed with this classic Southern dish from the moment I heard about it. This dish isn't just beautiful, though — it's a perfect blend of sweet and savory flavors, and no wonder it's my most requested Yom Tov appetizer!
SERVES 6–8 
4 chicken cutlets, cut in bite-sizedchunks
2 Tbsp flour
1 egg
2 Tbsp maple syrup
1 tsp kosher salt
1 tsp garlic powder
¾ cup cornflake crumbs
¾ cup panko crumbs
3–4 large frozen waffles, preparedaccording to pkg directions
MAPLE BOURBON SAUCE
⅔ cup ketchup
½ cup maple syrup
3 Tbsp bourbon
1 Tbsp hot sauce
4 cloves garlic, minced
1 tsp kosher salt
Preheat oven to 400°F (200°C). Line two baking sheets with parchment paper; set aside. Place chicken in a large bowl. Add flour and toss until chicken is fully coated. In a small bowl, lightly beat the egg. Add maple syrup, salt, and garlic powder. Add egg mixture to chicken mixture and stir until all chicken is coated and sticky. Place cornflake crumbs and panko crumbs in a bowl. Stir to coat all chicken pieces. Generously spray prepared baking sheets with cooking spray. Place chicken on sheets, leaving room between pieces to ensure they stay crispy. Spray the tops well with cooking spray.
Bake for 10 minutes, until chicken is cooked through.

To prepare the sauce: In a small pot, combine all sauce ingredients. Bring to a boil over high heat, then lower heat and simmer for 5 minutes.
To assemble: Cut each waffle into quarters. Place some chicken on each waffle, then top with sauce.
(Originally featured in FamilyTable, Issue 662)
>