| Pantry Makes Perfect |
Cheesy Chimichanga
| December 20, 2022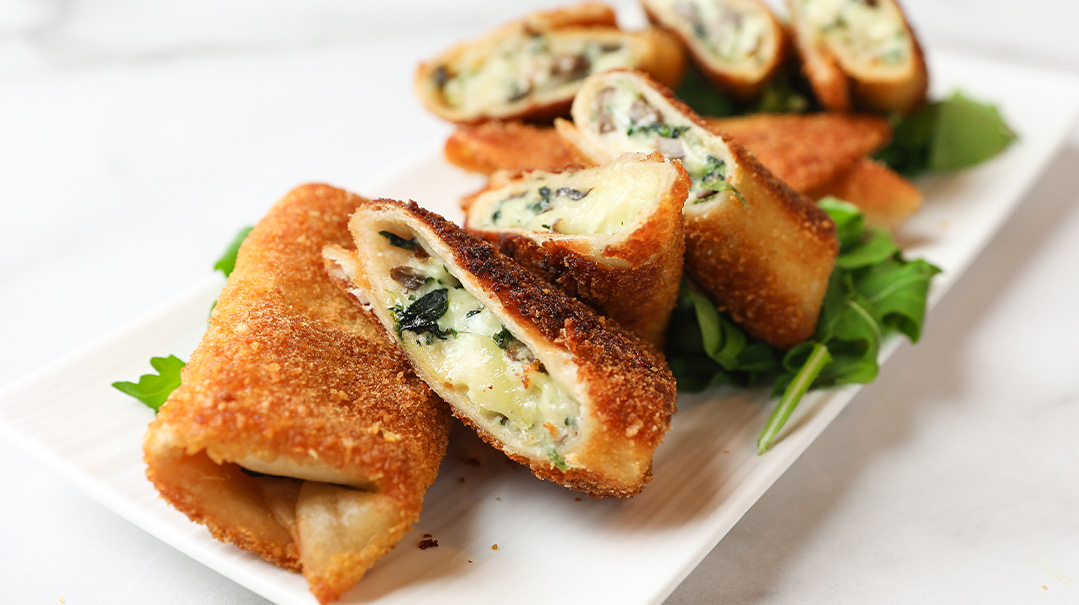 Photo Credit: Saraizel Senderovits
Chanukah — the season when fried, cheesy food is not only excusable but pretty much a mitzvah!
My mother-in-law told me about some fried deli wraps my sister-in-law had made for Yom Tov, and it struck me that it would be an awesome idea with an oozy cheesy filling.
I know I've mentioned this before, but wraps are truly a staple pantry item in my house. Sometimes I feel like I'm running my own contest on how many ways I can use a wrap! So I rummaged through my kitchen and found the perfect filling ingredients — half a tub of ricotta, a bag of frozen spinach, and those super-handy canned mushrooms.
This recipe didn't even require a trip to the grocery store!
YIELDS 15 WRAPS
15 6-inch (15-cm) wraps
2 Tbsp oil, plus more for frying
1 onion, thinly sliced
1 lb (450 g) mushrooms, sliced (either fresh or canned)
1 cup frozen spinach, thawed
1 tsp salt
½ tsp garlic powder
pinch of black pepper
8 oz (225 g) ricotta cheese
8 oz (225 g) Mehadrin shredded Mozzarella Cheese
3 eggs, beaten
2 cups cornflake crumbs
Heat 2 Tbsp oil in a frying pan and sauté onion until it starts to turn golden. Add mushrooms and spinach and sauté another 5–7 minutes. Add seasonings and remove from heat.
Once vegetables have cooled, add in the cheeses and stir.
Lay a wrap on a plate. Spoon 2 Tbsp of the veggie-cheese mixture in the center of the wrap. Fold in the two sides and then roll up. Lay on a tray seam-side down so they stay shut.
When all the wraps have been filled, dip them one at a time in the beaten eggs and then roll in cornflake crumbs.
Heat oil in a frying pan and fry wraps on each side until golden brown.
Serve warm.
Note: I tried these in my Betty Crocker, and they came out perfect that way too!
Tips
Serve with some warmed marinara sauce for dipping.
Chimichangas are a deep-fried burrito that are common in Tex-Mex cuisine. I added the cornflake crumb layer for some added crunch.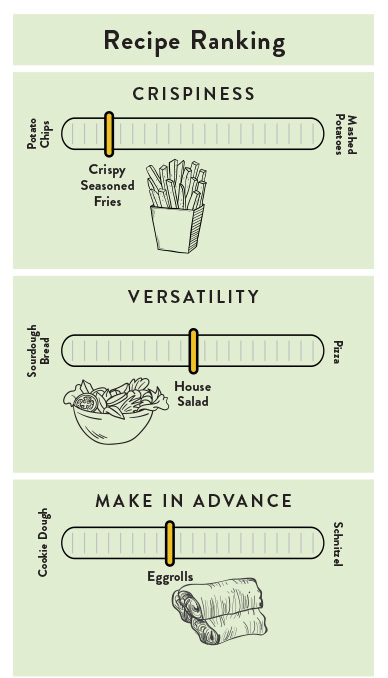 (Originally featured in Family Table, Issue 823)
Oops! We could not locate your form.
>