| Gourmet Vs. Everyday |
Cheesy Baked Beans
| November 1, 2022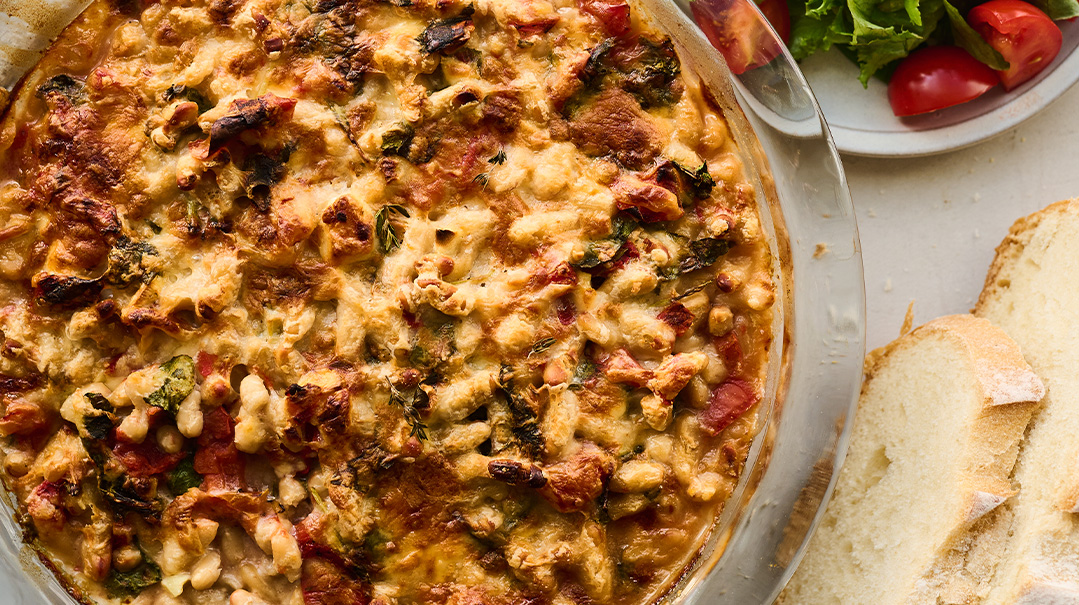 Styling and Photography By Sina Mizrahi
Chaya Suri Leitner
This is a hearty dinner with simple ingredients.
Every time I make this recipe, I tell myself I need to make it more often since my kids really enjoy it. I serve it with fresh crusty bread to soak up all the sauce and a big kale salad on the side.
Sara Gold
When I first saw this recipe, I was very wary, since I knew my family probably wouldn't 
want to try something made of beans (the only time I ever use beans in my house
is for cholent!). I decided to try potatoes instead, since potatoes and cheese are 
usually a great combo. It definitely worked here!


Cheesy Baked Beans
SERVES 6
3 15-oz (425-g) cans cannelli beans

I used 6 red potatoes, peeled, cubed, and boiled

1 15-oz (425-g) can fire-roasted tomatoes

Couldn't find these so I bought petite diced tomatoes 




and added salt, pepper, and garlic powder.

4 cloves garlic, roughly chopped

I totally forgot this ingredient!!!! Oops!

½ tsp salt
¼ tsp coriander

I skipped this

1 sprig thyme, removed from stem

I skipped this!

1 cup kale (optional)

I used fresh spinach, since my store was out of checked kale.

½ cup crumbled Mehadrin Feta Cheese
½ cup shredded cheese (I like to use a mix of cheddar and muenster)

I used 1 cup!
Preheat oven to 400°F (200°C).
Place the beans, canned tomatoes, garlic, and seasonings into an oven-safe dish and mix to combine. Stir in the kale.
Add the feta cheese, nestling it between the beans. Top with shredded cheese. Bake for 20–30 minutes.
(Since I have only one oven, I baked this covered, and it totally worked.)
Serve with fresh crusty bread to soak up all the cheesy goodness and a big fresh salad.
Sara's Take
I had no idea if my family would go for this or not, but I was pleasantly surprised at how delicious it turned out. My sister and her two daughters were in my house when I made it, and they loved it too! Even my niece who's extremely picky agreed to taste the potatoes and spinach and really enjoyed it. The flavors were delicious together, and the spinach made it feel like a really hearty meal in one. Definitely going to make this again!
(Originally featured in Family Table, Issue 816)
Oops! We could not locate your form.
>