| Jr. Feature |
Celebrate and Graduate | June 17, 2020
We spoke to lots of kids (and adults) about their graduation memories. Take this opportunity to choose which you'd like to replicate in your own home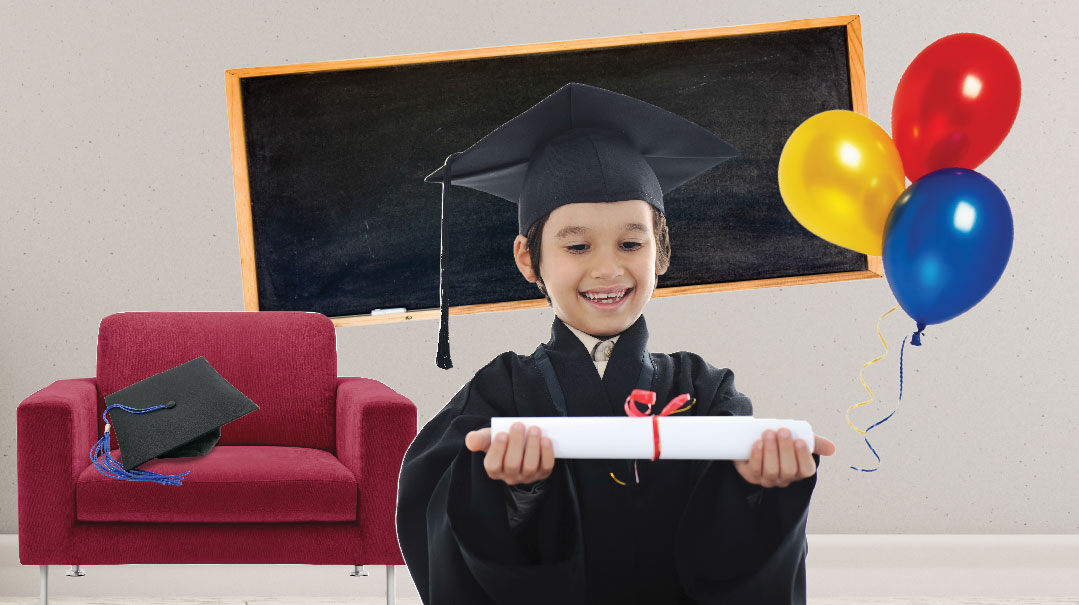 Chana G., Bais Yaakov High School of Boro Park, 12th grade
Where?
It was a long time ago… but I think it was in a smaller type of wedding hall.
What did you wear?
White blouse and black pleated skirt. And let me tell you — it took about ten hours of shopping to find the "perfect" white blouse. Mine had a delicate collar with black stitching!
What did you get?
We got a yearbook — which we were warned with something really bad if we were to open it before we got off stage. And a diploma. Hah! It was actually an empty paper rolled up with a pretty ribbon.
Interesting Moments
I was called up as part of the honor roll for getting one of the highest marks on the NY State Regents Exams. I sure was not expecting that!
Tehilla, Bais Yaakov of Boro Park, 8th grade
Where?
In another school's huge auditorium
What did you wear?
No caps or gowns! Although I wish we would have!
What did you get?
Yearbook and diploma.
Interesting Moments
The graduation was full of speeches and actually quite boring. The best part was the sleepover we had afterward with our friends!
Yaakov S.. Torah Temima Brooklyn, NY, 

8th grade
Where?
In our school.
What did you wear?
It was a black-tie affair. Except that the ties were all colors of the rainbow — mine was mint green. But everyone's hat was black!
What did you get?
We got a yearbook and some boys got a special honor roll certificate for always coming to Shacharis. Don't even ask, of course I got one!
Interesting Moments
Watching the video that we boys put together and seeing which boys appreciated which things about which teachers.
Gila, Bais Yaakov of Toronto, grade 6.
Sixth grade is a special year for us because that is when we graduate elementary school and move up to Junior High.
Where?
In our school's auditorium. It's huge and gorgeous!
What did you wear?
Uniforms!
What did you get?
We finished our Project Yud Beis scrapbook, which we were working on the entire year.
Interesting Moments
It was set up like a fancy dinner, and we sat with our mothers, watching performances and finishing our scrapbooks. It was a real emotional moment — for the mothers, that is. Us kids, we don't get emotional. Not about these kinds of things, anyways.
Devora*, Bais Rivka Miriam,* Lakewood, NJ, kindergarten
Where?
In the lunchroom. (Yum, I love to eat!)
What did you get?
Tons of stuff. Our yearbook with a picture of me! And a whole packet for the summer. And yum cake and chocolates. My mommy let me have as much as I wanted.
What did you wear?
Our uniform jumper with a white shirt. Our morah made us a yum bowtie with tons of glitter. And she bought us special caps to wear.
Interesting Moments
The bestest part was when I had a solo with my friend. We sang a song and everyone listened. And we held fake Torahs, but they looked real. Don't tell my mommy, but I saw her crying then. I wonder why she was sad?
COVID-19 complications
Schools are closed + large gatherings are cancelled = graduation disaster… or graduation creativity!
Many schools around the world have not finalized their graduation plans, in the hope that restrictions will ease up and there will be more leeway for a regular graduation — or at least a graduation with the students physically present.
Mrs. W., principal of a school in New Jersey with their first graduating class of 12 girls, is thankful that they will be able to have some sort of in-school celebration with a total amount of participants under the 25 cutoff limit. Another high school in New Jersey is preparing a video to send out to the girls with parting messages from each teacher along with a slideshow of high school memories. Bais Yaakov D'rav Meir, said Perri,* is waiting till mid-June to roll out their plans, but are working hard to make the girls a beautiful graduation. She wasn't sure what that might mean, but she's speculating with her friends whether there will be a virtual tour of Niagara instead of the usual graduation trip. Tehilla from BYBP is excited about the video her school is preparing. They are having each girl come to school separately to be taped while sharing a graduation message. The video will be shared with all the graduates.
The Great Graduation Share
Here at Jr. we would love to take part in your graduation and see how you celebrated your milestone in your own unique and creative way.
Here are some ideas that you may want to incorporate:
-Set up the stage, complete with curtains and lighting (but ask your mother about that first!)
-Prepare some graduation favors — for your family, or to share with friends
-Get dressed up — Shabbos clothes, cap and gown (you can make your own), tuxedo, uniform, updo, huge headband, or cute hat
-Bake some fancy cakes — think fondant, royal icing, special molds, or just yummy-tasting goodies
-Make some photo props and have a photo-shoot booth for all guests
-Prepare a little craft to keep the little kids busy and quiet during the graduation ceremony
-Connect with Bubby and Zeidy during your graduation
Make it fun and memorable! You can do it!
Graduation Gift Idea
Hey, sibs. What are you planning to give as a graduation gift to the grand graduate? Since the graduation ceremony will likely be at home, it would be most appropriate for you to give a gift that was made at home.
Here are some really cool ideas that are sure to please a graduate of any age:
-Candy Poem — Write a (really mushy) poem about why you love and admire your sibling, using words that are also names of nosh. Don't forget to include said nosh in the package.
-Framed Portrait — Take any old picture frame you have lying around the house. Decorate it with paint, duct tape, shiny stickers, or anything else you can think of, and put in a picture of the two of you. Don't forget the note that goes along with it.
-Smart Cookies — Bake their favorite homemade cookies and attach a congratulatory note.
-Coupon Collection — Present your grad with some really helpful coupons, like "I will make your bed for a week," (okay… maybe just two days), or, "I will wash the dishes for you," or, "I will do an errand for you." Package it up nicely, and watch the smile that will light up their face!
Speeches to the grads
In lieu of the real speech you might hear about yourself at your in-school graduation, have a friend or family-member read this speech to you at your in-house graduation. But first, you need to fill in the blanks.
Good (time of day you are "listening" to this speech) ! I would like to give a very special thank you to all the guests, especially (all the people that are hearing this speech) for taking the time out of their hectic schedules to celebrate this huge milestone with our very (positive descriptive word) graduate. The theme of this year's graduation is "Socially Connected," and as such, I will now pick up the phone to call (grandparents, friends, or whomever you deem worthy of hearing this speech) so that they can hear words of praise and accolades about our very own (positive descriptive word #1), (positive descriptive word #2), and (positive descriptive word #3) (graduate's name). We had the honor of having (graduate's name) grace our choshuve mosad, (school name), for the past (number of years), and it was truly a pleasure in every sense. Her middos are (positive word) and she especially excels in the area of (a middah). Her attendance has been (describe attendance record), her marks have been (describe grades), and her classroom conduct has been (describe conduct). And we would like to thank you, dear parents, for your part in raising such a (positive descriptive word #1), (positive descriptive word #2), and (positive descriptive word #3) child. It has truly been a pleasure partnering together with you in this avodas hakodesh of raising such a (positive descriptive word #1), (positive descriptive word #2), and (positive descriptive word #3) Yiddishe neshamah. A special thank you to our (positive descriptive word #1), (positive descriptive word #2), and (positive descriptive word #3) teachers who worked so hard to instill in our children true Torah values. When they first came through our doors, they were young and shy, and could be compared to (something really) and now they are coming out the other end, grown-up, mature, and are like (something large). As a class, the students were truly b'achdus, and they were all so (word describing your class) and (another description). So, dear (graduate's name), as you reach this (descriptive word) achievement, take pride in how far you've come, have faith in how far you can go, but don't forget to enjoy the journey. (Add your own parting sentence.)
The Story of the Almost-Missed Graduation
Leora was one happy 12fth grader. Why? Because she was going to miss her high school graduation because of her sister's wedding. Happy? Yup, you read it correctly. That is, because all the girls in her graduating class were slated to speak during graduation. Leora is a great, fun kid. But she hates public speaking. And all the other seven girls in her class were required to speak at graduation. Yup, you read it correctly again. There were seven girls in her grade in the fledgling Bais Yaakov HS of Boston, Massachusetts.
Leora was dancing away at her sister's wedding in Lakewood — happy for the kallah, and for her missed speech. Her friends in Boston were busy fussing over their speeches and feeling butterflies dancing in their stomachs.
Sunday morning, graduation was in full swing. And in tiptoed Leora — who got a surprise ride with an old teacher who drove from Lakewood to Boston to celebrate with her students (she had since moved to Lakewood).
Leora was thrilled. She got to be at her graduation without having to speak!
So, grads: Take a moment to pat yourself on the back. For your great accomplishments throughout your school years. For the great accomplishment of making your own graduation. For making the best of the situation Hashem put you in. And don't forget to thank your parents and teachers for all their hard work on your behalf. And when you are done, give yourself another round of applause. You did it! Good luck in the future!
Congratulations!
Whether you prepared your home for a graduation, wrote a graduation speech or prepared a gift, please share it with jr.!
(Originally featured in Mishpacha Jr., Issue 815)
Oops! We could not locate your form.
>