| This Way That Way |
Carrots
| September 20, 2022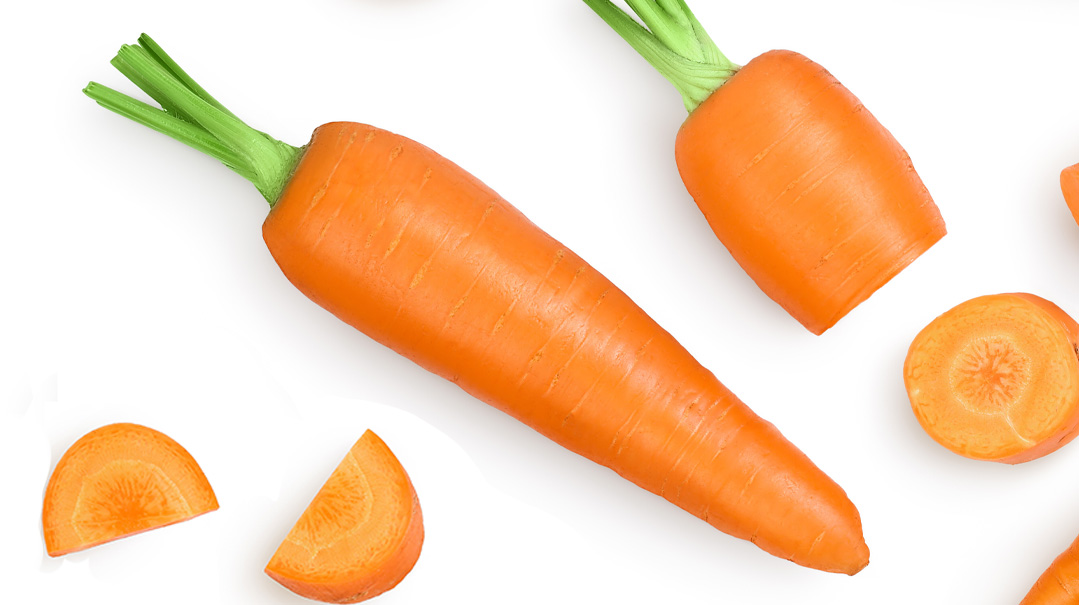 Besides their reliable spot on your classic veggie platters, carrots are an integral part of many cuisines, especially when used with onion and celery to build solid flavor, sweetness, and depth to any dish they're added to. Here are a few of our favorite carrot recipes, perfect for Yom Tov or any time of year.
24–Carrot Gold
Home Grown
If you plant a carrot, it won't produce a new carrot but rather a carrot plant. Carrot seeds come from the flower of the plant, which can then be planted to grow new carrots.
Flower Cousins
Carrots are closely related to Queen Anne's lace flowers, which can also be called wild carrot or bird's nest flowers.
Namesake
Carotenoids, the antioxidant molecules that produce red, orange, and yellow pigments in many plants, are named after carrots, not the other way around.
Roasted Grapes and Carrots
Recipe by Estee Kafra
I love this recipe. It always surprises people when I tell them what they're eating, and it adds so much color and fun to an elegant plate.
SERVES 6
2 cups red seedless grapes
1 cup green seedless grapes
1 16-oz (450-g) bag baby carrots, sliced in half lengthwise
coarse salt
black pepper
dash cayenne pepper
dash allspice
oil, to coat (approximately 2–3 Tbsp)
1 large handful fresh Italian parsley, finely chopped
whole sesame tahini, for drizzling (optional)
Preheat oven to 400°F (200°C).
Place the grapes and the carrots in a large bowl along with the spices and oil. Mix everything together and spread on a lined baking sheet. Roast for 20 minutes.
Add parsley and toss. Serve warm or at room temperature alongside meat or chicken.
Drizzle with whole sesame tahini, if desired, before serving.
Variation: For a slightly different taste, heat 1 Tbsp oil in a wok and add 2 cubes frozen garlic. Add sugar snap peas and stir-fry over high heat. Toss into the carrot and grape mixture. Serve warm.
Note: Please check with your rav before preparing this dish for Rosh Hashanah, as some people refrain from eating grapes on this Yom Tov.
Bright and Fresh Slaw
Recipe by Michal Frischman
This quick and easy slaw can be prepped and ready in just a few minutes.
SERVES 8
1 carrot
2 Persian cucumbers
1 8-oz (225-g) bag shredded red cabbage
2 Tbsp white wine vinegar
1½ tsp Dijon mustard
1½ tsp honey
1½ tsp olive oil
Peel the carrot, then peel both cucumbers and carrot with a julienne peeler (or slice into julienne with a sharp knife). Toss with cabbage.
Combine vinegar, mustard, honey, and oil, and toss with vegetables right before serving.
Best-Ever Carrot Loaf
Recipe by Rivky Kleiman
This carrot loaf is a winner, whether you're preparing in advance or find yourself in a bind and need a quick, no-mess side dish. It yields a perfect loaf every time…and guaranteed you'll have no leftovers.
SERVES 10
1¼ cups flour
1 cup sugar
1 cup grated carrots (1–2 carrots, peeled and grated)
1¼ tsp baking powder
2 tsp cinnamon
¾ cup oil (canola or vegetable)
1 tsp vanilla extract
2 eggs
Preheat oven to 325°F (160°C).
Using a wooden spoon, combine all ingredients in a large bowl. Pour into a greased loaf pan.
Bake for 45 minutes or until a toothpick comes out almost clean.
Tip: If you're short on time, you can use a bag of shredded carrots.
Variation: This recipe works very well with shredded zucchini, too.
(Originally featured in Family Table, Issue 811)
Oops! We could not locate your form.
>