| Recipes |
Caramelized Pastrami and Onion Arayes
| August 10, 2021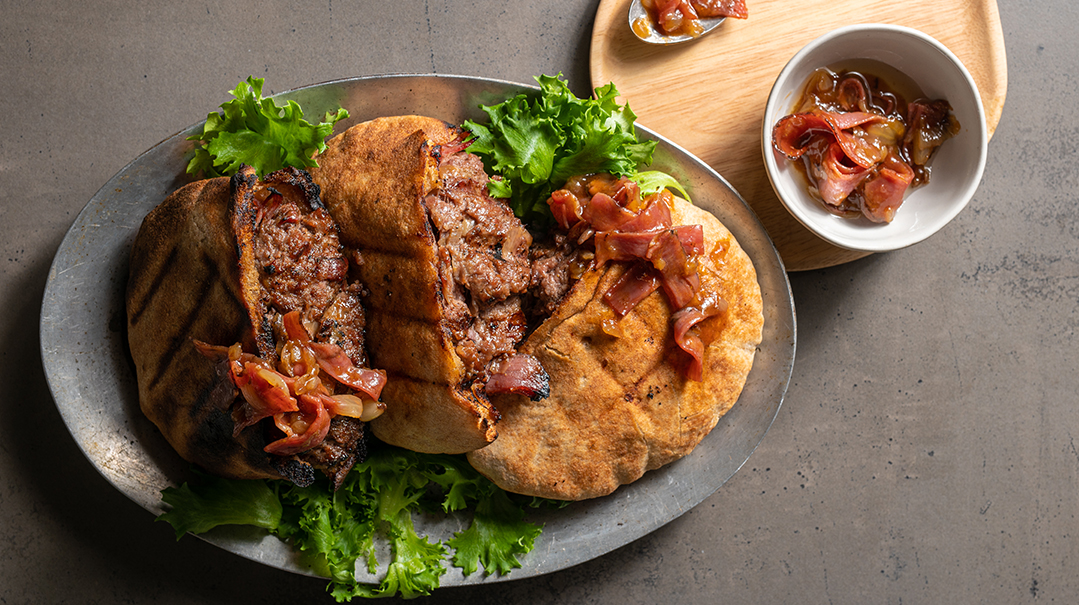 Props and styling by Goldie Stern and Renee Muller
Photography by Moshe Wulliger and Hudi Greenberger
Here's a new twist on the ever-so-popular Lebanese dish. I've swapped out the Middle Eastern flavoring for something a bit more familiar, and the results were outstanding. Just ask my daughter and son-in-law… They taste-tested these for me and gave them a winning thumbs-up!
SERVES 6–8
3 medium onions, sliced into thin rings
2 Tbsp oil
6 oz (170 g) pastrami, cut into thin strips
1½ lb (680 g) ground beef (don't use extra lean)
¼ tsp salt
black pepper, to taste
4 whole wheat pitas, sliced in half
Sauce
½ cup brown sugar
⅓ cup ketchup
2 Tbsp barbecue sauce
2 Tbsp yellow mustard
1½ Tbsp apple cider vinegar
In a large nonstick frying pan, sauté onions in oil over low heat until soft, brown, and caramelized, at least 45 minutes to an hour. Add pastrami and sauté an additional 5–10 minutes. Add sauce ingredients and mix well to combine. Divide mixture in two and set one half aside for topping, keeping it warm. Allow the other half to cool slightly.
Place ground beef into a medium-sized bowl and break up with a fork. Add salt and pepper and the cooled half of the onion-pastrami mixture. Mix well to combine.
Heat your grill to medium-high. Stuff the pita halves with the ground beef filling, packing it in well and dividing evenly among the eight halves. Lightly spray both sides of the pitas with cooking spray.
Place the pitas, meat side down (don't worry, the filling won't fall out!), directly onto your grill grates. Lower temperature slightly and grill for 5–6 minutes. Flip the pitas onto their sides and grill each side for an additional 2–3 minutes, being careful not to burn them. Don't worry if they are slightly scorched, that makes them crispy!
Serve immediately with extra pastrami and onion sauce heaped over the top.
(Originally featured in Family Table, Issue 755)
Oops! We could not locate your form.
>