| Profiles |
Capital Crisis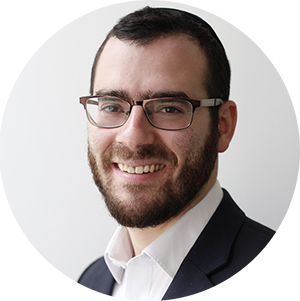 | March 25, 2020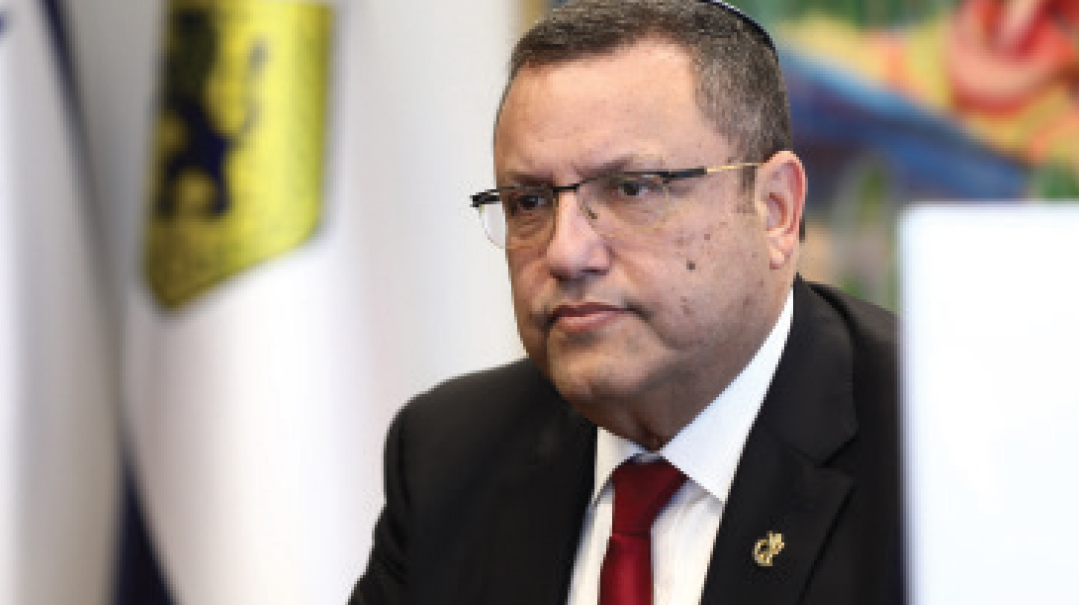 Photos: Elchanan Kotler, Eli Cobin
Supermarkets were full of anxious shoppers, the Kosel plaza was mostly empty and the city was already in an advanced stage of corona-induced shutdown last week when Jerusalem's City Hall, or Kikar Safra as it's known, hosted its most unusual event in living memory.
Just down the hall from the mayor's suite and the silent city council chamber on the building's sixth floor, stood a tastefully arranged chuppah, complete with flowers, candles and photographers. There was a happy couple, a few nervous guests – and the "mechutan", Mayor Moshe Lion, who the previous day, had broadcast his offer to host municipality-sponsored weddings, live on Kol Hai, a religious radio station.
Tension chased emotion across his face, and then his powerful voice filled the atrium. "Baruch atah Hashem…", he sang the last of the Sheva Brachos to the melody used by his ancestors, chazzanim in Salonika, Greece. The glass was broken, Lion boomed a short Mazal Tov speech, and the mayor's big Jewish heart and cantorial voice disappeared – replaced by the CEO's drive that he's brought to managing the capital's fight against the deadly virus.
That wedding was only one of many worldwide as Jewish families try to salvage happiness from the destruction of corona, but it's also key to understanding the many worlds of Moshe Lion.
He's a successful Israeli entrepreneur, yet he's presided over a range of state-sector agencies; he's a bureaucrat, yet he loves to get behind a microphone to sing; he's a Likud insider, yet he mixes comfortably with all sectors of the chareidi world, from chassidim to Shas.
But if that moving scene exemplifies Jerusalem's current religious-friendly administration, there's another one that could as well come to define Moshe Lion's tenure in City Hall.
A few floors below is an off-limits war-room that Lion has set up to deal with the crisis now engulfing Israel's capital city. Representatives of the Defense Ministry, the National Security Council and the Health Ministry meet there to deal with the at-risk demographics such as the elderly and special-needs children and how to ensure a food-supply for people who can't get out in the lockdown now tightening on Israel's cities.
Over the last few days, he's sat with chessed organizations to provide volunteers to help those in need. The Iriyah is helping small businesses on the verge of financial ruin by delaying arnona payments and other business taxes for two months. But at the same time City Hall is in crisis itself. "We're trying to use our reserves," explains an aide, "because there's no income." As one of Israel's leading CPAs, corona will tax Lion's accounting skills to the limit.
But in Jerusalem more than most places, money can buy many things, but not social harmony. Getting the balance right is no easy task in a city where religious and secular populations accuse each other of seeking to grab control, where building a few suburban apartments caused a geopolitical crisis with the Obama Administration because they were over the 1967 Green Line, and which can afford only half the level of spending per citizen as wealthy Tel Aviv.
Predecessor Uri Lupolianski, a chareidi mayor from 2003 to 2008, was able to put Jerusalem on a solid financial footing and successfully bridged this secular-religious divide, using his credibility as founder of Yad Sarah, a massive medical-equipment lending nonprofit, which serves many secular Israelis. Likud insider Nir Barkat followed, initiating many of the big infrastructure projects now underway, although religious-secular tensions simmered during his tenure.
Jerusalem's mayor has always been more than a municipal fiduciary, though. The city's position as a global tourist attraction means the mayor is a de facto international host, and the holy sites that must remain accessible to tourists and visitors from all religions and backgrounds means the mayor needs the charm and negotiating skills to ensure that everyone feels welcome — even in times of tension and terror. The tremendous challenges of growing and modernizing a city that was built thousands of years ago, with streets made for camels and horses, and with so many archaeological and cultural sites that need to be preserved, means the mayor needs to be both forward-thinking and creative.
So the jury is still out on whether the former accountant from Tel Aviv has the diplomatic savvy to balance the demographics as well as the books, and lead the Holy City through its current crisis.
But after 18 months into the job and reelection in the distant future, Moshe Lion is not one to worry about the theoretical. Before corona emptied them, people were beginning to notice that the streets were cleaner, and work on the new subterranean trash-collection system was still ongoing even as the shutdown was being rolled out. That's more important to Leon than philosophizing about his position. In one of series of conversations, he sums up his approach: "I'm a man of action, not a man of vision."
But as he talks about his first year at the helm of this iconic city, it becomes clear that his pronouncement is not entirely true – the role he plays in history is very much in his conscious.
"Every day I wake up happy that I can develop the city that we dreamed about for 2,000 years," says Moshe Lion, "and I feel like from Shamayim, my whole life has prepared me for this."
My Life's Purpose
Whoever built Kikar Safra clearly had prime-ministerial delusions. The imposing buildings are arrayed around a large open space that looks suspiciously like a parade ground. The large office suite on the sixth floor, from which the mayor rules his city, is all polished wood, paintings and light carpets. Down the corridor is the impressive city council chamber, whose federal-style rotunda looks more like Washington, District of Columbia, than Jerusalem, David's Capital.
Being mayor of this city is indeed a stepping stone to higher office, as predecessors Ehud Olmert and Nir Barkat prove. But the fact that Moshe Lion is sitting in these exalted quarters has meant a long, hard climb. In fact, if Jerusalem's mayor had followed his father's footsteps, the garages and shuls of south Tel Aviv would have been ringing now to the sounds of his pneumatic drill and booming voice.
Born in 1961 in Florentin, a neighborhood in Tel Aviv's less affluent south, Moshe Lion and his brother and sister were brought up by parents determined to pass on their Jewish traditions — and help their children succeed professionally.
"My father Shalom was a mechanic by profession, and a chazzan as his father had been before him. He took us to hear shiurim from Rav Ovadiah Yosef, and worked hard to provide for his family, while my mother Chana stayed at home to raise us," says Moshe Lion. "My parents always said, 'Whatever we've not managed to achieve, we want you to be able to do.' "
The Lions brought their family traditions of chazzanus when they moved to the Holy Land in 1935 from Salonika. Moshe inherited his ancestors' love of song, a penchant that enabled him to perform his military service in the IDF rabbinate's choir, and that accompanies him to this day.
"I love the whole repertoire of chazzanut, from Sephardic piyut to Yossele Rosenblatt, from 'Shabchi Yerushalayim' to Ishay Ribo's hits," says Lion. "I go to concerts, and I'll never miss an opportunity to serve as chazzan for Selichot and Yamim Noraim."
The years spent standing next to his chazzan father explains a lot about this mayor, who is what you could loosely describe as heimish. He talks animatedly of his own Torah learning, and a video of his pitch-perfect Litvishe accent welcoming Rav Chaim Kanievsky to a Siyum Hashas ("Maran Sar HaTayreh!") went viral.
But the drive that his parents instilled into the Lion siblings, together with his father's problem-solving mind, took him away from full-time music and into the field of accounting, by way of a degree in finance and law from Bar Ilan University. Working as a junior partner for the first few years, by 1991 Lion founded Lion Orlitzki and Partners, a firm that grew, according to Dun and Bradstreet, into one of Israel's top ten accounting practices.
Like his father before him, Moshe Lion got active in public life beyond the office. An early business client was the Likud Party, whose finances he helped rearrange after their electoral loss in 1992. After a young Bibi Netanyahu brought the Likud to post-Oslo power in 1996, Moshe Lion was appointed to a senior advisory position, eventually becoming head of the Prime Minister's Office, a major government department.
A stint working on Netanyahu's Thatcherite privatization program led to the chairmanship of the newly formed Israel Railways, under the political patronage of Avigdor Lieberman, and from there to heading the Jerusalem Development Authority.
That, in short, is how Moshe Lion's baritone voice is heard ringing out over the city council nowadays.
"Actually, I never dreamed of being mayor," he admits. "The first time I thought about it was in 2012 when I received a call from Shas head Aryeh Deri asking me to run for the position.
"But looking back, I feel that the public positions I've held and the connections I've made with so many different types of Jews have prepared me for this unique role, and that, in fact, this was my life's purpose."
Days of Quiet
Moving to the city in 2013 in time for the municipal elections, he campaigned hard but lost to secular incumbent Nir Barkat, receiving 44% of the vote to Barkat's 51%.
But failure didn't induce him to leave the city for the money pots of Tel Aviv. Instead he gave up his business and became a Jerusalem city council member, biding his time. When Barkat vacated the post in October 2018 to run for the Knesset, Lion struck again. In an election that came to mirror the national fault lines, he faced off against secular candidate Ofer Berkovitz, but only received enough votes to make it through to the second round. Lion clinched the nomination a few weeks later by a wafer-thin margin, receiving 50.85% of the vote, to Berkovitz's 49.15%.
It's a testament to his proud religious convictions that he credits his victory to the brachos he received over the years from Rav Steinman, Rav Ovadiah, and Rav Chaim Kanievsky. "They gave me the strength to win," he says.
But the fact that he owes his election to a chareidi coalition makes him quick to deny that he's beholden to any side. "I don't need to please secular people or chareidim," he says. "I need to ensure quality of life for everyone."
Those are fine sentiments, but what do they mean in a city where there are protests against building schools for chareidi children in traditionally secular areas like Kiryat Yovel, and where religious protesters block streets because a movie theater has opened on Shabbos?
"The religious-secular struggles have gone quiet in this city since I became mayor and set boundaries," he says proudly. "We observe the status quo: no business on Shabbos, but wherever there are restaurants open we can't close them by law.
"And although mixed neighborhoods are not a good idea because they cause tension," he continues, "where they do exist, chareidi kids will receive exactly what secular kids get. They need schools near their homes — why should little children have to travel far by bus?"
He takes the same approach to another area of his constituency, the troubled Arab neighborhoods of East Jerusalem. "There have been years of neglect there," he says, "but if we're serious that this is a unified city, then they need good living conditions too. That's why we're building two billion shekels of roads and schools — so that residents there get an Israeli education.
"It's hard to put into words the complexity of this city," he says, adding a line that seems to be a core belief. "The tension will subside when all sectors have what they need."
Why Sit in Traffic?
It was weeks before corona virus hit Israel, when the idea of a pandemic sounded like a bad Purim joke, that I'd pulled on yellow boots, an orange dayglo vest, and a green hard-hat to visit an enormous subterranean cave that is Moshe Lion's pride and joy.
Accompanied by Yair Melichi, chief engineer at Jerusalem's municipal development company, I made my way over to a white prefab hut. Leaving behind ID with the security guard so that he could check that no one was left inside the complex seemed a bit over-cautious as well — after all, how far can you wander in a building site sandwiched between the String Bridge and the Binyanei Ha'umah convention center up the street?
But all questions vanished as the yawning hole in the ground opened before me. A massive ventilation pipe blew fresh air into a long tunnel that snaked downward, leading to a gigantic cavern 30 meters below ground.
"You're looking at a future five-story-high parking lot that will accommodate 1,300 cars," explained Melichi. "At the end is a large nuclear-proof bunker, and above will run the new train line. Over that will be Jerusalem's new business district."
Replacing the current patchwork of parking lots and bus depots — "Not a good look for the capital's entrance," says Melichi — will be 24 new office buildings, some of them competing for height with Tel Aviv's iconic Azrieli Tower. They will add 700,000 square meters of retail, office, and hotel space, adding up to 40,000 jobs to the city. While some residents are unhappy with the loss of Jerusalem's traditional low-rise skyline, the project – probably the ancient city's largest-ever infrastructure project – has the potential to give the city a major boost at the expense of a small amount of city-center real estate.
Tunneling from both ends to meet in the middle has been done before — it's a precedent set by the engineers working for King Chizkiyahu during the First Temple period, in creating the Shiloach passage, I remark to Melichi, who is religious. "You're right," he says, "we're not the first engineers to do this in this city. But this tunnel is going to utterly revolutionize Jerusalem."
Staring in fascination at the trucks, cranes, and workers dwarfed by the space they've excavated, I recall that Moshe Lion used similar words to describe his plans.
Although the mayor inherited these projects from his predecessors, it was his political decision to press on with them as quickly as possible — even if it means paying the price of years-long traffic snarls. In our conversation back in Kikar Safra, he'd explained what type of jobs the new complex is meant to attract.
"Yerushalayim is Ir Hakodesh, but I want it to be the hi-tech capital as well," says Moshe Lion. "This city needs to be very strong and lead the country financially; I want to create tens of thousands of new high-quality jobs here."
And that's where this building boom comes in. "There's a law that every hi-tech firm that comes to Jerusalem pays 50 percent less tax than in the Tel Aviv area. That could save a company hundreds of millions of shekels," Lion explains. "So given the financial incentive, why aren't there more companies here? Jerusalem has a large highly skilled workforce but a 96% occupancy rate on office space, so if we want the sector to grow, we have to build the space to allow more companies to come."
That's why millions of square meters of office space are planned for the complex set to rise above ground, as well as in other neighborhoods across the city, including Givat Shaul, Givat Ram, Malcha, and Har Hotzvim.
But new buildings are useless if workers spend hours getting to them, and this is where the excavations come in.
"As chairman of Israel Railways in 2003, it was my decision to build the new Jerusalem-Tel Aviv line that now takes 28 minutes," says Lion, "but now as mayor I really understand just how important a decision that was. Jerusalem will be so much closer to the center of the country, which will bring in so many additional jobs."
But despite the shiny new station between Binyanei Ha'umah and the Central Bus Station, not all is smooth sailing. Years behind schedule, the trains aren't going deep into Tel Aviv or operating often enough. "Trains are now operating every half hour and by next year that will be up to four times an hour," says the former rail boss. But asked about the delays, he gets exasperated, "They had years to buy the trains, and they didn't. Stam bureaucracy!"
Wherever it's up to him, Lion is determined to bulldoze on with what he calls his revolution. "I am not talking about far-off dreams, though I do have a lot of those," he says. "My revolution is happening here and now: There are a few major projects that will be completed within the next three to four years. For example, the current light rail Red Line is being extended all the way to Hadassah Medical Center. Imagine being able to go all the way from Neve Yaakov to Hadassah without a bus! And work is taking place on the new Green Line, which will run from Gilo to Har Hatzofim and intersect with the current line underneath Binyanei Ha'umah.
"When you add to that new bus lines to break Egged's monopoly, this city will soon be the best for public transport in Israel," he says proudly.
Asked why Jerusalem doesn't follow the lead of London and other cities in instituting a congestion charge to take cars out of the clogged city center, Lion is dismissive. "I don't like to use coercion," he says. "When there is good public transport people won't want to come in with a car. You'll be able to come in to work from Tel Aviv by train, or leave your car underground at the entrance to the city, and then get anywhere within the city by train. Why would you want to sit in traffic?"
While the former trains man loves his new transport projects, he's pouring lots of concreate for houses and schools as well.
According to business newspaper Globes, Jerusalem needs about 3,500 new apartments each year, of which just 2,500 are currently built annually. Moshe Lion says he's planning to change that. "Moshe's putting in 50 percent of his time to focus specifically on building," says Shimon Breitkopf, a Lion aide. "We've just approved two new neighborhoods, in Givat Hamatos and Gilo for about 5,000 apartments, and there's a plan for a massive new Jewish neighborhood in the Atarot industrial zone containing more than 10,000 units."
And the boom is coming to schools as well, with a classroom building drive. "Chareidi kids have been sitting for years in prefab buildings, and we're planning a revolution in coming years, by building hundreds of proper classrooms across the city," says Breitkopf.
"The well-known Chochmas Shlomo cheder in Sanhedria Murchevet that serves many English-speaking children will finally get a proper campus soon, thanks to Lion," he says. "And the municipality is pouring lots of resources into English-speaking kindergartens from age three."
Breitkopf uses a phrase out of Lion's own lexicon: "What's happening here is a revolution."
The Meaning of Clean
If Jerusalem's previous mayor liked to direct money at big entertainment projects like bringing Formula 1 car racing to the city, Moshe Lion seems to enjoy four wheels of a more prosaic kind: a new street-cleaning vehicle fleet.
Lion has staked his reputation on a cleanup of Jerusalem, as street banners and cheery posters on the sides of the neighborhood trash dumpsters confirm — it was a campaign slogan, and it's still a priority.
And his point man on that is a familiar face for many Jerusalem residents: Slonimer chassid Yossi Deitsch, Lion's former high-profile rival for the city's top job.
"After a year and a half, there has been a big change in the city's cleanliness and appearance," Deitsch says. "After many years of feeling that no one cared, we now have trash collection twice daily plus Motzaei Shabbos so that the trash doesn't pile up. If you walk around, you'll notice the improvement."
Deitsch's brief includes not just street-cleaning, but wholesale refurbishment as well. "In areas from Shimon Hatzaddik to Ramot, Ramat Shlomo to Sorotzkin, we've upgraded the roads and sidewalks, installed new benches and lighting — they're like new streets."
As a former Jerusalem resident, my own unscientific survey as well as a few conversations with locals shows that the city is indeed looking sprucer. That change has been made possible by the extra money Lion brought in to the city coffers. The special grant that Jerusalem receives as capital city stood at a meager 200 million shekel a decade ago under former Mayor Uri Lupolianski, but it's climbed steadily since. In the 2018 fiscal year, Nir Barkat procured nearly 800 million, and Lion's own good ties with the Finance Ministry seem to have paid off, with close to a billion shekels going into the city's coffers in 2019.
But money, as is well known, can't buy everything — new policies have also contributed to the uptick in cleanliness. Privatization of the city's cleaning crews is one, although it was a hard policy to push through. Another is new equipment. "We've bought tens of new street cleaning machines, which are busy at night across the city washing the sidewalks," says Yossi Deitsch.
And if the new investment is a carrot, there's also a new stick for a culture of littering that Deitsch doesn't deny. "People are now getting fines for leaving boxes next to the dumpsters,' he says. "Inspectors can check whose house the trash has come from and issue tickets for 475 shekels. But of course, patterns of behavior take time to change — come back and evaluate the situation again in another year, halfway through the term."
A long-time city council member and a former rival of Lion for the top job in an election that pitted the chareidi parties against each other, Deitsch is not beholden to the mayor, but he's generous in his praise and says they work well together. "He's a good mayor, very attentive, and he knows how to delegate. And he's brought in money. The results are obvious everywhere, including funds for cultural activities even at the local neighborhood level."
Yossi Deitsch is someone who had a positive image in secular parts of the city in the mayoral elections, so I ask him whether Lion is doing enough to satisfy secular voters. Is it ever possible to do enough for the 49% who voted against him, I query, or will they only be satisfied when bars are open and buses are running in the city on Shabbos?
"Look, most people here are not part of the hatred that you see on the news," he says. "They want housing, a clean city, and education. Entertainment only comes afterward. But people understand that this is not Tel Aviv — they know they're living in a holy city."
Call to Order
But it's not really as simple as that. Once a month on Thursday night there's a city council meeting, which is an exuberant display of Yerushalmi democracy — and a chance to hear the other side of the story.
By 7 p.m., the large chamber is full of spectators on either side of the round city council benches. With backslapping, alternately cheering, jeering, and taking videos, it's heavy work for the ushers trying in vain to keep a semblance of order.
Seated in an oval under the impressive cupola are the council members and opposition faction, microphones at hand. Most of the time, both coalition and opposition seem to be relaxing in their deep armchairs and talking to visitors, only paying attention when it's their turn to speak, By the time I enter, Lion is making good progress down the agenda that appears on a giant screen on the floor in front of him.
The Thursday night I stop in to watch a meeting, the council members are discussing the Lion administration's controversial plan to rename Har Nof, changing its name to "Neot Yosef" after Rav Ovadiah Yosef. It's a move that has been opposed by many residents as both high-handed and politically motivated since is plays well to Lion's backers in the Shas party.
Ofer Berkovitz of the council's secular-liberal religious Hitorerut faction is a lightning rod for the young secular Jerusalemites who've come to watch the action. One tells Berkovitz privately, "you have to help us secular people in Yerushalayim," and they jeer when Lion raises his voice to move forward with the council's agenda.
A kippah-wearing opposition member with a heavy French accent makes a long speech about his reverence for Rav Ovadiah Yosef. "Maspik!" booms Moshe Lion as he grows impatient with the opposition's foot-dragging.
Lion tells me later that because of Rav Ovadiah's long association with the neighborhood, senior Shas figures asked for it to be renamed in his memory, but as mayor he won't do anything against the will of the residents. "I'm going to think how to reconcile the two, both memorializing Rav Ovadiah and respecting the citizens," he says.
It's easy to see why the opposition doesn't like Lion's no-holds-barred style in the chair of the meeting, but the mayor has a quick reply when challenged about the gridlock in the city.
"It's never taken one-and-a-half hours to move two miles in this city before," claims Ofer Berkovitz. "You've left entire streets without sidewalks and you're building much too quickly!"
Lion, nettled by the implication that he's building to suit his political timetable, responds with a distilled version of his hard-charging philosophy as mayor: "I wish I could build quicker — better some short-term pain than a traffic jam for the next ten years!"
Thinking Mega
Moshe Lion might be a man of trains and buildings, numbers and classrooms, but he's now a front-line warrior in a pandemic, responsible for a fractious city of nearly a million inhabitants.
When I make contact one day last week, he's met the IDF Home Front command, inspected Magen David Adom ambulance facilities, met the city's leading rabbanim to clarify instructions for the lockdown, met the heads of the city's hospitals, recorded new phone messages for Yerushalmis, transferred money to organizations dispensing Pesach aid – and it's only mid-afternoon.
As our first meeting ended in that distant pre-corona era, I'd left as Lion asked some aides, "What do you think, should we put it over the city entrance or in the Arena stadium?", referring to the world's largest mezuzah, which someone was apparently donating to Jerusalem.
Massive mezuzah, new train line, all Lion's mega-projects to remake the city have been shelved.
But when the hundreds of workers return to the subterranean cavern in Jerusalem's entrance, perhaps the giant complex they're building will be a car-park for the masses who'll come on Aliyah Le'Regel?
(Excerpted from Mishpacha, Issue 804)
Oops! We could not locate your form.
>