| News In Depth |
Can't You Give Us a Chance?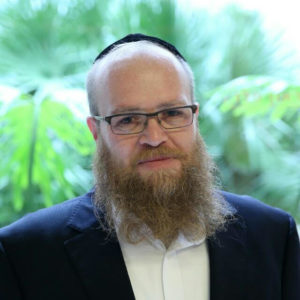 | July 10, 2019
Ethiopian rabbis speak out on exclusion, protest, and the way ahead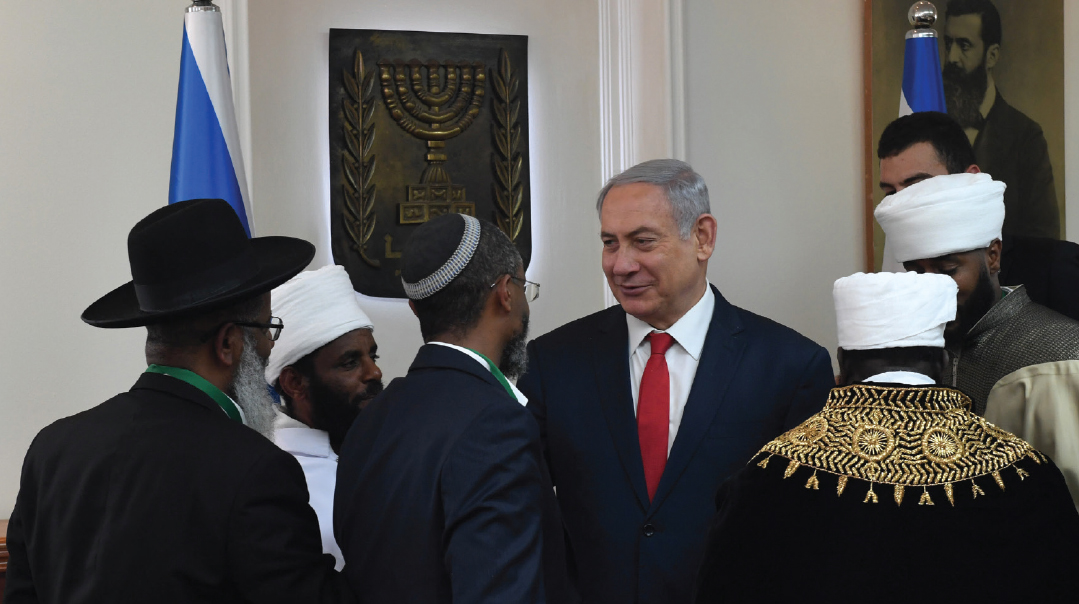 T
hey've lived in Israel many years, at the margins of society. They walked on the fringes, enclosed within their own society. Then, with ferocious intensity, their pent-up feelings burst out in a coordinated wave of riots that shook the country to the core.
Over two days last week, thousands of young Ethiopian-Israelis blocked roads and clashed with police to protest the shooting death of 19-year-old Solomon Tekah. Over the course of last week's protests, more than 100 Ethiopians were arrested and dozens of demonstrators and police were injured. The unrest picked up again this week after a lull over Shabbos.
Ethiopians see justice unserved. Tekah was killed when an off duty police officer happened upon a fight outside an Ethiopian youth center in Haifa. The officer fired at the ground when he felt threatened — police have confirmed his account — but the bullet struck Tekah in the chest, killing him. Tekah's family and many of those in the streets are calling it murder. The police have floated the possibility of manslaughter or perhaps a mere disciplinary measure.
For the young Ethiopians, the circumstances of the case feel too familiar. An Israeli police officer sees an Ethiopian and fires his weapon. Since 1997, at least 12 Ethiopians have been killed by police officers in Israel. They say law enforcement is too quick on the trigger.
Beyond the tragic circumstances of Tekah's death, the protests can be seen as a cry for help from the Ethiopian populace. Since arriving in the 1980s on Operation Solomon, black-skinned Ethiopians have failed to fully integrate in Israeli society. While the children of Russian olim are driving the economy in high-tech suites, many Ethiopians have struggled to climb out of their poor neighborhoods. A disproportionate number of Ethiopian teenagers are in the criminal justice system, and while a few individual Ethiopians have achieved success, the general trend is a sector that can't seem to find its way. They say the reason is discrimination.
Israel's societal attitude toward the Ethiopians can't be distilled in a sentence, but it's safe to say that the awe that accompanied the community's arrival in the 1980s has been replaced with a kind of resignation and disappointment. Still, the recent outpouring of resentment and rage took the country by surprise. Everyone knows the Ethiopian community hasn't achieved full social integration, but few realized just how deep their bitterness ran.
The small but growing chareidi Ethiopian population watched the demonstrations with mixed feelings. All condemn the violence. Yet all identify, to some degree, with the frustration and resentment of a community that faces rampant discrimination. Rabbi Eliezer Menagshe, a rav in Be'er Sheva, says that there's a chareidi chapter of the Ethiopian saga that deserves to be told.
"I'm mortified and ashamed by the Ethiopian youth who are blocking roads," he tells Mishpacha. "It's completely irrational that when we're demonstrating against the fact that we're not treated according to the law, we ourselves break the law. I saw helpless drivers sitting waiting in their cars for hours unable to move, and my heart ached for them. I keep telling our youth, 'Just as you want them to respect you, you need to respect them.' "
Rabbi Mazor Bahaina, a former Shas MK who is also serving as a rabbi in Be'er Sheva, similarly condemns the violence. "Let me be clear, I'm not justifying the violence we are seeing. These violent demonstrations hurt us no less — and maybe more — than whatever discrimination we're protesting. We did need to demonstrate and protest the treatment we receive, but not with violence. Last week's riots will cause us enormous damage."
Rabbi Menagshe sees the Tekah shooting as part of a larger pattern of discrimination and racial profiling. "It isn't just among security forces," he says. "We get the same attitude everywhere we go. I've served as rav of an Ethiopian kehillah for 22 years, and I've seen that wherever Ethiopians go, they stand out. They're always viewed with contempt."
Despite high hopes, Menagshe says not much has changed over the decades. "Wherever an Ethiopian goes, he'll still encounter the same condescension and blatant discrimination," he says. "In government offices, in the health clinics, and unfortunately also in the schools — we're at the bottom of the social ladder and keep paying the price."
Rabbi Managshe points to Rav Yitzchak David Grossman of Migdal Ha'Emek as a shining exception to this gloomy portrait. "Once he told me that the Ethiopian community is a mes mitzvah whom everyone is required to help."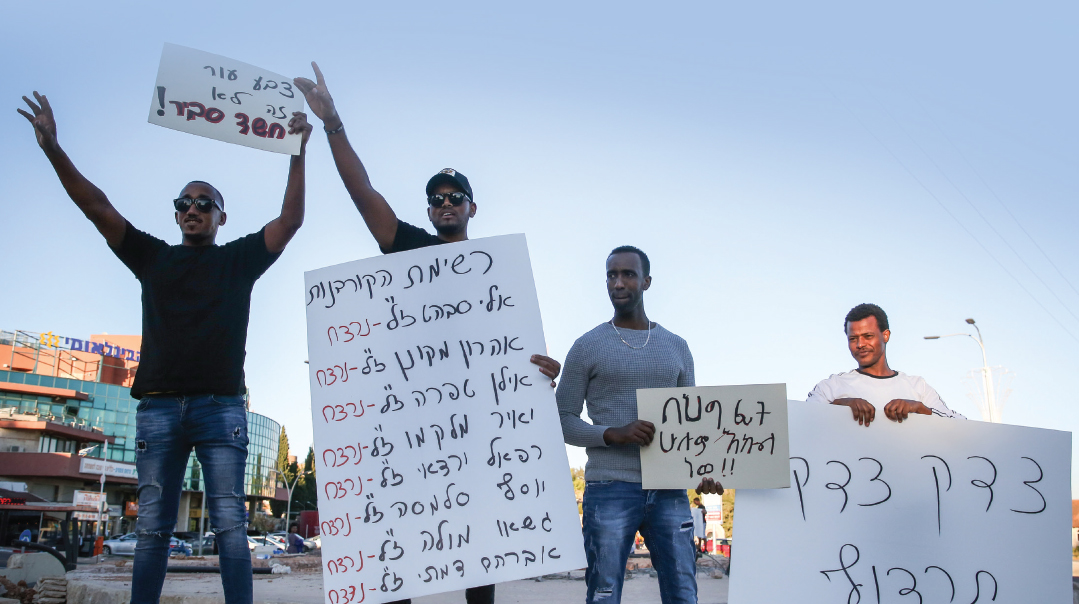 The modern state of Israel is a country of immigrants — but most of those immigrants integrate within a generation or two and become an integral part of the social fabric. For whatever reason, the Ethiopian community — originally welcomed with open arms and teary eyes — hasn't followed suit. Three decades after Operation Solomon brought 14,000 Ethiopians to Israel, this traditional, family-oriented population hasn't managed to acclimatize, and is now mired in unemployment, poverty, despair, and crime.
Much of the community is crowded into insular, neglected neighborhoods; it suffers from high dropout and unemployment rates. Even those who manage to defy the statistics and complete their education have a difficult time entering the job market.
The Ethiopian community in Israel currently numbers 150,000 people, half under the age of 19. About a third were born in Israel. Of those born in Ethiopia, 80 percent can neither read nor write even in their native language. The percentage of school dropouts among Ethiopians in Israel is 6 percent. However, the percentage of unreported school dropouts is believed to be far higher. While 61 percent of the general Jewish population completes high school with a matriculation degree, only 41 percent of Ethiopian youth do so.
According to a poll conducted by the Jewish Agency, as many as a quarter of Israeli citizens don't know or have yet to meet an oleh from Ethiopia. "We're not invisible," says Rabbi Bahaina. "It's worse than that. We're black. Someone invisible goes unnoticed and uncared for because everyone overlooks him. People do see us, but they trample us. Finally, after years of suffering, all the bitterness is bursting out."
As a former MK, Rabbi Bahaina has more of a bird's-eye view of the problems plaguing his community. "It's no secret that the Sephardim have felt discrimination from Ashkenazim. But you have to give it to the Sephardim, they founded their own education institutions and have been able to integrate into politics and the establishment. We Ethiopians, by contrast, have been left far behind. We have no representation anywhere. And when we do get ourselves a representative, he has to stay in the good graces of whoever promoted him, and only then can he concern himself with helping his community."
Bahaina says the trouble extends to the charedi education system. "Each sector has its own institutions: Bukharans, Moroccans, Tunisians, Yemenites. The only sector no one cares about is the Ethiopians. No one made it his cause that [Ethiopian kids] should learn in a charedi institution. Today we are rabbanim, but back then we had to fight to be allowed to learn in institutions run by shomrei mitzvos. HaKadosh Baruch Hu alone helped us."
As a youngster, Rabbi Managshe studied in the religious youth village in Kfar Chassidim. It took courage and determination to change paths and attend a chareidi yeshivah, but he persisted and was accepted into the Pe'er Moshe Yeshiva in Bnei Brak.
"It's true that I made it in the yeshivah world," he says, "but very few Ethiopians can be accepted in the chareidi world. The Sephardic communities have a fixed quota of how many Ethiopians they'll accept. I'm talking about bochurim whose parents underwent giyur l'chumra and who are fully mitzvah observant — very few will be accepted by mainstream yeshivos."
Rabbi Managshe says even fathers who learned in Torah institutions find it difficult to get their children accepted into yeshivos. And that's a shame, he says, because there's a strong teshuvah movement within the community. "People are becoming more devout and they want to give their children a religious education, but the kids aren't being accepted into the schools. There are Ethiopian communities in Beit Shemesh, Jerusalem, and across the south. The communities are flourishing and there's a growing demand for more shuls and more schools."
While the protests focused on police brutality and societal discrimination, religious Ethiopians have their own complaints and claims against the religious world. Why not establish their own schools? Rav Bahaina dismisses the idea, for both ideological and practical reasons. "We didn't make aliyah to stay inside a ghetto. Beyond that, it's impractical if not impossible. You're talking about multiple small communities scattered all over the country. Should every tiny group found its own school?"
Rabbi Managshe clarifies that any reluctance to accept Ethiopian students can't be attributed to halachic concerns, since everyone understands the importance of giyur l'chumra and undergoes the necessary conversion.
"My question is this: If we're Jews, there's a mitzvah of 'v'ahavta l'reiacha kamocha.' And if we're geirim, then there's a mitzvah of 'v'ahavta es hager.' When are you going to step up and fulfill those mitzvos?"
Rabbi Bahaina took an unusual trajectory for an Ethiopian: he studied in Porat Yosef and was eventually tapped to join the Shas party and serve in the Knesset. But not everyone has the energy for that kind of uphill battle, he says. And when the children aren't educated properly, he warns, the path to the street is a short one.
"I believe there are many in the community who could have been Torah observant today," he says. "Their children could have had a religious education. But they were rejected, and they didn't have energy to fight. In many cases the parents are completely consumed just surviving, making it through the week. What kind of chance could their kids possibly have?"
Rabbi Bahaina points to a deep-seated discrimination that stymies those Ethiopians who try to find jobs, even blue-collar jobs. "We could have integrated into various lines of work, if they'd only judged us objectively," he says. "Our culture values quiet, industrious laborers. But when they label us based on race, that creates a problem. Even if we do find jobs, if someone's earning a minimum wage of NIS 3,500 a month, how can he support a family with children?"
And it's not just the workplace where discrimination leaves it mark. "When there's no stability in the home, the children are the real victims. They drop out of the school system; they end up in crime." "
Rabbi Menagshe says he has a friend who "made it big" but still suffers routine discrimination. "He lives in a beautiful villa in the Ramot neighborhood in Be'er Sheva. We were talking on the phone today as he was standing on his porch having a smoke. In the middle of our conversation, a car pulls up next to the house. Out steps a man who walks over to the gate, steps inside his property uninvited, walks up and demands my friend's ID. When my friend asks who he is and why he's trespassing, the man pulls out a police badge. My friend came down and presented his identity card. The officer could barely believe that my friend could be the owner of the house. And this is now, when you'd think the police would be extra careful."
Rabbi Managshe has similar personal experiences. "I work for the Ministry of Religious Services, doing marriage registration. I wear a hat and jacket and of course I have a beard. Almost every week some couple comes in to register and they ask me, 'Where is the rav?' I tell them, 'He went to make himself a cup of tea or coffee.' After I've prepared myself a drink I call them in, and they're always shocked when they realize that I'm the rav."
The Jewish Agency reports that among innumerable streetcleaners, security guards, and supermarket cashiers, a small number of Ethiopian lawyers, doctoral students, and engineers do emerge from the community. But not only they have to fight for their positions, they also have to apologize for their success among their own community, which views them as the embodiment of everything they want to be but never will.
"Everyone who succeeds within the community does it by focusing on the community," Rabbi Bahaina explains. "Ethiopian lawyers represent Ethiopians, Ethiopian doctors are sent to areas where there's a concentration of Ethiopians. Even actors stage their plays in Amharic. So even though these are our success stories, they haven't really succeeded. Maybe they have a profession. Maybe they are able to support themselves, but they haven't integrated into Israeli society."
The Israeli government allocates funds to various Ethiopian associations, but according to Rabbi Bahaina, the money is often funneled to organizations that don't have a good understanding of the community's internal dynamics.
So was it a mistake to leave Ethiopia? Rabbi Menagshe and Rabbi Bahaina are shocked by the suggestion. "Eretz Yisrael was the one thing we've yearned for over the centuries," says Rabbi Menagshe.
"Look, we're protesting the discrimination, the attitude, but we don't have any complaints against the Creator, chas v'chalilah," says Rabbi Bahaina. "We're confident that things will work out in the end. And many good and beautiful things have happened already." For instance, the Ethiopian community enjoys a far higher standard of living in Israel than in Ethiopia. But he says the community still feels like it's in exile, even though they've made it to Israel. "It's clear to me that it was the wish of HaKadosh Baruch Hu that we should come to Eretz Yisrael, and that our exile should end here. Let's not forget that Am Yisrael cared about us and accepted us into the country. I pray daily that that we'll be able to free ourselves from this exile and that the Ethiopian community will merit a personal geulah."
Rabbi Menagshe is more direct in his condemnation of the question. "There's nothing that we miss from Ethiopia," he says. "What should we miss, the yeshivah gedolah that we didn't have? We had nothing there."
The locals went to great lengths to make the Jewish community feel uncomfortable, Rabbi Menagshe says. By law, it was forbidden to sell Jews land. They were only allowed to work land as tenants, which made it easy for them to evict them at will. "We always grew up with the knowledge that this wasn't our country, that we had our own country, Eretz Yisrael. The moment we had the opportunity to leave, we got up and left immediately. If only people knew how much the Ethiopian community loves Eretz Yisrael and Am Yisrael. It was for this that we sacrificed everything.
"Ribbono shel Olam, there's a community here numbering over 100,000 people. They love the country and are proud of it. They are good Jews who want to contribute. Can't you give them a chance?"
(Originally featured in Mishpacha, Issue 768)
Oops! We could not locate your form.
>