| Washington Wrap |
Can Trump Pull It Off?
| October 14, 2020
It remains to be seen whether he can trump the odds and pull off victory again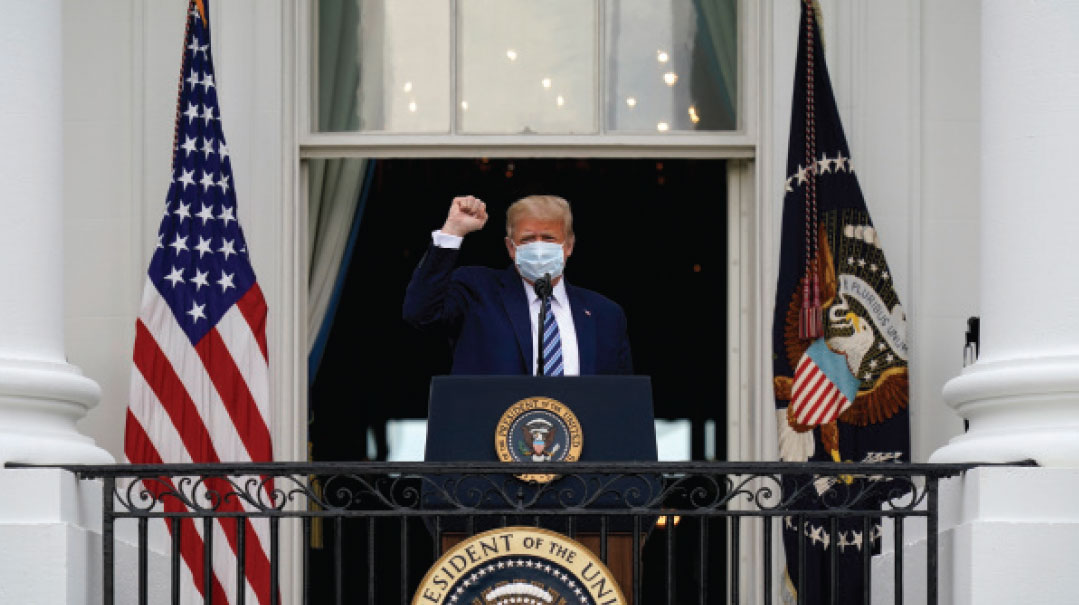 Photo: AP Images
The lead-up to Election Day looks to be a political roller coaster. Trump's surreal COVID-19 diagnosis, which seemed like a plot twist right out of a political drama, disappeared from the headlines within a week. The president, determined to return to the campaign trail, is already projecting business as usual. But it remains to be seen whether he can trump the odds and pull off victory again.
Looking back at 2016, many of the president's supporters are overcome by a powerful sense of déjà vu. Then too, experts didn't give Trump a chance. In fact, at this point in 2016 the situation looked even bleaker. A late-breaking scandal led prominent Republican elected officials, including then House Speaker Paul Ryan, to give Trump the cold shoulder.
Despite this unprecedented disavowal by his own party just one month before the election, Trump shocked the world on election night, pulling off one of the biggest upsets in modern political history. This is the reason many experts are not counting Trump out of the 2020 race, even though he has consistently trailed in polls.
"While the president remains the underdog in this race, no one is willing to count him out based on his remarkable showing in 2016," Neil Newhouse, co-founder of the polling firm Public Opinion Strategies, and lead pollster for the McCain and Romney presidential campaigns, told Mishpacha. "But the path to victory [270 Electoral College votes] is a very narrow one, with limited opportunities to make up ground between now and Election Day.
"The 2016 election was more of a referendum on Hillary Clinton, and right now the 2020 election is a referendum on President Trump," he added. "The president's team needs to continue to push to make this race more about Joe Biden and his shortcomings than about President Trump."
Matt Brooks, chairman of the Republican Jewish Coalition, also cited the events of 2016 as proof that Trump could still win. As he told me last week, no one knows how the events of the last two weeks will influence the outcome. Several polls taken since the presidential debate and Trump's COVID diagnosis indicate that while Biden's lead is widening, the race is still competitive in the battleground states that the president would need to carry in order to win the Electoral College vote. And Biden's lead in the national polls at this stage is wider than Hillary Clinton's was four years ago.
But Brooks notes that even if the gap remains wide nationally, the race is still very close in the swing states that will decide the election. In fact, Biden's lead in those battleground states is smaller than Clinton's was. The RJC has plans to make 400,000 phone calls and send 500,000 letters to Jewish voters in the final month of the race. Their effort is focused on six critical swing states with significant Jewish populations, first and foremost of which is Florida.
The president still has a few cards up his sleeves. One is his nomination of Amy Coney Barrett to the Supreme Court. Barrett's nomination could drive conservatives otherwise put off by Trump's personality to vote for him in the moment of truth. Democrats' complacency could also play into the president's hands; with polls showing Biden up by double digits, many could conclude their votes aren't needed.
In addition, Biden's call to his supporters to vote by mail could turn out to be a double-edged sword. Due to strict verification standards and hitches in delivery, mail-in ballots are disqualified at much higher rates than ballots cast in person. In a close race, Biden might end up ruing the day he urged his voters to utilize the USPS instead of showing up at polling stations. A close election could also come to the Supreme Court, and that's another reason Trump would like to approve Amy Coney Barrett as a new justice before the election.
On the other hand, it's hard to say that the past month has gone well for the president. During the first debate between Trump and Biden, the president was eager to dominate the debate and to sound more assertive and confident than Biden. But polls taken afterward showed that Trump's repeated interruptions of his opponent hadn't endeared him to swing voters.
Trump's real dilemma lies not so much in how to motivate his supporters, but in how to win over undecided voters on the center-left of the political spectrum. The percentages that brought him victory last time won't suffice in 2020. In 2016, libertarian Gary Johnson and Green Party candidate Jill Stein won a combined 4.9% of the vote. This time third-party candidates are expected to garner a much smaller share of the vote, and Trump will need to win over more independent voters to defeat Biden.
In addition, the past month has seen COVID-19 returning to the headlines, with 30 states registering an uptick in daily new cases. Trump has tried to shift the agenda to issues of law and order in an attempt to win over suburban voters who fear for their safety following a summer of civil unrest across the US. The COVID-19 outbreak in the White House has hampered the president's efforts to keep this topic on the agenda, bringing back the question of which candidate is better equipped to handle the outbreak as a major campaign issue.
Further, Trump's response to his diagnosis in short video messages uploaded to social media probably didn't win him many new supporters. Coming at a time when 200,000 Americans have already died, and many more, including the elderly and people with preexisting conditions, remain in fear of their lives, his injunction to "not let the virus dominate you" may have struck many as insensitive.
Time will tell if Trump's refusal to debate Biden in a virtual format was a mistake. In the wake of Trump's COVID-19 diagnosis, the Commission on Presidential Debates ruled that the second debate would have to take place in a virtual format. Would it have been a golden opportunity for Trump to hope for a major gaffe from his opponent?
Biden certainly has a tendency to get confused and stumble over his words, and the second debate might have provided a clear enough demonstration of this to convince undecided voters. On the other hand, Trump would have had less leeway to employ his aggressive tactics in a virtual format, and moderators were considering ways of reining in that behavior. As of this writing, it isn't clear if the third debate will take place.
(Originally featured in Mishpacha, Issue 831)
Oops! We could not locate your form.
>