| Bakeaways |
Bundt Cake
| September 9, 2021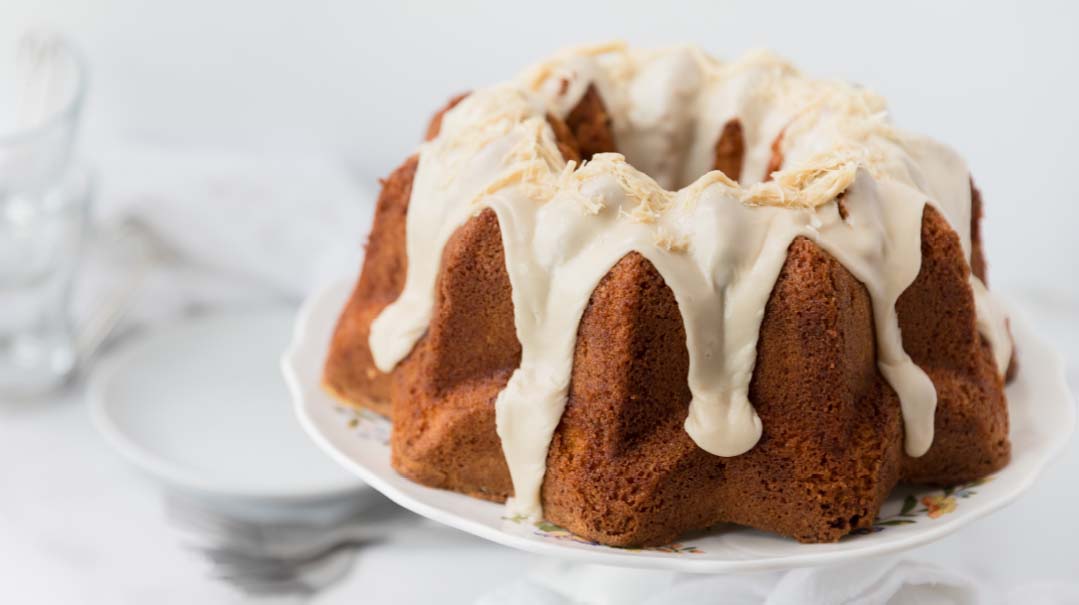 Photo Credit: Saraizel Senderovits
When I got married, my sister presented me with a box of recipes that she had gathered from my family members. Included was a marble cake from my sister-in-law Raizy. This marble cake has been a favorite for over 20 years. It's simple to make — no separating eggs! — uses basic ingredients, and comes out perfectly moist every time.
When I was on the hunt for some new Bundt cake flavors, I decided to use the base of this cake recipe and replace the cocoa with other ingredients. The outcome was perfect, and I've tried many variations since, all with great results.
This recipe is my halvah version. I love the taste of halvah in all sorts of desserts, and I hope you will too!
Tips
Variation: To make this recipe as a marble cake, omit the halvah and halvah cream. Pour three-quarters of the batter into prepared pan. Mix 3 tablespoons of cocoa powder into the remaining batter. Pour chocolate batter over white batter and swirl with a knife.
Additional Flavor Options:
1 cup fresh cranberries + zest of 1 orange
1 cup fresh blueberries, tossed with 1 Tbsp flour + zest of 1 lemon; replace the orange juice in the recipe with lemon juice
rainbow sprinkles
chocolate shavings
Halvah Bundt Cake
YIELDS 1 BUNDT CAKE
7 eggs
2¼ cups sugar, divided
1 cup oil
½ cup orange juice
2 tsp baking powder
2 cups flour
1 Tbsp vanilla sugar
2 2-oz (55-g) bars halvah, grated
⅓ cup store-bought halvah cream (optional)
Glaze
1½ cups confectioners' sugar
1½ Tbsp tahini paste
1 tsp vanilla extract
1 Tbsp boiling water
shredded halvah, for garnish (optional)
Preheat oven to 350°F (175°C). Grease Bundt pan very well with baking spray or oil and flour. (When using a pan with lots of crevices, make sure to grease and flour all the grooves.)
In the bowl of a stand mixer, beat the eggs with 1 cup sugar for 5 minutes. Add oil, juice, baking powder, flour, remaining sugar, and vanilla, and mix until well-combined. Stir in grated halvah.
Pour into prepared Bundt pan. If you're using the halvah cream, fill the pan with two-thirds of the batter, add dollops of halvah cream, and then pour the remaining batter on top.
Bake for 50–60 minutes, until an inserted toothpick or skewer comes out clean.
While the cake is still hot, use a knife to release the cake from the edges so it slides out more easily. Allow to cool for 10 minutes, then flip cake over onto serving plate.
For the glaze: In a small bowl, combine confectioners' sugar, tahini paste, vanilla, and water, and mix until smooth.
Drizzle glaze over cake and garnish with shredded halvah.
(Originally featured in Family Table, Issue 759)
Oops! We could not locate your form.
>