| Magazine Feature |
Brother, Need a Boost?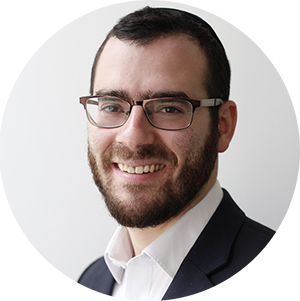 | September 29, 2020
Yisrael Almasy's volunteer fleet changes tires and bridges barriers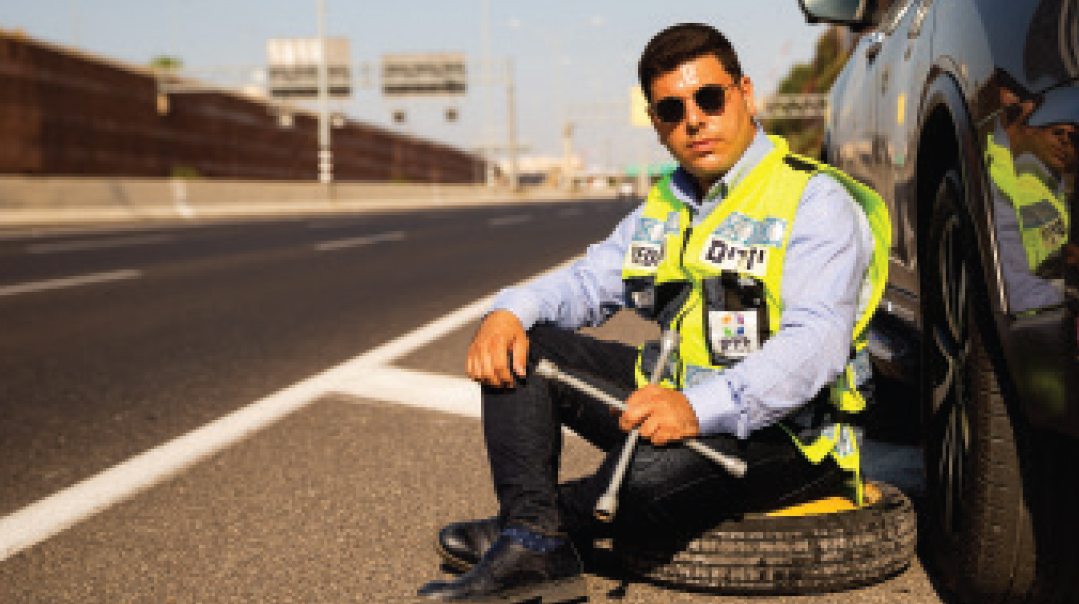 Photos: Elchanan Kotler
The app announces that there's an incident, the SUV leaps forward, and as the Coca-Cola plant and chassidim flash by, it feels like Hatzolah meets Grand Theft Auto, Bnei Brak edition.
Behind the wheel, Yisrael Almasy — business executive-cum-founder of Yedidim, a nonprofit that's the Uber of Israeli roadside assistance — glances at the app developed by IDF intelligence veterans. "The responder's name is Yosef," he says, "he's already on the scene, and he's changed multiple tires today. We have about four minutes to catch him."
Five minutes later, we arrive, but it's all over. The Toyota with a flat tire is gone, and there's no trace of the volunteer. But a few seconds later, there's another alert. A few streets away there's a new incident, and the mysterious Yosef — clearly bike or moped-borne — has claimed it again. Almasy spins the wheel and an incongruous tension mounts in the car as we set off into the warren of backstreets on this mid-Elul afternoon, on the trail of Bnei Brak's champion tire changer.
Outside Maayanei Hayeshua — the Torah city's hospital — the improbable car chase ends.
From underneath a GM truck with its hood up, protrudes a pair of legs — Yosef's. Blinking in the sunlight and dusting off his Day-Glo vest, out comes the unlikely hero of the hour. The man who's helping the gray-bearded Belzer chassid jumpstart his truck, is actually a 15-year-old boy. "It's my seventh call today," he says, blushing.

Getting back into the car, a typical Bnei Brak avreich hails him — "Yisrael hayakar! You make a big kiddush Hashem." As he drives, Almasy explains what sets Yedidim apart in a world of Jewish volunteer organizations. Founded in 2012 to help stranded motorists, the group has burst out of Bnei Brak to embrace volunteers from secular Tel Avivians to Bedouins from the Negev. The 25,000 Yedidim vest-wearers, 40 percent of whom are secular or Arabs, do everything from jumpstarting cars to rescuing people from elevators. And in an unintended side effect, joining the organization's ranks has given meaning to many struggling teens, on the verge of dropping out.
But now in the coronavirus era, Yedidim has become an Israeli phenomenon.
"At the height of Israel's Pesach lockdown, the IDF Home Front Command turned to us to help the thousands of old people who were too vulnerable to go even to the grocery," says Almasy. The army of volunteers stepped in where the government fell short, shopping and doing errands for vulnerable people. Nearly half a million non-auto calls later, Yedidim's contribution was recognized, with Almasy honored with lighting a torch at the country's Independence Day ceremony. And with the country now in a second nationwide lockdown, Yedidim volunteers travel freely as "essential workers."
As he discusses the giant that his baby of an organization has become, Yisrael Almasy is firm about its real achievement. At a time of great religious-secular tension in the country, he says, the more than 25,000 volunteers are doing something far bigger than changing tires.
"The fact that secular and religious people are meeting purely for chesed," he says, "that's a kiddush Hashem."
Damp Start
Israel's transportation history, a melodramatist might note, changed because one young man got soaked.
"At 5 a.m. one morning in 2012," recalls Yisrael Almasy, "I was trying to start my car to go to work, and it wouldn't go." Back then the manager of a chain of menswear stores, he had to be at work early, and all he needed was someone to stop with a pair of jump leads. "It was raining, and I stood there in Bnei Brak trying to flag someone down. It was only an hour and a half later that someone pulled over. I said to myself, 'we have to change this.'"
Sitting in an apartment in a yuppy section of Ramat Gan that the Nadvorna Rebbe of Bnei Brak advised him to buy, Almasy, 34, looks every inch the upwardly mobile finance professional he now is. But the roots of his out-of-hours obsession with helping others lie in his parents' house.
"I grew up in Telshe Stone in a home where helping was carved into my soul," he says. "There's one time I remember from when I was about six or seven. I was walking with my father in Geula — he has a store in Meah Shearim — when he suddenly said 'Come quick!' and we crossed the road. 'What are you doing Abba?' I asked him, and he pointed. 'There's a man there who owes me money and I don't want to embarrass him.' My father doesn't remember that incident," says Almasy, "but what I remember is that he thought of others."
But the legions of volunteers Yedidim can now call on weren't even a dream back in 2012. "When my car started," says Almasy, "I set up a WhatsApp group with 20 people on it, with one aim — Israelis shouldn't be stuck by the roadside. At the beginning people laughed, but every person I met, I tried to recruit. Eventually that grew into WhatsApp groups for volunteers in different areas of the country, and we had one call center operator — if he went to Minchah, the whole system shut down!"
Those two hats — business and volunteering — continue to be worn in parallel. "From a young age I've been a salesman, and whenever I meet someone for work, I think how I can 'sell' Yedidim to them. Even my boss is a volunteer," he smiles.
Eight years on, the organization has turned professional, but the financial model is the same. "It takes us just four and a half seconds to answer calls, a statistic that the police couldn't believe when we met," he says proudly. "and we're organized like an army, with area commanders, local divisions, precincts, and 350 people in the call center alone. A lot of it is managed by my deputy, Leizi Stern, but we're all still volunteers."
If the setup has come a long way, so have Yisrael Almasy's people-management skills. "The secret of 21st century volunteerism is not to have any obligation. Many people want to help but don't like committing to any hours or minimum. They want to help when they want to help," he explains. "But while that means that we need large numbers of volunteers, the lack of commitment means that some people volunteer all the time."
Cracking the volunteering code has led to a windfall in services offered to Yedidim. "We discovered that some of our volunteers were graduates of Unit 8200, the IDF's prestigious tech division. And so instead of changing tires, these people donated their time to build an advanced app that costs 300,000 shekels on the open market."
While developing what's now a suite of apps — one to access the service, a volunteers app, and a third to manage the system — Almasy realized that some people have no way to call using the existing phone setup. "We created a Yedidim bot called Yedidiah for people who are deaf, and that opened our mind to the whole demographic of those who were disabled and how they could help. Today we have deaf volunteers, and others who are disabled, who can do something meaningful and volunteer without leaving the house."
But if Yedidim has discovered how to harness tech to help others, Almasy knows that a lot of the motivation comes from the dynamics of competition. "There are 1,200 volunteers in the Bnei Brak area alone, and each one can see how many incidents the other has handled. We have one amazing volunteer, Yirmiyahu Licht, who has a sick mother and child, yet responded to 1,500 calls this year. The volunteers go up the rankings and can leave each other messages — it's like an internal social media system."
But, Almasy concludes, the only long-term motivation is the drive to give. "I say to the volunteers, 'our world teaches you to look after yourself, but we have to think of others as well.'"
Open Road
It's shortly after speeding through the Ramat Gan-Bnei Brak border that a slightly amusing thought occurs to me. "If we get caught by the police, what do we say — that we're racing to change a tire?"
But by the time that we've finished with Yosef, the 15-year-old volunteer, we're driving along at a sedate pace and the system shows that the lunch time siesta hour is slowing reactions across the city. The next call that comes in — from a car parked outside Bnei Brak's iconic Itzkovitz shtibel — takes a full 35 seconds until a volunteer takes the case.
The stranded motorist is immediately identifiable, standing on the street corner next to the car with its hood up. A loose battery has marooned Amram's car, and he's delighted to find that Almasy himself has arrived at the scene. "I have two sons in Petach Tikvah in Yedidim," he beams, posing for a selfie. Predictably a knot of small boys and curious men forms at the sight of the huddled Day-Glo vests. All that's missing is the first responder.
We don't have to wait long, because once again, barreling along the sidewalk on his electric bike, comes none other than the teenaged Yosef, Bnei Brak's most prolific breakdown responder. He buries his head in the engine, but a complex breakdown like this demands more manpower. The app does its thing, and soon another e-bike halts, bearing a Yedidim man from a different world.
"Hi, I'm Yossi," the black-haired secular man with a twinkle in his eye introduces himself. It turns out that he's from Kiryat Shemonah in the north, a chef by profession, now unemployed because of coronavirus. "I discovered Yedidim six months ago," he says, "and I thought to myself why stay at home moping when I can help others?"
Yosef and Yossi make an odd pair as they bend over the old engine together. Religious and secular, two sides of what seems like a widening divide in today's Israel, are united by an obstreperous car battery.
It's interactions like these, bridging Israel's cultural divide, that Yedidim makes commonplace. "A couple of years ago my own car refused to start in Ramat Beit Shemesh," I tell Yisrael Almasy. "I called Yedidim, and to my surprise a secular man — a contractor at a building project across town — arrived to jumpstart the car. When I asked him how he got involved, he said that his wife had once got stuck on the highway, until someone suggested calling Yedidim. 'I said, I have to volunteer for these people!' he told me."
"Our volunteers have no particular profile," says Almasy. "The Tel Aviv station head is a Shabak investigator. His colleague in the Lower Galilee region is a Bedouin. But broadly speaking, 60 percent are religious, and the balance are secular or Arab."
It's both the national scale and demographic diversity that makes Yedidim stand out — and the stories. One began with a puncture, continued with a mistake, and ended with a marriage.
"Last year there was a woman who had a double puncture on a road in the north," says Almasy. "She called the Yedidim hotline and waited by the roadside. But the control center made a mistake, and the call was put through to the Tel Aviv branch, leaving the caller stranded. When Yaakov Mizrachi, a volunteer from Tel Aviv, realized the mistake, he decided to travel specially to the north to help. He changed the tires, sent the woman on her way, but stayed in contact. A year later, Yaakov and the caller, both traditional Jews, were married — and my deputy Leizy Stern said a brachah under the chuppah!"
And then there are the cases which blur the line between volunteerism and serious relief work. "A few weeks ago, a woman involved in poverty relief called with a strange request," says Almasy. "There's a 90-year-old Holocaust survivor called Natan who is literally sleeping on the floor because he's too poor to afford furniture," she began her story, "and I've found a large bed that's being given away in Tel Aviv for free, but it has to be taken now or it will be thrown away. Can Yedidim help?"
Within minutes, Adam and Tomer, two volunteers took the job and loaded the bed in their company's van, courtesy of the boss. The leaking taps, broken cupboards, and emptiness of the survivor's apartment testified to his poverty. "They were shocked by what they saw," says Almasy, "and promised to come back to help Natan out."
Corona Crisis
It didn't take long for the coronavirus dilemma to register: What does a roadside-assistance outfit do when most motorists are sheltering from a pandemic at home?
It was Yedidim Deputy-CEO Leizy Stern, who took the lead in pushing for a total change in direction for the organization.
"Within 48 hours of the news that the country was shutting down before Pesach we understood that we needed to change," says the 35-year-old Petach Tikvah resident. "Many people in the organization were angry that we were diverting into something unconnected to our core mission, but with 70 percent of our normal activity gone, and with so many people stuck at home, it was the right thing to do."
It was a DNA-rewrite that meant trading car jacks for pills and supermarkets and concluded in the first wave with nearly half-a-million callouts. For anyone 65-plus or otherwise in isolation and vulnerable, Yedidim quickly became a resource to get groceries or medicine without venturing outdoors. "There's a volunteer in Hertzliya who went 11 times to the supermarket for the old man who couldn't go shopping until he was satisfied," says Leizy Stern. "That's well beyond the call of duty, but he told me, 'He feels like my saba!'
"Over the last two years, we've gone from one local authority to another, including almost a hundred mayors, to explain what we do. And those relationships meant that they turned to us when corona broke out," says Stern. "Even strong local authorities like Tel Aviv, which is [a] well-funded [municipality] need volunteers, because we work from the heart in a way that paid social workers won't. We also built relationships with the health funds, and the message also got out very quickly by word of mouth that we were there to help.
"Yesterday I met the local authorities in Bat Yam, and they said without Yedidim they wouldn't have weathered the first wave as successfully as they did. 'We need you now again,' they told me."
Bnei Brak-born himself, Leizy Stern's own association with Yedidim goes back to the organization's founding — when he adamantly refused to have anything to do with it. "I'd meet Yisrael in shul, and whenever he tried to persuade me to join, I laughed," recalls Stern.
It took a mistake to overcome his skepticism. "One day there was a call from near Modi'in, and Yisrael by mistake messaged me about it instead of the volunteers in the area. I was just in the area, near the Shilat junction on Route 443, so I told him that I would go. When I came, it turned out to be a couple with a newborn, stuck on the way back from the hospital. I changed their tire, and then Yisrael messaged me again: 'Are you joining?'"
The rest has been history and a lot of hard work, including a 24 day of family, work, and managing volunteers. "I know about eight to nine thousand volunteers, and this switch to corona-footing has surprised me," he says. "There were many volunteers who previously weren't so active with breakdown assistance but have now become very involved in helping vulnerable people. And people on unpaid leave due to corona have stepped up, putting in hours of volunteering."
In talking to Leizy Stern, there's one word that he keeps coming back to, to describe what Yedidim means for both the callers and volunteers. "We're an anchor for them," he says. "I'll tell you what I mean. There's a volunteer from Petach Tikvah who called repeatedly when I was sitting in a shiur. I answered and he said "Quick, come, my father's not feeling well." I understood that he'd gone to pieces and instinctively called me for help, so I called an ambulance, and they came in time to help his father — he'd had a heart attack."
"We're that anchor," concludes Stern, "and so it's natural they reach out when something goes wrong."
Thinking Big
Back in Almasy's car, we head once again into Ramat Gan for one more breakdown call. "Maybe there'll be a jammed door or something out of the ordinary," he says, as the app scans for local alerts. We're driving through a run-down neighborhood where some of the cars look like candidates for Yedidim's services. "This used to be an area popular with mafia bosses," he says, when an incident alert sounds.
It turns out to be a Russian-speaking lady, whose antiquated white Volvo is refusing to start. As Almasy jumpstarts the car, she gratefully says, in heavily accented Hebrew: "Yedidim — they're special people. I use them often."
Almasy remembers seeing this jalopy before, and it's because of cases like this that he's dreaming big about his organization. "We have all these volunteers, but we're only starting," he says. "There are four million cars in Israel, so I want 500,000 volunteers, one in each building in the country, so that no one will have to wait to get their car started or to get out of an elevator.
"And I want that community of volunteers to treat each other like one big family," he adds. "That's why we're building a website just for volunteers so that they can help one another. If one is making a bar mitzvah, he can get a photographer who's a Yedidim volunteer; they can help each other find parnassah opportunities and share simchahs."
If that sounds like megalomania, just ask Tamir Yadai, the head of the IDF's home front command, who turned to Almasy when coronavirus struck, stretching the army's capabilities.
Or you could ask any of the "breakdown brothers," the motley crew of volunteers from all walks of Israeli life why they do what they do.
Chances are they'll agree with Yisrael Almasy's mission statement, what very literally drives him. "Our volunteers are never allowed to accept money because we want pure giving. And when such different worlds meet over chesed, Hashem definitely has nachas."
Paying for the Privilege
The first encounter between my faithful vintage Toyota and this remarkable organization is lost in the mists of time and overheating engine smoke.
But sometime after we said our "how-do-you-dos," I learned an important lesson: Try as you may, you'll always end up calling Yedidim anyway.
It went like this. One fine day I received a call from one of the smartphone parking companies, whose app-based services have replaced the clunky meters that used to dot Israel's sidewalks.
"We have a new tire-changing service, only six shekels a month," the sales rep said. The idea that a breakdown crew was only the touch of a button away was enough to gladden any antique-car-owner's heart, and so I happily agreed to the additional burden on my credit card.
That very night, my wife and I got to test the joys of the wondrous new service. Shredding a tire somewhere between Tel Aviv and Jerusalem, I nonchalantly dialed the app's number and reported what had happened.
"You know that breakdown service I signed up for today?" I asked rhetorically. "Well I've broken down. How long will your man take to get here?"
There was a pause as the operator calculated my location. "You'll have to wait an hour and a half," he said, as one anxious couple exchanged looks.
Babysitter waiting, and the night getting on, I threw up my hands in defeat and called Yedidim. Half an hour, one cheerful volunteer, and a new tire later, we resumed our ride home.
And the parking app's as-yet unused service? I expect they're still charging me for the privilege.
A Life of Giving
The quick hands and beaming smile that Avremi Weinberg brought to every Yedidim breakdown call was a familiar sight to me from when the future volunteer was about ten years old. The son of the Slonimer chassidic family who lived on the floor below when I was a newlywed in Jerusalem, his abundant energy was channeled into sessions on the drums or helping his neighbors shlep suitcases.
But once we moved out of the neighborhood, Avremi had long vanished from my life until his smiling face filled the news sites with the announcement of his tragic petirah in a traffic accident in February this year.
It turned out that in the ensuing decade, his big heart and able hands had led him to Yedidim, where he'd risen to manage the national logistics operation. His dedication was total: According to his wife, he once heard someone whose car wouldn't start in the street below in Bnei Brak, and immediately headed down to help — even though it was 3 a.m.
"Avremi would visit my house once a week, to sit and talk things through," says Leizy Stern. "He was a total, limitless giver, at all times and places. At the levayah of Rav Steinman ztz"l, he was in the center of the action, distributing water despite his broken arm [see picture]. Giving just came naturally to him."
The boy with the big heart who I remembered from downstairs, left This World as he'd lived in it — giving his all. The day that his shivah ended, his sister got married, and the family discovered that he'd arranged all the details, down to the kallah's bouquet, in his very last hours.
(Originally featured in Mishpacha, Issue 830)
Oops! We could not locate your form.
>