| Family First Feature |
Bringing Holiness to Hanover
| September 16, 2020
Even after loss, Rebbetzin Shterna Wolff is determined to spread light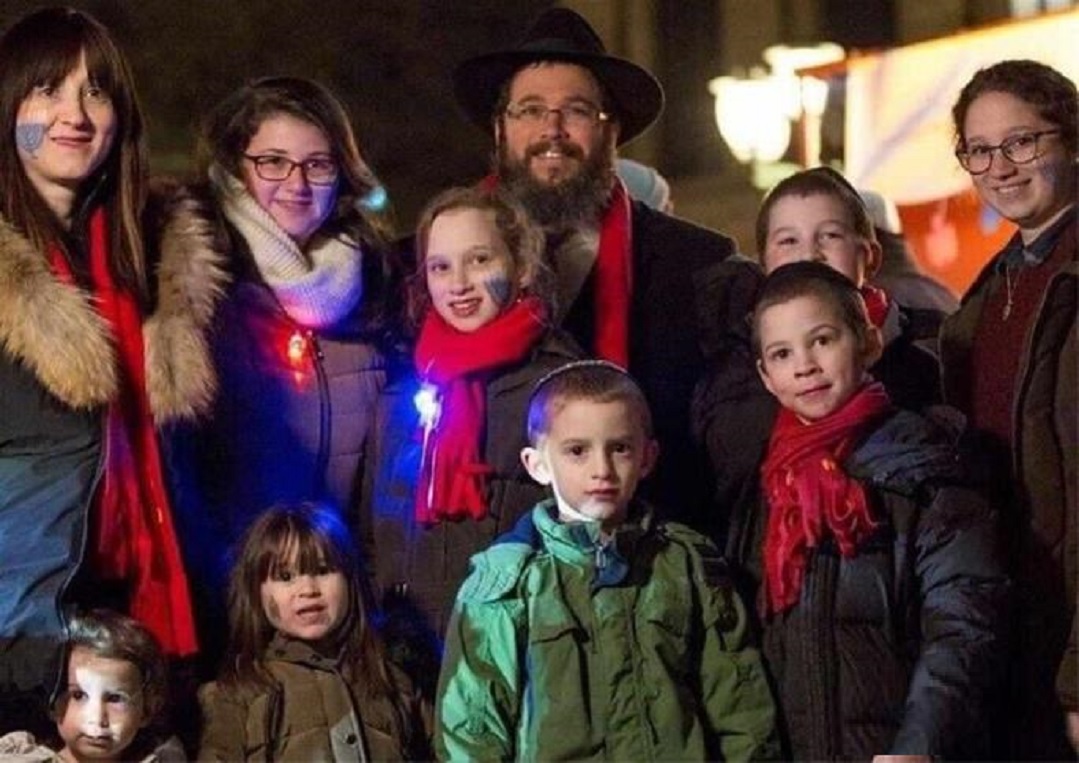 It's a summer evening in Hanover, Germany. Although the coronavirus lockdown is easing across Europe, some of the heaviness remains.
It's just over a month since the petirah of Rabbi Binyomin Wolff, and I'm expecting my conversation with his wife, Rebbetzin Shterna Wolff, to be somewhat subdued. I'm assuming that the buzzing Chabad house they built together will have gone quiet, and we'll talk in hushed tones about the loss to the family and the community.
But when the Rebbetzin manages to squeeze in my call, it sounds like she has a lot going on there in the Beit Chabad. It's hectic, with family — there are eight Wolff children — guests, and deliveries clamoring for her attention.
"Everyone is helping us," she explains, immediately upbeat.
Our conversation in Hebrew about the couple's shlichus and the community they've built up gets off to a good start, but then the Rebbetzin excuses herself for a few minutes to speak warmly in Russian to a couple who have just walked in. Tones of surprise and excitement float over the phone as she exclaims and hugs.
"It's a couple who've been coming to us constantly for six years," she explains to me when she gets back on the line. "They were in a relationship when they first came to us, and four years ago we married them off. Now they just stopped by to announce that they're expecting their first."
A Life of Service
The Wolff home, adjacent to the Beit Chabad of Hanover, is the heart of a growing community. It houses an active shul, with full services and a weekly community kiddush. The Rebbetzin hosts women's evening programs, "baby café" mornings for young mothers, and programs for children and college students. She's an experienced counselor too, the natural address for marriage advice and family issues.
"For fifteen years, people have been coming to pour out their hearts and to get support. A rav and rebbetzin in a small community deal with everything you can imagine. Our job begins with news of a birth, bris, continues through the bar mitzvah and chuppah, and of course we're called to attend sickness and death."
Shterna was raised in Eretz Yisrael in a Chabad family, and always dreamed of outreach. Four months after her marriage to Rabbi Binyomin Wolff, the couple left Eretz Yisrael on their first mission: shlichus to Odessa, in the Ukraine. They worked there as assistants to the city's main shluchim, Rabbi Avrohom Wolff and Chaya Wolff. The two men were cousins, while Chaya and Shterna are sisters. They spent five years in Odessa, engrossed in helping the community and learning, hands-on, how to live for a shlichus.
"From my sister and brother-in-law, we learned that the sky is the limit, and what it really means to be dedicated to a community," Shterna says. When they felt ready to move on, the younger Wolff couple specifically sought a city that did not have a Chabad house yet. They wanted to be pioneers, trailblazing the foundations of their own community.
Requests had come in to the international Chabad headquarters, asking for shluchim to come to Hanover, a medium-sized city in Northern Germany. Since the 1990s, Germany has become home to large numbers of Russian Jews who fled Communism and poverty looking for a democratic society and higher standard of living, so the German Jewish community is largely Russian speaking. When the Wolffs arrived from Odessa, they spoke fluent Russian, which would stand them in good stead, but not German.
The city already hosted a traditional Jewish community, and a liberal community as well. In fact, almost every sizeable city in Germany has a synagogue, but the levels of observance vary. Hanover's shul was considered pretty traditional. It had separate seating and minyanim on Shabbos and Yom Tov. Rabbi Wolff built a friendship with the community's rabbi, then, once the other rabbi retired, the Chabad shaliach ended up unofficially fulfilling rabbinic duties for that small community as well as his own. Today, there's a Bukharian shul too, and Chabad functions in harmony with these kehillos.
There are an estimated 8,000 Jews in the city, mostly unaffiliated. The young couple had to start from scratch, to build a community without knowing anyone in the city or speaking the local language. Rebbetzin Shterna goes back to those early years and reminisces.
"We used to take a local phonebook and call families whose last name sounded Jewish. We also went out with our kids to public parks and spoke in Hebrew. That got people to come over to us, curious, and we'd start a conversation. My husband went out on the streets and to stores with his yarmulke and beard, so of course that sparked curiosity." Till today, the Rebbetzin loves to speak Hebrew in the streets, and it still attracts people to come over and chat.
When in Rome
In addition to the language, one of the difficulties the Wolffs encountered was their lack of familiarity with the local mentality. To two native Israelis, the locals, with their formal German manners, seemed very distant and cold. Handshaking, however, seemed to be practically mandatory.
There were some easy adjustments and some hard ones. It soon became clear that punctuality was highly valued, so the Wolffs quickly learned to arrive a few minutes early for any appointment and to begin all their functions exactly on time.
"In Israel, people come to weddings an hour late, but here, if a chuppah begins 15 minutes later than the time on the invitation, guests will become irritated.
"The trash can for the entire apartment block is the size of what I was used to having in my own house, and the garbage has to be divided into four or five different categories for recycling purposes," the Rebbetzin describes. "At the beginning, all this precision was very strange. I walked into stores and saw people purchasing one cucumber and one tomato. I'd never seen that before."
The German Jews who they were reaching out to did not appreciate surprises. Rabbi Wolff noticed that every adult carried a diary with all the year's events and appointments planned in advance, and he and Shterna had to change their mode of operation so they could reach out on local terms.
"I'm spontaneous by nature, but I've learned and changed to the other extreme. 'Tomorrow we'll be holding a class…' just doesn't work here; all our functions are planned weeks or months in advance. We sit down and look at the calendar at the beginning of the year and prepare a year's schedule, including the Chanukah party and pre-Pesach events, etc.
"I've come to enjoy being organized and predictable, but more importantly, that's how life works for the community here."
With time and endless love and effort, Jewish people in Hanover warmed to the Chabad couple in their midst, and a community was formed. Even individuals who originally wanted nothing to do with Yiddishkeit slowly began to thaw and trust the Wolffs. For example, the Wolffs are often involved in helping Jewish families who come for medical care find rental apartments near the hospital.
"There was an irreligious Israeli who has a rental agency here. When we first reached out to him and said we were calling from the Beit Chabad, he hung up the phone. He was anti-Chabad, anti-Jewish, anti-everything. Over a period of around five years, we sent many people to his business. Eventually, he called us up and said, 'You must be crazy! I told you I didn't want to have anything to do with you and you send me clients?' He and my husband became real friends. My husband never pushed him, but with warmth, he helped him change his attitude.
"He never became dati but he's a believer now. His outlook changed slowly, and by now he posts pictures on Friday of his table set for Shabbat, l'illui nishmat haRabi."
Ghosts of the Past
Hanover is only a 50-minute ride from Bergen-Belsen, and when the Wolffs first arrived, the ghosts of the Holocaust confronted them on every corner, like a fourth dimension to the contemporary reality.
"When you pass a forest, you think, Here the Jews were forced to run, unclothed; when it's cold, you think how cold our brothers were, 80 years ago, when they were forced to labor outdoors in the winter in thin prison camp uniforms."
Shterna recalls those early months, when she was continually stalked by strong emotional reactions. In order to function as a Jew in Germany today, the Rebbetzin says, you have to only look forward. She and Rav Binyomin made an active decision to focus on the future. Building Yiddishkeit, one mitzvah at a time, one soul at a time, is a victory against the Nazi evil.
In addition to the Soviet émigrés and younger generation, there was another group who came over to the young couple in chareidi rabbinic garb: the Holocaust survivors. The Rebbetzin believes that two elderly survivors who have just passed away were probably the last two Jewish natives of Hanover who lived through those bitter years and remained in the city afterward.
"We had one lady who used to come to the annual menorah lighting in the city's Opera Square. She told me it was hard to believe she was attending a public menorah lighting and listening to Jewish music 'in this square, where I stood with my family, waiting to be deported, sixty years ago.' "
Like many Western European nations, and even more than most, Germany has seen a wave of Muslim immigrants from Syria and other war-torn Middle-Eastern locales. Contemporary anti-Semitism does exist, but thankfully, the Wolffs feel very little of it in their city.
There are also those who come to the city for its hospitals. Hannover boasts a prestigious medical school and a university hospital, and Rabbi Elimelech Firer, veteran medical advocate and referral agent in Eretz Yisrael, often sends brain-tumor patients there for treatment. Helping these people with everything from kosher food to emotional support is part of the shluchim's mission too, and every Jew is embraced, no matter their affiliation or lack of it.
"There are litvish families who never saw a Beit Chabad or thought they'd never enter one, but when they come here, they need us, and we're here for them."
Just Keep Doing
Ever since their arrival, 15 years ago, the couple didn't stop building. With astounding dedication, they made themselves available to any Jew in the area who needed them, 24 hours a day. They opened a Jewish preschool and a Sunday school, taught pre-bar and bas mitzvah courses, and offered a steady stream of women's events and mens' Torah learning in the evenings. Shterna builds relationships with women through baby-café mornings and evening events.
Throughout our conversation, I have to remind myself that Rav Binyomin has just passed away. They were a couple, forged together in part by their strong common purpose. And now Rav Binyomin is gone. But his family is fully dedicated to the mission the couple began together.
"My husband's spirit is still here," Shterna tells me. "He's still with us, helping us with his work." Rav Binyomin, says his wife, was a shaliach in the fullest possible sense. With a chassid's deep love and commitment to the Rebbe, he refused to waste time. His every moment was dedicated to fulfilling the Rebbe's vision, working, teaching, reaching out. He offered friendship and support to multitudes of Jews, helping them discover their roots.
He absorbed that mission from his parents. Rav Binyomin's grandfather, Rabbi Ephraim Wolff, was born in Nuremberg, Germany, but left when the Nazi confiscations began to burn the ground under his feet. He made his way to Eretz Yisrael, and somewhere along the way, he exchanged his yekkish upbringing and worldview for a close relationship with the Lubavitcher Rebbe, becoming a trusted confidante of the Rebbe and a chassid dedicated to fulfilling the directive of "letting the fountains overflow" to spread Torah to our Jewish brothers everywhere.
"V'hachai yitein el libo," the Rebbitzen quotes to me. Her husband has been taken to a Higher World, and it's up to those who remain to adopt his path and inherit the ideals he lived by.
"This is our job. The children and I decided to continue our shlichus in Hanover and to leverage our deep pain into action and kiruv. My husband was a shaliach of the Lubavitcher Rebbe whose entire heart was dedicated to other people. On the Friday of Rosh Chodesh Iyar, when he returned his soul to his Maker, I was on my way home from the hospital. The skies had clouded over in a whirlpool of gloom, but one thing was clear: 'Naaseh v'nishma' — the first thing is to do. Just keep doing. Then, nishma, we will hear."
Continuing the work of the Chabad house without the Rav is an immense challenge. Rebbetzin Wolff is now the director, supervising and running the programs. She's an unstoppable engine, powered by dedication to the Rebbe's command. I marvel at how she summons the energy to continue.
"It's not a natural energy," she clarifies. "It comes from my own chinuch and from the chassidus, from the Rebbe's command." Yet, with all her clarity and devotion, the men who come in to lay tefillin and join the minyan need a rabbi. At present, the Hanover Chabad house hosts another family of shluchim every Shabbos. There are 27 Chabad families serving in Germany, dispersed among 18 towns and cities, as the larger communities, such as Berlin and Munich, need more manpower. In a show of achdus, which also shows the esteem in which the Wolffs are held, a different couple comes to join the Wolff family every weekend.
"My husband was a man of peace, always mevater, always a friend. We're close to all the shluchim in the country, and they've all rallied around. I'm deeply grateful to all of those who have helped us, to all the donors to our Charidy campaign, and especially to Rabbi Yehuda Teichtal, shaliach in Berlin, and Rabbi Shlomo Bistritzky, shaliach in Hamburg, who have been here to support me and the children through some very hard moments."
On a more long-term basis, the plan is for a semi-retired Chabad shaliach couple to move to Hanover. At some point, the Rebbetzin hopes that her children will begin to marry and join her with their spouses. It seems natural to her that they should continue their parents' and grandparents' mission.
The Light Still Shines
Rabbi Wolff passed away during the pandemic's first wave in Germany, though he did not have coronavirus. He was in the hospital for three weeks, with a primary diagnosis of pneumonia, but things spiraled out of control quickly. "Every day, there were new complications. One of the doctors said, 'Something unnatural is happening in his body,' and it was. The medical team tried to fight his illness, but his recovery wasn't supposed to happen."
All the time that Rabbi Wolff was ill, the family held tight onto the Rebbe's dictum: "Tachshov tov, yihyeh tov — think good and it will be good."
Now, things don't seem to be good. Rebbetzin Wolff has no husband, and no father to her eight children. "But we don't see the entire picture," she says. "There are questions, and no answers. For us, the answer is to continue."
Shterna never dreamed of being left to steer the ship alone. "You go on shlichus as a couple, and the plan is usually to fulfill the task together."
The task is still incomplete, and she believes that her husband will continue to help them from above. "The Rebbe taught us that a soldier doesn't flee from the battlefield. He also taught that when there are obstacles, they're there to reveal our hidden strengths, which we would otherwise be unaware of."
The rebbetzin isn't in denial of how difficult it is. "Every day is a new battle. But b'ezrat Hashem, with the kochos the Rebbe gave to each shaliach and shluchah, we will be successful."
Translating the pain into actions, yet another mezuzah on a Jewish home, another child learning the foundations of Judaism for his bar mitzvah, is a balm for the family. When one lady from the community left the shivah house, Shterna realized that her husband was waiting outside.
"I went out and asked him to come in. He said he couldn't bring himself to enter our house, and he burst into tears. After a moment, I asked if he had laid tefillin that day. He said no, and added that he thought he would no longer use his tefillin, as the rabbi was dead.
"I explained to him that the pain and loss have to be channeled into action. He heard me out and he put them on. It's been a month, and he's been laying his tefillin each day, because of the pain."
When I reach out to the Rebbetzin again, a few weeks after our first conversations, she has major news to share. A permanent home for the Beit Chabad of Hanover and family Wolff has just been purchased, a dream of her husband's that unfortunately did not come true in his lifetime.
"Binyomin was always looking out for suitable permanent accommodations, so it's painful that we only attained this milestone after his petirah. But this building will be a memorial, named Beit Binyomin. It will spread a lot of Torah, so that Hanover hosts not only Benny's kever, but a live continuation of his work."
The Rebbetzin sends an Erev Shabbos message to three hundred women. Recently, she added a request for those who don't usually light the candles to do the mitzvah, l'illui nishmas her husband. Dozens of women agreed to do it. It's all about adding light.
"With Hashem's help, and with my husband Benny helping us from his place Above, we will try to see to it that the light that we lit here together will continue to shine and grow until the coming of Mashiach."
(Originally featured in Family First, Issue 710)
Oops! We could not locate your form.
>