| Eye on Europe |
Boris Johnson Leaves the Stage
| July 12, 2022
Where does the UK go next in a post-Boris era?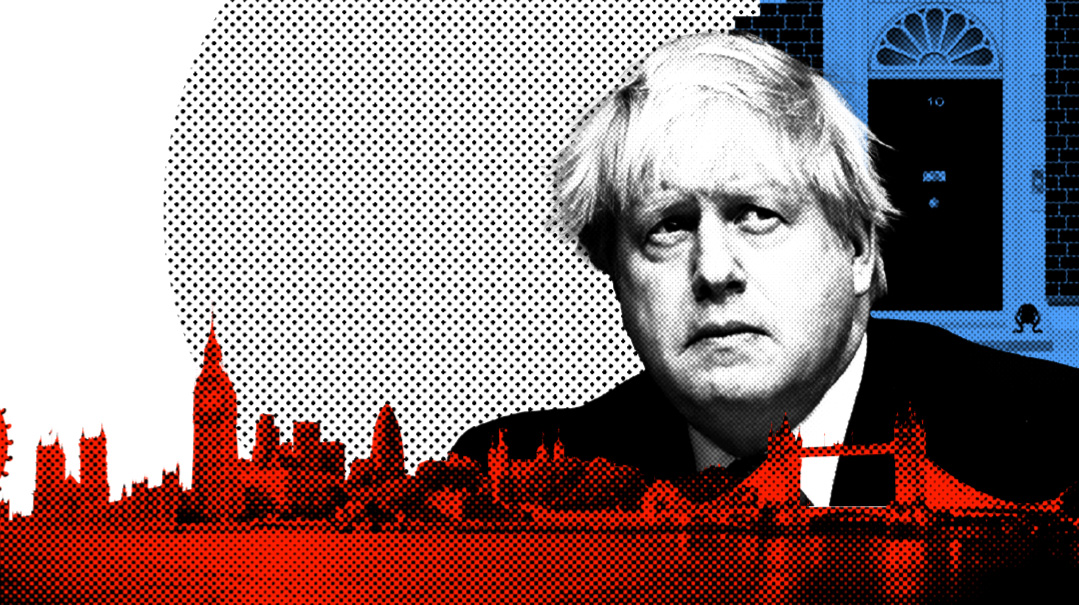 ONThursday morning, Boris Johnson's luck ran out. After months of scandal, followed by a marathon 36 hours of ministerial resignations, the UK's prime minister announced he would resign. The blond icon, famed for his ability to defy political gravity, fell as many predicted he would — brought down by scandals of his own making, and almost completely friendless.
Critics say all the warning signs were there. As early as 18, Boris's housemaster at elite Eton College wrote, "I think Boris honestly believes it's churlish of us not to regard him as an exception, one who should be free of the network of obligation that binds everyone else." It was Boris's disregard of the rules that endeared him to voters, and the same contempt for convention that brought him down in spectacular fashion.
In December 2019, the Conservatives were drunk on victory. Boris Johnson's bumbling appeal had won over voters who had never voted Tory before. They had an 80-seat majority, a huge mandate to deliver Brexit and an ambitious plan to rejuvenate left-behind Northern towns that Labour had taken for granted.
When Covid hit, despite an underwhelming response by his administration, Johnson was given the benefit of the doubt by voters. The UK's successful vaccine rollout propelled the Tories to victory in local elections last year. By party conference in October, Boris was master of all he surveyed: The Tories, despite being a midterm government with a 150,000 Covid death toll, were ahead in the polls, and he had complete control of his party.
Crises Mount
The foot-shooting spree began in November, when the government attempted to override parliamentary rules to prevent Owen Paterson, an ally of Johnson, from being suspended for breaching lobbying rules. Downing Street followed a pattern that would be repeated over the next nine months: They made a decision that showed total disregard for the rules and instructed Conservative MPs to support it, only to perform a humiliating U-turn, infuriating the MPs.
A series of scandals erupted over the following months — dozens of parties held in Downing Street during lockdown, a lavish redecoration of his government residence paid for by a party donor, and attempts to secure jobs for close friends. Each time, there was bluster, obfuscation, and excuses that took the public for fools, followed by reluctant admissions and meaningless apologies.
Conservative MPs, exhausted by the constant PR crises engulfing the party, began submitting letters of no-confidence to Graham Brady, chairman of the 1922 committee of backbench MPs. Under party rules, once 15 percent of the parliamentary party (54 of the current crop) submit letters of no-confidence, a confidence vote is held. A majority of votes against the party leader precipitates his or her downfall, and a leadership election to replace them.
With soaring inflation and costs of living, public discontent with the government grew. James Johnson, partner at polling firm JLL, told Times Radio that voters had begun to lump the cost-of-living crisis with Partygate, regarding the government as out-of-touch elites who played by a different set of rules. In a reversal of his fortune, the Conservative Party brand remained strong, but was now tainted by Johnson, whom voters had turned against with a vengeance.
The Ukraine crisis, and the opportunity it offered to play statesman, gave Johnson a brief reprieve from his domestic woes, but the exacerbation of spiraling costs caused by the invasion only made matters worse. The Tories continued sinking in the polls, and letters of no-confidence piled up from all sides — Brexiteers, Remainers, centrists, and right-wingers.
Times columnist and Spectator political editor James Forsyth warned months ago that Johnson's relationship with the Tories was transactional. To the left of the party on many issues, he was elected leader for his vote-winning abilities. Once he turned from an electoral asset into an electoral liability, there was no ideology wedding him to the party.
As Parliament returned from the Queen's Jubilee weekend, the news came that the threshold for a no-confidence vote had been reached. But 54 isn't 180 (the number of votes needed to topple Johnson), and the rebels lost the vote, though the result — 259 to 148 — was far worse than Johnson's loyalists feared.
Under party rules, confidence votes can only take place once a year, giving party leaders a chance to get their act together. Johnson declared the result "decisive," and insisted he now had a mandate from his party to "get on with the job." His blundering optimism, once self-fulfilling and endearing, now looked dangerously delusional.
Yet the scandals kept coming. His ethics advisor, who had previously expressed discontent over improprieties in Downing Street that had been concealed from him, quit, citing an obscure dispute over steel tariffs as the reason for his departure, but many were in no doubt. Being Johnson's ethics advisor is a thankless (and, many suspect, useless) job indeed.
Downfall
In June, Johnson's status as a millstone around the party's neck was reinforced when the Conservatives lost two solid seats at parliamentary by-elections. At opposite ends of the country, with very different electorates, the defeats proved that both wings of the party's unlikely coalition — less prosperous Northern voters and affluent liberal Southern voters — were unwilling to vote for a Johnson-led party.
Less than a week later, another scandal emerged that would make the government implode, when it was revealed that Johnson had promoted Chris Pincher, a senior minister despite a known history of misconduct.
After sending ministers out to the media to claim Johnson hadn't been aware of his history, Downing Street's lies were exposed when a former official who had worked with Pincher published a letter saying that was simply untrue.
Hours later, the starting gun on the government's downfall was fired, when two senior cabinet ministers — Chancellor Rishi Sunak and Health Secretary Sajid Javid — resigned.
The next 36 hours saw a psychodrama that eclipsed anything seen in the last decade of British politics. Fifty-nine ministers resigned — over half the government — and on Wednesday afternoon, a delegation of previously loyal Cabinet ministers told Johnson the game was up. After clinging on stubbornly for another 12 hours, on Thursday morning, the man who wanted to be world king, who had defied the odds for decades, announced his resignation, though he will stay in the post until a new leader is elected.
What Next?
Ukraine is mourning the loss of their staunchest ally in Europe (though the UK's policy stance on Ukraine remains unchanged), but more centrist European leaders will not be sorry to see the back of the man who took the UK out of the EU. Biden, who previously expressed unhappiness with post-Brexit conflict in Ireland, will be similarly relieved.
Johnson himself will regret the loss of his status as a globetrotting statesman. His vivacious nature and love for easy headlines gave him a great taste for foreign affairs, which were opportunities to charm his foreign counterparts and talk up Britain. (Tellingly, the only other Cabinet job he has held was foreign secretary under Theresa May.) The strong leader abroad was, in the end, unable to face down the electorate at home.
The focus in the leadership election will be on personality as much as policy; it was primarily Johnson's character that turned his MPs against him. Though MPs were unhappy with increased taxes, and many leadership contenders have expressed determination to lower them, few have explained how they propose to do so without spending cuts, especially given the Conservatives' unusual voter coalition, and no radical changes are expected imminently.
Once the Tories choose a successor, the transition should be seamless, and the government, which still has a large majority, can continue until the next scheduled election, widely predicted to be spring 2024.
The contest is already a wide-ranging one, but so far Rishi Sunak is seen as the frontrunner — polling shows he's the Tory members' favorite (after Defense Secretary Ben Wallace, a grassroots darling, pulled out), and the most popular with the public. He also has by far the most parliamentary backers. Also running are Brexiteer attorney general Suella Braverman, centrist former health secretary Jeremy Hunt, and Afghanistan veteran and foreign policy hawk Tom Tugendhat. Transport Secretary Grant Shapps, a Johnson loyalist, has entered the race, as has rising ministerial star Kemi Badenoch; a black woman as a serious contender would be a great look for the party. Education Secretary Nadhim Zahawi, Trade Minister Penny Mordaunt, and Foreign Secretary Liz Truss have thrown their hats into the ring too.
The Conservatives are confident a new leader can rehabilitate their fortunes in time for a 2024 election, and so ends an era in British politics. Having been a dominant figure for so long, and, despite his short tenure, being one of the most consequential prime ministers in modern times, Alexander Boris de Pfeffel Johnson has taken his last bow.
(Originally featured in Mishpacha, Issue 919)
Oops! We could not locate your form.
>