| Washington Wrap |
Blame, Blame, and More Blame
| June 12, 2019
The path to combating anti-Semitism is unity, not division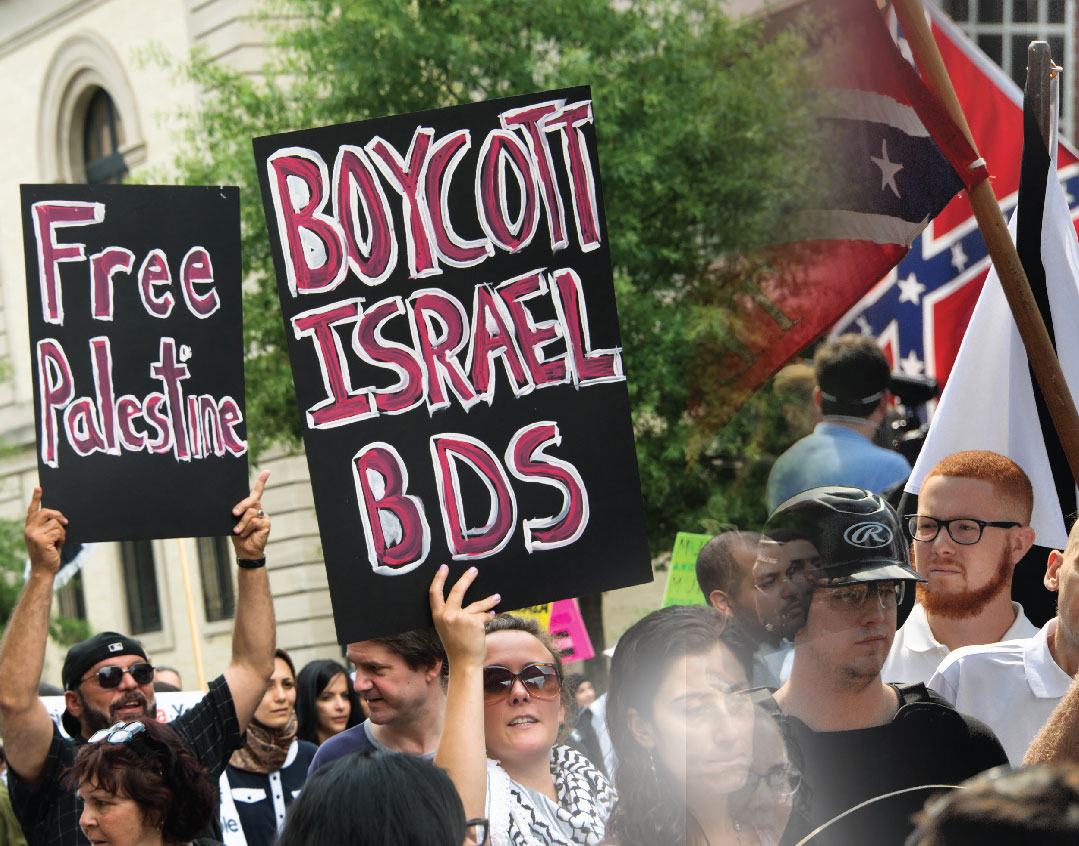 O
ne discouraging aspect of the recent rise of anti-Semitism is the attendant conflict it has created within the Jewish community itself.
Instead of joining forces against the threat of anti-Jewish hate, Jews are divided along the lines of left and right, with each side willing only to hear about vitriol and violence that emanates from the opposing camp.
This is dangerous. It fosters an atmosphere of Jew versus Jew, and gives rise to a situation in which community officials and activists are mainly preoccupied with scoring ideological points against their adversaries.
This past Monday, I witnessed this division firsthand at the annual convention of the American Jewish Committee, a global Jewish advocacy organization in Washington, D.C. One of the plenums featured Matt Brooks, executive director of the Republican Jewish Coalition, and Halie Soifer, executive director of the Jewish Democratic Council of America, debating which party offers Jews a better political home. The conversation, which lasted about 25 minutes, included about 20 minutes of Brooks and Soifer insisting that the other party was to blame for the uptick in anti-Semitism in the United States.

No new arguments were made. Brooks focused on the statements of Democratic members of Congress Ilhan Omar and Rashida Tlaib while Soifer reminded Brooks of several questionable remarks made by President Trump on the campaign trail — along with his "very fine people" on "both sides" statement after the Charlottesville riots.
In other words, it was like every other parlor discussion between politically minded Jews you've witnessed over the past two years. Blame and blame and more blame. What did I not see? An effort to think out of the box. An effort to start thinking about how to work together to fight anti-Semitism without getting bogged down on the question of which side is to blame.
Unity, Not Division
Twenty-four hours later, the conservative Hudson Institute presented findings from a wide-ranging poll on anti-Semitism in America. Among the poll's findings: 50 percent of the 1,000 respondents agreed with the statement that anti-Israel sentiment is the latest manifestation of anti-Semitism. Other questions probed the hostile atmosphere on campus for pro-Israel students, BDS, Omar, and the anti-Semitic cartoon published last month by the New York Times. The findings were presented at a conference on anti-Semitism that featured a number of prominent public officials.
Here, too, there was reason to be discouraged. The poll presented eight questions that dealt with anti-Semitism on the left but included not one question addressing the white supremacist movement or neo-Nazism in America. It was especially discouraging in light of the two shootings in shuls over the past months that were committed by right-wing racists. The very same people who (rightly) attack the Democrats for not doing enough to condemn anti-Semitism are guilty of the same oversight when they close their eyes to a very significant, very violent, very threatening element of anti-Semitism on the right.
Someone who did supply a refreshing and interesting point of view at the Hudson gathering was the US State Department's Special Envoy for Monitoring and Combating Anti-Semitism Elan Carr, who patiently answered questions from the crowd while asserting that Jews have to unite to defeat anti-Jewish hate.
"Unity is indispensable," he told the audience. "Those who are purveyors of anti-Semitism will explore divisions, especially divisions in the Jewish community, and will use them to gain an advantage. Unity is critically important."
Afterward, I saw several people approaching Carr to complain about anti-Semitism on the Left. He rebuffed them, making it clear that his job was diplomatic and not political, and that he refused to enter into the question of which side is to blame. His conduct was encouraging. It is unlikely that Carr will eradicate anti-Semitism during his term, but he may be able to convince a few people that the path to combating anti-Semitism is unity, not division.
(Originally featured in Mishpacha, Issue 764)
>