| Family First Feature |
Biz Kids
| February 19, 2020
Meet child entrepreneurs who have a high-level business and are balancing customers with the classroom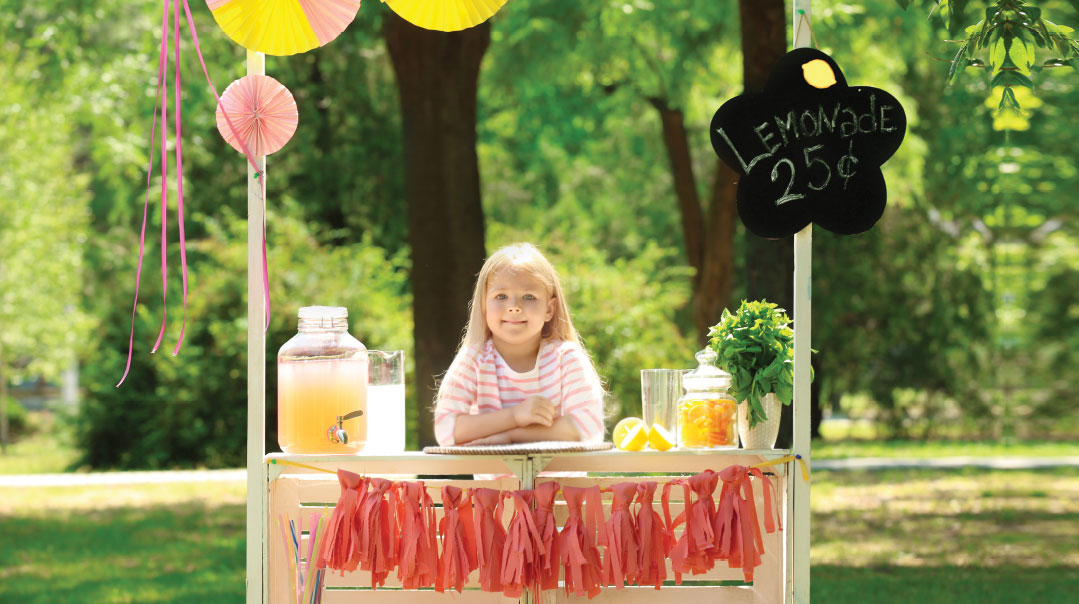 It was like any other school project, hardly a harbinger of a successful business venture.
But that's exactly what it turned into.
At 13 years old, Rochel Cohen of Melbourne, Australia, had never even heard of sushi. But after she learned how to make it in school, and saw that her family enjoyed it, she made it again. And again.
With time, Rochel was trying new recipes and sharpening her sushi skills, creating professional-looking rolls that were "quite nice," as they say in Australia. Then she and her family started reaching out to people in their community, to see if they wanted homemade sushi. They did. Again and again.
That's how, at just 14, Rochel found herself running her own sushi business.
"When some customers realized a child was making their sushi, I think they were a bit shocked," Rochel says. "But if they ordered from me again, I knew it didn't matter — they liked it."
Would you order sushi from a kid? Or hire a kid to take the pictures at your son's bar mitzvah?
Maybe not. But kids with jobs are all around us: the high school kid I hired to do homework with my son; the eighth grader who puts together the Ikea furniture that I don't have time (or, let's be honest, patience) for; the hard-working babysitter who's already saved up enough for seminary — and then some.
Then there are the kids who take it a step further, making products or offering services that seem advanced beyond their years. These kids are proving you don't have to be an adult to produce something substantial and contribute to society. And kid-run businesses can be fulfilling, lucrative, and fun!

A Natural Development
How does a kid-run business even come about? In many cases, the kid entrepreneur-to-be doesn't wake up one morning and decide, "Hey, today looks like a great day to start my company."
Rather, it's an organic process that happens naturally. And it's fueled by the kids' own interests.
Artistic and good with his hands, 14-year-old Judah Cohen of Chicago had already outgrown a basic kids' woodworking class when his mother spotted a man selling wood pens at a Chanukah bazaar and asked if Judah could work with him.
This willing mentor showed Judah how to make pens and a mezuzah, which he thoroughly enjoyed — but the youngster wanted to further his skills. That's when a family friend who was also a woodworking enthusiast offered to teach Judah to make cutting boards.
"Our friend had the table saw and all the material and tools to make it happen," Judah's father Randy says. "Judah was hooked."
With an unending supply of beautiful wood cutting boards, Judah's mother Robyn would lay out cookies on them as gifts when the family went to friends for Shabbos meals. And people started to ask, "Can Judah make us a board too?" Pretty soon he was peddling his custom cutting boards and other handsome woodwork.
For Brooklyn sisters Rachelli and Bracha Rosenthal, chesed was the root of their business. Disappointed they'd miss the kiddush of their best friend's baby sister, the girls put together an impressive platter of chocolate-covered pretzels in a baby theme, and dropped it off. After Shabbos, the friend's mother called to say that everyone — including her party planner — was asking: Where did you get those pretzels?
"She told me, 'The girls really have a talent. They must do something with it,' " their mother Shulamis recalls.
So the girls — then eight and ten years old — whipped up chocolate gifts for their teachers and posted them online "as a trial — just to see what happens," Shulamis says. That led to orders for two big Chanukah parties that year.
From there, Rachelli and Bracha, now 11 and 13, branched out to different flavors and colors and more elaborate creations with intricate decorations… and more orders, ultimately gaining a business name (Yummy Blessings), hashgachah, and licensing.
Ari Holzer, also of Melbourne, Australia, was fascinated by cameras since he was about eight years old. Yet it wasn't really until his bar mitzvah — and he finally had some cash to replace his mother's camera (which he'd broken) — that his passion for photography fully developed.
"I started taking photos with the new camera, and I loved it," Ari says. He fiddled with the settings, read up on lighting and backgrounds online (with his parents present), and kept taking pictures. "Slowly the pictures became better and better."
Ari's parents observed his growing interest — and his burgeoning talent — and wanted to support him. Mom Yaeli reached out to Danny Weiss, a yungerman in Melbourne who's also an accomplished photographer, to take young Ari under his wing.
It was quickly obvious to Danny that Ari was no novice. On that first visit together, Danny told Ari: "There's no point in talking about theory anymore. Let's go take some photos."
With Danny's help, Ari honed his photo-taking skills. Danny also introduced him to editing, teaching him how to produce a finished product. Soon, Danny would refer Ari for small jobs he couldn't do himself. Ari began booking events like bar mitzvahs, and word started to spread.

It Takes Grit
Success doesn't occur in a vacuum. If Judah's boards weren't exquisite, if Ari's pictures weren't captivating, if the Rosenthal girls' chocolates weren't flawless, if Rochel's sushi wasn't tasty — no one would be interested.
Dogged perseverance is a common thread among children who run businesses, regardless of the industry. Rochel's first few sushi rolls were nothing special; only after she tried a few more times did she produce a winning product.
Judah is propelled by an internal desire to know anything and everything wood. To slake that desire, his parents enrolled him in the Chicago School of Woodworking.
"There aren't a lot of 14-year-olds showing up there," Randy quips. "But Judah was there, three hours at a time, building a wooden chest with a furniture maker, happy as a lark."
Judah won't shy away from a challenge. "His work ethic is off the chart," his father says. "A cousin called and asked Judah to make an esrog box. He'd never made one before, but he figured it out."
His biggest undertaking so far? The order for multiple shtenders for his elementary school — a practical exercise in critical thinking.
"He's got to figure out how to cut these big boards, how long the wood needs to be so when you put a book on the shtender it doesn't fall over," Randy adds. "Judah loves thinking that kind of stuff through."
"At first, I was nervous," Judah admits. "Making ten shtenders sounded like a lot. But once you do that first one and figure it out, you can knock out the rest. In the beginning, just cutting the wood took a few hours. Now I can do an entire shtender in a few hours."
Like Judah, Rachelli and Bracha Rosenthal are undaunted by challenge. "Nothing is too hard for them," Shulamis says. "People ask them all the time, 'How do you know how to do what you do?' It's all trial and error. They're not afraid to take a risk."
The first time they got an order for a very specific color — teal — Shulamis was skeptical. "They told me, 'Ma, why are you stressing out? Of course we can do it. Leave the kitchen and we'll call you when we're done.'
"Five minutes later, they had the perfect color, a perfect match."
This precision and meticulous attention to detail comes through in every platter; it must look uber professional — or the girls will do it over. When Shulamis would help out during busy times, like pre-Purim, the girls had to train her. "They told me, 'The way you're doing it is too messy — this is how we do it.' "
Ari, too, is relentless about keeping his skills sharp and up-to-date. He keeps learning, attends courses when he can, and endlessly edits his pictures.
"I'm trying to progress and learn more about the creativity and the science behind it, so I can advance my skills," Ari says.
He's also resourceful when it comes to promoting his business. When his Melbourne community hosted a series of events to welcome a new rav to town, Ari had the confidence in his skills — and many striking work samples — to offer his services for free to the president of the shul.
"I really wanted the gig," Ari says. "So I asked him, 'Can I come along to all the events and take photos — and then give them to you?' "
The president agreed, and Ari showed up for every single event. "It was a few days of taking photos nonstop. But it was worth it because right afterward, I started seeing my photos in papers around town."
One of those pictures landed on the cover of Melbourne's Hamodia — a triumph for Ari. ("We framed it for his room," Yaeli says.) Shortly afterward, the shul hired Ari — for pay — to cover their hachnassas sefer Torah.
And the crowning achievement of Ari's nascent career: his recent trip across the world to the Siyum HaShas in New York. He paid for his airline ticket with his earnings, but he attended the event with a press pass — and his pictures were featured on The Lakewood Scoop's website. He also met up with Mishpacha photographers Naftoli Goldrab, Avraham Elbaz, and Shuki Lehrer, and spent a few days shooting with Hudi Greenberger in his studio.

Mother (and Father) of the Boss
No matter how talented or driven the child entrepreneur, there's almost always a parent (or two!) behind their successful business. Often, they're investing their own resources and energy and time into their child's business. Why do they do it?
"If you see your child has a healthy interest in something creative, let them express it," says Yaeli. "It's so important to let them shine."
It's an investment in your child, concurs Chanie Delman, LCSW, a social worker in private practice in Queens and the Five Towns.
"Letting your child run a business is like any other steps you might take to build up a child — like registering them for arts or music or sports," she explains.
Michal, Rochel's mother, is willing to contribute her time to pick up supplies for Rochel's sushi (Rochel pays her back promptly) or drive Rochel to deliver sushi because she feels her daughter benefits from her business.
"I'm all for my children knowing that they're good at something and that other people value what they do," Michal says. "I want them to know that they can put their mind to something and achieve it and people will respect it."
"Kids are capable of so much more than we give them credit for," says Shulamis. "If a child feels they can do something, don't discourage them. Every kid doesn't have to have a business, but if they have a skill they want to develop and work on, and you can support them in it — why not? To know your parents believe in you and feel you can do something significant is really empowering."
This is especially galvanizing in less-than-ideal social situations.
"Cliques, teasing, bullying — they all happen, unfortunately," says Chanie. "But when you feel good about yourself and confident in your abilities, the comments slide off easier."
"When kids don't have responsibilities when they're young, it plays out into adulthood," Chanie continues. "That's why chores and little jobs are super important for kids; they teach them accountability and develop their work ethic. Having their own business takes this to the next level."

Building Business Acumen
One priceless offshoot of running a business is developing financial literacy — understanding the value of money and how to manage it effectively. Growth in this area comes with the territory.
To keep a business going, you need to order supplies, keep track of revenue, pay bills. Rochel manages the books herself. She's become adept at tracking her income and costs, including the maaser she has to give.
How to spend profit wisely is another significant decision that has far-reaching effects on your business. Most times, the kids are savvy enough to put the profit right back into the business. Like Judah, who invests his profit in tools and pricy, exotic woods for more upscale projects. Or Ari, who's used his earnings to purchase a better camera.
Then there's the big question: what to charge. Fine-tuning pricing depends on costs, market value, and supply and demand — a veritable real-world economics course.
For example, kosher sushi is available in Rochel's area, but only half rolls. "I sell whole rolls, plus I can charge less because I don't have to pay rent or overhead. So people get more of what they like, for less money," Rochel explains.
Many kid owners tend to undervalue the labor they put into their projects. Judah had his eyes opened by family friends who wanted to order several cutting boards.
"Judah gave them a price, and they were like, 'No way! You're not charging enough,' " Randy says.
The buyers insisted on paying market value for Judah's work, showing him what his work was actually worth. "They almost doubled the price on each one!"
Ari is fine-tuning his negotiating skills.
"He's become very confident in his knowledge and his ability to charge," Yaeli says. "Some people try to take advantage of the fact that he's so young. They'll tell him, 'I don't want to pay that amount.' But he stands his ground. He'll respond, 'I'm at the event for a couple hours, and I spend a lot of time editing my photos — and you get all the pictures I take,' demonstrating the value he's offering for that price.
"I'm learning from him, from his confidence," she adds proudly.
Confidence and client communication go hand-in-hand. "Running a business taught me to talk to people and explain things," says former child entrepreneur Eli Berkovits of Ramat Beit Shemesh. Though now a pharmacist, Eli spent his youth in Brooklyn running a plethora of money-making gigs — selling salamanders and bagel sticks (not at the same time!), making deliveries on roller blades, teaching karate, and organizing ski trips, to name a few.
"You have to know how to talk to people when you're 12 years old and you want to get an 18-year-old senior to come on your ski trip. They don't want to listen to you if you're a schnook."
Eli can pinpoint many additional lessons in business — and life — he picked up along the way. Like his ability to "spreadsheet-ify" anything. "I've come to realize that I'm a bit of a logistical whiz. That came from all the things I did as a kid — all the little steps I took to organize a business, from finding the best containers to keeping the salamanders in, to calling every bus company in the telephone book until I got the best price. I use that same skill set whether I'm running a ski trip or figuring out who's gonna lein in our minyan or determining which investors will put money into a million-dollar company to develop a drug that detects cancer."
The Rosenthal girls have discovered that giving is as important to them as their bottom line. "They do a lot of tzedakah work," says their mother Shulamis. "They run bake sales at different times of the year with hundreds of dollars' worth of product — boxes full. They'll do fundraisers and demos, like a Chanukah demo they did for their school."
While their profit might be zero — or negative — in such situations, the girls still come out ahead, by producing an enjoyable and unique event. "A bunch of girls came over to us afterward and said they never had such a fun activity at school," says Rachelli.

Priorities, Priorities
Positive learning opportunities and experiences abound, but running a business is not without risks. You always need to look at the bigger picture: How will this impact the rest of their lives? However mature a child may be, they're still not adults.
"Developmentally, emotionally, and physically, they're still kids," says Chanie. "You can't forget that."
When kids have a business, they have access to money, often access to social media, and potentially, access to people you don't want them associating with. There are many ways this could go very wrong. A wise parent will be watchful and wary. And that often means saying no.
When one of the Rosenthal girls really wanted a phone, Shulamis was against it. "She asked me, 'If I pay for it with my own money, can I buy myself a phone?' But I didn't feel it was right for her at the time.
"Thankfully, Rachelli and Bracha are very respectful. They're not going behind my back to do something I don't support."
For Eli, the lure of money was hard to resist. "Having money made me reckless," he admits. "It was the opposite of what you think. Because I always had so much money, because I was always making more, it never dawned on me that you don't throw around money."
At one point, Eli's mother made him sit down and calculate how much he was spending on entertainment.
"I was spending $90 a week — going to the pizza shop, buying upgrades for my roller blades… My parents kept pushing me to save, not to spend it. Truth is, I don't think they realized how much I was making."
Eli did end up eventually investing some of his money, which paid for his education later on.
When a child makes money, parents need to be consistent — and vigilant.
"Just because a child has a business doesn't mean the rules of your house go out the window," reminds Chanie. "Whatever your rules and priorities were before should remain the same."
This comes through loud and clear to Judah. "My parents have always been interested in what I do," Judah says. "They want me to do what makes me happy. As long as I understand that schoolwork comes first, they're on board."
Even with the trust they have for their son, Randy and Robyn are not hands-off.
"We're very involved in this because if not, we're going to shut it down," Randy says. "Judah doesn't have free rein at this point because he's 14."
That holds doubly true when a child is marketing their business on social media.
"Whatever your hashkafah is about technology, it's dangerous," says Chanie. "You need to maintain the same rules for the business as with any other Internet request. If you decide your child needs an online presence, you need to monitor it, you need a filter. There shouldn't be any exceptions just because she has a business. Across the board, you have to be careful that your standards aren't slipping for the business."

Work-Life Balance
Whether you're 13 or 33 or 63, the key to a business that doesn't take over your life is balance.
Ari's photography business blends easily with the fun he has with his friends. "We're all one big group," Ari says. "They'll tell me, 'We're going to play basketball — bring your camera." I just need to make sure to avoid the kids who don't want their photo taken."
Similarly, Judah's friends are cool with his woodworking business. They've even worked on some projects together, with Judah directing the pack. It certainly doesn't hurt that power tools have street cred among teenage boys.
Rachelli and Bracha have to do more juggling when it comes to hanging out with friends. Their work can be intense and laborious, and the time of a grade-schooler who has homework and a bedtime is limited.
"They're learning to be organized about their schedule," says Shulamis. "If they have an event they want to go to but they have orders to fill, they'll prep whatever they can in advance. Peanut chews, for example, freeze really well. Long Motzaei Shabbosim are great because they can sit and do prep work, and then the more tedious part is done. All that's left is decorating and finishing."
It also helps that there's two of them; if Bracha has something she really wants to go to, Rachelli can cover, and vice versa.
What about their relationship with family, especially siblings? If your sibling was making money on fancy chocolates or impressive photos — and getting calls from famous Mishpacha journalists — how would you feel?
When one sibling has a successful business, it might be hard for the others not to be jealous of his success. Once again, it falls on parents to monitor the situation and ensure harmony in the home.
Judah's parents make sure to view each of their children as an individual and focus on their specific needs. "Judah's brothers aren't resentful," Randy shares. "All my boys have their strengths; each get what he needs."
Plus, there are perks that come from being related to the boss. Whenever Rochel makes sushi for her customers, her family gets some too. In fact, her twin eight-year-old sisters each requested a whole roll for their birthday.
The Rosenthal siblings — Rachelli and Bracha have three younger brothers — also utilize their protektziya, selecting the gifts and platters they want to give away. "The boys will say, 'Can you make this for my teachers?' 'I need one for the bus driver!' " says Shulamis. "They're so excited to give them out."

Higher Pursuit
Regardless of what they make or do, watching a child succeed at a real business makes for a compelling story.
"Random people will stop me and say, 'I have to tell you… I did something I never thought I could do, because I was so inspired by your girls,' " Shulamis says.
Because people can recognize that, for these kids, business is just about making money. It's more than that. It's about their innocent desire to find a piece of themselves, polish it until it shines, and then share it with the world.
"I know other kids who are very into having businesses — they'll clean cars or do other jobs to make money. That's not me," Ari explains. "I love taking photos and being creative — it's that sense of achievement I get."

Ten Fun Ways Kids Can Make Money
Hodaya Harary, ten years old
When you think of a business run by kids, does a lemonade stand come to mind? There are a lot of other types of businesses kids can run:
Lawn mowing: It's easy to get started if you have access to a lawn mower. While it might not pay much per time, people need their lawns mowed frequently.
Babysitting: You can make yourself stand out by offering additional services, like pet sitting, tutoring, or housework, or bring special games or projects that kids will love.
Collect cans and bottles: If you're in the right state, it's pretty self-explanatory: pick up bottles and cans from your home, neighbors, or even the street, and bring them to a bottle refund machine.
Sunday/Erev Yom Tov camp: Create a simple program to entertain kids when they're off of school so their parents can get stuff done.
Writing and illustrating books: Plenty of kids have creative ideas swirling in their minds, while others have phenomenal artistic abilities. Sit down and write it up or draw it! Then, try to publish it. With a little investment money, you can self-publish and start marketing to people you know.
Performing arts: Puppet shows, magic shows, musical performances, juggling, storytelling — people will pay for anything that will entertain their kids. You could also perform at birthday parties and events.
Mother's helper: Think beyond just watching the kids to anything that a mother would find helpful: doing errands, putting away groceries, or making school lunches.
Baked goods: People love to buy enticing foods like brownies and cookies. You can sell them individually to make more money.
Decorating clothing: Has anyone ever told you they loved the shirt you decorated yourself? Decorating items like T-shirts, shoes, socks, or yarmulkes for an acceptable fee sounds like a fashion-do to me.
Organizing: If your talent is keeping your room neat and organized, you may be able to get hired to help others do the same.

Tax FAQs You Can Bank On
Contrary to what many children believe, children aren't exempt from paying taxes. "Once a person earns a 'self-employed' income of at least $400, they need to file taxes," explains CPA Yaakov Weiss of Jackson, New Jersey. "It doesn't matter if they're a kid or an adult."
And while you may think a couple hundred dollars won't hit the IRS's radar, remember that you did the work for someone else. "If an organization hires you to do a photo shoot for them or make some platters for their Chinese auction, they're going to report the payment on their taxes and may issue you a 1099," Yaakov continues. "So the IRS will know about it — and they may then check if you reported the income from the same gig."
"Cash is the same as credit card or check," explains Yaakov. "Yes, it's harder for the IRS to track. But cash is still income that you're required to report."
And it doesn't matter if you're in Israel or anywhere else.
"The US is a global tax system, so every American has to report income — even if you don't step foot into the US. You might not end up having to pay taxes; there may be a foreign tax credit or a foreign earned income exclusion. But at minimum, you have to report it.
"There are a lot of complex factors when it comes to kids and businesses; the numbers are a little all over the place," says Yaakov. "That's why I recommend using an accountant you trust. A good accountant will have ideas to save you money, like ways to save on taxes or how to go about investing properly. So even though you'll pay the accountant, you'll end up ahead instead of losing out. Bad advice can be costly."
Yaakov has more valuable advice for any business owner. "Never mix business and personal income, and keep proper books and records," he says. "Many business owners make this mistake — not just kids — and they can run into issues. They'll have one bank account, thinking, 'I just started. I'm not so official.' But when it comes time to file taxes, it's hard to know what's what."
"Get a separate business account," Yaakov counsels. "And when you go to Target and buy something for your business, use your business card."
What about incorporating? Should a kid have an LLC (limited liability company)? "Actually, while kids can own on their own, they can't open an LLC. In most states, a person needs to be the minimum age of 18 be the managing member of an LLC," says Yaakov. Instead, a parent could open it for them.
Besides the liability protection that the LLC can provide, there may be tax advantages for a parent to open one. "For instance, you may be able to pay the child wages from the LLC, tax free, up to the federal limits," says Yaakov. "You should discuss this or any other potential tax advantages with your accountant."
Protecting their daughters from liability in their chocolate business was very important to the Rosenthals. "Before they made their first product, we got them product liability — because so many of their products contain nuts," Shulamis Rosenthal says. "Even though every package has a label, it was still a big fear to me. For that alone I wanted them to be protected. From the very beginning, we wanted them to have the protection of an LLC, so we filed the paperwork."
(Originally featured in Family First, Issue 681)
Oops! We could not locate your form.
>