| The Current |
Bibi's Last Move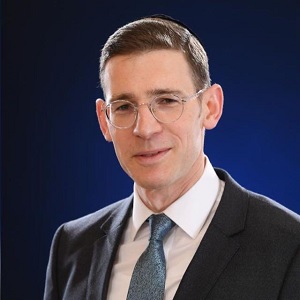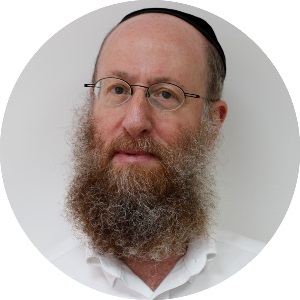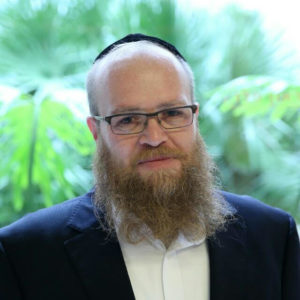 | January 18, 2022
The inside story of Netanyahu's plea deal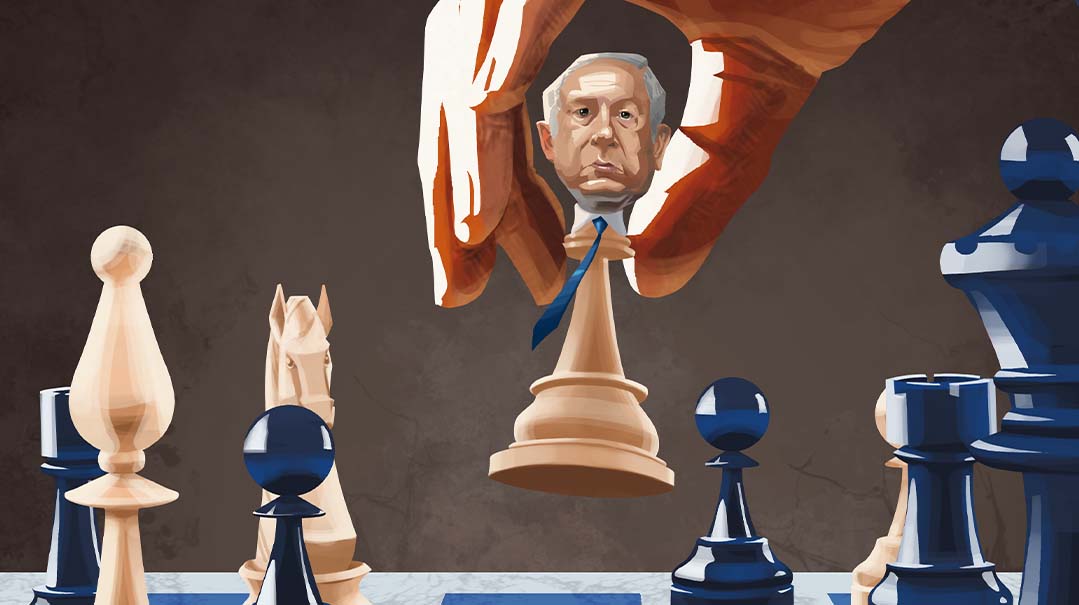 Photos: Flash90; Illustration: Dov-Ber Cohen
Unless you're in the minority of Israelis who became politically aware before the mid-'80s, you won't remember a time when Bibi Netanyahu wasn't one of the country's highest-profile diplomats and political leaders.
Since rising to fame as Israel's silver-tongued UN ambassador in 1984, Netanyahu has loomed, colossus-like, over the country's politics.
As a young prime minister in 1996, he dealt with the post-Oslo Accords terror; and then, in a record-breaking second stint in office from 2009 until 2021, he buried the threat of an Oslo II.
At home, Bibi presided over a long, high-tech-fueled boom that turned Israel into an economic powerhouse. His right-wing-religious bloc turned him into an enigmatic combination - a secular politician who commanded cult-like following on the chareidi street.
Abroad, Bibi became a 21st-century statesman. He defied the American president in Congress to marshal support against the Iran Deal, oversaw audacious Mossad operations, and helped Israel punch above its weight by the sheer force of his personality.
Such has been his popularity, that even out of office this year, the threat of the former prime minister's return has been enough to hold together the most unnatural government that Israel has ever seen.
That's why the news that Bibi was negotiating a plea bargain to avoid trial on corruption charges feels like the end of an era, and threatens a seismic rearrangement of Israel's political landscape.
If the reported terms come through, with Netanyahu exiting political life permanently, it will represent the maestro's defeat at the hands of judicial forces, not political ones.
Such has been Bibi's longevity that until it's all over, no one is willing to deliver a political eulogy.
Instead, below is an insider account of Bibi's downfall from political journalist and lawyer Avi Blum; Eliezer Shulman's conversations with Netanyahu's fellow politicians; and Binyamin Rose's roadmap for how the political pieces might fall.
For the 73-year-old opposition leader, this certainly looks like the beginning of the political end. But in terms of the myth-making around modern Israel's most gifted and media-savvy leader, this is just the end of the beginning
—Gedalia Guttentag
Moment of Truth
Avi Blum
Two years ago, on the morning of January 28, 2020, I was there when Prime Minister Netanyahu and President Trump walked into the East Room of the White House to mark a historic occasion. The band struck up and the audience rose to its feet to cheer the two leaders, who walked in side by side. Bibi was on top of the world, seemingly as all-powerful in Washington as in Jerusalem.
Then too, a deal was in the air — not the plea bargain that threatens to end Netanyahu's decades-long political career, but the so-called "Deal of the Century."
That euphoric morning, Bibi wasn't the only one flying high. Having brought a historic Middle East peace breakthrough, President Trump also seemed on track to four more years in power. Later Trump would recount how he timed the event perfectly to guarantee Bibi victory in the looming Israeli elections. If there was one thing that united the two leaders at that moment, it was the shared determination to triumph in their respective electoral tests in the face of the deep state dogging their heels — the justice system for one, the mainstream media for the other.
At the end of the ceremony, which was broadcast live on Israeli television, Netanyahu held a celebratory press conference for the Israeli press at the White House guest house, Blair House. Like a magician pulling a rabbit out of his hat, he revealed that before returning to Israel two days hence, he would stop in Moscow to catch up with Russian president Vladimir Putin. At that moment, Netanyahu seemed in total control, on equal footing with leaders of great powers on the world stage.
Meanwhile, at that very moment, seven time zones away in Jerusalem, an official walked out of the attorney general's office on Salah-a-Din Street with an envelope in his hand. He didn't have far to go. Across the street from the Justice Ministry headquarters in the heart of the Arab neighborhood lies the Jerusalem District Court, where the prime minister's trial is currently being held under a panel of three judges. The official crossed the street teeming with Arab schoolchildren on their way to school and handed the court clerk a thick envelope containing a 63-page indictment under the heading: The State of Israel vs. Binyamin Netanyahu.
I was next to Netanyahu at the moment when he received the news. In an instant, the elation was replaced with disbelief. It was the moment that he came to see the kippah-wearing Avichai Mandelblit, whose political career had kicked off as Netanyahu's cabinet secretary, and who had served as his personal envoy on special political missions, as his most dangerous political enemy.
In Mandelblit's decision to file the indictment the same day the "deal of the century" was unveiled, Netanyahu saw nothing less than sabotage. With Trump's help, he had prepared for that day for months, laying the groundwork for the surprise that would guarantee his reelection, and now the attorney general had stolen his thunder.
Up to the very moment the indictment was filed, Netanyahu never really believed that Mandelblit would do it. Two months earlier, Netanyahu's defense attorney Yossi Ashkenazi had told me he expected Mandelblit to drop the charge of bribery. He recounted how at the end of the hearing for Netanyahu, the attorney general had politely offered the defense team an espresso as a gesture of professional courtesy. When the indictment was revealed to have included the bribery clause, which is the worst accusation a public official can be charged with, Netanyahu finally realized that Mandelblit had crossed the line from friend to foe.
Seeking a Better Deal
Mandelblit launched the investigations into Netanyahu not long after assuming his position as attorney general. Up to the very moment the indictment was filed, Netanyahu's side made attempts to avert it through compromise. One of the leading advocates for this was his late defense attorney Yaakov Weinrot, who saw him through two decades of legal trouble. Even then, the chareidi defense attorney, despite his track record of extricating influential people from sticky situations, believed that a plea deal in exchange for no jail time might be the best Netanyahu could hope for.
Weinrot came to this conclusion based on his extensive experience representing clients in similar situations. In the 1990s, when then minister Aryeh Deri was offered a plea deal that would spare him a long, harsh trial, it was the young Weinrot who advised Deri to reject it and maintain his innocence. He warned that if Deri followed the advice of his then defense attorney Micha Kirsch z"l, a former district attorney, and clinched a plea deal with the prosecution, they would find a way to kill the bargain and use his confession against him.
Aryeh Deri learned from his own mistakes, and played a big part in Netanyahu's willingness to even consider a plea bargain. We'll return to him soon. But for now, let's go back to the period from 2018 to 2020. Throughout the investigations, Netanyahu dismissed Weinrot's compromise offer. He wouldn't hear any talk of a deal — ironically, he could have received far better terms then than the ones he's being offered now.
"Mandelblit won't do that to me," Bibi said privately to then minister Yaakov Litzman. "He won't indict me for bribery. It's not going to happen."
When it did happen, Netanyahu was stricken. For those of us reporters accompanying the prime minister on his Washington-Moscow mission, protocol forbade us from quoting the words he used about his former protégé. With the passage of two years since the event, I think I can now venture to say, cautiously, that the man in the red tie on that plane described the attorney general as an agent dedicated to deposing his government after a decade of uninterrupted rule.
At that point, people close to Netanyahu once again sounded him out on the possibility of a plea bargain that would spare him a drawn-out legal process. The attorney general showed openness to the idea, but Netanyahu believed he could get a better verdict from what's called the judgment of the voters. He was willing to talk about a presidential pardon, but not a plea bargain, which would see him plead guilty to minor charges, be convicted, and receive a reduced sentence pre-agreed with the prosecution.
Bibi was convinced that that the right-wing camp under his leadership would secure a majority with 61 seats, especially given Trump's campaign gift. His idea was to form a government and pass the so-called "French law," which precluded the investigation of a sitting prime minister. In three successive election campaigns, from April 2019 to March 2020, Netanyahu came within an inch of his goal.
Even Naftali Bennett told me off the record before the last election that he wouldn't rule out passing a law to stop the legal process in its tracks.
"I know Netanyahu, I directed his office," Bennett told me then. "He has many faults, but corruption isn't one of them. It makes no sense for this process to run its course and for Netanyahu to end his career behind bars. After the elections, I won't be the one who pulls the plug on a bill to stop the trial."
In Both Sides' Interest
Fast-forward to January 2022, and everything has changed.
It's not just that Bennett turned his coat and took over the prime minister's office with the help of the left, his primary goal being to keep Netanyahu out of office. The underlying reality has changed as well, and no one sees this more clearly than the man who seemed for so long to understand the Israeli political system better than anyone else.
After half a year in the opposition, Netanyahu believes that despite the obstacles it faces, the government won't fall in the near future. Meanwhile, the wheels of justice are turning, slowly but surely. His trial proceedings continue day after day in the Jerusalem district court, draining away the last sliver of remaining hope that he will regain power in time to stop the inexorable progress of the law.
The mood has changed on the attorney general's side as well. Truth be told, the prosecution has made little way in proving the central charge of bribery. The defense's cross examinations have seriously undermined the prosecution's case.
And the most promising news is yet to come: Next month, Shlomo Filber, former Bezeq CEO and Netanyahu confidant, is expected to take the stand. After signing a state witness agreement to avoid being charged himself, Filber intends to testify that while Netanyahu did speak to him about the deals at the heart of the indictment, it was in a professional context, without the slightest hint of bribery. It's now in both sides' interest to settle for a plea bargain.
The only remaining question is the price. Netanyahu would be only too happy to sign a deal like the one Aryeh Deri got five days ago. In fact, the first to realize where Netanyahu was headed was Aryeh Deri, who caught on more than a month ago. In the final stage of settlement negotiations with the prosecution, Deri noticed that Netanyahu was calling him a little too often, showing a little too much interest in the details of his settlement, especially on the slippery question of moral turpitude.
"It's fair to assume that we'll wake up one day and discover that Netanyahu has cut a deal," Deri said then in a prescient statement carried by the Hebrew Mishpacha.
Netanyahu was also the first to call Yaakov Litzman, the moment after the latter revealed, in an interview with this writer, his intention to retire from political life.
"What, did you also seal a deal, Yaakov?" Netanyahu asked him, evidently absorbed in his own troubles.
"No," Litzman responded decisively. "There's no deal. I didn't even speak with Mandelblit."
"Why are you leaving then?" Netanyahu pressed, in a tacit admission that he intends to quit the scene after securing a favorable deal, and not one moment earlier.
The fate of this plea bargain hangs on the question of moral turpitude. A finding of moral turpitude bars the convict from holding office, whether as an MK or as a cabinet member, for seven years after the sentence has been served. Deri, already burned in the '90s, was able to secure an agreement under which he would resign from the Knesset and plead guilty. Since the finding of moral turpitude only applies to current office-holders, it wouldn't even be considered in his case. It would only apply if he were to seek a return to government.
For Netanyahu, a finding of moral turpitude would pop his balloon once and for all. Bibi could live with a deal under which he resigned for two or three years, with a handpicked puppet standing in for him until his return. But seven years away from politics will bury his dream of returning to Balfour Street. Seven years from now Netanyahu will be 80 — a year older than President Biden, whose best days are clearly behind him. When Ben-Gurion ran for prime minister under the slogan "tagidu kein lazakein [say yes to the old man)" he was as old as Netanyahu currently is.
The negotiations for a plea deal are always initiated by the defense. In this case, the road began with a direct plea from Netanyahu to former High Court president Aharon Barak, considered a symbol of the Israeli deep state. Ever since the investigations started, Netanyahu has singled out the justice system as the right's chief bête noire, but Barak popped this balloon too when he reminded everyone that before the investigations, Bibi was the biggest defender of the Israeli justice system. What Barak intended as praise carries a different connotation with Bibi's base.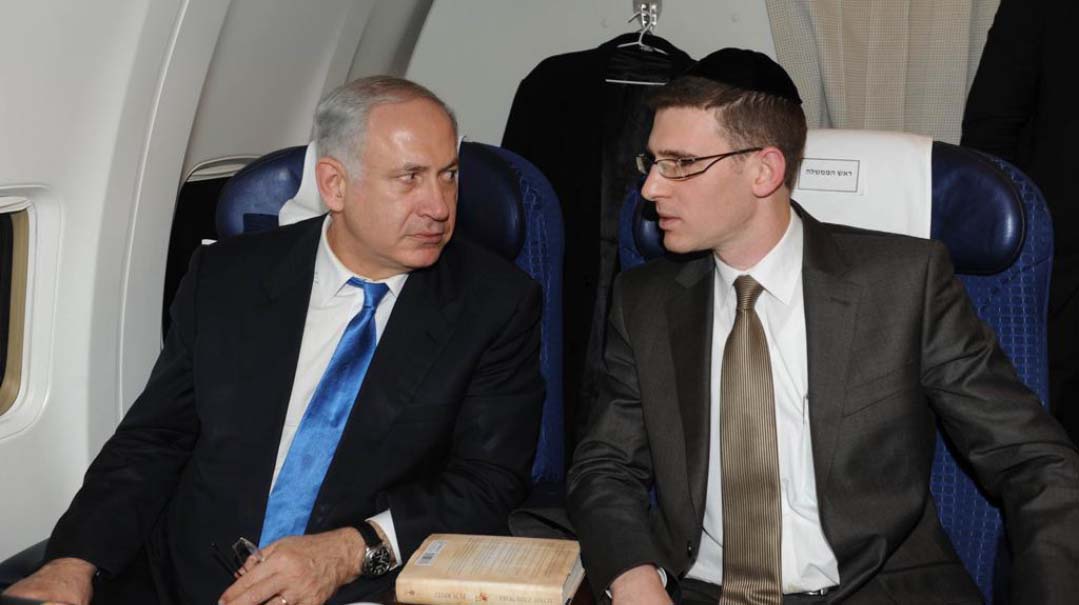 Cosmic Justice?
If anyone was exasperated by that reminder from Barak, it was the chareidi politicians whom Netanyahu prevented time and time again from curtailing the power of the High Court over the past decade. For years, on all the burning issues of the day, the High Court has consistently altered the status quo, to the detriment of the Torah world — from conversion to the draft, from Shabbos to the Kosel. The man who shielded the justices was Binyamin Netanyahu, and the fact that the system has turned against him is definitely a fitting illustration of cosmic justice.
Bibi, it turns out, is willing to swallow some bitter pills to escape the harshest judgments, even to taint his legacy by an admission of guilt. He believes that even if he does make the difficult decision to go for a deal, he'll still be remembered for his political and diplomatic achievements. Trust Israel's Great Communicator to turn the tables on his establishment foes who forced him to admit to trumped-up charges to avoid jail time. His continued support in the polls shows that he may be right about this.
But the bitterest pill of all — being kept away from politics for seven years — may have Bibi gagging. For now, he is still twisting in the agony of indecision. He likes to take his time on matters of such gravity, but time is running out — Mandelblit's term as attorney general ends in just two weeks, and there are plenty of minor details to sort out till then. If a plea deal is signed within this time frame that retires Netanyahu once and for all, the Middle East will enter a new era.
By the time you read this, the die may already have been cast. But even if the plea bargain falls through at the last moment, it will come up again further down the line. The Netanyahu trial could drag on for years, with hundreds more witnesses yet to take the stand. With the former High Court president Barak, a revered figure in the Israeli legal establishment, having given his stamp of approval to a plea deal, the next attorney general could also rely on this "dispensation." With the groundwork having been laid, it's only a matter of time.
What the Politicians Think
Eliezer Shulman
If the plea deal materializes and Netanyahu retires from public life, the prevailing wisdom in political circles is that this spells the end of the Lapid-Bennett coalition as well.
Netanyahu's departure would have a momentous impact on the Likud. The million-dollar question for now is whether the next chairman will be elected by the Likud central committee — something that would boost the chances of former finance minister Yisrael Katz, for example — or through primaries open to rank-and-file members of the party, which could favor Nir Barkat or Yuli Edelstein.
In a conversation with Mishpacha, Katz says he relies on Netanyahu's judgment. "I've known him for decades both on the personal and political level. Of course, it will be momentous, dramatic, and somewhat sad if that's how it ends. I didn't think it would come to this."
Katz says he believes Netanyahu was treated unfairly by the justice system. He also reiterates his intention to stand for the leadership of the Likud the day after Netanyahu leaves. How will he form a right-wing government when Netanyahu failed? "There will be a democratic process in which we'll present a clear alternative. The change government is pining for someone to come rescue them from this mess."
Former justice minister Amir Ohana said he hopes the plea deal isn't signed and will be very disappointed if it is. "Day after day, when we see what goes on in the Jerusalem District Court, the failings of the justice system, which is supposed to uphold justice, honesty, incorruptibility, are exposed," he explains. "Netanyahu's apparent decision to go for a plea deal is an injustice to the public, in my view, because a step in the direction of reforming the judiciary is seeing the proceedings through to the end in the district court, and unfortunately a plea bargain will prevent that."
At the same time, Ohana won't rule out running for the leadership of the Likud should Netanyahu retire: "I'll have to see who the other candidates are."
Looking for a Loophole?
Finance Minister Avigdor Lieberman — quarantined in his home this week after testing positive for Covid — told Mishpacha: "If Netanyahu retires, even temporarily, it will be the big bang of Israeli politics. The moment Netanyahu realized he was going to lose in court, he went crawling to Avichai Mandelblit for a plea deal. I have no doubt that Netanyahu is already working on wording that will leave a loophole for him to reenter politics at the next election. He won't surrender power easily. I believe that the moment after the signing of the plea deal, a massive campaign of public pressure will be orchestrated on the president to clear Netanyahu's record."
As for Katz's belief that he'll be able to form a right-wing government if elected Likud chairman, Lieberman said there were many options. He estimated that the primary process will take the Likud several months and that the change government will continue functioning.
UTJ chairman Moshe Gafni tells Mishpacha in a conversation about the former prime minister's plea deal: "I can understand Netanyahu — they've been torturing him for years. Even if he does plead guilty, that's not a genuine admission of guilt."
MK Yoav Kish of the Likud says that if the reports are accurate, Netanyahu is making a big mistake. "The trial needs to be allowed to run its course, because the case against him is falling apart. We need him to fight on in the opposition, not retire — the government is collapsing anyway."
Don't Count New Governments Before They're Hatched
Binyamin Rose
Once news leaked that Binyamin Netanyahu and Attorney General Avichai Mandelblit were negotiating a plea-bargain agreement, speculation was rife that this would spell the early demise of the Bennett government.
The prevailing wisdom was that once Bibi steps down as Likud chair and takes a long time-out from politics, the Knesset's natural right-wing majority would reunite under the Likud's new leader, ousting Bennett and his leftist-Arabist partners.
Not so fast, I say.
Once you start crunching the numbers, the celebration may well prove to be premature, and even unfounded.
Let's do the math and walk through a few scenarios.
Finding the Elusive 61 Votes
If Netanyahu retires, the Likud has a few options.
It can name an interim party leader within 21 days and hold primaries 90 days later. Or it can go directly to primaries without naming a temporary chief.
Choosing an interim leader would be a better choice if they're looking to send Bennett to the exits quickly, as he (or she) could commence recruiting defectors from Bennett's coalition even while a primary campaign is underway.
"Any 61 Knesset members can [vote to] oust a sitting prime minister and can replace the government without a new election," says Dr. Gayil Talshir, a professor of political science at Hebrew University.
However, the Likud might fail to muster those 61 votes, just as they flopped in pasting together a stable coalition of 61 in four consecutive elections.
Taking the present Knesset composition into account, the Likud can only tally 52 sure votes against Bennett: Likud (30), Shas (nine), UTJ (seven), and Religious Zionists (six).
That's nine short of 61.
Where can they find those extra votes?
New Hope Springs Eternal
Gideon Saar's New Hope party is the most obvious target.
Saar held down the Likud's fifth spot until he and some colleagues defected, buoyed by early polls showing their breakaway party could garner as many as 20 Knesset seats in the last election.
Saar's star faded and he ended up with six seats. Saar is on record saying he would join a coalition with the Likud, as long as Bibi is not the party chairman. Polls consistently show that New Hope would be wiped out in any new election, so he needs another party to throw him a political lifeline.
Voters soured on Saar mainly because he aligned himself with the left in Bennett's government. He could rehabilitate himself with a shift back to the right, or by rejoining the Likud, but he would drive a hard bargain. He would demand that Likud retain him as minister of justice, and keep Zev Elkin, another Likud defector, as minister of housing. These are two plum cabinet positions that the Likud would be loath to bargain away.
Even if they come to terms, Saar's six votes only bring the anti-Bennett coalition to 58.
Are there three more votes lurking in the wilderness?
Bennett's Survival Instincts
Naftali Bennett is also aware that polls show his Yamina party barely passing the threshold for reelection to the Knesset. But for now, he has seven seats, and the only party member who has been consistently disloyal is Amichai Chikli, who is operating with one hand tied behind his back.
It takes four MKs to break away from a party in midstream and form their own faction. As prime minister, Bennett can dish out a lot of perks to keep them happy. There's no way that four of Yamina's seven MKs will desert Bennett. So if Chikli leaves on his own, he cannot run for the next Knesset unless he joins the Likud, and that would only happen if the Likud guaranteed him a realistic slot on their list.
Even if he does, because he places his ideological values above his personal ambitions, the number inches up to 59, two short of 61.
Are there two more deserters somewhere else?
What about Lieberman or Gantz?
Avigdor Lieberman, once the darling of the political right for his proposal to carve the Palestinian Authority into salami-sized cantons, now only cuts the mustard with the secular, anti-chareidi left. Lieberman's political relevance is contingent upon the passage of new draconian laws on the chareidi draft, conversion, reforms to the chief rabbinate, and a Kosel compromise. At least two of his party members are more radical than he is. Lieberman knows that the minute the chareidi parties join the coalition, they will work 24/6 to reverse his gains. While anything can happen in politics, Lieberman and the chareidim are not a shidduch.
As far as Benny Gantz is concerned, a variety of reports indicate that Gantz and Bennett see themselves more as rivals than partners. Under the coalition's current rotation agreement, Yair Lapid will replace Bennett as prime minister in October 2023. Gantz still feels he was cheated out of the PM position in the last government when Netanyahu called for a fourth election, voiding the Netanyahu-Gantz rotation agreement that patched their coalition together.
Yet Gantz, who once broke his promise never to sit with Netanyahu, and then switched sides to sit in the current coalition with the far left, cannot afford to keep jilting his mainstream, center-left base.
"People should remember that any political act depends on how it's framed, but Gantz will look very bad if he crosses the lines again," contends Dr. Erez Yaakobi, a political consultant and senior lecturer at Ono Academic College.
Assuming Lieberman is a nyet, that leaves Gantz as the Likud's one hope of finding the 61 MKs to oust Bennett. To close with Gantz, the Likud would probably have to reinstate the old rotation agreement, which means finding a new party leader willing to time-share with Gantz on Balfour Street.
Playing the Long Game
If all else fails, a Netanyahu plea bargain would present the Likud with their first chance in more than 16 years to rebuild the party under a new leader.
But that will only come with a great deal of pain.
As few as five or as many as a dozen Likudniks could compete for the post, making a run-off likely, which means two elections, not just one. Such a battle will last for months, and there is no saying that afterward the party will coalesce around its newly elected leader.
Recent polls have shown that if the next Likud leader is not named Netanyahu, the party would struggle to retain the 30 seats it won in the March 2021 election. A weaker Likud lessens the chances of ever getting 61 votes to unseat Bennett.
This leaves the Likud with one very ironic option: Recruit the extra votes it needs to oust Bennett by retaining Bennett instead, which means allowing him to remain prime minister until the end of his rotation next October. That's a bad option for the Likud, as it maintains Bennett as the Knesset's power broker, even if it gives them more sway over his policies.
If Bennett truly wishes to return to his right-wing roots, this might be an option for him, as long as the Likud guarantees his political career after the rotation. But if he's happy with his shift to the left, then as long as the Likud can't get to 61 seats without him, he can sit pretty right where he is.
(Originally featured in Mishpacha, Issue 895)
Oops! We could not locate your form.
>