| The Rose Report |
Be'er Sheva Terror Claims Four Lives | March 29, 2022
Two men and two women murdered in terrorist attack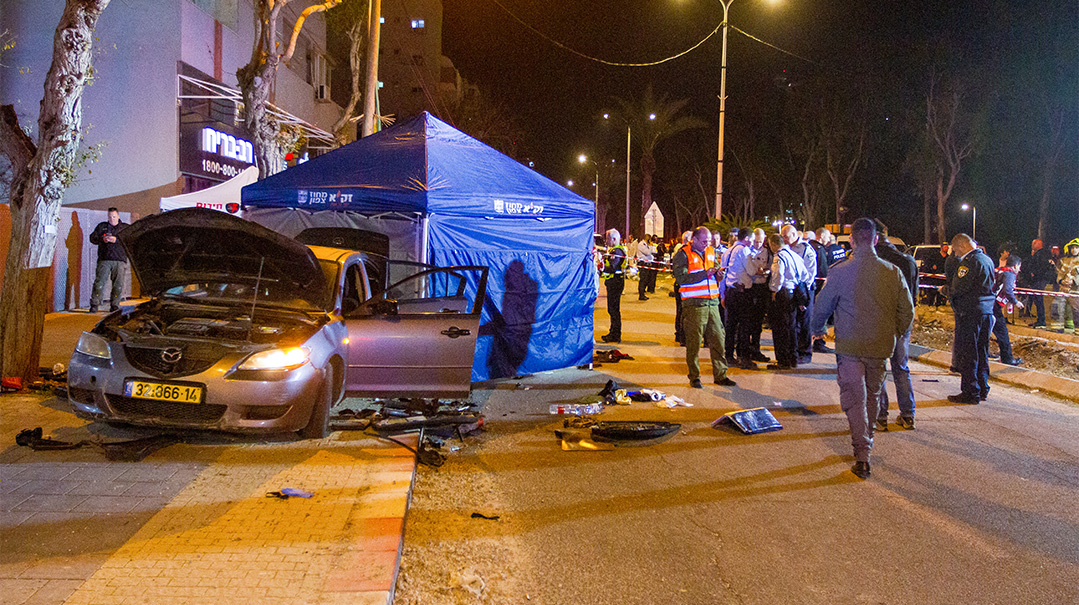 Four Jews lost their lives in last week's terror attack in Be'er Sheva — two men and two women.
The first victim was Rabbi Moshe Kravitzky — Chabad chassid and father of four children aged 10 to 22 — who ran a shul and soup kitchen in the city's Nachal Beka neighborhood for a decade.
"Rabbi Kravitzky was the Chabad shaliach to Kishinev, Moldova," recounts Rabbi Zalman Gurlick, head of the Chabad center of Be'er Sheva. "He learned in the Chabad yeshivah there and made aliyah 15 years ago. Naturally he formed a strong connection with the Soviet emigrants living in Nachal Beka. On behalf of Colel Chabad, he founded a shul and a soup kitchen, where many elderly and needy people from the area and everywhere around came to eat their fill. Since the attack, we're received countless calls from people who remember his broad smile and wide heart and miss him. He was very dedicated to his shlichus. He invested his heart in the kehillah's welfare, in terms of both gashmiyus and ruchniyus."
Rabbi Mendy Blau, director of Colel Chabad, adds that he knew the victim personally as a modest man with a warm heart for kedushah and gemilus chasadim. "Until quite recently he lived in Nachal Beka, a neighborhood that's absorbed many new immigrants. The soup kitchen was in the shul's bomb shelter. He got the food from us, and some of it came from neighboring IDF bases. He regularly rode his bike to bring food to elderly or homebound individuals who couldn't come to the kitchen. His eishes chayil also helped him manage the place."
Rav Yirmiyahu Calipha, rosh yeshivah of yeshivas Tomchei Temimim Be'er Sheva, describes Rabbi Kravitzky as a modest man who devoted his whole life to others, particularly olim from the former Soviet Union. "He had endless patience for teaching them halachos and basics of Judaism. Later he moved to the Neve Ze'ev neighborhood, and there too he founded a Chabad house and spiritual center for Russian speakers. Now we're focusing on filling the hole, while trying to assist the Kravitzky family, which has been left with no means of support."
The second victim of the attack was Laura Yitzchak Hy"d from Be'er Sheva, a mother of three daughters (aged 14, 12, and 6). The victim worked at a car dealership near the shopping mall and was murdered by the terrorist at the gas station. She was supposed to meet up with her husband Tal when the terrorist stabbed her to death.
Relatives speak of a devoted mother who dedicated her life to her family, her husband and three daughters. "Everyone who met her received only love and compassion. She was an eishet chail and devoted her life to giving. She was always there for her daughters and husband and dedicated her life to giving."
The third victim was Doris Yahbas, a mother of three from nearby Moshav Gilat. She was stabbed while standing at the entrance to a clothing shop at the mall. Her husband, who works in the Israel Prison Service, arrived at the scene after a passerby called him, only to discover that his wife had been murdered.
Minutes later, her nephew Yisrael Ozen, an MDA paramedic, also arrived on the scene. As soon as he received the alert about the terrorist attack he rushed to the scene to provide emergency treatment to the wounded.
"While providing treatment, I recognized my aunt, my mother's sister," he recounted. "She showed no vital signs and we had to declare her death. I was shocked, but I had to continue functioning and look after my uncle who arrived on the scene."
The fourth victim was Menachem Yechezkel Menuchin, 67, survived by four brothers. "He was a uniquely kind-hearted person," his nephew Nati Cohen eulogized him. "He went to take a walk in the area when suddenly the terrorist pounced on him and stabbed him dozens of times."
(Originally featured in Mishpacha, Issue 905)
Oops! We could not locate your form.
>