| True Account |
Been Where You Are    
| December 30, 2020
My son isn't Jewish but I send him my love from afar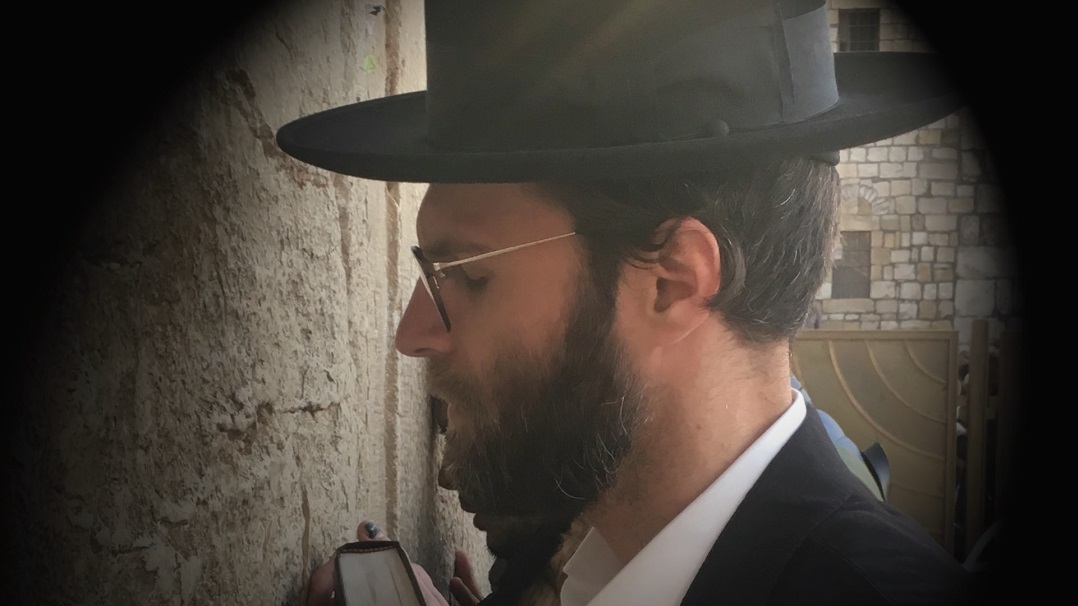 As told to Musia Slavin by Yehoshua Goldberg
How will I do this again? I asked myself when I woke up one Monday morning, soon after I turned 23. I didn't know if I could keep going through the motions. Make money. Buy expensive things. Make more money. Buy more things. Make even more money. Buy even more things.
I already had the flashiest car on the market and was getting expensive haircuts every three weeks — just because I could. I was already going on wild shopping sprees and spending a fortune in high-end stores without checking my bank balance.
When your account is so well-padded, another hundred thousand — or two — doesn't make much of a difference. I was chasing the money, but for what? I was already living the high life. How much different could it get?
My world didn't always revolve around wealth. My two brothers and I grew up in a Christian home in Brisbane, Australia, and were raised by a single mom who struggled to put us through private school. But our religious education was important to my mom — even if it meant that we were eating beans on toast for dinner. Again. It was all she could afford.
I graduated high school, became an electrician, and then, after two years of tinkering with wires, playing with control panels, and fixing broken circuits, I stumbled upon a more lucrative career. I became a commercial real estate agent, and within a year, I was rich.
But the money wasn't doing anything for me anymore. It didn't give me happiness, satisfaction, or the sense of fulfillment I craved. That's how I found myself 23, loaded with money, and wondering how I would go on.
But the job was waiting, so on that Monday, I donned my custom-made suit, put on my designer watch, and headed to my expensive car. When I stopped at a traffic light, I noticed the man in the next lane. He was at least two decades older than me — wearing a similar suit and a similar watch and he was driving a similar car. And he looked miserable.
Would that be me in 20 years?
Then the light turned green and both of us sped off. I didn't think about the man much that day, but the next morning, I had the same feeling of heavy dread when I woke up. And when I got to the same traffic light, the same man was there, looking just as miserable.
Yes, that's going to be me in 20 years — unless I do something about it.
After work that night, I typed "timeline of religions" into my browser and scanned the results. I'd learned about Christianity in school, but it never rang true to me. If I was searching, I wanted the real thing. I wanted to go as close to the original source as possible.
Judaism was first on the list.
I picked up a Chumash from the local Jewish bookstore and began with the first page. Chapter by chapter, I read through the book of the Jewish People. When I reached Leviticus, where the Torah outlines a full list of kosher animals, I put the book down.
This stuff is real, I realized. The book was millennia old, yet everything in it was still true. No human could have written a complete list of animals back then. How would they have had access to the information? The resources? The research? The only One who could have done it was G-d, which meant that He existed, and if He existed, His people were the chosen ones.
It was January 2005 when I called the local Chabad rabbi in Brisbane and told him that I was looking to learn more. He sent me a list of the classes offered and invited me to stop by. That first Friday night, a kind Israeli member of the synagogue showed me the place in the siddur and I stood near him, completely lost, but in awe of the aura in the room. I had no idea what was going on around me, but I could feel it, a spirituality so authentic that I wanted to clasp my hands around it.
These weren't my people, though. I wasn't a Jew.
There was no beis din in Brisbane and no way for me to convert there, so I moved to Melbourne and settled into the Jewish community. My job in the cut-throat real estate market became harder. The ethics I was learning in Judaism contradicted my behaviors; I didn't get to where I was in real estate without being aggressive. I couldn't pull off the job without the personality, so after two years of success, I left the market entirely — and haven't looked back since.
I met my first wife in Melbourne. Our relationship was built off our shared goal: both of us were looking to become Jewish.
We spent almost two years learning and preparing for our conversion, and then, on the Sunday before my final appointment with the beis din, my wife asked me if I could sit with her for a cup of coffee. We sat there for a few minutes before she could speak, her hot tears streaming into the steaming mugs.
"What's wrong?" I asked.
"I can't go on to convert," she shared.
How long has my wife been trying to tell me this? I wondered. I had noticed that her heart wasn't in Judaism the same way anymore, but — until that morning — I never considered it a warning sign. Geirus takes years. It's normal to vacillate.
Both of us cried that morning. What did it mean for our lives? For our relationship? For our religion? I sat across from her and saw my life shatter in slow motion. She, myself, and our son — we couldn't be a family anymore.
"Is there anything I can do to change your mind?" I asked.
She shook her head. I couldn't push it.
I'm not a salesman for Judaism, I told myself. She and I had both heard the stories of those who converted, only to regret the choice soon after. It would be a tragedy for her to take on a life of Torah, accept the mitzvos, and be liable for punishment — only to leave it all behind. She was my wife, we had a family, and we'd been through so much together, but I couldn't convince her to convert.
I moved out of my home that night and two days later, in January 2016, at age 35, I stood in front of the beis din, ready to commit my life to Yiddishkeit. I'd been working for nearly eight years to become a Jew. I couldn't give it up now, even if my wife and child weren't joining me.
The rabbis were shocked to see me in beis din. One of them began to cry.
"I've never seen anything like this," he repeated again and again. "Why don't you stay with your family?"
When I stressed how much I wanted to be a Jew, the rabbis stopped discouraging me. Later that day, I went to the mikveh and came out — finally — as a Yid. The moment was bittersweet. I'd worked toward this new identity for years, but in the process, I'd left a family. I was both sad and happy, simultaneously in pain and elated.
Once I converted, the drive to live a Jewish life didn't die down at all. I felt energized. It was finally real for me. I could get called up to the Torah, I could keep Shabbos, I could be part of a minyan. After traveling the arduous path to Yiddishkeit, I felt like I was finally on fire.
I walked into Melbourne's Adass Yisrael shul one Shabbos afternoon, expecting to find the place quiet and empty, perfect for some study time. However, there was one lone man sitting over his Gemara. He looked up when he heard the door open.
"Hello, my name is Yehoshua," he said.
"My name is Yehoshua too," I shared.
With that connection made, he beckoned me over to his table and we got to talking. My new friend, a middle-aged father, had closed his business seven months earlier so he could finally learn full-time. After that Shabbos, Yehoshua and his wife repeatedly welcomed me into their home. I joined them for Shabbos meals, spent time with the kids, and had the chance to learn about the Biala chassidus.
When Yehoshua suggested that I speak with the Biala Rebbe of Lugano, the son of the Chelkas Yehoshua, the idea felt familiar. I was already learning from their seforim and understood their way of life. Now I finally had someone to ask all my questions to. What kind of "Jewish" should I be? Which customs should I take on? How should I navigate my personal life?
That first year and a half after my conversion was the hardest period of my life. On top of adjusting to a new lifestyle, I was so, so lonely. I went from being a husband and father to being all on my own. The loss and emptiness followed me to shul, as I learned, when I spoke with others in my new community.
I couldn't get through a Shabbos without flashing back to what used to be. It was hard to be a guest at someone's home, to sit at their table and watch the baal habayis with his wife and kids, knowing that I didn't have the same anymore. It would bring me back to Shabbosim with my wife and son, how we sat around the table sharing divrei Torah from an open Chumash and planning for our future as Jews.
Eventually I stopped accepting Shabbos invitations. It was easier to spend Shabbos at home, where I didn't need to be tortured by the scene of what could have been.
Instead, I spent hours at the shul. It was a buzzing, thriving place and I could always find a way to distract myself. I tried to assuage my pain with learning and davening, but — as I learned later — tefillos and Torah are not the only tools for healing trauma. They brought me closer to Hashem, but they didn't resolve my emotions. Hashem gives us many avenues to healing for a reason. If I had gone to counseling, it would have prevented a lot of what was to come.
Meanwhile, I was fiercely lonely and desperate not to be alone anymore. When, in August 2017, someone suggested a shidduch with a woman from Lakewood, I packed up my life and moved across the world to meet her in person. I was on top of the world. I loved my new community. I loved America. I loved learning full-time — and I was engaged! We married in December. By Succos, the marriage was over.
I had been so desperately aching to fill the void I felt after leaving my son that I ignored the warning signs of the new shidduch. My ex-wife had unresolved traumas of her own and they bled into our relationship right from the start. I felt myself fade after that. Just a few years before, I'd been a proud father and happy husband in a healthy relationship. Now here I was, alone in a foreign country with no family of my own. There was a deep emptiness inside me, one that was growing larger and darker by the day.
When I called the Biala Rebbe's home, his advice was simple: Move to Israel. I would be at home there. My American visa was expiring anyway, so — once again — I packed up and moved to a different country.
I brought my passion for giving others guidance to Israel with me. Back when I lived in Melbourne, one of the local shuls asked me to speak on Shavuos night. At three in the morning, I got up in front of a hundred men and shared the push-and-pull that is living as a Jew. After that first talk, another shul reached out, then a yeshivah, then another. There was a trend to these talks. I would speak, take some questions, and then — as I was getting ready to leave the hall — at least one person would come over to say, "I have a complicated relationship too." When someone is on the path to Judaism, their relationships can be their greatest assest, or their strongest deterrent. There's a history to contend with and hard conversations to have. I often spoke with these men for hours.
I understand them.
Acclimating to frum life is difficult, and we don't talk about it enough. Many baalei teshuvah are scared to break the silence because it ruins the facade — if they chose this life, they should be happy with it, right? It's not that simple. You can choose a life, be happy with it, and still struggle. I learned that firsthand.
My experience with becoming Jewish, and all that entails, was a catalyst for my next career as a certified relationship counselor. In between sessions, I spend time with the men who need guidance from someone who understands their background. Each person has a responsibility to channel their life experience into a benefit for the Jewish People. If I can mentor others who need understanding, I'm going to continue sharing. It satisfies me in a way hundreds of thousands of dollars never did.
There's one thing, though, that is still a point of pain. When I had my first in-person, private meeting with the Rebbe, I asked him the question that was pulling at me most. "Rebbe, what should I do about my non-Jewish son?" I spoke to my son once a week, but his mother often mentioned how much he disliked it. I didn't blame him — which four-year-old found speaking on the phone exciting? But I was at a crossroads. Should we continue to push the relationship or let it go for now?
"What does the child's mother say?" the Rebbe asked.
Although my son's mother wasn't Jewish, she had come close enough to appreciate the role of our rebbes and rabbonim. She was willing to do whatever the Rebbe said was best for our child.
The Rebbe looked away for a few seconds, then he looked back — right through me — and said, "For the time being, you should minimize contact with your son."
The only reason I was able to go through with something so jarring was because the Rebbe told me to. It was a harsh reality to face, but I was grateful to have some direction. I was too biased to make that decision on my own.
My relationship with my son was difficult to navigate. He was too young to interact with a father overseas and I was too attached to make healthy decisions for us. His mother had remarried and he had a good, stable life without me. I knew what I needed to do before I came to the Rebbe, but he helped me recognize it. It was saddening to make the decision and liberating to know that I had the Rebbe guiding me to make it. There was a small share of relief mixed in with my pain. Even years later, I still need to manage that pain on a daily basis.
A few months after that difficult conversation in the Rebbe's house, I was back again. I wanted to introduce the Rebbe to the woman I was dating. She was from Canada and, like me, she had been megayer. When we were ready to get engaged in March 2019, our vort was in the Rebbe's house.
I'd switched my name from Paul to Yehoshua when I converted, but my last name — Jordan — remained the same. I mentioned it when I spoke with the Rebbe one day, asking if I should adopt the Hebrew version, "Yarden," as my last name.
The Rebbe advised against it, instead recommending that I find a more Ashkenazi-sounding last name.
"What about Gordon?" I asked.
The Rebbe shook his head. "Think about it some more," he told me.
A few days later, when the Rebbe sent out a letter for my wedding, I saw that he'd written my name as Yehoshua Goldberg.
Okay, then, I thought. It looks like my new last name is Goldberg.
When our son was born in January 2020, the Biala Rebbe made his bris.
I have two sons now, one living with my wife and me in Eretz Yisrael, and one living far away in Australia. I think about him all the time. My wife and I write him letters, which his mother helps him store in a folder. The cards have simple messages like "Shalom from Israel," but hidden between each word is so much more.
There's a large leather journal on my bedside table. I fill it with all the things I want to say to my son — the things I want him to understand about who we are and who we choose to become. I hope to give it to him one day and let him know: Every decision your abba made was with you in mind. I made each choice with the guidance of wise elders, with your best interests as my determination. I think about you every day. And no matter how things go, your abba loves you. —
(Originally featured in Mishpacha, Issue 842)
Oops! We could not locate your form.
>