| News In Depth |
Balance of Power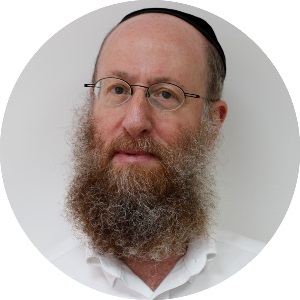 | October 10, 2019
Three Orthodox legislators weigh in on their political balancing acts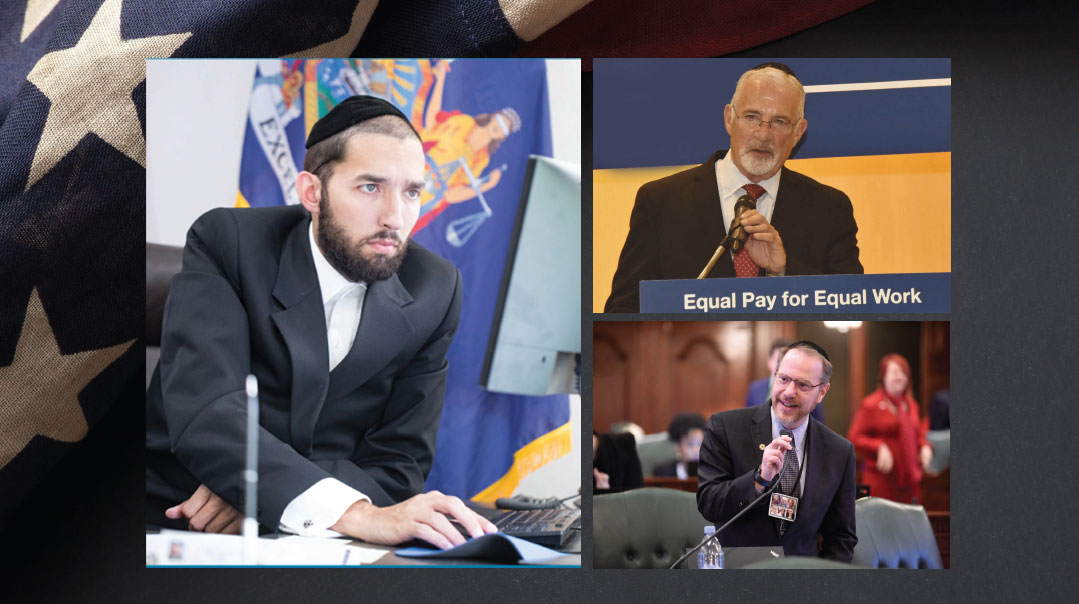 Photos: Ben Kanter, John Berry
All professionals, at some time or another, face a clash between their own conscience and the ethics of their chosen field.
Nowhere is this more manifest than in the often grimy world of politics. Officeholders wield the power to make laws that impact the daily lives of their constituents, and consequently face pressures from an array of clashing interests, including their own political parties, lobbyists, and multiple constituencies. Holding public office calls for a juggling act between these competing interests, while trying to maintain one's own moral compass in a world where principled positions are sacrificed on the altar of expediency in the proverbial smoke-filled rooms.
Politics is a world where morals are supposed to prevail, but malevolence often reigns. These past three years have seen heated debate in the Orthodox Jewish community over what should take precedence: the personal behavior and manner of speech of political leaders, or the actual positions they take and results they deliver.
While the whole system often seems antithetical to Judaism, Jewish values have always played an outsized role in American politics. The founding fathers drew inspiration from the Tanach and Jewish sources to frame the Bill of Rights. Jews have always held public office in numbers disproportionate to our percentage of the population. This has been a source of pride for American Jews, contributing to their confidence in the American system of government. It's not for naught that Jews have dubbed America the malchus shel chesed.

Today, Jews, who constitute less than 2 percent of the US population, hold 36 seats (7 percent) in Congress. (Back in 1993, almost 10 percent of Congress was Jewish.) However, since Connecticut senator Joseph Lieberman retired three years ago, Congress has no Orthodox Jews.
America's 50 states have a total of 7,383 state legislators, according to the National Conference of State Legislators. The NCSL provides a breakdown by gender and ethnicity, but not by religion. There is only a little more than a handful of Orthodox Jews serving in state legislatures, mainly in states that are overwhelmingly Democratic and unapologetically liberal. As a result, it's almost impossible to get elected and have any political influence in these states unless you run as a Democrat, and there are going to be times where the predominantly liberal stances of the Democratic Party will be at odds with the viewpoints of the Orthodox Jewish community, which has grown increasingly conservative and Republican over the last two generations.
This year alone, Orthodox Jewish legislators found themselves having to take votes on issues such as gun control, abortion, and assisted suicides, where their own personal views — informed by Orthodox Judaism — clashed directly with the far more liberal viewpoints of the vast majority of their constituents.
How did they hold up to these political challenges and personal tests of their mettle? What strains and conflicts does an Orthodox Jewish legislator feel serving in a legislature where Democrats have veto-proof majorities, and then coming home for Shabbos and sitting in shuls where the overwhelming sentiment favors President Trump and the Republicans? Overall, is politics a suitable profession for a nice Jewish man or woman?
To gain clarity on these issues, we assembled a panel of three Orthodox legislators, of three different religious stripes, from three major states — New Jersey, Illinois, and New York. New Jersey state assemblyman and Passaic city councilman Gary Schaer is the veteran of the group and a member of the same Young Israel of Passaic-Clifton that I attended when I was a boy. The other panelists are first-term legislators who brought a wealth of political experience with them to their posts: Illinois state representative Yehiel Kalish of Illinois, a veteran political operative at Agudath Israel of America; and New York state assemblyman Simcha Eichenstein, a Bobover chassid who worked as a senior aide in both New York City and state government before winning election to public office last year.

Gary Schaer
Schaer, 68, is a 14-year veteran of the New Jersey General Assembly. He serves the 36th District, which covers Passaic and 14 municipalities in adjacent Bergen County. A former chairman of the state budget committee, Schaer leads a double political life, having served for the past 25 years as a member of the Passaic City Council. Schaer holds a degree in political science from American University and also served as vice president and investment consultant for a private client group.

Yehiel Kalish
Rabbi Yehiel Kalish, 44, was appointed to the Illinois House of Representatives 16th District in January 2019, after his predecessor retired. The 16th District includes the Orthodox neighborhoods of West Rogers Park and Lincolnwood, as well as parts of Peterson Park and Skokie. He earned semichah from Bais Medrash L'Torah in Skokie, and served eight years as national director of government affairs and five years as vice president of development and state relations for Agudath Israel of America before moving back to Chicago to establish the S4 Group, which provides business consulting and lobbying services.

Simcha Eichenstein
Simcha Eichenstein, 36, won election to the New York State Assembly last November. He represents District 48, which includes the predominantly Orthodox Jewish neighborhoods of Boro Park and Midwood in Brooklyn. He previously served as senior advisor to New York state comptroller Thomas DiNapoli, and was director of political and governmental services for New York City mayor Bill de Blasio.

Gentlemen, let's begin with a general question. Your jobs entail a big balancing act, between multiple constituencies, including your own Orthodox communities, and legislative power, which puts a premium on party loyalty. At the same time, you were elected to take principled positions. My opening question is, since this is a lot to swallow at any one time, how do you keep your balance?
GS: It is an extraordinarily difficult path that the three of us have taken, in terms of constant balancing. Obviously, there are several issues that are fundamental, and then there are issues that are not. The point is to distinguish between the two. In New Jersey this year, we had a bill that would provide for doctor-assisted end of life. Many of us refer to it as the suicide bill. There have been numerous times when I've abstained, but there have only been two times when I have voted against a Democratic-sponsored bill. That was one of them. The issue was so absolutely fundamental. In terms of other bills, the question is what path does one follow.
My district is also very diverse. Thirty percent of my district is the city of Passaic and 70 percent are in parts of Bergen County. In Passaic, where I live, 76 percent of our population is Latino. Jews represent about 6 percent of my voting base. So I'm not an independent, as much as I perhaps would like to be at times. I'm a member of the Democratic Party, and although I'm very strong because of the support I have here, regardless of political affiliation, nonetheless I must be nominated by the party. There is no doubt that if I were not nominated, the chances of winning a primary would be difficult.

YK: It's a little bit different for me because I'm not an elected official — I was appointed, and at this point, we're now working through our first election campaign. To answer your question as it relates to party loyalty, it's about responding to the Democratic voter base in the 16th District of the state of Illinois. The people of my district speak 72 different languages, so I probably represent one of the more diverse districts, not only for an Orthodox Jew, but in the country. There are going to be constituent or advocacy groups that are not necessarily going to be so happy with the positions that I've taken. But I just try to remain true to who I am as a person and what I think is best for the state and the district.

SE: The dynamics for me are a bit different, coming from the state of New York, where Democrats control both legislative houses and the governor's mansion. In the State Assembly, where I serve, there are 107 Democrats out of 150 assembly members.
My loyalty is to my constituents. There have been a lot of tough votes for me. I have voted against my conference — I don't know if it's more than anyone else, but it's certainly up there. The way I view this is, be respectful and engage with your colleagues. They may disagree with you, but you always want them to know where you're coming from. I would say that for the most part I represent a predominantly Orthodox Jewish district. Having said that, I do have other ethnic groups, mainly Italians and Asians, and we're aligned on a lot of these issues, whether it be private schools or social issues, and on those, I don't think we're misaligned with the mission of the Democratic conference.
(Excerpted from Mishpacha, Issue 781)
>