| Recipes |
Baked Schnitzel with Honey-Lemon Sauce
| January 25, 2022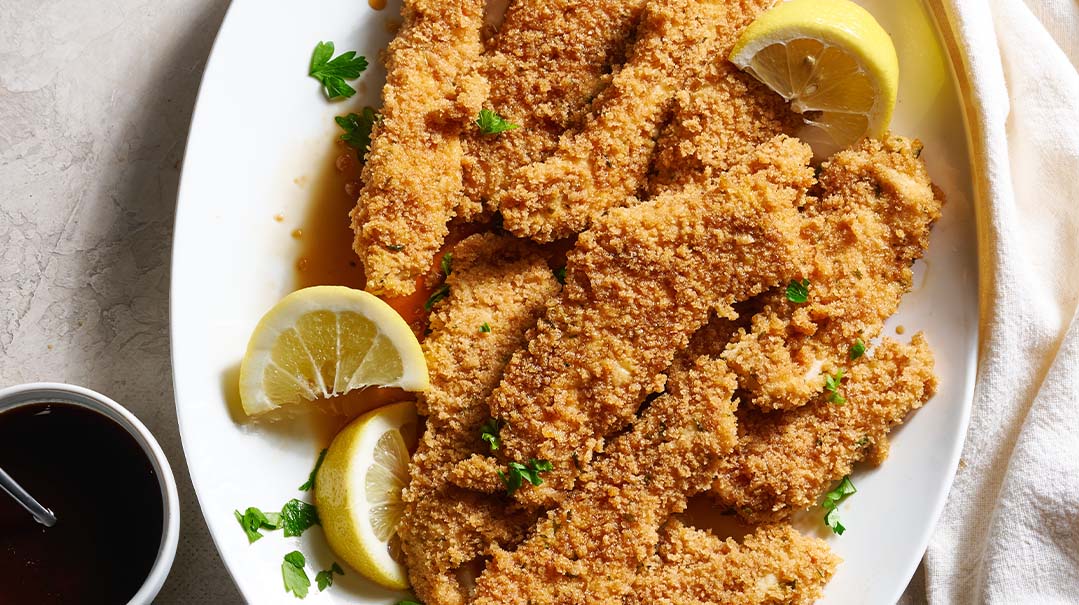 Food and prop styling by Atara Schechter
Photography by Hudi Greenberger
The thing about cooking for recovering mothers and their families is that we sometimes walk the fine line of wanting to up the creativity without steering too far away from the classics. Trying out new recipes might be tempting, but not if mom has to defrost pizza for her kids who don't want to touch your funky, Indian-inspired stir-fry.
This recipe is pretty basic. Baked schnitzel is a go-to, and the sauce requires a total of three ingredients. It's classic with just a detail of originality. Perfect for making a recovering mother feel nourished and special.
SERVES 4
1½ lbs (680 g) thin chicken cutlets, cut into strips
½ cup white flour, seasoned with salt and pepper to taste
2 extra-large eggs
2 cubes frozen garlic
1½ cups whole wheat bread crumbs (good for extra crunch)
½ tsp garlic powder
1 tsp salt
1 Tbsp dried parsley flakes
Sauce
¼ cup soy sauce
juice of 2 lemons (about ½ cup)
½ cup honey
Preheat oven to 375°F (190°C). Spray a baking sheet well with olive oil or avocado oil spray.
Arrange a breading station with flour, salt, and pepper in one bowl, eggs and garlic in another bowl, and bread crumbs, garlic powder, salt, and parsley in a third bowl. Dip each chicken strip into flour. Shake it off and dip it in the egg mixture. Shake it off again and then coat well with bread crumbs. Place in the prepared pan and spray well with more olive oil or avocado oil spray. Bake for 12 minutes.
Meanwhile, whisk together soy sauce, lemon juice, and honey.
Remove the baking sheet from the oven and pour the sauce evenly over the chicken. (Feel free to keep some chicken sauce free for picky eaters.) Return the pan to oven and raise the heat to 400°F (200°C). Bake for another 10–12 minutes.
Reheat uncovered to re-crisp chicken.
(Originally featured in Family Table, Issue 778)
Oops! We could not locate your form.
>