| Washington Wrap |
Baby Formula Shortage Adds to US Woes
| May 17, 2022
The images of empty shelves are reminiscent of Venezuela, where citizens have to stand in line to buy essential commodities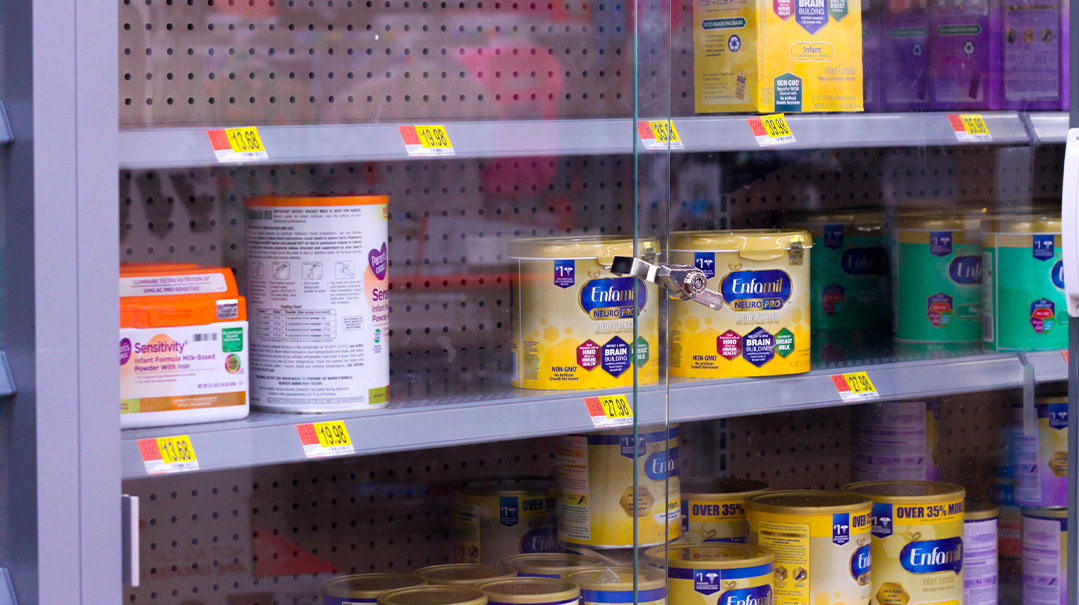 "This is a terrible situation, especially for new parents — can you imagine not being able to find food for your new baby?" says Professor Patrick Penfield of Syracuse University's Whitman School of Management.
The national shortage of baby formula brought inflation and the supply chain crisis back to the headlines this week, putting President Biden's already beleaguered team further on the defensive. But while the White House promises it's taking steps to address the problem, in reality there's not much it can do.
The baby formula came about because of a two-pronged problem: consolidation in the US baby formula industry, and charges of unsafe conditions at one of the main  production plants.
America's baby formula supply is now in the hands of four major companies, which control 90 percent of the market: Abbott Laboratories, Mead Johnson, Gerber, and Perrigo Nutritionals. Since baby formula production is a highly complex process, the industry became very centralized — with the unfortunate result that a shutdown in one plant can have massive repercussions for the whole market.
That perfect storm came about in February, when two infants died and two others were hospitalized after consuming powdered Similac infant formula, produced by Abbott Laboratories. The Food and Drug Administration (FDA) started an investigation, and Abbott voluntary recalled many of its powdered milk infant formula products.
In March, the FDA ordered the plant producing Abbott's powdered infant formula in Sturgis, Michigan, be shut down due to bacteria contamination at the facility. This is the only facility in the US that produces Similac powdered infant formula. Abbott Laboratories, which denies its plants have any contamination, controls over 40 percent of the infant formula powdered milk market.
The Sturgis plant shutdown is the main driver of the baby formula shortage now plaguing the country — and no one can say when the plant will reopen.
"It will remain closed until they can show the FDA conclusively that their contamination issues have been resolved," says Professor Penfield, who specializes in supply chain research. "Until Abbott Laboratories meets the FDA safety requirements, we can expect to see continued shortages. Abbott thinks that within two weeks the factory should be operational, and it will take six to eight more weeks to get enough supply into the marketplace for consumers."
And although the president and his staff insist they are doing all they can to remedy the crisis, in reality there is little they can do to help.
"No, the federal government really cannot do anything in this situation," says Prof. Penfield. "Abbott Laboratories must meet whatever criteria and requirements that the FDA is requesting to ensure that whatever powdered formula produced at the Sturgis facility is safe and can be used for infants."
This Shortage Is Different
While we've seen various shortages since the Covid pandemic began, baby formula is different: It's a vital product that is not easy to replace, and in some cases impossible. Families with infants whose nutrition is dependent on formula have found themselves in desperate straits.
The images of empty shelves seen in recent weeks are reminiscent of Venezuela and other third-world countries, where citizens have to stand in line to buy essential commodities. For President Biden, who hoped to change the political narrative and reverse his fortunes, this is very bad news.
I decided to do a little experiment in my city. The shelves at the CVS pharmacy were almost completely empty on Motzaei Shabbos. Aside from a few cans of low-demand brands, no formula was to be found.
"We haven't restocked in three months," an employee told me, adding that he had no idea when a restock could be expected. "I advise you to try Friday, because that's when shipments arrive. But even if we do stock up, it will disappear fast. I've seen parents driving from store to store in search of formula."
From there I continued to Safeway in the Takoma neighborhood. The situation was slightly better there, with a few cans of Similac in stock, but at least half the shelves were empty. The employee there explained to me that many customers are hoarding cans out of fear for the future. I asked her if there was a limit on how many cans one can buy.
"No," she said. "As long as you're paying, you can take as much as you want."
In the Brightwood neighborhood's Walmart, the situation was similar, with half-empty shelves. But unlike the previous supermarket, here there was a clear limit on buying, with signs announcing a limit of five cans per person.
"We don't know when we'll restock," a worker there told me. "This has been going for weeks. We advise you to look outside the city."
Friends I spoke to revealed the same crisis. One couple decided to switch to nutrition for a more advanced age a little earlier than preferable. Another couple was under serious stress, with the mother having to take a day off work in order to call every chain in the area. Ultimately she found a store in Beltsville, Maryland, an hour-and-a-half drive from her home, and she drove all the way there just to get two boxes that will last them two weeks.
"It's very stressful, she said. "Every time the baby doesn't finish the bottle, I get stressed, because I know this is food going to waste, and who knows when's the next time we'll be able to buy formula? It could be weeks."
Communities Step Up
In such difficult times, some people try band together to provide help. Residents in my area founded a Facebook group, Northern Virginia Baby Formula Finding Network, to advise others where to buy formula. At 11:30 on Motzaei Shabbos, members were still posting about supermarkets or pharma stores where the coveted product was in stock.
"Currently at Giant on Ritchie Hwy, Glen Burnie, MD," one Facebook member wrote, adding a picture of a half-stocked shelf.
"5/14/22. 11 PM. Wegmans Chantilly. A cart full of variety of formula. Yellow Enfamil and a lot of other kinds of Enfamil," another one added.
Others offered community members some samples or unopened boxes, either free of charge or for a small cost: "I have a sample can (7.2 oz) of Gentlease that I believe I got from my pediatrician a while ago. Expires in 2023. Anyone who needs it can pick it up for free."
"Many parents are searching every store possible for infant formula (grocery and drug stores, Wal-Mart, Target, etc.), buying more than needed for fear of not finding any in the future (panic buying), buying online or using different powdered formula brands or substitutes — which may not be good for a baby," says Professor Penfield.
One thing that should be noted: Baby formula is a product whose demand is normally quite stable. The number of babies at any point in time doesn't vary greatly, so the manufacturers produce a fixed amount of formula. That means that even when factories reopen, they won't be able to start producing double the usual supply to meet the demand, as they're geared to produce a specific amount. In other words, the road to stability on the market is still long.
On Capitol Hill, meanwhile, the subject is drawing attention, and there's no question that this is a charged issue leading voters to fume at Biden — whose approval rating now stands at 37 percent. Voters might be willing to swallow higher gas prices in the interest of standing up to Putin, but there's no excuse for baby formula shortages across the country.
For example, Sen. John Kennedy (R-LA) has already introduced a bill that would require the FDA to provide parents with safe alternatives in the absence of formula. At the same time, the White House has announced a series of admittedly modest measures it is taking to ease the situation.
So, for example, the president has instructed attorneys general across the states to crack down on price gougers, and has convened a roundtable discussion with producers and retailers to weigh steps to improve the supply chain so that as much of the supply as possible can reach the market in record time. In addition, the United States, which produces 98 percent of its baby formula domestically, is expected to import formula from abroad in coming weeks. But as the FDA has yet to release guidelines on this, it's unclear when this formula will arrive and how much of an effect it will have.
For this reason, the shortage can be expected to last for weeks, adding yet another challenge to the difficulties families are facing, from inflation and the cost of living to the shortages in other essential commodities.
(Originally featured in Mishpacha, Issue 911)
Oops! We could not locate your form.
>