| Hit the Trail |
Asking the Right Questions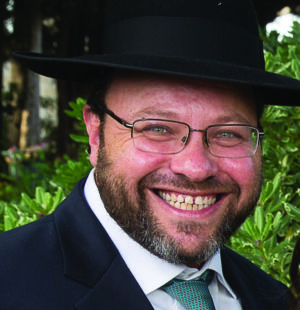 | May 8, 2019
A s a rabbi, I get asked a lot of questions during the period of Sefiras Ha'omer. Here's a sampling of the sh'eilahs I've gotten so far this year.
"Am I allowed to listen to music if it keeps me awake while I'm driving?"
Answer: Get yourself a coffee, stop driving, and rest up. Certainly don't listen to any shiurim that might put you to sleep.
"I've just started learning how to play guitar. Am I allowed to continue learning during Sefirah?"
I've heard you playing, my friend — that's not music. However, if you were actually playing music, there are many authorities who suggest it is better to be stringent, although there are lenient opinions as well.

And then, of course, you have the other important Sefirah questions.
"In the States, I had to shave for my job during Sefirah, and my rabbi told me it was fine. I hoped I would be able to stop that when I moved to Israel, but my boss here told me I have to shave. What should I do?"
Answer: Move back to the States and ask your rabbi there. Just joking. Don't you work in a falafel store? The same halachah that applies in the States applies here as well. But in Israel the custom is to make a bigger fight out of it. Because it's fun to fight.
"Am I allowed to cut excess nostril hair or ear hair that is bothering me?"
Eeewww. Yes, bye. Note to self — don't answer the phone during dinner. Maybe that's why some rabbis have set times for taking calls.
Sefiras Ha'omer certainly keeps a rabbi busy with questions. People who forgot to count Sefirah, or more often are not sure if they forgot to count. People with weddings they need to attend, radio shows with music, a capella questions. The various customs of this period are relatively new in the annals of Jewish history — only 1,000 years old or so, at most, dating from after the Crusades. Given that these seven weeks on the calendar are set aside to reflect on the passing of the 24,000 students of Rabi Akiva, I wonder if all our questions are really on the mark.
Here are some questions I have not been asked during Sefiras Ha'omer:
"I noticed my neighbor's kids walking around in clothing that doesn't seem so nice. I want to help him out. Is it better if I just drop off a check, or should I mention that I have credit in some stores that they can use?"
"I have a Jewish coworker who has made some antireligious comments to me. Many of them have been very insulting. It's obvious she's really had no exposure to a true religious lifestyle. Do you think it's all right to invite her for a Shabbos meal even if she might drive there, or is it better if I just continue to treat her with respect and maybe go out for coffee with her?"
"We're having elections, and so many parties have views different from mine — some are even against the Torah lifestyle. Many of my friends have a favorite pastime to sit around and plan how we will get more votes than the other parties. Many times it leads to lashon hara, and speaking negatively about other people. Is it wrong of me to miss these meetings and not support the parties that really could use my efforts on their behalf?"
It seems these questions are not on people's minds at all during Sefirah. We're too busy focusing on the music, the shaving, and even the counting to pay any attention to what we should be mourning. Why are we in this predicament, and what can we do about it? What would Rabi Akiva say?
I speak about this topic a lot during the Omer with my tourists, particularly when we visit the grave of Rabi Akiva in Teveria. The Talmud teaches us the reason his 24,000 students died was that they did not treat each other with proper respect. They perished during this period between Pesach and Shavuos, a time for focusing on the build-up from Yetzias Mitzrayim to Kabbalas HaTorah — but also for focusing on how we treat one another.
Rabi Akiva was the paradigm for someone who understands these two concepts are one and the same. His love and dedication for Torah was such that he first started learning at age 40, going to kindergarten with his little child to learn how to read alef-beis. He went on to leave his family — with his wife's permission, her blessing, even — for 24 years of nonstop Torah study.
Rabi Akiva once compared Jews living without Torah to fish trying to survive outside the water. He understood that Torah study was meant to refine the way we treat others. He embodied the idea that one's love of fellow Jews would only be fulfilled if he brings the light of Torah from within himself to illuminate them.
The Talmud relates two fascinating stories about how Rabi Akiva's students failed to appreciate his message. In one, a student named Yehuda ben Nechemia managed to answer a difficult question from his rebbi, and openly gloated at the teacher's consternation.
Rabi Akiva expressed his shock to the student: "Yehuda, your face is flushed because you have responded to the old man." You have bested your rebbi, but not in a positive sense. Your response was couched like an attack. Why are you so happy? Look how you discomfited your teacher. "I will be surprised if you live a long life."
The Talmud concludes with the epilogue: "Rabi Yehuda said in the name of Rabi Ilai that the incident occurred on Erev Pesach. 'On Atzeres [Shavuos] I inquired after Yehuda ben Nehemia and I was told he had died.' "
The time of year, it seems — this time of year — is a significant part of the story.
The other story tells of how one of Rabi Akiva's students fell ill. Rabi Akiva personally visited him, and swept and cleaned his room. This revived the student, who said, "Rebbi, you've brought me back to life!"
After Rabi Akiva left his student, he taught: "One who does not visit the sick is comparable to one who sheds blood." The Talmud ruefully notes that none of the other students came to see the one who was ill. Perhaps they excused themselves on the grounds that the sick student would rather they study Torah in his merit than waste precious time schlepping to the hospital.
In the end, no one among the 24,000 of them visited. No one swept or cleaned, no one treated him with honor and respect. So they died. They weren't worthy of passing on the Torah to the next generation. They saw Torah not as something that would enhance their respect for one another, but instead as something to take pride in and gloat over. They died in the period between Pesach and Shavuos because they weren't counting up to receiving Hashem's Torah, but rather celebrating their own Torah. Not a Torah that would bring the light and beauty of Hashem to the world, or bring honor to His people, to each and every one of His children.
This year, perhaps more than in previous years, I focus on that idea. This coming Lag B'omer marks the first yahrtzeit of my Uncle Mendy Klein z"l, who, much like Rabi Akiva, was concerned with the dignity of every downtrodden person he met. He was the guy who would stick around and clean up from the kiddush. He was the one who would see homeless teenagers on the street and stop to ask how he could help. Family members of patients at the Cleveland Clinic who came to him for financial help certainly didn't expect to find him the next morning spoon-feeding breakfast to their relatives in the hospital.
Uncle Mendy supported Torah in incredible hidden ways, but just as important to him was giving lonely Jews his listening ear, his moral support, and his generous spirit — which wasn't only shown in the size of the check he wrote. I miss him, as do all who knew him and loved him. He will always be a role model for me, particularly during Sefirah, when he returned too soon to our Father in Heaven.
Counting the Omer focuses us on how precious each day is: If you miss one day, you can't count with a brachah anymore. (Although you should certainly continue to count without a brachah.) Any day we don't grow detracts from the sum of our count up to the Torah. It's similar to how each and every Jew counts, as well. If we're missing one, we're missing a world. We're missing our complete blessing.
For the next three months, Jews in Israel will read different weekly Torah portions than those in the Diaspora — until Shabbos Chazon, the week before Tishah B'Av. We are separated by our Torah. Perhaps this is so we will reflect on our own Torah learning; maybe the way we are pursuing it is what keeps us apart. Are we so focused on our own parshah, our own daf, that we are not asking the questions that will bring us together?
This is a time when we don't shave, we don't celebrate, we don't distract ourselves with music and festivities. We recognize something is wrong, something is missing. Perhaps the Torah's light is not yet fully illuminating the world because I am somehow blocking it. My pettiness, my self-aggrandizement, and perhaps my focus on the wrong questions are still giving me the wrong answers to our problems.
Will we only unite by Tishah B'Av? We have another few weeks left to count. To ask the right questions. To come to the right answers.
May we once again merit to be k'ish echad b'lev echad before Shavuos.
Originally featured in Mishpacha, Issue 759. Rabbi Schwartz, a former outreach professional, rosh kollel, and rav in New York, Iowa, Virginia, and Seattle, moved to Eretz Yisrael in 2010 where he is the rav of the Young Israel of Karmiel and a professional tour guide. His column will appear once a month.
>