| Washington Wrap |
As the Crowd Swells for Trump
| July 10, 2019
Big crowd at DC parade shows Trump on the rise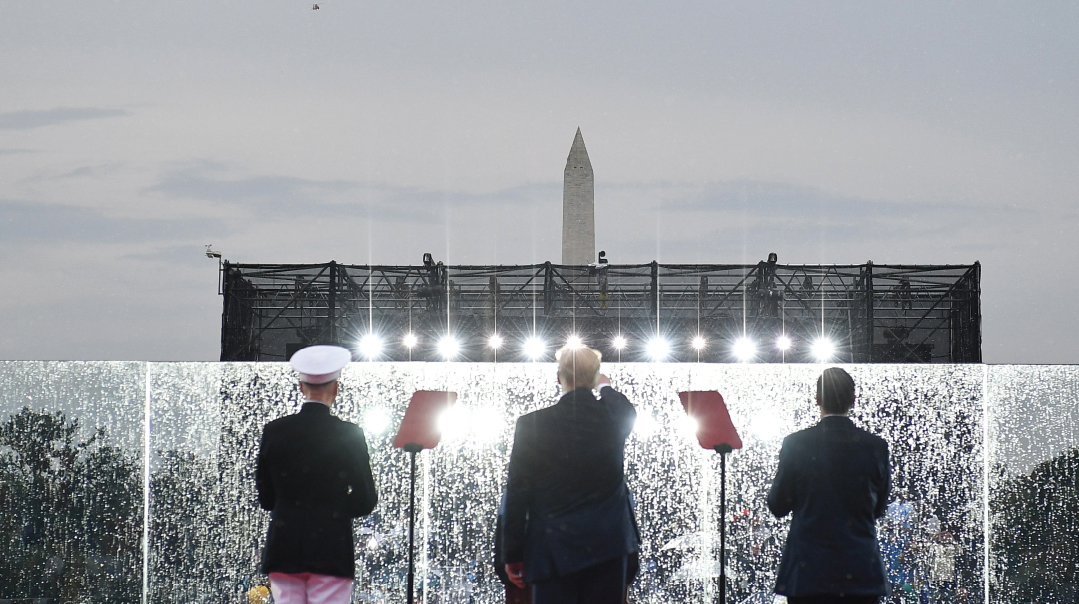 Photos: FLASH 90
W
hen I stepped out of the taxi on Virginia Avenue and 23rd Street, not far from the Lincoln Memorial, I found myself swept along in a human throng of thousands of people. Rain was falling, and it was extremely hot. Typical weather for Washington, D.C., in July, but nonetheless not exactly inviting.
The prevailing opinion in the capital was that only a few thousand people would show up for Trump's "Salute to America" July 4th event. D.C. is not exactly Trump country — 90 percent of residents voted for Hillary Clinton in 2016 — and the swamp-like conditions, the pundits said, would keep the crowds away.
How wrong they were. In fact, their misestimate is symbolic of the very wide chasm that has opened up between the opinion mandarins in Washington and the rest of the United States.
An hour. That's how long it took me just to step foot onto the event grounds. Before me stretched an endless line of thousands of human beings, many wearing red Trump hats, and hundreds carrying prepared placards. I spoke with a father who came with his son all the way from Texas because that was the gift the boy wanted for his 18th birthday; I spoke with a small group of people who traveled 12 hours by train from Illinois; I spoke with a woman who used part of her pension money to book a flight from Indiana; I spoke with yeshivah bochurim from Maryland and New York (we'll get to them in a minute). I even met three people who traveled all the way from California. Though the National Park Service did not provide an estimate of the crowd size, photos show that the crowd filled the National Mall from the Lincoln Memorial to the Washington Monument.

The event was exceptional, and powerful. When Trump appears in Cincinnati or Des Moines or Baton Rouge to speak at a rally, it's natural that everyone in the area comes to see the show. But this was different — it wasn't a political rally. People came from across the United States, and waited hours in the rain, just to show their support for the president.
One of those Trump supporters was Asher, a yeshivah student from New York who traveled to the celebration with his friend David. I asked them why they drove from New York on a rainy Thursday. "We're Americans," Asher said. "If the rain could hold us back, then how can we stand up to Iran or anyone else who's trying to destroy us? Our country has a strong army and we have something to be proud of. We respect our country and I support the troops and the president."
Avremy Hirschenberg of Silver Spring, Maryland, came to the event with his friend Shlomo. I asked him what he thought about the military hardware on display, including tanks and armored vehicles, and flyovers from jet fighters. "These days, countries like Iran only understand power," Avremy said. "Trump's rhetoric [toward the Iranians] is very useful."
Shlomo, a yeshivah student who was born and raised in Jerusalem but now lives in Silver Spring, said he came to find out what the Fourth of July was all about. "I wanted to see the fireworks," he said.
For Trump, the huge crowd was clearly pleasing. It wasn't the only good news he got last week.
A Washington Post poll released on Sunday gave the president a 44% approval rating — the highest of his presidency and up five points from April. The Post attributed his rising numbers to a strong economy, though 40% of respondents said they approved of Trump's handling of foreign affairs and immigration. At the same time, the poll showed that 60% of respondents said Trump does not act "presidential." Still, one-fifth of those who say Trump's behavior does not suit his office still approve of the job he is doing. In other words, many who support Trump have learned to live with his contradiction: They're not crazy about Trump's antics, but they like his policies.
The president is approaching an election year facing a divided Democratic field whose candidates have already begun to tear each other apart. Joe Biden, Trump's main rival, is losing ground every day. Only two weeks ago, eight different polls showed Biden with 29% to 35% support in the Democratic primary. The latest poll gave him just 21% support. The path to the nomination is long, and it's too early to say who will ultimately be the people's choice, but Biden's line is sloping in the wrong direction.
The Trump campaign was also buoyed last week by its fundraising numbers. Totals from the second quarter show that the Trump raised $54 million and the Republican Party an additional $51 million for the 2020 race. Trump also finished June with $56 million cash on hand. According to CNBC, at the same point in 2012, Obama had raised far less — $46 million with just $18.8 million cash on hand. By comparison, Joe Biden raised $21 million in the second quarter, Pete Buttigieg raised $25 million, and Kamala Harris raised $12 million.
One last point: Trump is entering the election year with a strong and stable cabinet. During the first two years of his presidency it seemed like a senior member was leaving his inner circle every week. But his third year has been marked by isolated departures, relatively few leaks, and little infighting.
It's impossible to know how the 2020 election campaign will end. We haven't even officially entered the election year. But only three or four months ago many believed the Democrats would sweep the 2020 race, in part on the strength of the Mueller report and the threat of impeachment. But now Mueller has receded from the headlines, impeachment has been pocketed, and Trump is getting stronger, propelled forward by the crowd.
(Originally featured in Mishpacha, Issue 768)
Oops! We could not locate your form.
>