| Jr. Feature |
Around the Camp Fire
| July 27, 2021
Nothing says summer like a campfire does. Jr. spoke to three different camps to hear how they make campfires special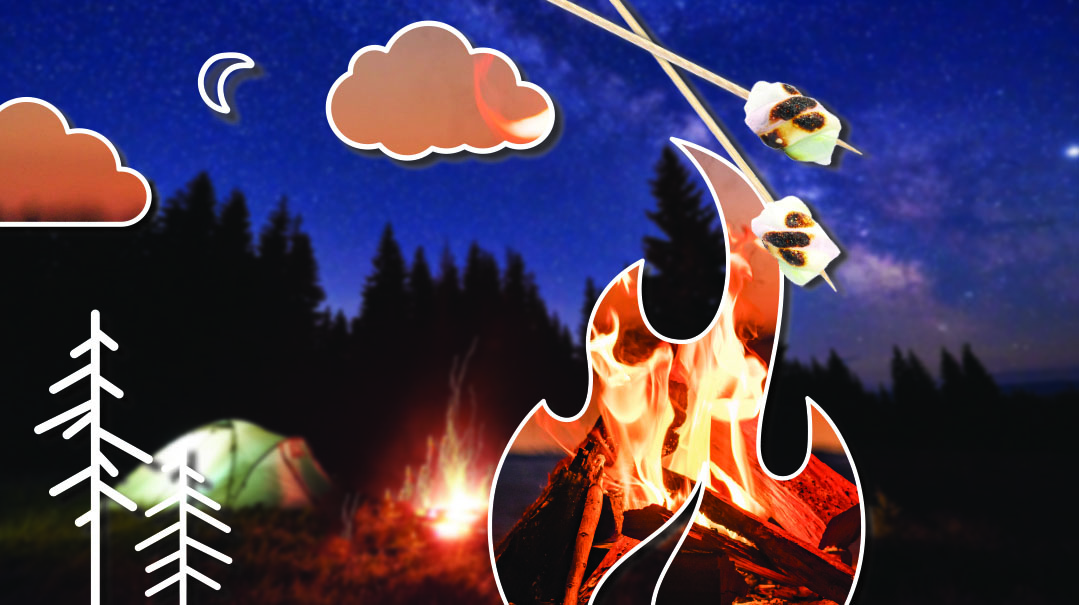 How does your camp make campfires special?
CAMP AGUDAH MIDWEST: Camp Agudah Midwest is a girls' sleepaway camp located in South Haven, Michigan, currently running its 34th summer.
LUXOR DAY CAMP: Luxor Day Camp is a day camp at Luxor Estates, in Loch Sheldrake, NY, for girls and boys ages 2–13.
CAMP TASHBAR: Camp Tashbar is a sleepaway camp for boys in 5th through 10th grades. It's located in Liberty, NY, and is in its 18th year.
CAMP AGUDAH MIDWEST: We bring out a portable microphone at campfires, and pass it around while we sing to allow girls who enjoy singing to each have a chance to shine. Occasionally, we have a great storyteller come to camp to tell stories around the campfire — that's always a real highlight.
LUXOR DAY CAMP: Every year, the organization Samcheinu (which helps out women who have lost their husbands) brings 50 women to the estate for a retreat. The highlight of the program is a campfire, and our campers actually build it for them. We build it during the day, and the women come at night and enjoy the campfire. The campers are treated to ice cream as a reward for their hard work — but the biggest reward is knowing that they did this work not for themselves, but to bring happiness to others.
CAMP TASHBAR: We prepare for weeks before the main bonfire each summer. Any broken chair, bed, or fallen tree gets dragged to the firepit, and then a couple of days before the fire, boys from our hiking division build it into a tepee shape, around 15 by 15 feet. On the day of the fire — usually during the Nine Days — we douse the entire structure with lighter fluid, and the camp director lights it. Four hundred campers sit around the fire, watching and listening as the director lights the fire and speaks about the Nine Days and Tishah B'Av. Then, as the fire grows bigger, the mood lifts, and we lock arms and break out in song — slow, beautiful niggunei neshamah that inspire us to think about Yerushalayim, about achdus, and davening for the Geulah.
Although it's dark, by the light of the fire you can see the tears welling up in people's eyes. The mood is very emotional, and that brings to powerful tefillos. The word zemiros comes from zemer, which means to prune (cut), and you can really feel the songs cutting through to the heart and rising to the Kisei Hakavod.
Best campfire song:
CAMP AGUDAH MIDWEST: "Acheinu." It's a real oldie but goodie!
LUXOR DAY CAMP: Classics like "Acheinu," "Lemaancha," or other nice slow Regesh songs.
CAMP TASHBAR: "Yerushalayim Ircha," "Acheinu," and "Hamalach Hagoel" are all classics that never go out of style. More recently: "Vehar'einu" by Shlomo Yehuda Rechnitz.
Best campfire activity:
CAMP AGUDAH MIDWEST: Passing the mic around and having each girl share her favorite part of camp, or something else meaningful.
LUXOR DAY CAMP: Sit by the fire, enjoy watching the flames, and eat marshmallows!
CAMP TASHBAR: At the main campfire, it's definitely the singing.
Best campfire food:
CAMP AGUDAH MIDWEST: S'mores!
LUXOR DAY CAMP: Marshmallows! We also love hot dogs and s'mores — but marshmallows is the number-one winner.
CAMP TASHBAR:
Marshmallows, with the tip still flaming from the fire. We also make hot dogs, potatoes, and s'mores when we do small campfires with individual bunks.
Can you share any other campfire memories or stories?
CAMP AGUDAH MIDWEST: Last year, due to Covid, we only received permission to open two weeks before camp was scheduled to begin. The whole summer felt extra special because of that — especially when the entire camp sat at the bonfire all together, realizing it almost hadn't happened.
LUXOR DAY CAMP: We once built a large campfire near the forest. Although it was perfectly safe and under control, someone from a nearby bungalow colony was worried and came over with a fire extinguisher! Out of the blue, there was white foam shooting all over the place. It was definitely a memorable experience for everyone!
CAMP TASHBAR: We have had the zechus to share our grounds with the Novominsker Rebbe. Last year, he was niftar, and that gave an extra surge of meaning and inspiration to daven when we experienced emotional moments at the campfire, and throughout the summer.
How do you keep campfires safe?
CAMP TASHBAR: We have caution tape around the area and a security crew with hoses and water just in case. We also get a permit from the fire department to make sure everything is legal. We're careful not to just leave the fire after it's over — the embers can still burn through the night, so we make sure to keep dousing it and checking until it's fully extinguished, just in case.
LUXOR DAY CAMP: We use turf spray to make a huge circle around the campfire, and only staff is allowed within that area. Later, when the fire has burned down and it's cool enough to go closer, the campers can go in to roast marshmallows — using long sticks, and with adult supervision, of course. We also keep a hose nearby,
CAMP AGUDAH MIDWEST: It's important to always let the adults in charge manage the fire, and not try to make it more exciting by throwing in extra branches or pieces of fuel. In addition, we make sure that there's an area of a couple feet around the fire where no one is allowed to go.
What was the best campfire you´ve ever made?
CAMP AGUDAH MIDWEST: We had one last year on Shivah Asar b'Tammuz, right before everyone broke their fast. The theme of the day, which included workshops and learning in many different forms, was all about seeing the good in others, and enhancing our bein adam l'chaveiro. At the bonfire, the girls were given the opportunity to take a piece of paper and write down a grudge that they were holding against someone. Then they threw the papers into the fire as the whole camp sang Acheinu together. It was an amazing, powerful moment.
CAMP TASHBAR: Last year, most camps were closed, and no one believed that we would open. But we did — and for the campers, coming after a lockdown of many months, the experience was even more meaningful and inspirational than usual. Our main campfire that year was extra special.
LUXOR DAY CAMP: We once had a group of chassidishe teens come as part of a completely different program. They joined us for a campfire, and it was amazing to see the achdus as both camps sang and danced together.
What tips do you have for building a great bonfire?
LUXOR DAY CAMP: The fire needs to be set up well, like they do the Lag B'omer medurot in Eretz Yisrael — a tall, strong center beam supported by stones or bricks, and everything else leaning on that like a tepee. Also, keep the fire in an open area, and arrange good seating at a safe distance for everyone to see it and enjoy. We use big logs from trees as seats around the campfire — it has that natural, geshmak feel!
CAMP TASHBAR: Make sure all the material used in the bonfire is completely dry — no moisture at all. Distribute the wood properly with bigger logs inside and smaller ones outside. Don't use paper or cardboard as fuel — it makes a lot of ash. And don't use tires or wheels — that would cause heavy smoke.
CAMP AGUDAH MIDWEST: We always have our maintenance director help out with this part. Building a big, strong fire is a man's job!
Thank you Camp Tashbar, Camp Agudah Midwest, and Luxor Day Camp for sharing your wonderful campfire experiences with us! Enjoy camp, and next time you roast a gooey marshmallow, have us in mind!
(Originally featured in Mishpacha Jr., Issue 871)
Oops! We could not locate your form.
>